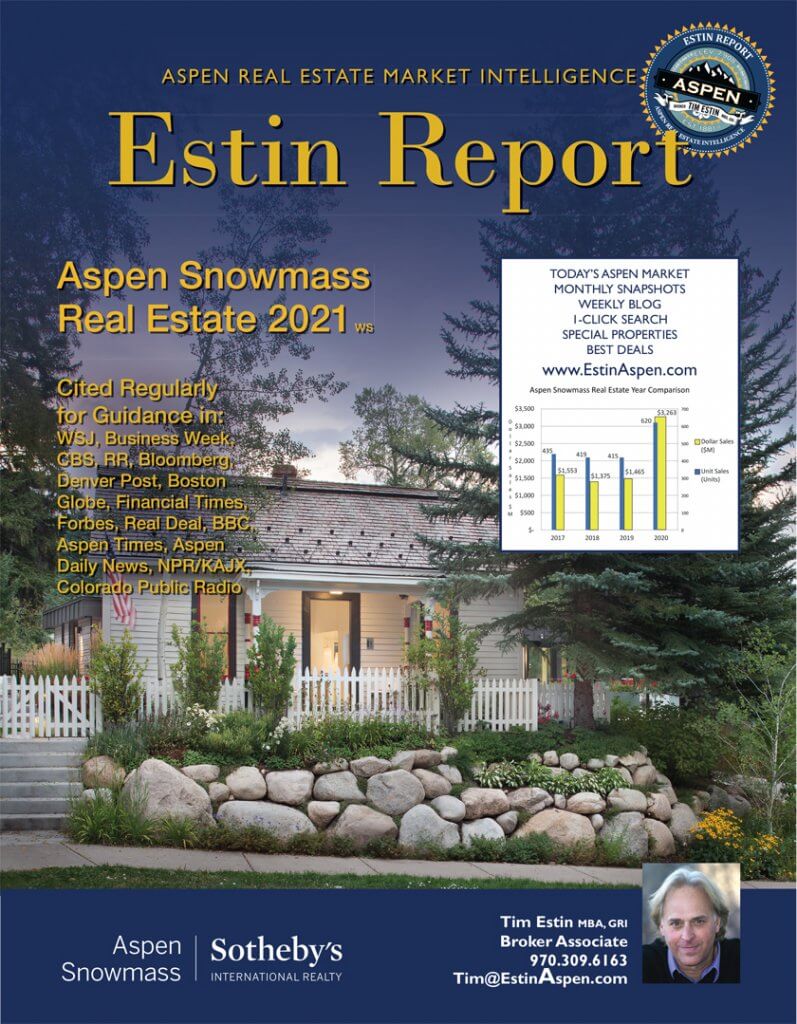 Re-posted on Jan 14, 21 with minor revisions* in Current Reports. On Mon Jan 11, 21…This site is having issues with the registration / log-in process and we need to migrate to a different server. The process will take 3-6 days from now. If you are unable to download the report PDF, please contact me directly from the Contact Section, and I will send it to you. My sincere apology and thank you for your continued interest and patience.

Front cover: For sale. Historic 1886 Aspen cabin transformed in 2018 into a 4,088 sq ft modern-day jewel on a corner lot with stunning frontal views of Aspen Mountain. More info and photos. Please call Tim Estin for a property showing, 970.309.6163. Photo: Brent Moss Photography, (970) 618-1288, BrentMoss.com 
This 32-page Aspen Snowmass real estate market report digs deep into the numbers overall and then by property types and by neighborhoods.  It provides a narrative and context for this special marketplace: where Aspen real estate has been, where it is today, where we may be going. Download the pdf and/or pick up the print edition available around town the 3rd week in Jan in outdoor racks at: Sotheby's 300 S Spring St – across from the Aspen Art Museum (my office); Sotheby's 415 E Hyman on the Hyman Mall;  around town – at the Info Booth opposite Paradise Bakery; the airport luggage area.
*011321 Rev final posted with following revisions:
Pg 5: Added this to top of Pg 5, "Aspen Snowmass Real Estate 2021 about: safety, security, comfort, sanctuary, peace, and family"
Pg 5 top, Change to read: "Dollar sales were 50-100% higher than the preceding record years:"
Pg 6, WSJ article cited, end quotation mark added.
Pg 7 middle: revised sentence reads, "Since then they've more than recovered: in 2013, the median price for an Aspen homes was $4.08M; in H2 2020, it was $9.25M, an increase of 127%."