Released Wed. May 3, 2017 v2.21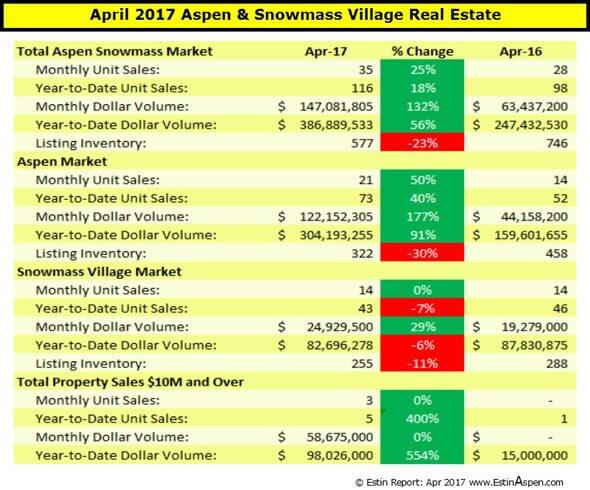 April 2017 Aspen and Snowmass
Real Estate Snapshot
(Click link above for full 10 Pg PDF with
detailed charts and tables for Aspen and Snowmass Village)
Bottom Line
Aspen real estate is in turn-a-round mode from a dismal 2016 when global uncertainty curtailed buyers' appetite for luxury high end 2nd home purchases.
Post-election 2016, an upper-end Aspen real estate recovery is in full bloom.
In April 2017, for the combined Aspen/Snowmass Village market, the number of units sold is up +25%, from 28 last year to 35 this year. The number of properties that went under contract in April 2017 was up +20%, 25 last year to 30 this year. Under contracts are viewed as an indicator of future activity.
But the surging market activity grabbing local headlines is very specific: location specific, property specific, style/design specific, property age specific… There's inside the roundabout and there's outside.Not everyone's partying at present.
If you want to pay through your teeth, pour money into developer's pockets who saw these things coming 2-4 years ago, be a part of the great infatuation with in-town living…
If you want to find good-to-great values and motivated sellers in to-die-for stunningly beautiful settings 5-15 minutes beyond downtown Aspen, play the contrarian hand and rediscover and embrace the areas and neighborhoods the Aspen settler generation of the 1960's through the 1980's came to Aspen for…
What's hot?
– Aspen downtown core
– East End – close in to town. McSkimming Rd, Riverside Dr, the Aspen Club area for example.
– Hwy 82 corridor from Town to Mountain Valley is seeing an eruption of new construction due to river-front locations and easy access to downtown. A critical mass of new activity is ocurring here in recognition of the area's convenient location that trumps the once perceived negative impact of road proximity and traffic noise making them less onerous.
– Historic West End – especially locations east of the 300 block due to its Core proximity.
– Red Mountain – premier vacant or tear-down lots offering new building opportunities.
– New construction/Spec building – New-built homes are breaking through price barriers in ideal locations.
– Peripheral locations to town – for example, Cemetery Ln area, may represent good value to a buyer who predicts construction costs are rising fast and wants to lock in costs now.
What's Not?
– Almost anywhere not in town
– West of the roundabout
– McLain Flats and most especially, Starwood
– Woody Creek
– Maroon Creek – currently 7 active listings. The most recent home sale was 11/23/15
– Remodel and /or gut jobs: in general buyers do not want the hassle(s) of an Aspen construction renovation job or an end-user new built home. Older and/or dated homes are a difficut sell…projects are out.
Why?
– Old or dated residential product…no matter the quality. Even the best ages and goes out of favor.
– Residential style preferences have changed – taste and design preferences change/new technology's influence is relentless. And these home "advances" are ocurring faster and faster.: ten years ago everything being built was "mountain contemporary – lots of wood, stone, heaviness. During the recession, almost nothing new was built. Now, its glass shoeboxes, lots of light, greys over brown tones, and modern. But there's a sameness to it all and one wonders how long this trend will last.
– Traffic concerns – it's as good as it'll ever be right now.
– Walkability/bikeablity distances – exercise and lifestyle component of being physically active – is a key attraction
– Airport noise and visual impacts
– People do not want to own in Aspen and be reminded of the 'big-city-where-they-come-from-real-world' stresses. They come here to get away from all that. No traffic. No noise. No planes, No airports. No hassles. All's good. In Aspen, the expectaion is to keep it all out-a-sight, out-a-mind.
– Time: buyers are here to enjoy the precious high quality of life and time with families. Many want things finished and perfect with minimal issues.
April 2017 Market Statistics Summary for Aspen Only *
Aspen condo sales April 2017
Unit Sales: +18% (13) in April '17 from (11) in April '16
Dollar Sales: -19% $27M in April '17 from $34M in April '16
Inventory Active Listings: -42% (135) in April '17 from (233) in April '16
Aspen condo sales YTD
Unit Sales: +13% (43) in April '17 from (38) in April '16
Dollar Sales: +11% $94M in April '17 from $84M in April '16
Inventory Active Listings: +25% (252) in April '17 from (202) in April '16
Aspen Single family home sales April 2016
Unit Sales: +300% (8) in April '17 from (2) in April '16
Dollar Sales: +1401% $95M in April '17 from $6M in April '16
Inventory Active Listings: -2% (166) in April '17 from (169) in April '16
Aspen Single family home sales YTD
Unit Sales: +127% (25) in April '17 from (11) in April '16
Dollar Sales: +239% $192M in April '17 from $57M in April '16
Inventory Active Listings: +3% (191) in April '17 from (185) in April '16
* Typically, the Aspen market represents 70-75% of the total combined Aspen Snowmass Village real estate marketplace.
Links to Apr 2017 Aspen and Snowmass Village Sold Property Photos and Details
Aspen Apr 2017 Closed Properties (21).This link is valid until 6/1/2017.
Snowmass Village Apr 2017 Closed Properties (13).This link is valid until 6/1/2017.
Vacant Lots Apr 2017 Closed Properties (1).This link is valid until 6/1/2017.
Disclaimer: The statements made in The Estin Report and on Aspen broker Tim Estin's blog represent the opinions of the author and should not be relied upon exclusively to make real estate decisions. A potential buyer and/or seller is advised to make an independent investigation of the market and of each property before deciding to purchase or to sell. To the extent the statements made herein report facts or conclusions taken from other sources, the information is believed by the author to be reliable, however, the author makes no guarantee concerning the accuracy of the facts and conclusions reported herein. Information concerning particular real estate opportunities can be requested from Tim Estin at970.309.6163or byemail.
The Estin Report is copyrighted 2017 and all rights reserved. Use is permitted subject to the following attribution with a live link to this website:"The Estin Reporton Aspen Real Estate."
____________________________________________________________________________________