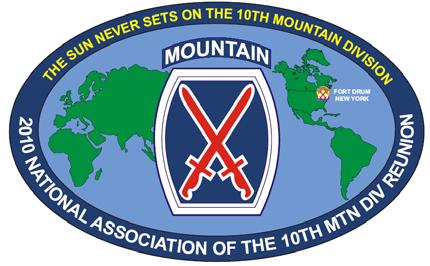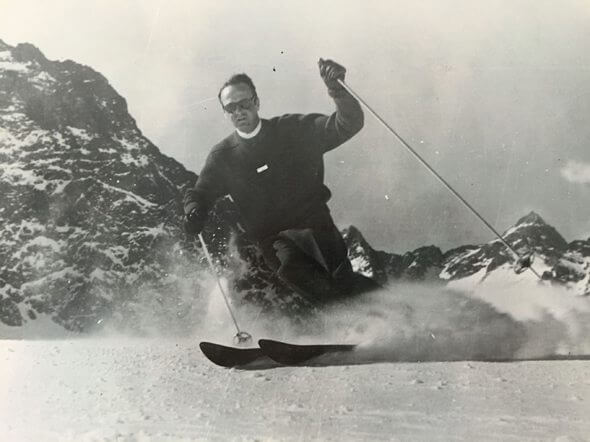 Peter Estin, Portillo, Chile Ski School Director 1959-1962
The Peter Estin Hut, the 3rd hut in the Tenth Mountain Division Hut system, came about as a result of Tim's architect apprenticeship, then friendship with Tenth Mountain Huts and Trail visionary and founder Fritz Benedict, and ultimately Tim's involvement as a founding Director of the 10th Mtn Hut Assoc. The hut was built in 1985 in his father Peter's memory, a ski industry pioneer with a unique background, by his family.
Born in 1927 in Prague to a banker's family, Peter learned to ski on family vacations in the French Alps in the 1930's.  Six months before Hitler's invasion of Czechoslovakia on March 15, 1939, the family emigrated to Boston following a two year emigres path: In Prague, the three Estin children were told they were "just going away for the weekend" and they travelled by train to a Paris relative. After a short stay in Paris, they moved on to London for a year in English schools. Immigration to the US from eastern Europe was not a sure thing due to restrictive US quotas; from Canada, as a part of the British Commonwealth, immigration was more certain and one had to wait two years within the Commonwealth.  Thus, they moved on to Montreal, closer to the US,  for another school year and to wait out the 2-year requirement.
The family settled in Boston, a more European city than NYC and began their new life in America. After consulting with his only American contact, the ex-US Ambassador to Czechoslovakia, on where the children should be schooled, the two boys, Peter and Hans, and a girl, Helenty, were sent to Phillips Andover and Abbot Academy respectively, a half hours drive north of Boston.
Peter graduated from Andover, then Dartmouth College as ski team captain, and then completed an MS in International Relations from Harvard.
After trying out the investment business for a few years, the spirit of the mountains called. Peter became a diplomat of sorts: Director of Ski Schools at Sugarbush, Vt and Portillo, Chile attracting east coast high society – the Jet Set and media attention to those resorts in the late 1950's and early 60's.
Featured in numerous issues of Ski and Skiing Magazines amongst others, he wrote the book "Ski the American Way" considered by many a ski teaching classic. He was also a cartoonist, and his cartoons appeared in The New Yorker,  Saturday Evening Post, Colliers, True American, Playboy, American Weekly, and Saturday Review.
A book of his cartoons "Jestin with Estin" was published posthumously in the 70's. He died at age 35 of ski related injuries.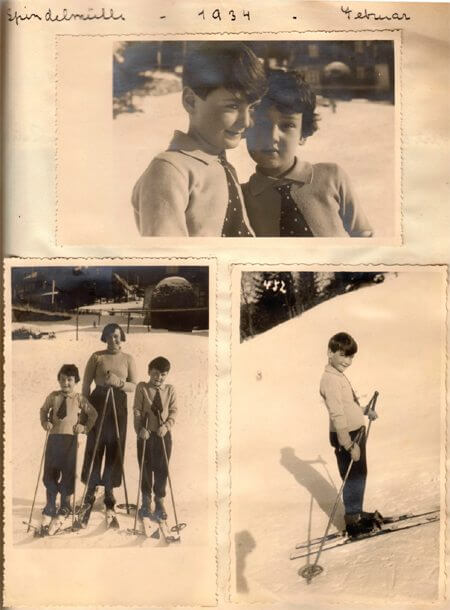 Peter and Hans with their mother in the French Alps 1930's.
Climbing on the French Alps, Chamonix?

1959-1962
1959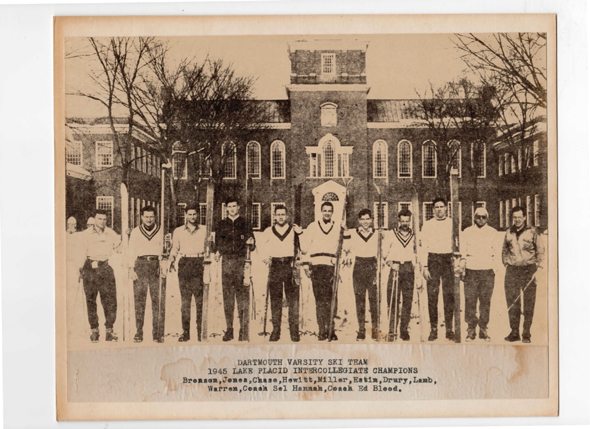 Dartmouth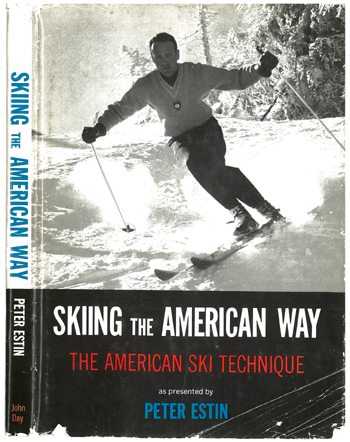 A ski teaching classic 1963