What Clients and Experts say…
"Tim, I am including your new 2021 report with a loan committee package for the Bank board today." 
Mark Favro, President  – ANB Bank Aspen
"I am in the real estate industry and I deal with many brokers. I can honestly say Tim Estin is the hardest working broker I have ever dealt with.  It was a pleasure working with him as he has great intuition and a thoughtful professional manner. Our listing had many challenges and he rose to the occasion, pulled together a great team of professionals and coordinated the entire effort. Tim should wear a shirt with a big "S" on it given the way he has worked through a very difficult downturn in the market. I whole heartedly recommend Tim Estin for any Aspen real estate brokerage needs."
John Klutznick, Principal, Klutznick Company, Denver, CO and Chicago, IL
"On-going research and analysis of the local real estate market positions Tim Estin to meet the most unique demands of potential real estate buyers in Aspen. During our work with Tim on the closing of a very complex transaction, he never said NO to our numerous requests, was always available, and very knowledgeable and helpful in getting the best deal possible for us. Thank you Tim for your great work and thinking 'out of the box'."
M. and N. Sedoy, NY, NY and Aspen, CO
"Tim, would it be possible to use your graphs for the full year for a presentation we are doing for the Crown Family, Aspen Ski Co owners, and Gerry Hines,  the Aspen Highlands Base Village developer?  I can pull the copies off the website but I thought you might have the original documents which should have a better resolution. Was also wondering if you will supply us with any additional annual updates?."
Don Schuster,  VP Aspen Skiing Co, General Mgr Development
"For the seven years we've been working with him on different projects, we trust him implicitly and know that a 'buy' indication will send us racing to the dotted line. If there is anyone to tell us not to buy or not to sell, it's Tim.  He is the opposite of hype and hyperbole. When we want the bottom line, he gives it to us – unbiased, unblemished and for real. "
Anonymous Client, Aspen, CO and TX
"One of the town's best real estate brokers."
Aspen Daily News
"After several of our colleagues have given their presentations and reports about the other luxury resort markets they visited, we have determined that we need to focus more on more specific areas within the Aspen Market. I am hoping you would be able to help us out with this as your Estin Report has been very helpful thus far, and you clearly are very knowledgeable and organized with your data and tracking. Aspen is a very unique market, and gathering stats for this market and trying to simply focus on the high end is difficult. We plan to have an Aspen section in our Market View piece comprised, we hope, with your views."
Jacque Trenholm and Hank Kashiwa, EVP Marketing, Yellowstone Club
"No Broker works harder than Tim Estin.  More importantly, Tim has the business smarts and the analytical background to evaluate the dollars and cents of purchasing a property in Aspen.  He complements that wonderfully with the common sense and empathy to advise us if any given real estate decision is "right for us.  We view Tim's counsel as invaluable."
Tom Watts, Chairman, Watts Capital, NY, NY and Aspen, CO
"Tim Estin is the very definition of the REALTOR pro who stands with distinction far above and beyond a very crowded Aspen broker field…Those who lump all brokers together in one generalized statement, "Brokers are brokers", will miss out on the uniqueness and impressiveness of this one individual."
William and Natalie Plucker, Aspen, CO
"The preeminent guru of Aspen real estate analysis."
C. Yates/Libman Group, Aspen, CO
"We'd like to discuss the luxury residential market in Aspen and the surrounding areas with you. We are affiliates of UBS Asset Management and are interested in learning more about the local real estate market and found your website and The Estin Report to be very insightful. We look forward to talking."
USB O'Connor Asset Management
"We are considering purchasing an Aspen property and are worried we may severely over-pay. Sorry to bother you on a Sunday but there is urgency. I'm hoping to see if I could get your opinion on an Aspen home price. I highly respect your opinion and reports you do for the Aspen real estate market."
Anna Kepe, Exec. Director, New York Theatre Ballet, NY, NY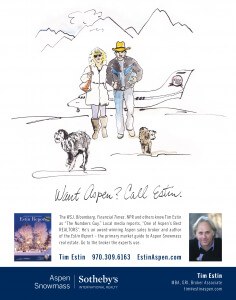 "Tim Estin is in a league all his own when it comes to residential real estate. He is engaged, informed and in the details.  In fact, Tim combs though all the details with curiosity and interest, and has an educated point of view that is well researched. Tim is also trustworthy and a steadfast partner through and beyond the transaction.  Tim is physically, intellectually and practically engaged in all aspects of helping you identify, acquire and move into your new Aspen home. We were new to the Aspen home property market and needed an education on the neighborhoods, streets and product quality.  Now that we are homeowners, we need an education on the life of the town. Tim is invested in your family, your home and your experience. It's not surprising that we consider him a friend and that we can't wait to have a glass of wine with him when we are out there."
John and Darin White Eydenberg, Vice Chairman, CIB, Deutsche Bank and Sr Client Partner, Korn/Ferry NY,NY
" On a personal note, I am a retired Aspen Elementary second grade teacher.  I remember you as a "Big Buddy" (or something similar to Big Brother) to one of my students many years ago.  For three years, you were a very kind, reliable, and dedicated mentor to that student and made a difference in his young life.  Thank you."
Susan McKeller, Logistics Leader, Our Community Listens Colorado
"Thank you for all the help on a 406 acre land purchase near Reudi Reservoir. You were a calm and consistent presence through the entire process. I deeply appreciate your help."
Brad Feld, Author and Venture Capitalist, Partner/Foundry Group, Boulder, CO
"I want you to know that how much I appreciate all the extra work you accomplished on our behalf of our recent Aspen property closing. You were most generous with your time especially handling the inspection, radon mitigation details and execution, and repairs, which were all post-closing. You made certain every part of the transaction was completed on time. You are the best and thanks mucho!"
P. Huffines, Founder/Co-Owner, Huffines Communities, Dallas, TX and Aspen, CO
"Tim Estin is the consummate professional.  He combines outstanding client service with methodical, clinical analysis of the market (some of which you can sample on his blog).  The best stuff, however, he saves for his clients – he sees things you may not, his instincts and insights are invaluable. He knows the market inside out and shares this in a quiet, unassuming and respectful way.  But it was his service after our contract to buy was accepted, however, that really showed off his considerable dedication to client service.  We had a title issue.  Tim tirelessly worked to help resolve the issue and get the deal closed.  My standards are high, and I cannot recommend Tim more highly. "
Rick and Nancy Illmer, Partner, Husch Blackwell, Dallas, TX and Aspen, CO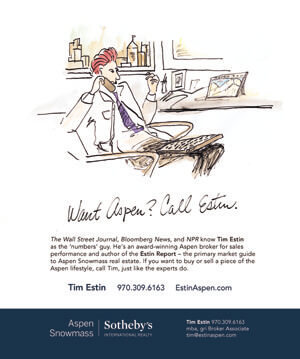 "We are short of words because going through this process with Tim truly exceeded our expectations… but here goes: 'With an in-depth knowledge of the local real estate market, in addition to his honest, professional and distinctive spirit of service, Tim guided us through the complexities of purchasing our home in Aspen, making it a most memorable experience. We could not have been in better hands.'  It will surely be our pleasure to recommend Tim Estin to anyone looking to do a real estate transaction in Aspen."
Ernesto and Cecilia Poma, Key Biscayne, FL and Aspen, CO
"I read the Estin Report. It has good information and has a very clear presentation."
Chris Bendon, Director of Community Development (P&Z), City of Aspen, CO
"We have bought and sold many major homes over the years. Tim is focused 110% on successfully fulfilling his client's interests. He combines elaborate data driven analysis with a deep understanding of the complex factors that impact real estate values. He knows the Aspen market personally from his long Aspen family history and by the numbers, and he knows how to navigate the varied interests that go into any property negotiation. Tim Estin is patient, laser focused on the details, and wonderfully personable. We are so grateful for his guidance and support. He has our highest recommendation for anyone looking at Aspen real estate."
Wade and Heather King, MD, SVP, Insmed and President, Agiliti,  SF, CA and Aspen, CO
"Tim Estin is resourceful, analytical, experienced, inquisitive …He really seemed to have a genuine desire to want to educate us about relative market trends before we put an offer on what is now our new Aspen home. He was never pushy and was always right there when we needed him. We enjoyed the time we spent with him looking at properties and for anyone who would like to know, he is really a sincerely nice guy."
Kate Roberts, President, Katebaby and KIDS, Aspen, CO
"I read your entire report last night and I am in awe. A ton of information. Our customers are getting more and more information and you disseminate it down in a very clear format. I know it's a ton of work but I really hope … that the number of people who receive it is large and they look forward to it. Nice work."
Ernie Fyrwald, Owner/Partner, Aspen Snowmass Sothebys International Real Estate
"We chose to work with Tim because of his data driven approach. We found him very realistic, engaged, down to earth, methodical and ultimately successful in getting top dollar for our riverfront condo. And he's just a really nice guy, so we made a friend."
Michelangelo and Mary Milano, MD's at NW Community Healthcare and Northshore University Health, Evanston, IL
"We have owned and sold seven houses and my husband and I agree that selling our Aspen home was by far the most intense, but thanks to Tim, we felt like we were always negotiating smoothly forward. We will always be indebted to his responsiveness, professionalism, creativity,and unflappability under fire. Most impressive of all was his ability to summarize the current situation and to use that summary to guide our strategy and decisions. We appreciate all that he did on our behalf. Tim Estin is a top-notch pro through and through. His work ethic is second to none, and he always puts the needs of his clients first. We would never hesitate recommending him to family, friends or whom ever for their real estate needs."
Bob and Elizabeth Hamill, EVP,  Merrill Lynch Wealth Mgmt, Aspen, CO
"We always love reading your report, whether good or bad as it always makes us feel connected to Aspen!"
B&J Bronfman, Leitenberger Bronfman Architects, Greenwich, CT
"This is the most up-to-date and thorough Aspen real estate site I've seen. I will watch it weekly from now on. Thanks."
Ann Guernsey, Aspen, CO
"Our first purchase with Tim Estin in 2007 was a tear down house on a property we loved. We proceeded with building plans. When the market changed in 2008/2009, we realized we could purchase a new home at close to the cost to build and save ourselves 3 years of construction and Tim helped guide us into our 2009 purchase on Tiehack Road. In our search during this changed market, he was most helpful in accessing the seller's motivation and identifying what was a great value for our money. His attention to detail, honesty and gentle persistence helped us to find and purchase two great Aspen properties. These are his qualities that we found invaluable in our process, and the reason we consider him a great friend today."
Christy and Richard Montgomery, Chairman, Americare USA, Sikeston, MO and Aspen, CO
"As a builder and developer I have worked closely with dozens of realtors, and I put Tim by himself at the absolute top of that list. He has been attentive, reasoned and thoughtful throughout the entire process. He is knowledgeable and always 100% engaged. It was refreshing to work with someone of his caliber."
Neil O'Connor, President DesignCraft LLC, Durango, CO
"My husband and I are part-time residents of Aspen. We decided the time was right to purchase a larger home and Tim Estin helped us to do so in about two weeks time. Tim picked us up everyday and was always available, 24/7. Tim has the ability to make you feel like you are his only clients. With his knowledge of the Aspen real estate market, and his professional and friendly manner, he helped us at every step along the buying process. We are now in our dream home and couldn't be happier. With our original property left to sell, we would never consider another broker other than Tim."
Lori and Rudi Legname, Mill Valley, CA and Snowmass, CO
"Tim is a first class person with an incredible work ethic. Those qualities are the reason we chose him as our realtor. ..He had the daunting task of selling our condo (in a horrible market) and finding us a home that suited all of our needs. We did not want to buy until we sold, and condo sales in our price range seemed to be the worst hit by the recession. It appeared to be an impossible task. Tim was always positive but realistic. It took a year or so, but he pulled off the impossible. In October 2011, we closed simultaneaously trading our condo for a fabulous new home. He's our "miracle man" and we are so happy that he is now our friend as well as our realtor."
Nancy Patton and Lance Hughes, Lubbock, TX and Aspen, CO
"I first became acquainted with Tim through the Estin Report, and I thought his ability to analyze the complexities of the current real estate market would aid me as a buyer.  That proved to be the case.  With Tim there was no hype, no hyperbole, just the facts.  He listened to me, and he made the buying process easy  by matching my criteria with available properties in a common-sense fashion…I received first-class attention, service and information that would cause me to recommend him to anyone purchasing real estate in the Aspen area."
Carol Smith, Sedona, AZ and Aspen, CO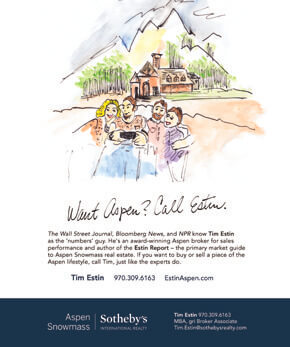 "I appreciate the Estin Report, follow your blog, you put out some wonderful stuff…"
J. Rogers, Managing Director, Greenhill & Co, Houston, Tx and Aspen, CO
"We had the pleasure of meeting Tim over two years ago. He worked with us very diligently and found the perfect home for us. His attention to detail, keeping us up to date on the changes in the market and his weekly analysis were critical in helping us make the right decision. Being a native of Aspen, he has a deep knowledge of the market. Tim Estin is a professional in every way, and we consider him a wonderful friend and highly recommend him to our friends."
James and Patty Huffines, President & COO, PlainsCapital, Austin, TX and Aspen, CO
"We are affiliates of UBS Asset Management and are interested in learning more about luxury residential market in Aspen and the surrounding areas. Your website and the Estin Report is very insightful and we look forward to talking."
USB O'Connor Asset Management, NY, NY

"My husband and I have had a long held dream of owning a second home in Aspen.  Tim Estin helped us to realize that dream.  We discovered The Estin Report while searching Pitkin County Real Estate listings on the Internet.  We were impressed with Tim's overall analysis of market conditions as well as his detailed knowledge and familiarity with the Aspen area… We found Tim to be very genuine with a straightforward and honest approach. He orchestrated a successful purchase for us within 5 days. Our initial offer was accepted; no changes or counter-offers were made. Tim's ability to anticipate the seller's position and motivation was a great asset to us. We hope to retire in the Aspen area and plan to work with Tim again. I am happy to recommend Tim Estin to anyone considering a real estate purchase in the Aspen area."
Bob and Mimi Dora, Founder/President, Dora Hospitality Group, Indianapolis, IN and Aspen, CO
"Your report is incredible… the executive summary/recap and the report itself is stunning and it is rich with useful information. This is a seriously amazing amount of work."
L. Newman, Newman Appraisal Network, Aspen, CO
"I want to offer my ringing endorsement of Aspen real estate agent Tim Estin who has worked tirelessly for me and my listing in the most difficult of markets (Nov. 2009). Tim has persevered through extremely complicated circumstances with thoroughness and diligence to bring my sale to a satisfactory conclusion, and I will always be grateful to him."
S. Mauntel, Denver, CO
"I am presently working with Related Companies on their buyout deal with Hypo bank of the Snowmass base area, specifically on the Viceroy Hotel and Phase II Snowmass Base Village (May 2012)…I appreciate your reports. The information is very relevant, and the general market comments appear to be spot on."
A.K. Kovacs, MAI, CCIM, VP – CBRE Inc, Valuation and Advisory Services, Denver, CO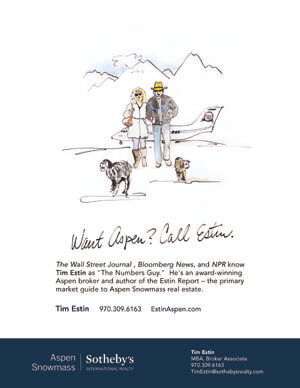 "At the time we met Tim Estin our plans for buying real estate in the Roaring Fork Valley were very loose. Tim brought both a passion and a deep, multi-generational knowledge of the area to the table. Once we fell in love with the Aspen area he was our crusader. We found a property that we loved but was not currently on the market. Because of his connections and savvy he was able to introduce us to and ultimately buy the house of our dreams. We felt very lucky to have found Tim to help us in this often challenging process. Tim handled, the finding, negotiating, and closing with aplomb. We highly recommend Tim as the REALTOR in this market."
Frank Sands, CEO & CIO, Sands Capital, Washington, DC and Aspen, CO
"We want to thank you for your successful efforts in our recent real estate purchase in Snowmass. Your knowledge of the market and your patience with us as we looked at many different properties was instrumental in making this happen. We are delighted with our new home, and thank you again for all your diligent work. We feel so fortunate to have had you as our agent."
Dan and Mary Horn, Partner, MSHH PC, Dallas, TX and Snowmass, CO
"I really love your website, maybe the easiest and most informative I've seen in your business … nice work and congrats … What you're doing is a great service to (Aspen) buyers and sellers, and I trust one of the many, many reasons you're successful. Last night, it was so easy to navigate, compare, get pics, locations, better than Zillow for a retail investor….Keep up the good work, and thank you for a great website with good clear insight and data."
F. Maiorano, Head of RIA Business, Baron Capital, Manhattan Beach, CA
"This is the most impressive compilation of data and insight I've seen. I have a brokerage firm in the SE Denver/Cherry Hills area and am also a certified general appraiser. I'm currently working on a Snowmass property appraisal and have been going through your market reports and website. I wanted to compliment you on its depth of coverage and analysis – it is hand's down, the absolute best compilation of market data, commercial or residential, I have seen – ever! I have been appraising for the past 17 years, in all corners of the State, for all types of property. Your report, and the frequency and constancy with which it is updated, is truly amazing. As an appraiser, it is a treasure trove of insight."
Geoff Hauer, Principal Broker/Owner, Cherry Point Properties, Denver, CO
"I worked with Tim for the better part of a year to find the perfect property.  He took the time to fully educate me on the market and various areas to purchase within Aspen.  As a real estate broker myself, I found him to be a complete professional and made the process buying from afar an easy and pleasurable experience."
Chris Desino, Broker/Owner OcalaHorseProperties.com
"Tim Estin was just super: he worked so hard for us, showing us everything in the market, low prices and high, all over the place, patiently explaining pros and cons and educating us on the market all the time, top to bottom, everywhere in the Aspen area. He was great in the negotiations and organized with all the paperwork and details. After our Aspen home purchase, he was fantastic with post sale details and follow-up. He even helped us get our furniture moved into our new house and organized details with contractors. His willingness to help, no matter what, went beyond definition. He's been fantastic…"
Jeff Wood, President, Landmark Resources, Houston, TX and Aspen, CO
"I've got to compliment you…the depth of your report is really impressive. I was looking on-line for specific stats by neighborhoods, and your facts and their presentation are by far superior and so much more impressive than any others."
Dr. Andrew Emmerman, Snowmass Village, CO and Winnetka, IL
"Tim Estin has been great to work with – he listens to your concerns and goes the extra mile to find what you are looking for. He checks in with us to inform us about properties for which he thinks we might be interested. He's never pushy, but just provides great service by presenting us with information about real estate he thinks might meet our needs. He is wonderful to work with as he is interested in personal relationships, not just the sale. We highly recommend him for anyone looking for properties in the area, as he is truly an expert in the Aspen market."
Pete and Shelly Wilson, Founder and CEO, TOTW, Norman, OK
"I'm in town on business and picked up your report while walking in downtown Aspen. It's terrific, especially your commentary in the Executive Summary. It's a rare talent to translate data into useful insight."
Scott Hall, SVP, CNL Financial Group
"Just want to thank you for the wonderful real estate report on the Aspen and Snowmass real estate market.  It has been a wonderful subject of conversation this summer with our Snowmass guests.  Very insightful." Aug 2020.
Joe Badt, Owner, JMB Wealth Management, Shreveport, LA and Snowmass Village
Older marketing pieces from Coldwell Banker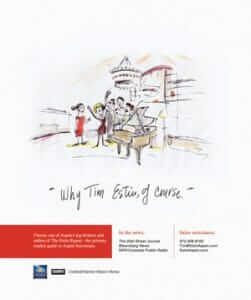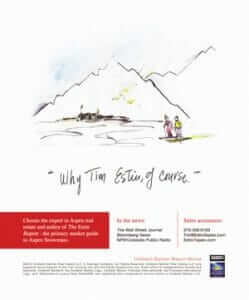 Response from a subscriber to "Yodel from the Mountains: Aspen Real Estate 2020 "Off the Charts" – End of Year Recap" 12.23.20
On Dec 24, 2020 reply,  "Dear Tim, We don't know each other but I wanted to let you know how much my husband and I enjoy your reports and weekly sales recaps.  We are both in real estate in Houston (he is an industrial broker and I am a real estate attorney) so we are always interested in what is going on in Pitkin County. Thanks for taking the time to out all of this information together."
JuIianne Kugle, SKLaw.us, Houston, TX
Response from a subscriber to "Yodel from the Mountains: Aspen Real Estate 2020 "Off the Charts" – End of Year Recap" 12.23.20
On Dec 24, 2020 reply," Beautifully presented! You're a gifted writer!! Further, you're all-around brilliant!!! Keep up your great work and perspective! I particularly like the piece included by the hedge fund person as well as the humor/reality of the elevator!! I'm honored and privileged to know such a genius!!! Thank you for sharing your insights. I can't wait for the hard copy!!!!!!!
Ann Short, Aspen property owner.