Dec 3 - 10, 2017 Estin Report: Last Week's Aspen Snowmass Real Estate Sales & Stats: Closed (12) + Under Contract / Pending (11)
New in Current Reports 11/20/17: Where are we now? Chart Series: 2006 – Q3 2017 Historic Pace of Aspen and Snowmass Village Dollar and Unit Sales (updated every quarter).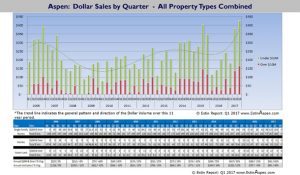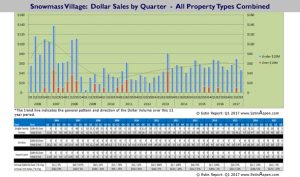 Clients often ask, "Where are we now compared to the Great Recession…?". My interest in creating this series of charts is to answer that question for myself and to offer a visual reference for that conversation – to compare Aspen and Snowmass Village sales activity now to pre-recession mid-2000's levels...Read more
The Estin Report: Nov. 2017 Aspen Snowmass Market Snapshot was posted on Dec 6th in Current Reports.
Nov 2017 Bottom Line
Nov 2017 continues the strong performance we've experienced throughout the year. We are close to beating the record year 2015.
Standout categories for the month of November are: Read More