Released Feb 13, 2018 v2.1 (On on 3/5/18 added the following footnote for v2.2 on Pgs 6 and 7. "In Jan 2018, there were 6 closings of OneAspen Townhomes near Aspen Mtn Lift 1A totaling $53M. Avg Sold Price: $8.5M/$1,732 sf. Avg size: 3bdrm/4ba,4938 sf. They went under contract in fall 2015.")
Bottom Line
Sales continued to be very active in Jan 2018. Of particular note, downtown Aspen condo inventory for sale has fallen -30% in Jan 2018 from Jan 2017. Condo demand is high: unit sales increased 56% year over year with (14) sales in Jan '18 versus (9) last Jan '17.
Dollar sales increased 203% to $66M from $22M in the same time period. Six (6) of the downtown condo sales were for the new-built One Aspen Townhomes near the base of Aspen Mountain's Lift 1A. These went under contract in fall 2015 and closed in Jan 2018 upon issue of their Certificate of Occupancy at an avg. sold price of $8.79M/$1,732 sq ft and an 8% discount to ask price. The avg size was: 3 bdrm/4 ba, 4938 sq ft with 2-car garage.
The number of under contracts for the total combined Aspen and Snowmass Village market Jan 2018 is up 107% over Jan 2017, a useful indicator of future activity as most of these contracts will close in 30-45 days.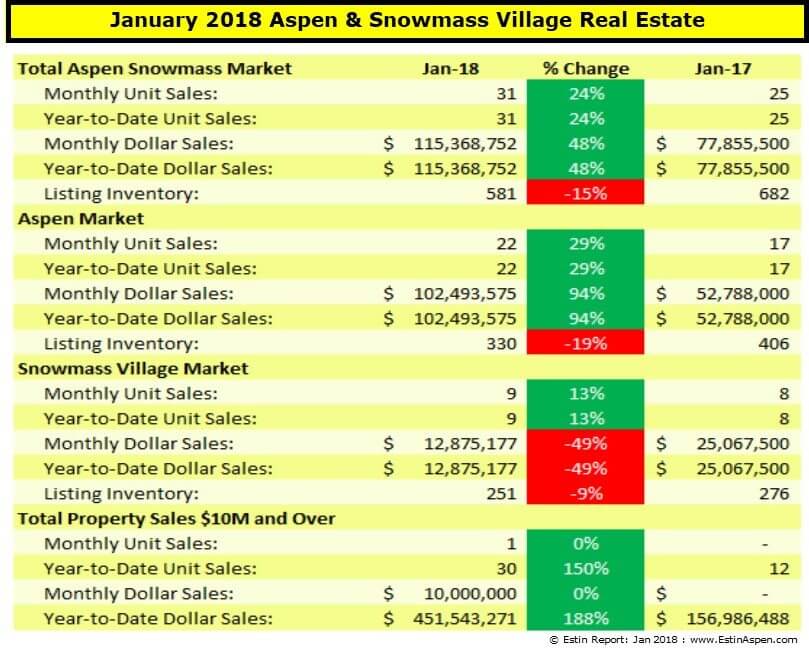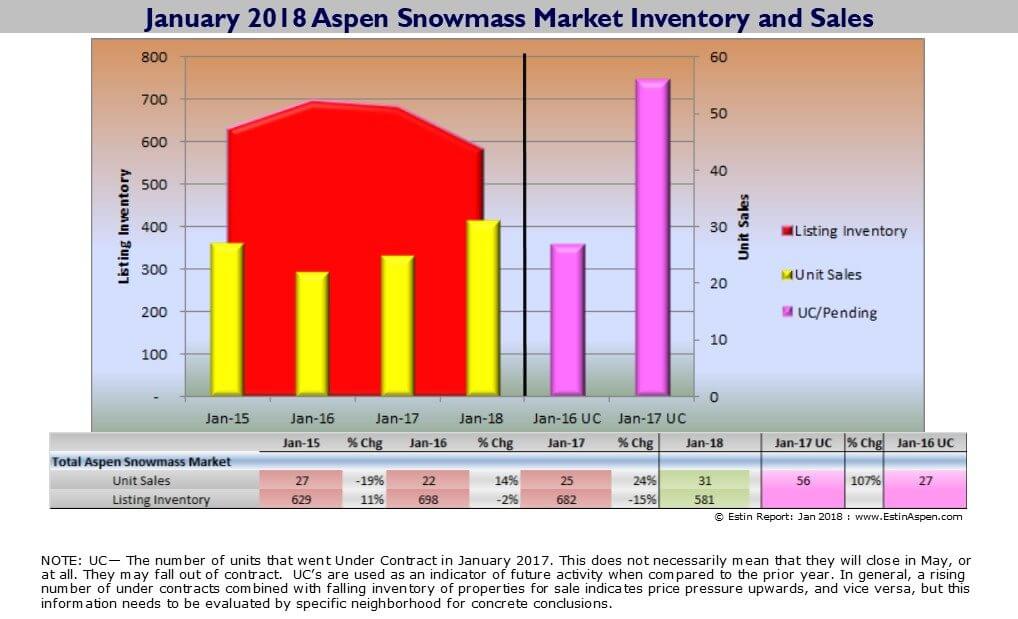 Deep Dive
Jan 2017 Aspen and Snowmass real estate sales by type and location/neighborhoods are on Pgs 7 and 9 respectively …Download the full 10 pg report from link to the right of page.
Links to January 2018 Aspen and Snowmass Village Sold Property Photos and Details
Aspen Jan 2018 Closed Properties (22).   This link is valid until 3/1/2018.
Snowmass Village Jan 2018 Closed Properties (9). This link is valid until 3/1/2018.
The Estin Report publishes a monthly Aspen real estate market "Snapshot" on or near the 1st Monday of each month.  The Monthly Snapshot details residential real estate sales in Aspen's upper Roaring Fork Valley with three sections: 1) Total combined Aspen Snowmass Village Market; 2) The Aspen Market; 3) The Snowmass Village Market.  It compares the subject month to the same time in prior years with charts, tables and 30-day live links to sold properties' photos and details. The Monthly Snapshot is the only Aspen and Snowmass property sales information widely published in a timely and consistent manner early each month. My apology… this one is late!