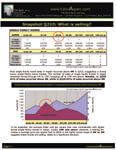 click image for report
Summary 2nd Quarter 2010
(rev. pgs 1,9 &10 July 10, 2010)
Overall, the residential market outlook in the upper Roaring Fork Valley is promising. Q210 has experienced a markedly higher dollar volume of sales and increased sales transactions when compared to both Q110 and Q209 in all property types. The trend line is categorically more positive than a year ago. Single family homes represent the dominant sales type in both Aspen and Snowmass Village, boosted particularly by a Q210 jump in sales in the $4M to 6M dollar range in Aspen.
Although this quarterly and half year 2010 analysis of the Aspen Snowmass residential market is positive, we are a far cry from the peak 2006…and 2007 prices exist no more. Those days are gone.
The sale of Aspen Lakes Ranch at $24.5 million is the highest priced residential sale in a year, yet another example of the continued strength of the high end luxury market in Aspen, its unique quality and lifestyle.
There have been 16 sales over $6 million in the first 6 months of this year compared to 11 in the same period a year ago. (These numbers were revised 7/10/10). Single family home sales show the largest increases across the board, with 84% increase in total dollar volume from Q209 and a 56% increase in median sale price from $3,848,711 in 2009 to $6,000,000 in 2010. There have been some big notable purchases which are skewing upwards the average and median numbers.
In 1H10, 20 of the total 43 sold single family homes, or 47%, were either brand new or remodeled since 2005; in 1H09, 14 of the total 28 single family homes sold, or 50%, were either brand new or remodeled since 2005 reinforcing the fact that "new" product is what's selling and this "newer" inventory is being depleted.
In Q2 2010, single family homes warrant 26% more of their original price than they did in Q2 2009. This reflects the fact that properties are becoming more realistically priced and the significant distance between ask and sold price appears to be narrowing. Pricing remains a considerable challenge as so many personal and subjective factors dictate actual sold events rather than solid market data. In general, relevant sales comparisons continue to be difficult to find.
Condominiums have historically been a much larger percentage of sales than single family homes. Yet in the past two years, there have been more single family home sales than condos suggesting that the condo market continues to be stressed, most likely over-priced and more dependent on lending sources/mortgages than the single family home segment.
Most single family home sales in Aspen occurred above $4M in Q210, suggesting a stronger luxury single family home market than might have been thought. The number of sales of single family home remained relatively strong through 15M, dropping off at 15M and above. Notably, in Q209 41% of sales occurred above 4M, while in Q210 81% of sales occurred above 4M.
Snowmass Village sales still struggle: construction is halted, developer lending sources reportedly non-existent and uncertainty with the build-out of the new Snowmass Base Village continues. But uncertainty is opportunity.
_______________________________________________