Bottom Line
     The market continues on its post pandemic, slower path to a return to 2019 and 2018 normalcy, which, pre-pandemic, were considered very healthy and active selling periods.
     The only category in the green this month is property sales over $10M …not difficult to accomplish when the median Aspen single family home sold at $11.675M/$3,106 SF in August.
      The pendings or under contracts in August are down 47% in Aspen and 69% in Snowmass Village. These are properties that went under contract in August and can be expected to close in Sept. or not at all – not all contract close. Under contracts are seen as indicators of future activity. (See pg 2).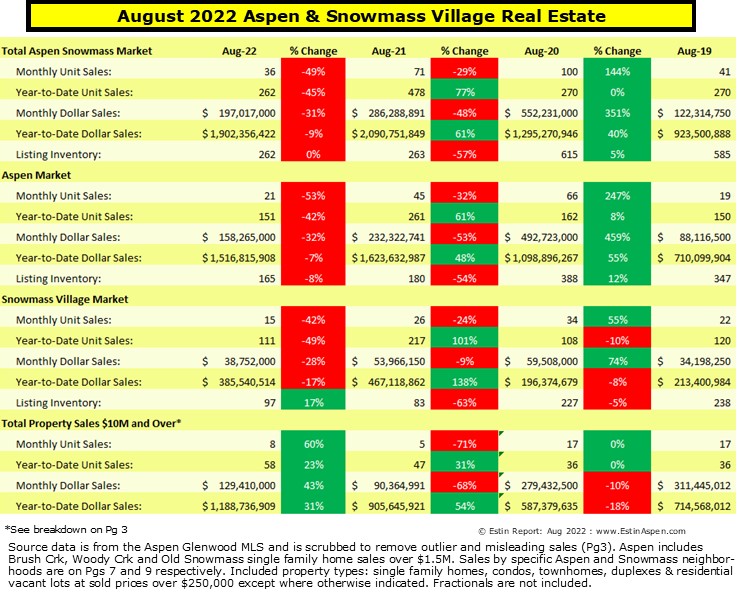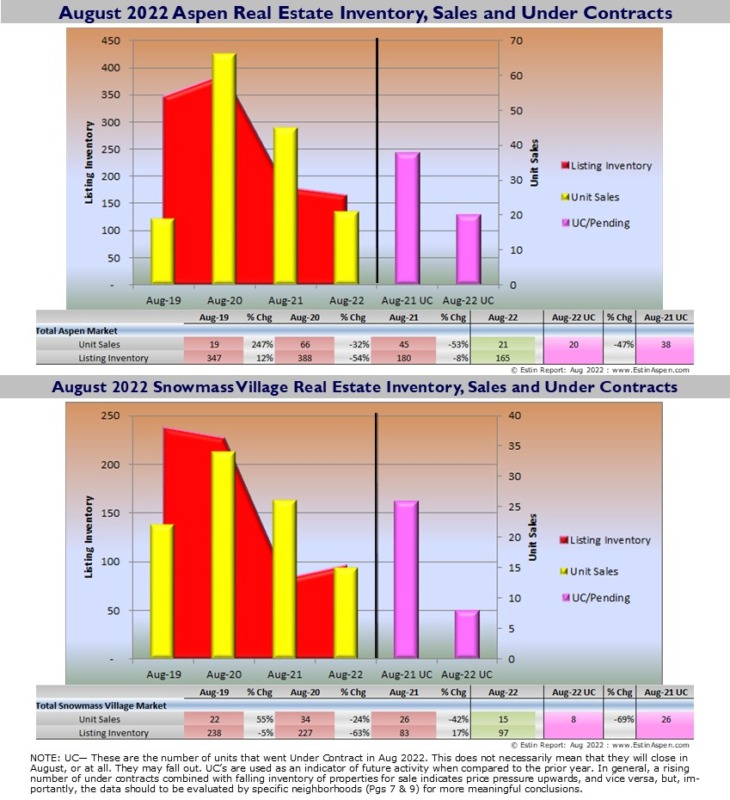 Aug 2022 Prices
Aspen 
– Aspen single family home median price in Aug 2022: $11.675M/$3,106 sq ft
– Aspen condo median price in July 2022: $2.5M/$3,367sq ft (Pg 4)
– Aspen condo 2 bedroom condo median price $3.49M/$3,485 sq ft vs $2.79M/$2,748 sq ft in Aug 2021 (Pg 7)
Snowmass Village 
– Snowmass Village single family home median price in Aug 2022: $13M/$2,173 sq ft

– Snowmass Village condo median price in Aug 2022: $1.4M/$1,445 sq ft (Pg 4)
– Snowmass Village 2 bedroom condo median price: $1.3M/$1,311 sq ft vs $1.09M/$999 sq ft in July 2021, (Pg 9)
Links to Aug 2022 Aspen & Snowmass Village Sold Property Photos and Details
Aspen Aug 2022 Closed Properties.   This link is valid until 10/1/2022
Snowmass Village Aug 2022 Closed Properties. This link is valid until  10/1/2022 
Vacant Lots Aug 2022 Closed Properties. This link is valid until   10/1/2022
Released Sep 5, 2022 v1.75
____________