Bottom Line Oct 2021 Aspen Snowmass real estate market: Dollar sales continue to be very robust and record setting with fewer sales but at significantly higher prices. Unit sales have been slowing due to limited inventory. Year over year (YOY), Aspen inventory of single family (sf) homes is down 55%, condos down 75%; Snowmass sf homes are down 60%; condos down 75%. Sellers are asking record high prices and getting them. It's a seller's real estate market and sellers who have been on the fence whether to sell may want to take advantage of this selling opportunity. The limited new listings that come on the market during the fall 2021 are at ask prices 10-25% above the most recent sold comps as each new listing aspires to record higher price-points.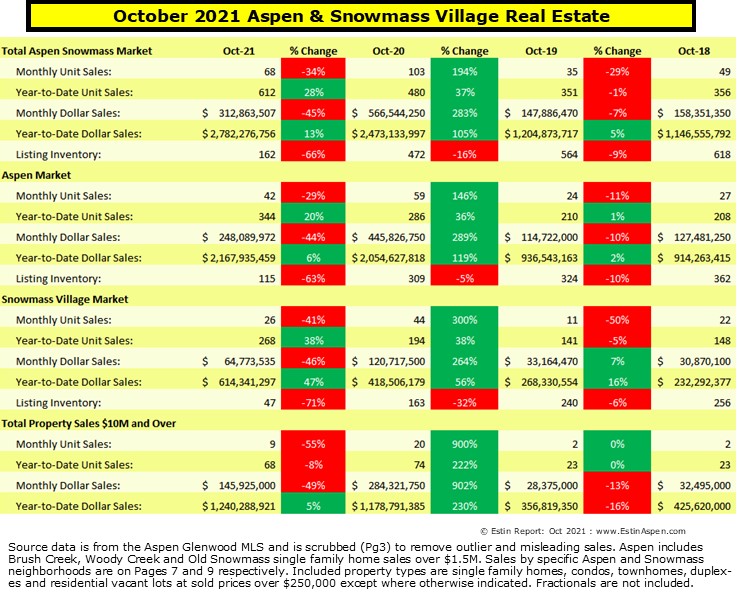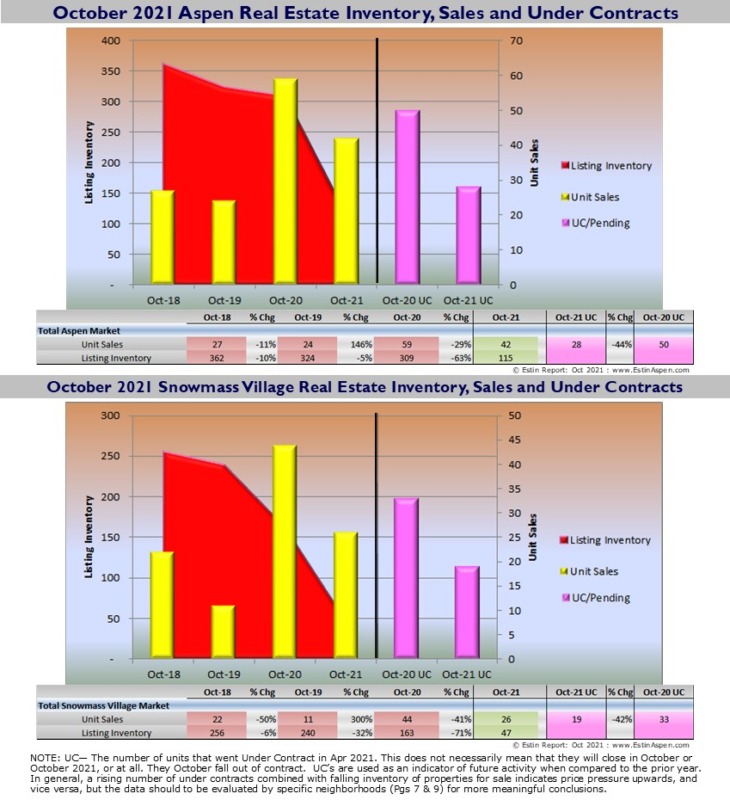 Links to Oct 2021 Aspen and Snowmass Village Sold Property Photos and Details:
Aspen Oct 2021 Closed Properties.   This link is valid until 12/1/21.
Snowmass Village Oct 2021 Closed Properties. This link is valid until  12/1/21.
Released Nov 11, 2021 v1.5   The 10-Pg Estin Report Oct 2021 Aspen Snowmass Real Estate Market Snapshot is published on or near the 1st Monday of each month.  The Snapshot presents a "bottom line" summary and raw data of the subject month and YTD performance for residential real estate sales in Aspen and Snowmass. There are three sections: 1) Total combined Aspen Snowmass Village Market; 2) The Aspen Market; 3) The Snowmass Village Market.  The report features charts, tables and 30-day live links to photos and details of sold properties and compares the subject month to the same time in prior years. The Monthly Snapshot is the only Aspen and Snowmass property sales information widely published in a timely and consistent manner early each month.