Bottom Line
Unit sales across the board—in Aspen & Snowmass Village—continue to be significantly lower than 2021 and 2020. They are closest to pre-pandemic years, 2019 and 2018, considered by many "more normal, healthy market periods".
Prices, in general, remain strong, with some incremental softening by neighborhood and price point (see pgs 3,7,9), as inventory of available properties for sale remains at record lows. Demand continues to exceed supply.
Reasons for the slowdown: General economic uncertainty— inflation, recession; high real estate prices and record low inventory of properties for sale; high interest rates likely to increase further; Ukraine war and Russian aggression…We all ask "where are we now, where are we going, what to do? " Usually, wait and see is what people choose.
However, historically the most costly mistake in the Aspen real estate market is "shoulda, woulda, coulda." thinking. Not buying. My life-long experience in Aspen  is that those who try to time the market will pay more, quite possibly considerably more, down the line.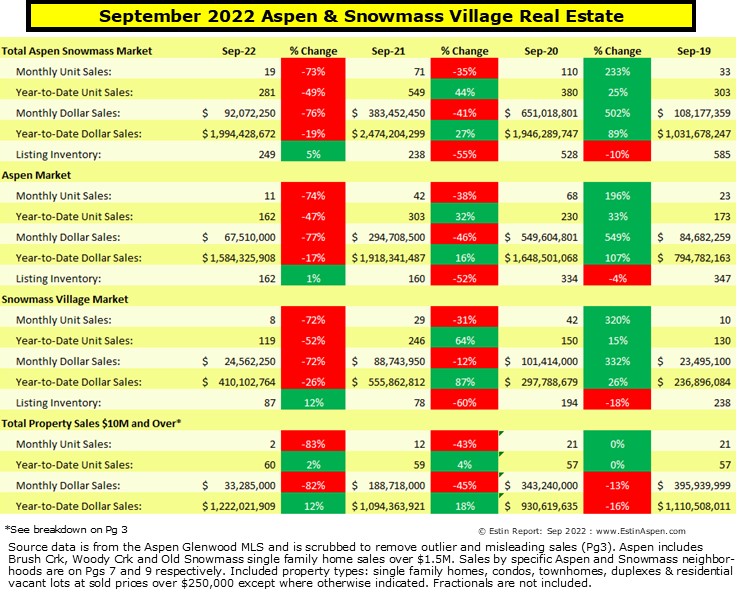 Under Contracts/Pending (Pg 2)
The pendings or under contracts in September 2022 are down 46% in Aspen and 57% in Snowmass Village. These are properties that went under contract in September and can be expected to close in Sep. or not at all – not all contract close.
Under contracts are seen as indicators of future activity.

Sep 2022 Aspen
Pendings: (21) Sep '22 vs (39) Sep '21, -46%
Sales: (11) Sep '22 vs (42) Sep '21, -74%
Sep 2022 Snowmass Village
Pendings: (13) Sep '22 vs (30) Sep '21, -57%
Sales: (8) Sep '22 vs (29) Sep '21, -72%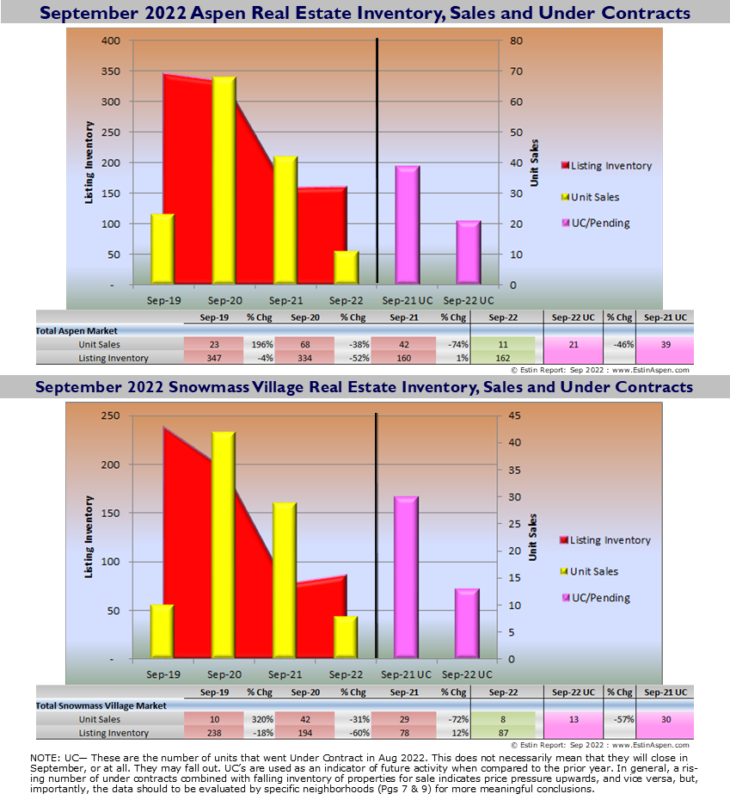 Sep 2022 Prices (Pg 4)

Sep 2022 Aspen & Snowmass Median Sold Prices (Pg 4 top)




Sep 2022 Med Sold Price/Sq Ft for Aspen & Snowmass Village (Pg 4 bottom)


Aspen Condo Pricing (Pg 7)
Aspen condo 2 bedroom median price $3.49M/$3,485 sq ft vs $2.79M/$2,748 sq ft in Aug 2021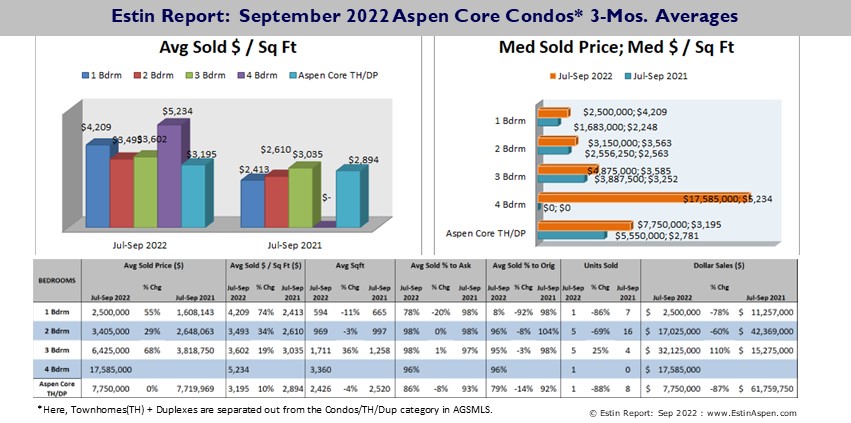 Snowmass Village Condo Pricing (Pg 9)
Snowmass Village 2 bedroom condo median price: $1.3M/$1,311 sq ft vs $1.09M/$999 sq ft in July 2021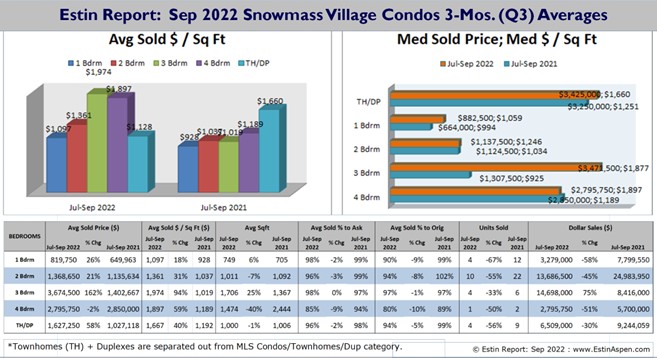 Links to Sep 2022 Aspen & Snowmass Village Sold Property Photos and Details
Aspen Sep 2022 Closed Properties.   This link is valid until 11/1/2022
Snowmass Village Sep 2022 Closed Properties. This link is valid until  11/1/2022 
Released Wed. Oct 5, 2022 v1.6
_______________________