Released Oct 17, 2021 v1.5 
Bottom Line Sept 2021  Year to date through Sept 30th for the total Aspen Snowmass real estate market, unit sales are up 44% YOY, dollar sales up 30% YOY and inventory is down 58% YOY. We are in an "evolving" marketplace where practically every sale is setting a new price high at least within and closely surrounding the town of Aspen…Where today's sold price sets the launch pad for the next new high.  In such an extreme low inventory and active market as this, pricing is more a function of what's available than comparable sales which are history. Recent sales may serve only as a reference point for pricing a new listing and – unlike an appraiser who appraises on the basis of past sales – pricing to today's market requires a degree of anticipatory judgment that recognizes both the lack of inventory and where the market appears to be heading. Pricing today is more of an art than a science.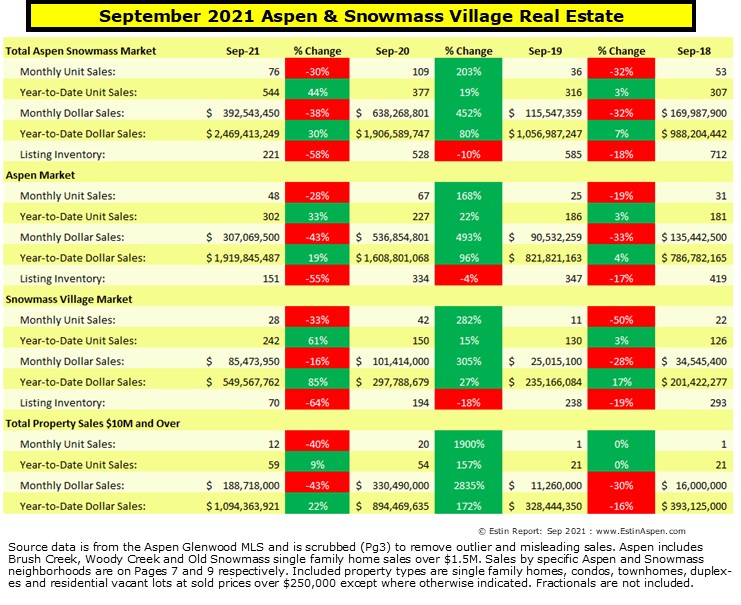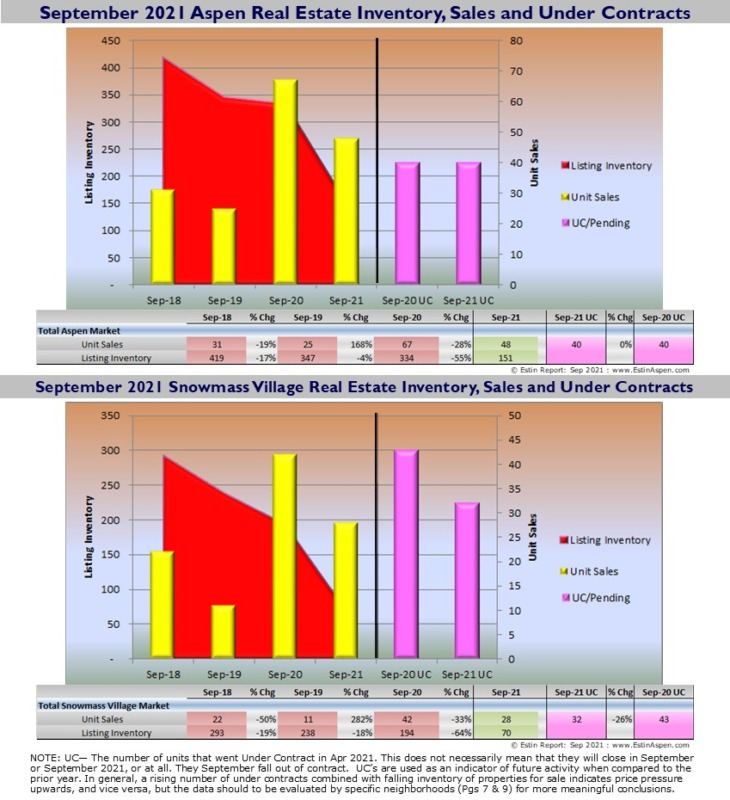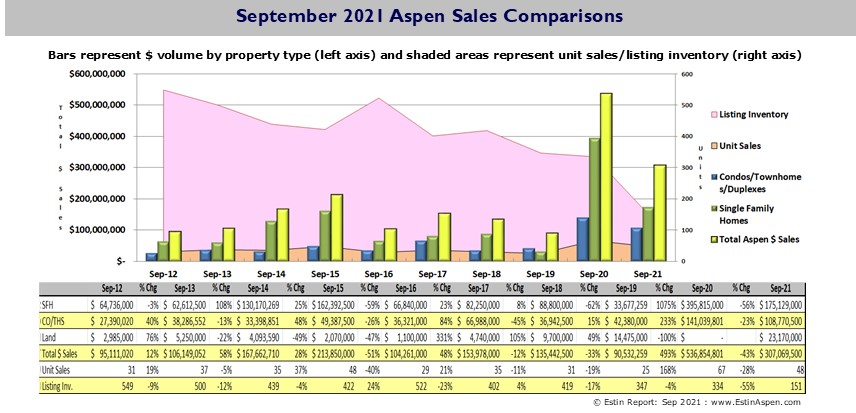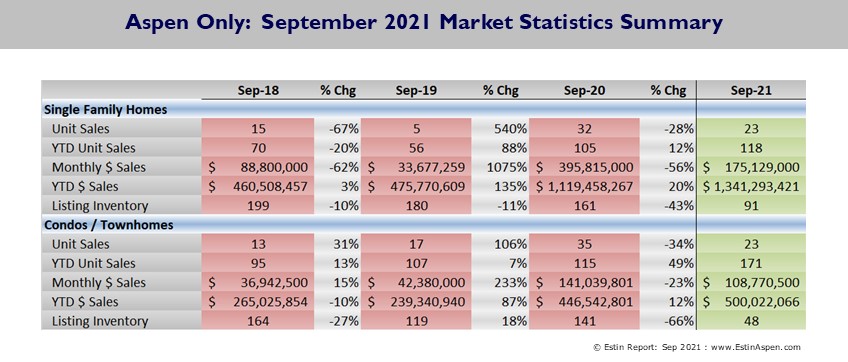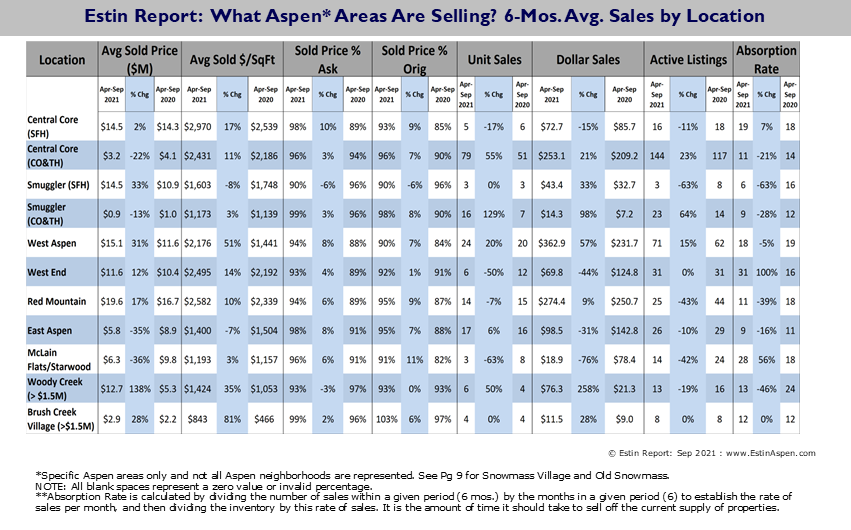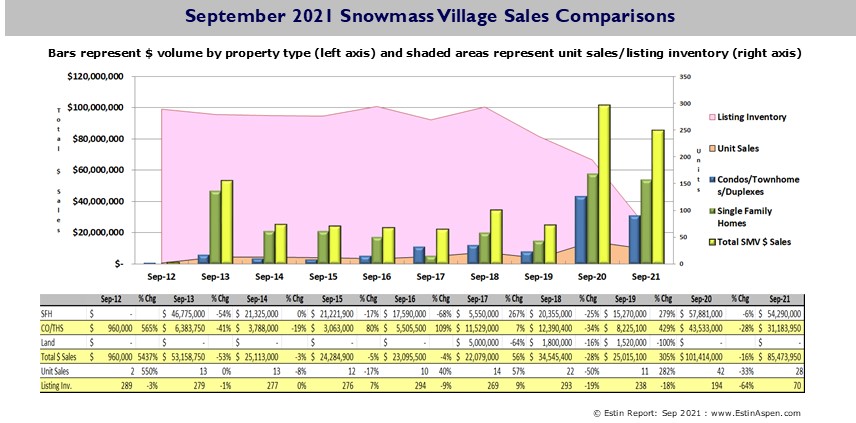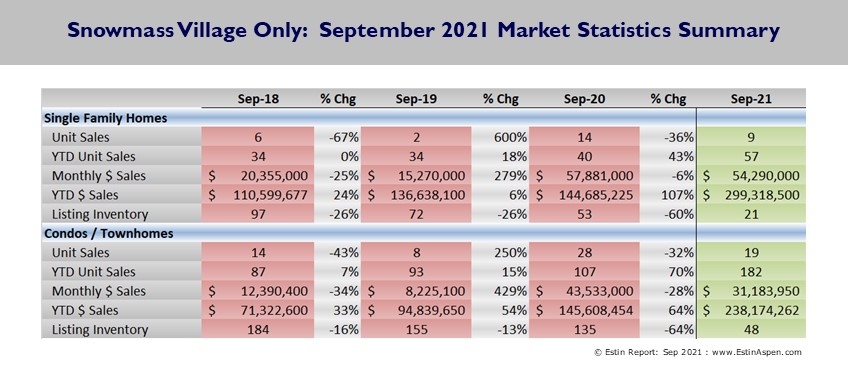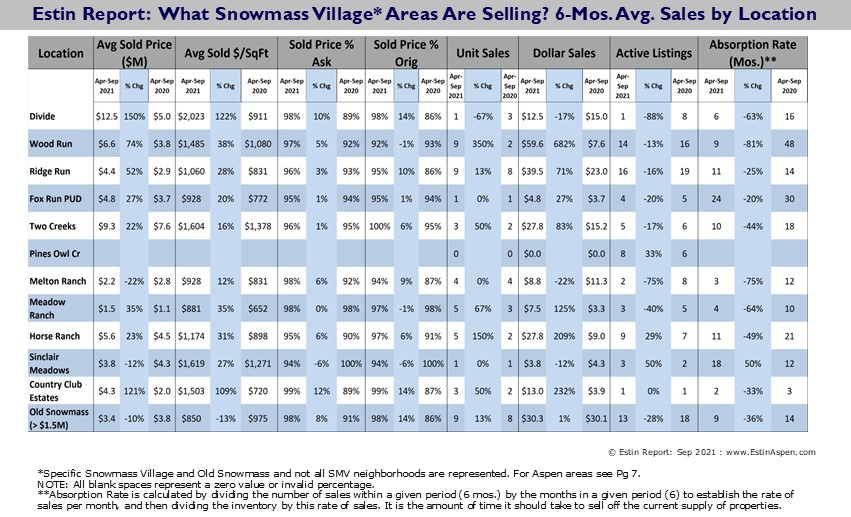 Links to Sep 2021 Aspen and Snowmass Village Sold Property Photos and Details:

Aspen Sep 2021 Closed Properties.   This link is valid until 10/1/21.
Snowmass Village Sep 2021 Closed Properties. This link is valid until  10/1/21.
Vacant Lots Sep 2021 Closed Properties. This link is valid until  10/1/21.
The 10-Pg Sep 2021 Aspen Snowmass Real Estate Market Snapshot. The Estin Report publishes a 10-page monthly Aspen real estate market "Snapshot" on or near the 1st Monday of each month.  The Snapshot presents a "bottom line" summary and raw data of the subject month and YTD performance for residential real estate sales in Aspen and Snowmass with three sections: 1) Total combined Aspen Snowmass Village Market; 2) The Aspen Market; 3) The Snowmass Village Market.  It features charts, tables and 30-day live links to photos and details of sold properties and compares the subject month to the same time in prior years. The Monthly Snapshot is the only Aspen and Snowmass property sales information widely published in a timely and consistent manner early each month.
________________