Released July 18, 2014. On 08/16/14, the Vacant Land Sales Chart on Pg 22 was revised: Year-to-year % Chg errors have been corrected in this v8.51 online.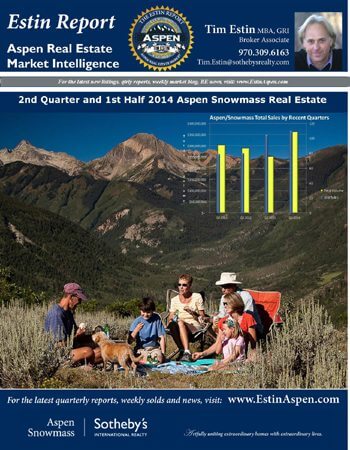 Click image for Q2 /H1 2014 full report PDF
2ND QUARTER 2014 MARKS UPTURN OF ASPEN REAL ESTATE
The Aspen real estate market appears to be at lift-off stage — the 2nd Quarter and 1st Half of 2014 is indicative of a decidedly improving market. Barring any unforeseen disruptive macro events, it's likely that we'll look back on this period as the time when the Aspen real estate market finally turned upward.
A rapidly falling inventory of Aspen properties for sale, combined with greater demand from more confident and eager buyers hoping "to get in while they still can," suggests that the market in general and prices—especially for unique, high quality, new, or newly remodeled offerings—are poised to rise. In some neighborhoods and for specific properties, this has already started.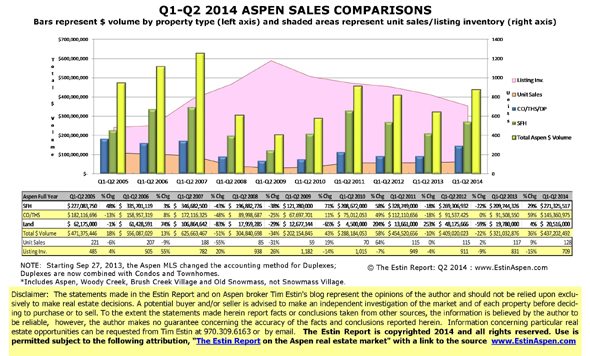 Estin Report: Q2 /H1 2014 Pg 10 Chart

Favorable Macro Trends
—Wall Street is at record highs. Historically, as the stock market goes, so goes Aspen.
—Strength of the regional economy: Colorado is growing faster than the national economy. According to the Denver Business Journal, Colorado GDP was up 3.8 % in 2013, sixth highest in the nation, whereas US GDP grew at a slow 1.8% pace.
—Compared to current real estate booms on both coasts and in big cities, the Rocky Mountain resort and vacation home market has been among the last to move upwards. But, according to a July 7 NY Times article, the over-supply of asset classes that are experiencing bubble-like run ups is causing investors to seek a wider net of brand-name non-financial, undervalued assets not necessarily for investment returns but for safe harbor, inflation hedge and portfolio diversification as well.
—"Aspen real estate is relatively cheap." The Estin Report has heard buyers say this firsthand when comparing other high-flying asset classes. A new Aspen core condo at $2,000-$2,500 sq. ft. seems like a bargain when compared to Manhattan's $6,000-$6,500 sq. ft. luxury properties.
—Bottom line: relative to other real estate markets, the Aspen market has yet to spike, but those days may be numbered.
Positive Aspen Trends
—Aspen Housing Real Estate Transfer Tax (RETT) collections derived from real estate transfers within the City of Aspen for June 2014 were "up 296% from 2013; Wheeler RETT collections were up 275%. For 2014, housing collections are up 96% from 2013; Wheeler collections are up 92%," according to a July 7 Aspen Times article.
—The average value of all Aspen building permits rose from $90.3M to $124.2M, or 37%, from January 1 to June 27, 2014 compared to the same period last year, reported the Aspen Daily News.
—While residential Aspen was sleeping during the recession, there have been huge commercial infrastructure-type property investments in Aspen: the Aspen Valley Hospital expansion, the new downtown Aspen Art Museum to open in early August, numerous new downtown commercial projects. It seems they are all finishing and coming on line simultaneously this summer, opening for business as a way of announcing to the public that a new Aspen real estate era has begun.
Positive Indicators for Aspen Real Estate
—Aspen unit sales are the highest since 1st Half 2007. There were 128 sales in H1 2014 versus 117 the same time last year, a 9% increase, and 188 in H1 2007, at the tail of the mid-2000's boom market.
—Aspen dollar sales are second highest of the past 7 years since 1st Half 2008 (only 2011 was better, at $455M). Dollar sales in H1 2014 were $437M versus $321M same time last year, a 36% increase, and a 30% decrease from the peak $626M in H1 2007.
—Inventoryof 709 Aspen properties forsale in H1 2014is down 40% since the peak of 1,182 active listings in H1 2009. The current inventory of properties for sale in H1 2014 is lowerthan the once-regarded healthy market periods of H1 2007 and H1 2008. In certain neighborhoods, prices are rising. Anecdotally, for instance, there have been multiple bids and what one long-time Aspen broker called a 'frenzy' for at least two specific properties in the historic West End: 308 N. First Street and 301 Lake Avenue, both A+ locations with redevelopment prospects. Similarly, in the past year a handful of condominium owners have exercised their right of first refusal to assume a purchase contract matching the same dates, terms and price. The buyer gets screwed and is not pleased. This hasn't happened in since late 2008.
—The spread between Aspen listing inventory and sales continues to narrow. In Q1-Q2 2014 (H1 2014), inventory is off -40% from the same time in 2009, the worst of the recession. Comparatively, present inventory is -9% less than the inventory level of the still rising, but slowing, healthy market period of H1 2007. Conversely, unit sales in H1 2014 are at their highest level in the past seven years. Simply put: supply down, demand up.
Downside Risk Factors
—A lack of quality product could turn buyers off. The lack of new construction in the past five years cleared the deck of developer spec inventory from 2008/2009, but has resulted in little new available product. "New or extreme-new remodel" product for sale is generating significant interest and realizing pricing premiums. The market does not seem able to feed the strong appetite for new, well-priced product.
—Many of Aspen's condo complexes, 90% of them built mostly in the 1960s and 70s, appear worn and tired with poor curb appeal. Significant HOA special assessments will be required to bring them up to speed.Aspen's leading edge no-growth policies over the past 40 years have protected the town's charms and history, but they have also made the upgrading and replacement of aged, outdated real estate stock exceptionally burdensome, if not impossible, for owners.
—A fast market run-up with overeager, unrealistic price hikes could turn off buyer interest prematurely before a sustained recovery really gets going. Slow and steady is the healthy mantra; fast and furious may end any celebrations early.
For assistance buying or selling Aspen property, please contact Aspen broker Tim Estin at 970.309.6163 or by email. The print version of The Estin Report: Q2 / H1 2014 State of the Aspen Marketis available in racks at the Aspen Airport, the Wheeler Opera House, Chamber of Commerce Kiosk on Galena, Sothebys at 415 Hyman Ave and at my office at 300 Spring St opposite the new Aspen Art Museum.
Disclaimer: The statements made in The Estin Report and on Aspen broker Tim Estin's blog represent the opinions of the author and should not be relied upon exclusively to make real estate decisions. A potential buyer and/or seller is advised to make an independent investigation of the market and of each property before deciding to purchase or to sell. To the extent the statements made herein report facts or conclusions taken from other sources, the information is believed by the author to be reliable, however, the author makes no guarantee concerning the accuracy of the facts and conclusions reported herein. Information concerning particular real estate opportunities can be requested from Tim Estin at 970.309.6163 or by email. The Estin Report is copyrighted 2014 and all rights reserved. Use is permitted subject to the following attribution with link to the source: "The Estin Report on the Aspen real estate market"
________________________