Scroll down page for prior week's market activity. If you like this site, please refer others and click the "Like" button above.
The Estin Report will begin publishing monthly real estate sales charts for the total combined Aspen Snowmass market, the Aspen market and the Snowmass Village market – the upper Roaring Fork Valley. The Feb. 2012 charts have been finalized (03/05/12) and chart links, commentary and links to sold Feb. property details/photos appear below.
The weekly market activity post will occur as normally scheduled on Monday mornings.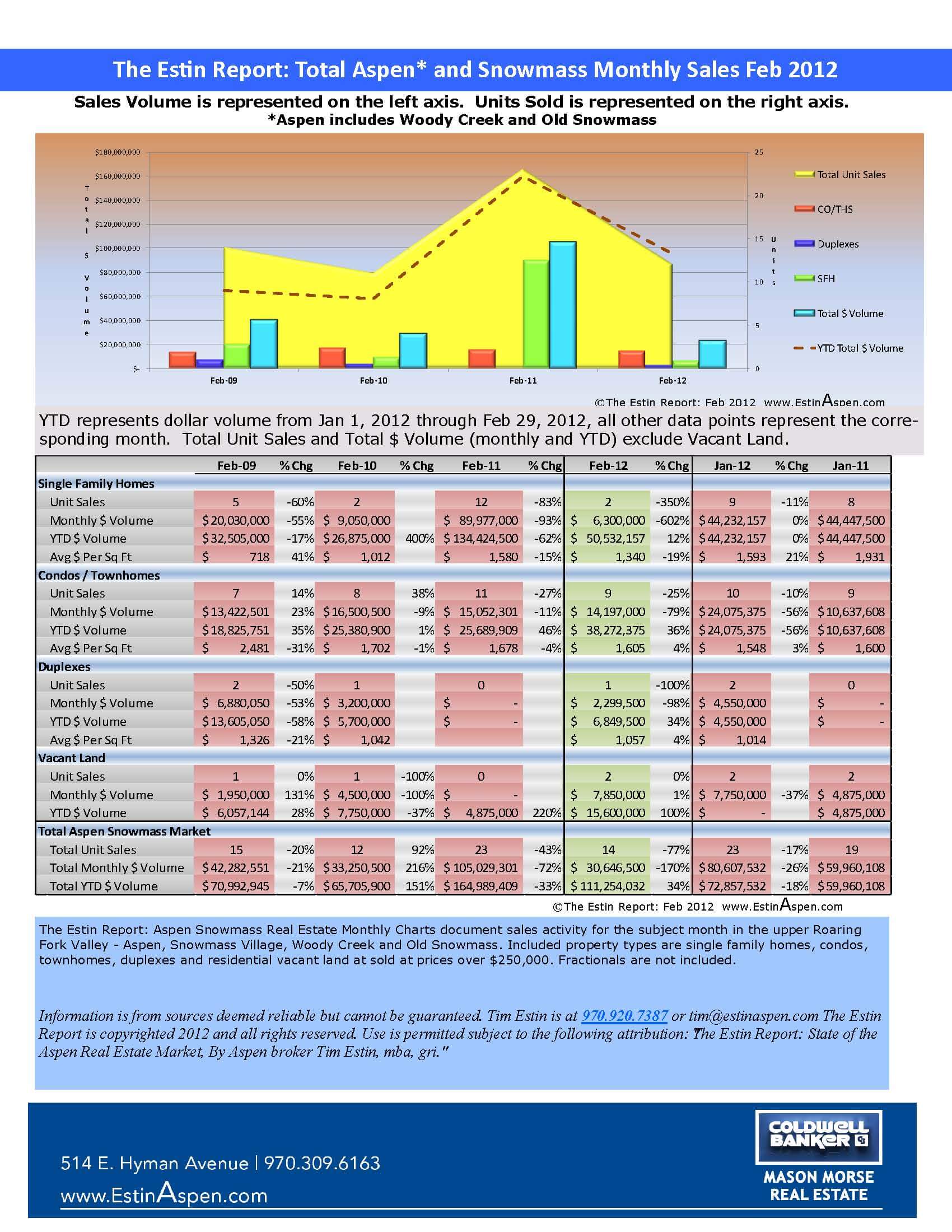 Click image for pdf charts
Comments on Feb 2012: Weaker Aspen property sales in Feb. 2012 …
In spite of growing positive US economy news with Wall Street indexes hitting prerecession highs, manufacturing on the rise and a glimmer of consumer confidence that the recovery this time has legs, there was a dramatic fall off of total Aspen Snowmass sales activity in Feb. 2012 – and in Aspen specifically – compared to the prior months, Jan. 2012, and the prior year, Feb. 2011.
Reasons? Difficult to say. Here's some best guesses:
1. Poor snow conditions for the Aspen Snowmass area until final week of Feb.
2. Specter of Greek default continues global uncertainty.
3. Wall Street bonuses down for 2011 by 20-30%.
4. Greater caution this year on the strength of the recovery because last year we got burned…The beginning of last year was strong for local real estate sales and in other high end locations. There was much optimism. And then a series of macro events ruined the party: Japan earthquake, renewed fears in May of the sovereign debt crisis, the Congressional impasse in July.
Prediction: Market activity to improve measurably in the spring as the domestic economy continues to improve barring unforeseen events such as Middle East oil disruptions, a Euro melt-down and others.
Question: For the year, will there be a Facebook IPO ripple effect in the Aspen Snowmass real estate market later in the year ?
Sold Feb. 2012 Aspen and Snowmass Village Properties:
Tim Estin welcomes your business, inquiries and comments. Email: tim@estinaspen.com or call 970.920.7387. Subscribe to The Estin Report and Tim Estin's AspenRealEstateBlog.com on twitter @EstinAspen by clicking "Join the conversation" button below or click different subscription options in the banner at the top of page:
{source}
<script type="text/javascript" src="http://widgets.twimg.com/j/2/widget.js"></script>
<script type="text/javascript">
new TWTR.Widget({
version: 2,
type: 'profile',
rpp: 4,
interval: 6000,
width: 250,
height: 300,
theme: {
shell: {
background: '#333333',
color: '#ffffff'
},
tweets: {
background: '#000000',
color: '#ffffff',
links: '#4aed05'
}
},
features: {
scrollbar: false,
loop: false,
live: false,
hashtags: true,
timestamp: true,
avatars: false,
behavior: 'all'
}
}).render().setUser('EstinAspen').start();
</script>
{/source}
Disclaimer: The statements made in The Estin Report and on Tim Estin's blog represent the opinions of the author and should not be relied upon exclusively to make real estate decisions. A potential buyer and/or seller is advised to make an independent investigation of the market and of each property before deciding to purchase or to sell. To the extent the statements made herein report facts or conclusions taken from other sources, the information is believed by the author to be reliable, however, the author makes no guarantee concerning the accuracy of the facts and conclusions reported herein. Information concerning particular real estate opportunities can be requested from Tim Estin at 970.920.7387 or Email him. The Estin Report is copyrighted 2012 and all rights reserved. Use is permitted subject to the following attribution: "The Estin Report: State of the Aspen Real Estate Market, By broker Tim Estin, mba, gri."
___________________________________________________________________________