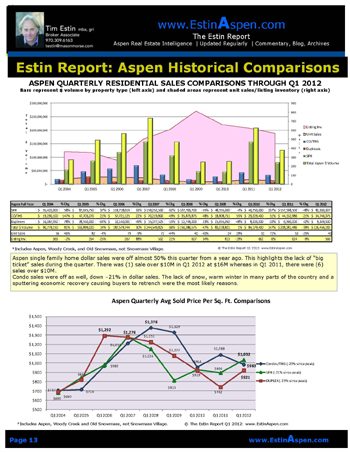 Click link for full report pdf with charts
Executive Summary and Market Overview
Total Aspen Snowmass Market
In Q1 2012, the Aspen market is considerably off from last year Q1 2011 in spite of generally favorable US economic winds and trends – at least until the March US unemployment numbers were announced in early April. In Q1 2012 the total Aspen and Snowmass real estate market is down -29% in dollar sales and down -19% in unit sales over Q1 2011.
A comparison to prior 1st quarters since the crisis began indicates Q1 2012 as the second strongest behind last year's high performance first quarter.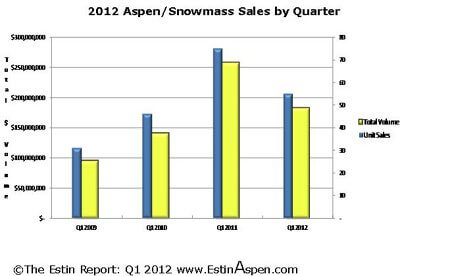 Q1 2012:
·$182.9M (-28% from Q1 2011)
·55 unit sales (-27% from Q1 2011)
Q1 2011:
·$285.1M dollar sales (+84% from Q1 2010)
·75 unit sales (+63% from Q1 2010)
Q1 2010:
·$140.6M dollar sales (+47% from Q1 2009)
·46 unit sales (+48 from Q1 2009)
Q1 2009:
·$95.7M dollar sales
·31 unit sales
In particular, Q1 2012 lacked the big ticket home sales over $5M and $10M+ that the market experienced the same time last year. Bear in mind , the average home price is $4.4M and the median is $4.0M, so a $5M sale is close to mid-market.
Over $10M Home Sales Q1 2012:
Q1 2012 = sales >$10M (1 sale) or -83%
Q1 2011 = sales >$ 10M (6 sales)
Over $5M Home Sales Q1 2012:
Q1 2012 = sales >$5M (7 sales) or -42%
Q1 2011 = sales >$5M (12 sales)
Aspen Market
Average Price per Sq Ft
Aspen single family home average price per sq ft is off -21% from the market peak period in Q1 2008, $1,032 per sf in Q1 2012 versus $1,226 per sf then.

Aspen condo average price per sq ft is off -29% since Q1 2008, $983 per sf in Q1 2012 versus $ 1,378 sf in Q1 2008.
Aspen Home Market Activity and Time to Sell
Aspen single family home dollar sales in Q1 2012 are off -48% from Q1 2011

Aspen single family unit sales of (17) units in Q1 2012 are off -37% from (27) units Q1 2011,
Aspen Home Prices
Aspen median home sale prices in Q1 2012 are up +5% from a year ago Q1 2011. (Median is a more reliable indicator of price information as averages can be skewed significantly by either very large or small property sales.)

Aspen average home sale prices have decreased in the same time period -17% to $4.8M in Q1 2012 from $5.8M in Q1 2011.
Aspen Condo Market
While the brightest light in 2011 property sales overall was the significant improvement in condo sales – all condo metrics were positive – this trend reversed itself in Q1 2012.

Both dollar and unit sales fell by -21% in Q1 2012 over the same period last year. There were 19 sales in Q1 2012 versus 24 last year.

As in Q4 2011, condo prices appear to have stabilized. The median and average Aspen condo price is $1.8M

Aspen average condo price per sq ft has fallen to $983 in Q1 2012 versus $1,088 in Q1 2011,

–

10% .
Aspen Price Points
As mentioned earlier, Q1 2012 lacked the big ticket home sales over $5M and $10M+ that the market experienced in the first quarter last year.
To put in perspective the extent to which the big expensive sales dominated 2011, in the full year 2011 over $10M category, there were 16 sales versus 10 in 2010 Year, a +60% difference.The category received much national media attention throughout 2011 accounting for 45% ofthe total Aspen single family home dollars spent in 2011 versus 33% of the total in 2010,a 64% increase in dollars. In Q1 2012, the over $10M segment accounted for 19% (one sale at $16M) of the total Aspen single family home solds market of $82.4M.
The under $1M category experienced a setback in sales as well: there were (0) sales in this price category in Q1 2012 versus (5) sales in Q1 2011.
Snowmass Village Market
Market size
The Snowmass Village home and condo market at $29.3MM in dollar sales for Q1 2012 represents 16 % of the total Aspen Snowmass home and condo (residential w/improvements) market combined at $$182.9M. In unit sales, the (15) Snowmass Village sales of Q1 2012 accounted for 24% of the total (62) units sales.
Snowmass Village dollar volume decreased to $29.3M, -35% in Q1 2012 over Q1 2011, and unit sales fell 32% to (15) sales in Q1 2012 from (22) sales in Q1 2011. Single family unit sales decreased to (6) sales in Q1 2012 or 33% from the prior year quarter of (9) sales and condo unit sales fell -31%, from (13) sales last year Q1 to (9) this Q1 2012.
Prices
In Q1 2012, there was (1) Snowmass Village sale above $5M, at $5.75M, versus (1) sale above $5M in Q1 2011, at $17.75M.

Snowmass Village average price per sq. ft. fell another -7% for single family homes to $707 sq ft but rose +21% for condos to $683 sq ft in Q1 2012 over Q1 2012. (The size of condos sold in Q1 2012 were approx. 225 sq ft larger, or +17%, than those sold in Q1 2011 and this may account for some of this rise in price per sq ft.). Since their market peaks in Q1 2008, Snowmass single family home average price per sq ft prices in Q1 2012 are off -46% and for Snowmass condos off -31%.
Average and Median Snowmass Prices
The average Snowmass Village single family home price in Q1 2012 was $3.15M (-19% from Q1 2011) and the median price was $2.9M (+16% over Q1 2011).

The average Snowmass Village condo price in Q1 2012 was $1.16M (+52%% from Q1 2011) and the median price was $1.1M (+57% over Q1 2011).
Time It Takes to Sell
The amount of time (days on market) it takes to sell a SMV condo decreased -18% from 717 days to 585 days, while the time it took to sell a SMV home decreased an incredible -48% from 335 days in 2010 to 175 in 2011. Possible explanation: those 2011 home sales sold at 85% of their original list prices suggesting they were better priced to begin with than homes that sold in 2010 at 70% of their original ask price.
Vacant Lots – Aspen and Snowmass
Buyers may be slowly recognizing the incredible values in vacant land.
In all of 2011, there were (9) total vacant lot sales – the lowest number of annual lot sales going back to 2004. But in Q1 2012, there were (7) lot sales, or 78% of last year's total sales have already occurred in first quarter 2012.
Why the upturn in vacant lot sales?
Land is cheap, there is little new built product on the market, there's intense competitive bidding between contractors so construction costs have been lower than in the boom days, so why the heck not build to suit…?
It's a wonder and a curiosity more buyers aren't stepping up.
As mentioned in reports last year, in many cases, it should be less expensive now to buy land and build than to purchase an existing home. This is typically a tipping point when land sales should start to pick up, and, as evidenced by Q1 2012 sales, they are starting to.
Market Overview
In the 1st quarter of each of the past three years, the economy started to rebound only to sputter as we got further into the year. There's a lot of "once burned twice shy" sentiment out there.
The experts lack the conviction to make the call that we are out of the woods. The consensus is that yes, we have a recovery with modest, halting growth but it's too slow to restore unemployment rates to more normal times. And because of this, buyers may be slipping back into uncertainty, unwilling to purchase expensive Aspen properties unless there's certifiable value.
There's a definite fear versus value index at work: show the buyer the value and the fear can possibly be vanquished. But without the buyer's perception of "value", there's not a prayer for a deal unless the property is certifiably exceptional and unique.
As much of Aspen real estate activity is fed by our sense of well-being, there continue to be a number of reasons for uncertainty. As the global economic outlook goes, so goes Aspen. For the most part, Aspen's once rarified economic and social immunity from the rest of the world has disappeared in the internet age. If the stock market is up, it is likely that the local real estate market will mirror that and the opposite as well.
In general, Aspen Snowmass real estate prices have reset to a post-crisis level, off an average 25 – 40% from the 2008 market peak and in some cases more. Much depends on the property, unique circum-stances and seller motivation. Except for extra-ordinary, one-of-a-kind properties, prices remain under pressure, at least incrementally, even assuming they have been adjusted to the new norm.
It remains unclear the extent to which we have in fact reached a bottoming, or a stabilization, of prices. The big question everyone asks is… are we scraping along a bottom or are we still falling?
Specific Aspen real estate topics:
Weather – The poor snow and warm temperatures over this past winter across the US likely contributed significantly to the lower Aspen real estate sales in the 1st Quarter 2012. There's also the thinking that the warm winter pulls forward spring activity, that we get an early start on spring in theory making the early months of the year look better than they actually are. If that's the case nationally, one would think the Aspen Q1 2012 numbers would in fact be better than they actually were.
Inventory Levels Down: Sellers Pulling Listings – In a reverse kind of logic, although inventory levels have decreased from 1,271 listings in Mar 2009 to 891 listings in Mar. 2012, down -30%, it most likely is not entirely attributable to increased sales. Sellers are holding and pulling their properties off the market rather than sell into a still challenging market and further capitulate at lower prices. They'd rather wait for signals of a confirmed 'recovery' and consequent stabilization of prices.
Declining Inventory – Buyers May not be Finding Value – it is generally a positive sign, but on the downside, the slowdown in sales may suggest that buyers aren't finding the quality of product they're looking for at a price they are willing to pay.
Lack of New-built Product – Most of the newer developer built spec homes of 2008-2011 vintage have been sold at greatly discounted prices. Maybe a handful still exist. And the need-to-sell Aspen properties have been flushed out. So, what's left is sellers who can afford to wait out the market and buyers who only want to buy from super motivated sellers of whom there are far fewer than there were a year ago.
Deal Savvy Buyers – While a sense of 'missing the bottom' is driving some buyers, others have adopted a 'wait and see' attitude. Unless motivated by a property they can't live without at a price that demonstrates value, most prospective buyers will move on to the next property. Or continue to wait out the market.
Lurking Shadow Inventory – There are a number ofowners who've been pining to sell in the past three years who are waiting for improved market conditions. These properties will swell onto the marketplace as soon as there is a sense of market stabilization and maybe a hint of increased prices. But that may release floodgates of sellers and new inventory and pricing pressure will again resurface. Think of it literally as waves of inventory. I believe we are in for a period of sustained price pressure lasting at least another 6 – 12 months.
Save Money and Build Option – Vacant lot prices are down 40-60% and in many cases, it should be less expensive now to buy landand build with construction costs down 15-25%than to purchase an existing home. Additionally, the Pitkin County permitting approval process is more expedient at present than in the mid-2000's boom days. It takes an estimated 18-24 months to permit and build now versus 24-36 months then.
Lack of New Home Product – Buying land and building new is actually a good hedge against continued market uncertainty. As there is so little new construction taking place presently due to onerous loan qualification conditions, by the time one completes the job in two years, there should be high demand for this new product priced at a premium as so little new residential supply will then be available.
Uncertain US and Global Economic Picture – Every month a new set of numbers comes out with different conclusions, interpretations and spin. Every good reading gets answered with a bad one. This topsy-turvy pattern of volatile numbers every month solidifies our sense of vulnerability adding to the overall psychic fragility of this recovery. An Italian/Spanish/Irish default, Euro-contagion, another Japanese earthquake type event – on top of the 2008 economic crisis – have created a general mood of fragility and lack of optimistic conviction. This is not doomsday thinking, it is the 21st Century world in which we now live.
So Critical Question: Has the Market Turned?
Yes, in that real estate activity has significantly picked up over the past two years and has returned to a more "normal" pre-2005-2008 pace. No, because while the rate of price discounting appears to have stabilized, for other than truly unique new or like-new properties in A-level locations, there continues to be pressure on sellers to further reduce – even if incrementally – to get the deal done if one truly wants or needs to sell. If not, seller's are best advised to not list one's property. It is generally still a tough, humbling experience for sellers.
To Sellers:
If buyers perceive a listing is priced mark-to-market (i.e. what would it take to sell today), or more commonly that "buyers perceive value", properties stand a reasonable likelihood of selling within 2 – 8 months. If not, sellers risk 'riding the market' down in these well-known stages: starting high thereby immediately disinteresting buyers and brokers; the listing becomes stale; competitive properties sell; finally the seller capitulates 1-3 years later in order to sell at the price he could have sold for in the beginning if only he'd listened to his broker. This scenario repeats itself time and again with sellers stubbornly holding on to prices that don't exist anymore.
Unfortunately, other factors such as the time value of money – it costs money to service a property, the opportunity cost to forgo better opportunities while a property – and the cash it ties up – sits on the market, and the importance of "getting on with it" as life moves on, are for the most part not pre-eminent pricing considerations by the seller when a property is initially listed. Of course, seller considerations often differ from one another, and each should be realistic to match their motivations with their pricing.
To Buyers:
Find the property one loves, that one believes one may be able to afford, and make a bid at a level one is comfortable with. Making a written offer is the only way to get real information from the seller. See what happens. Negotiations have to start somewhere, and many properties are selling at levels even brokers have a difficult time believing. One never knows the real story … especially in this marketplace.
What is Selling?
New. New. New construction homes and extensively remodeled – like new – condos or homes, large uniquely built homes whose size, quality and location are not easily or impossible, to reproduce, properties priced "to market" – a clear value, and highly discounted vacant lots in B+ or better locations.
__________
Tim Estin welcomes your business, inquiries and comments. Email: tim@estinaspen.com or call 970.309-6163. Subscribe to The Estin Report and Tim Estin's AspenRealEstateBlog.com for weekly sold updates and comments by clicking on the subscription options at the top of the page on www.EstinAspen.com
Recent tweets: twitter@EstinAspen
EstinAspenThe Estin Report Aspen Snowmass Weekly Real Estate Sales and Statistics: Closed (9) and Pending (11): Apr 15 – 22, 12: bit.ly/I3DA7O
EstinAspenThe Estin Report: Q1 2012 State of the Aspen Real Estate Market was published 4/22/12: bit.ly/JjpQXT
EstinAspenThe Estin Report:Aspen real estate news archives:"It's All Downhill for US Equality- stocks, bonds,Aspen real estate"FT:bit.ly/Jh7lpk
EstinAspenThe Estin Report: Aspen Snowmass Weekly Real Estate Sales and Stats: Closed (12) and Pending (8): Apr 8 – 15, 12: bit.ly/HXEJic
Disclaimer: The statements made in The Estin Report and on Tim Estin's blog represent the opinions of the author and should not be relied upon exclusively to make real estate decisions. A potential buyer and/or seller is advised to make an independent investigation of the market and of each property before deciding to purchase or to sell. To the extent the statements made herein report facts or conclusions taken from other sources, the information is believed by the author to be reliable, however, the author makes no guarantee concerning the accuracy of the facts and conclusions reported herein. Information concerning particular real estate opportunities can be requested from Tim Estin at 970.920.7387 or Email him.The Estin Report is copyrighted 2012 and all rights reserved. Use is permitted subject to the following attribution: "The Estin Report: State of the Aspen Real Estate Market, By Aspen broker Tim Estin, mba, gri."