Released June 26, 2018 v4.6f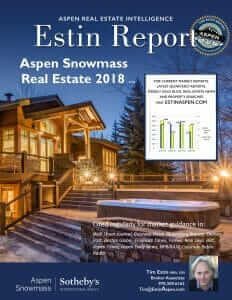 Executive Summary 
The Aspen real estate market is firing on all cylinders at full speed ahead.
By all measures – property dollar sales, property unit sales, real estate transfer tax collections, and construction activity – we are in the midst of a thriving and vibrant real estate market.
We are seeing expanded Aspen sales activity outwards from downtown Aspen to Starwood, Woody Creek and Old Snowmass as buyers recognize the significant values 5-15 minutes outside compared to record prices within the Aspen Core.
Snowmass Village sales have been fairly even for the past 3-4 years but hopes are high for a substantive bounce as the Base Village experiences new construction momentum and gets closer to completion. This is a result of the ownership change in Dec 2017 from an indifferent Related Co's to a highly charged and enthusiastic local East West Partners/Aspen Skiing Co partnership. (See photo of construction progress on Pg 25).
Key Takeaways…
Download full 32 Pg report from link to right.
*The report covers Aspen and Snowmass Village, CO real estate sales for 2018 YTD (Jan 1 thru May 31) and for the Year 2017.  It compares year over year results and, where indicated, to historical data for the past 10 years. There are two sections: 1) The Aspen real estate market (includes Aspen, Brush Cr Village, Woody Creek and Old Snowmass; 2) The Snowmass Village real estate market (the ski resort).  Included properties types are single family homes, condos, townhomes, duplexes and residential vacant land/lots sold at over $250,000. Fractionals are not included. The focus is on the upper Roaring Fork Valley as what happens in Aspen ripples outward and downvalley.  Abbreviations are: Aspen (ASP), Brush Cr. Village (BCV), Woody Creek (WC), Old Snowmass (OSM) and Snowmass Village (SMV). The source data is the Aspen Glenwood MLS which maintains data for 10 years.