Released Feb 10th, 2020. The Estin Report on the Aspen Snowmass real estate market is presented with a forthright, objective and professional lens. This is the 14th year of the publication and during the dark days of the recession, many considered it the journal of record on what was really happening on the ground. The emphasis has always been to drill down further and allow the facts to emerge.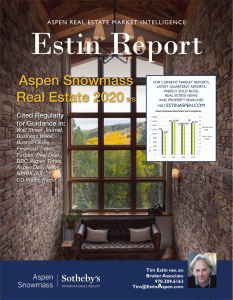 This 32 page report covers Aspen Snowmass real estate market for H2 2019 and YEAR 2019 (H2 is 2nd Half 2019: Jul 1 thru Dec 31, 19).
It compares year over year results and historical data for the past 10 + years. There are two sections: 1) The Aspen Market (includes Aspen with Brush Cr Village, Woody Creek and Old Snowmass sales over $1.5M); 2) The Snowmass Village Market (the ski resort). Sales are broken out by average & median prices, by size, neighborhoods and property types— single family homes, Aspen downtown condos, all condos, townhomes, duplexes and residential vacant land/lots sold at over $250,000. Fractionals/timeshares, mobile home parks and subsidized housing are not included. The focus is on the upper Roaring Fork Valley as what happens in Aspen ripples outward and downvalley. The source data is the Aspen Glenwood MLS which maintains data for 10 years.
The print version will be available in racks around town, at Sothebys 415 E Hyman Ave, Aspen (on the Mall), at Sothebys, 300 S. Spring St (opposite the Art Museum), and at the Pitkin County (ASE) airport after Feb 21st.  (v4.2b pub & 4.3b for print).