The Estin Report publishes a 10-page monthly Aspen Snowmass Snapshot* on or near the 1st Mon. of each month. 
Bottom Line Dec 2022
      For end of the year commentary and data, please see my 2022 Year in Review: H2 & YR 2022 YTD  (Jan 1 – Dec 6, 22)  published print edition on Dec 19, 22 in the Estin Reports section. An end of year Jan 1-Dec 31, 2022 Online version will be posted by Jan 10th, 23.
      While there has been an uptick in overall inventory of properties for sale in December, this is largely a reflection of new listings coming on the market for the all-important Holiday and winter/spring 2023 selling season.
     In general, inventory levels remain at all-time historic lows, prices are at their highest ever and units sales, the number of transactions, have declined significantly to pre-pandemic  levels. This is a similar story to many other high end, luxury markets across the country due to interest rate, inflation, recession, Ukraine uncertainties.
Links to Dec 2022 Aspen and Snowmass Village Sold Property Photos and Details
Aspen Dec 2022 Closed Properties.   This link is valid until 2/1/2023
Snowmass Village Dec 2022 Closed Properties. This link is valid until 2/1/2023
Vacant Lots Dec 2022 Closed Properties. This link is valid until 2/1/2023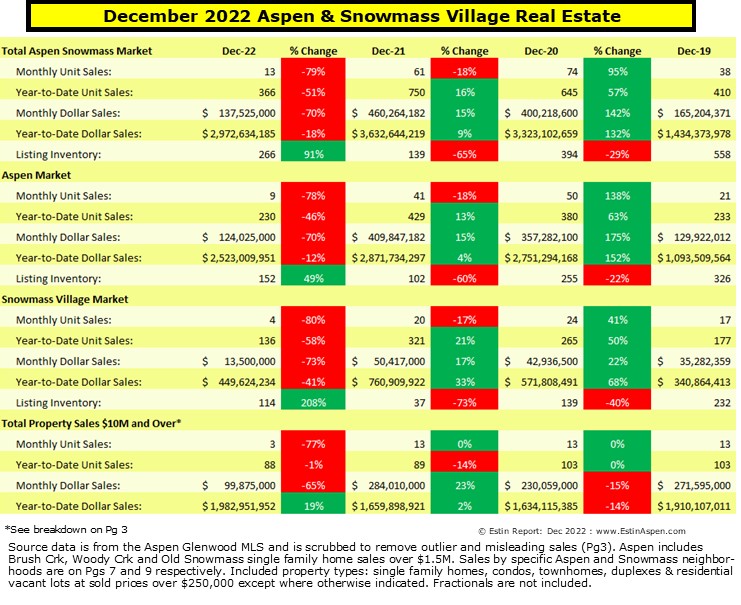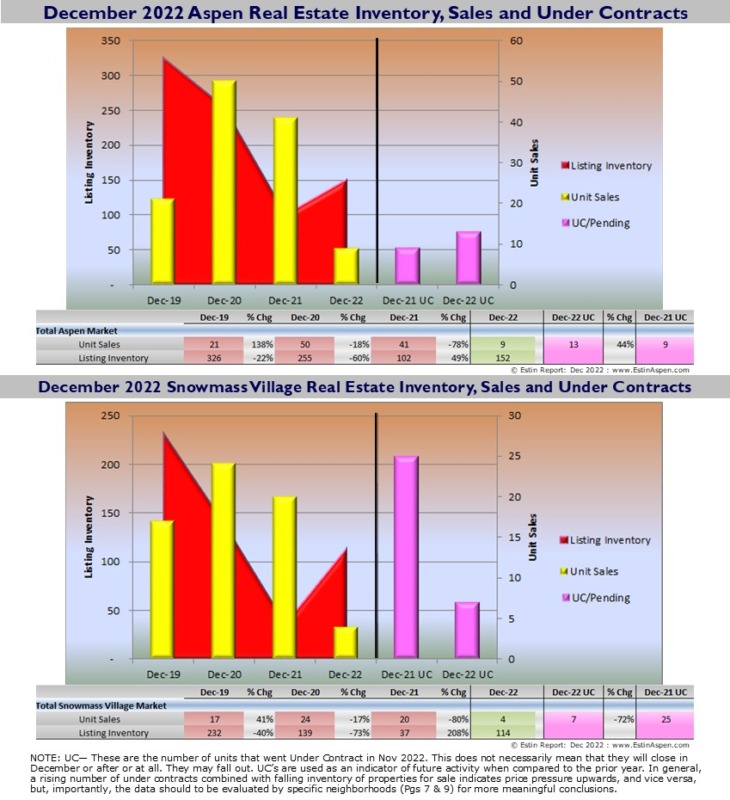 *Estin Report: The charts and tables in my market reports document residential sales activity for Aspen which includes Aspen, Brush Crk, Woody Crk and Old Snowmass single family home sales over $1.5M in the subject month. Included property types are single family homes, condos, townhomes, duplexes and residential vacant land at sold at prices over $250,000. Fractionals, deed restricted and commercial properties are not included.  Source data is from the Aspen Glenwood MLS, and it is scrubbed to remove outliers and sales that the author believes would be misleading. Examples are: In the MLS, a mobile home sale is recorded as a single family home sale. In Estin reports, it is counted as a unit sale in the totals but not as a sf home sale; a 1950'2 home on 3 acres is recorded as a sf hone sale. In Estin Reports it is counted as a vacant land sale, etc. This information is deemed reliable but cannot be guaranteed. The Estin Report© is copyrighted 2023 and all rights reserved. Use is permitted subject to the following attribution with an active link to the source: The "Estin Report on Aspen real estate." For sales assistance and inquiries, please call or text Tim Estin, Aspen Snowmass Sotheby's broker, at 970.309.6163 or email.