Released Apr 5, 2022 v1.60
This 10 Pg report covers Q1 2022 & March 2022 YTD March Sales Performance for dollar and unit sales and inventory by property types and by neighborhoods.
Bottom Line: Prices of  in Aspen and Snowmass Village residential real estate have shot up in the past two years. The local inventory of properties for sale is at its lowest level of the past 12 years: In Mar 2022, inventory for Aspen is down 71% from Mar 2020 (pre-pandemic), (310) listings then vs (90) now and down 78%; in Snowmass Village, (221) then vs (49) now. And although prices had been steadily rising, the past two years – pandemic related – have been a rocket ship. Demand up; supply way down; prices – up, up and away. Market prices are inventory driven. New properties coming on the market are being priced 15-30% + above yesterday's sold comp which likely went under contract/pending 1-3 months earlier. Yesterday's sale is the deal you missed and there are more and more examples of "off-market", unlisted properties, trading at record highs. (For avg & median sold prices, see Pg 4). A seller refrain heard often now, "My price is a make me move price".
It's no wonder that certain properties are being "flipped" at extraordinarily higher prices than paid just months prior. For a look at some of these flips with before/after descriptions, photos and prices, go to the Aspen Snowmass Flip Jobs Section. Please contact me to discuss these and other opportunities.
For historic Aspen and Snowmass market performance charts – dollar and unit sales and inventory, see the Charts section
Mar 2022 median sold prices
Aspen single family (SFH) home $11.6M/$2,092 sf
Snowmass Village (SMV) SFH $7.2M/$1,719 sf
Asp condo $2.95M/$3,024 sf
SMV condo $1.4M/$1,438sf.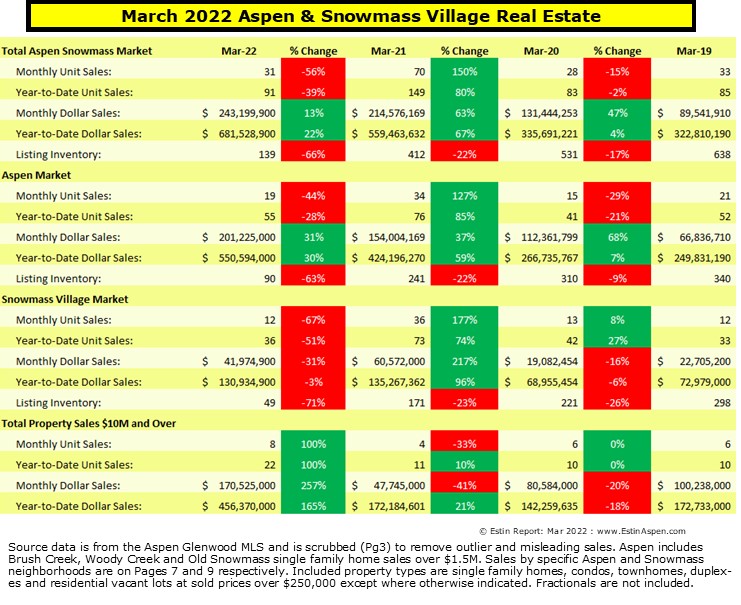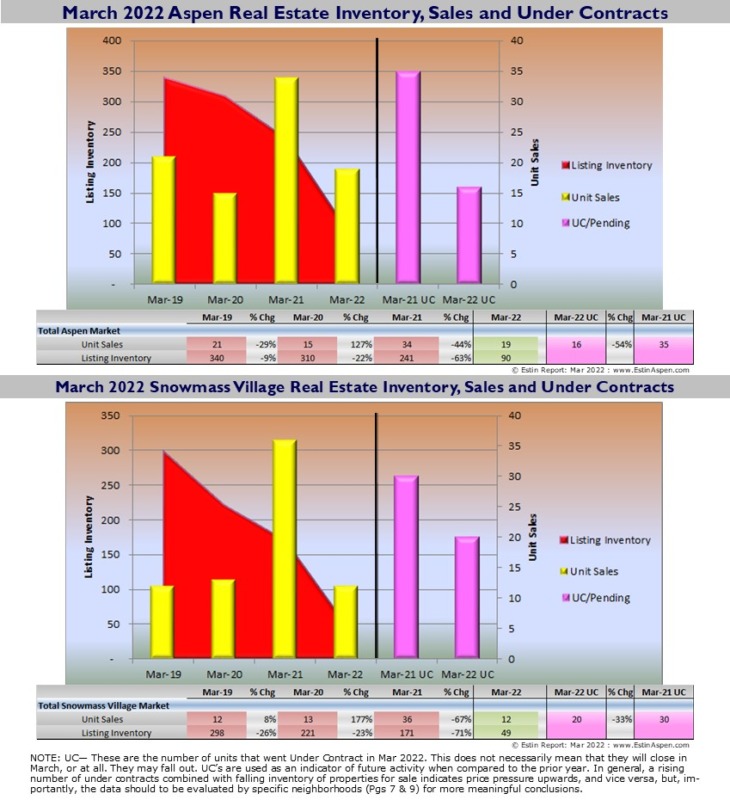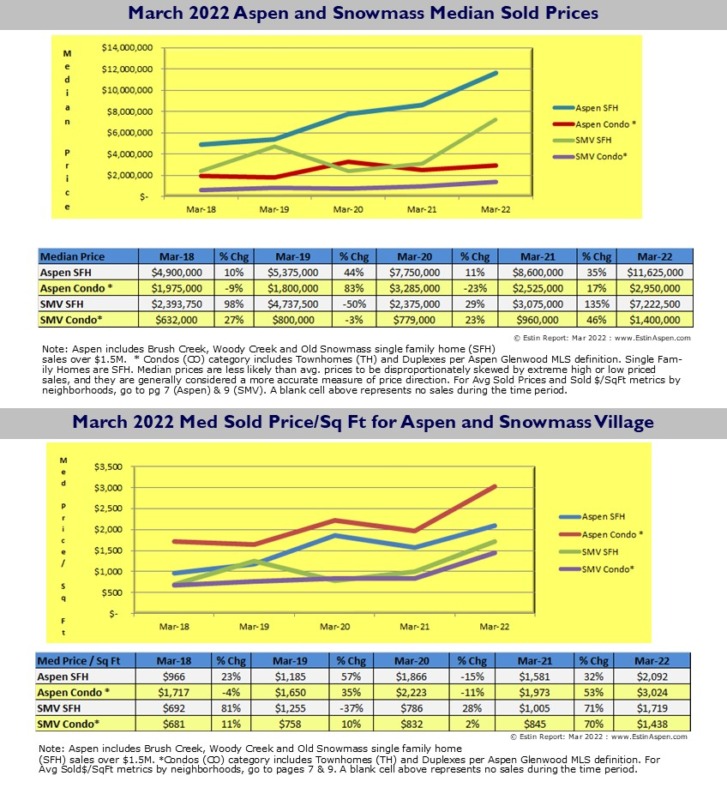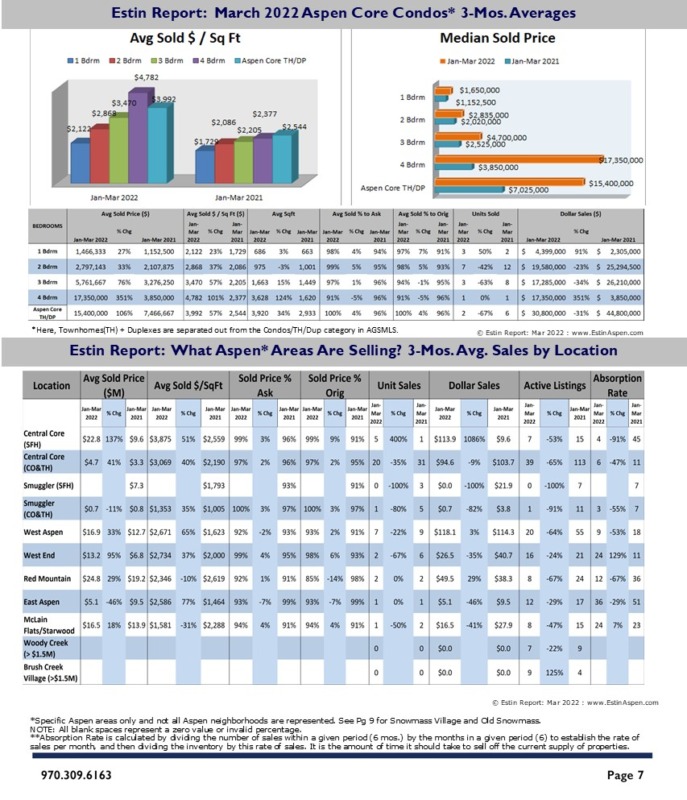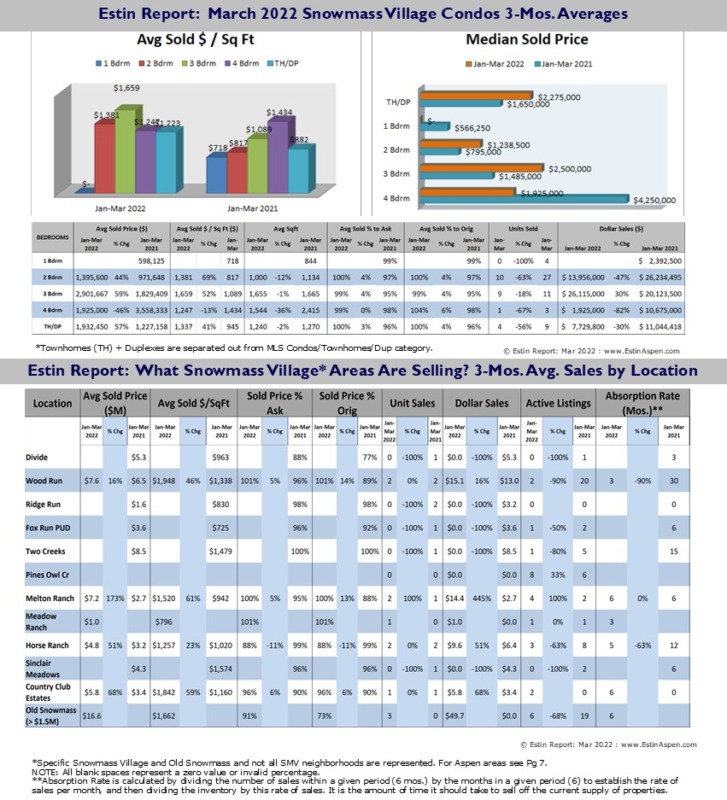 Links to Mar 2022 Aspen and Snowmass Village Sold Property Photos and Details:
Aspen Mar 2022 Closed Properties.   This link is valid until 5/1/22.
Snowmass Village Mar 2022 Closed Properties. This link is valid until 5/1/22.
Vacant Lots Mar 2022 Closed Properties. This link is valid until 5/1/22.
Outliers – These properties are not included on Pg 4 for avg and median sold prices and sold prices per sq ft, but they are included in Mar 22 total dollar and total unit sales:
164990 – Little Annies/Backside Aspen Mtn 1,000 sq ft cabin (Sold at $7.9M/$5,715 sq ft)
174150 – 550 Aspen Alps ($50M/$6,993 sq ft highest priced sale 2022);
173642 – (SMV studio sold at $372K)
Fractionals, deed restricted and commercial properties are also not included.