07.31.23  The Estin Report: H1 2023 Aspen Snowmass Real Estate Market has just been released*. This is a 32-Page analysis of year-over-year and historic sales details in Aspen and Snowmass Village by area, by property type, by neighborhoods. It is the original sales and market research platform for Aspen Snowmass real estate. More than just facts and data, these reports tell the story – the narrative, the context and market history – of what's happening now in residential Aspen real estate.                                                 Data download: July 2, 2023; Report written July 15-20, 2023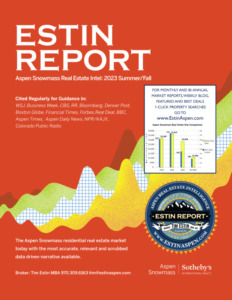 Aspen H1 2023
Unit sales in H1 2023 are identical to H1 2016, at 74.
Dollar sales are almost triple those in H1 2016, $774K now versus $256K then, due to higher prices;
Compare present inventory levels to the past 10-20 years. It has been steadily          (Refer to Pg 13)
Snoiwmass Village H1 2023
Unit sales are close to H1 2016, at 125
Dollar sales are almost triple those of H1 2026 and at their 3rd highest all-time level.
Compare Snowmass Village inventory to the past 10-20 years. Even though new Base Village product has been added to the resort mix in the past four years, buyers are devouring these units and supply remains historically low. Supply can't keep up.             (Refer to Pg 22)
 H1 2023 IS NOT A RETURN TO NORMALCY 
H1 2023 looks different: Much has been said recently about the local market returning to pre-pandemic 2019 "normalcy". That's correct in the general sense that the hyper frenetic activity of 2021-2022 is over, but H1 2023 looks quite different from those more "normal" years of 2016-2019 which is defined as a healthy, active market but without the explosive 'urban exodus' of 2020-2022.
Prices and transactions: Prices now have doubled to tripled since pre-pandemic 2019 while the number of transactions, unit sales, are off considerably, 30-40% on average, year over year.
Inventory: Most dramatically, inventory of available properties for sale in H1 2023 in Aspen at (294) has fallen -44% from the highpoint of inventory at (664) in H1 2016, and -46% in Snowmass Village at (212) properties for sale now from the high point at (394) in H1 2016.  This is in spite of new-built Snowmass Base Village product continuously coming up for sale at pre-construction prices in the past 1-4 years and selling two years later.
Historic lows: Inventory has been so low that even though we are seeing an uptick as new listings come on the market through the 2023 summer selling season, we are at the second lowest level of inventory ever recorded. The same time last year, H1 2022, was the all-time historic low.
The great slow down: So. Sellers still rule, although without as much price strength as they once had when Covid urgency was pervasive, and there are not enough of them. Prices are so high that if they sell they may not be able to buy something else in this area and they'd see their mortgage rates spike punitively. Buyers suffer from a dearth of choices and some back-off, or they don't step up at all because of high rates and high prices, …So there are not enough of them as well. The market slows. 
Rock paper scissors: And as the market has cooled, sellers may be re-considering pricing. If not, at least there's likely more negotiating room than last year. Historically, we always see a wave of price adjustments in the latter part of the summer. Yet, sellers may still hang to the low inventory theme thinking, "What else are you going to buy?" They may not believe there's enough of a slowdown to justify a price decrease. They have a point. But buyers may see opportunity and respond by stating plainly, "Look, there's a new reality going on. Are you a real seller or not? I'd like to make a deal."
Download the 32-Page report from link above.
                                                                                                                            ______
*08.13.23: ER H1 2023 v12.7 m_reduced: On top of Pg 2 Print version, there was a major typo reading "MLS data downloaded 12/06/2022; written 12/12/2022".  It should have read: MLS data downloaded 07/02/2023 written 07/15-20/2023. This has been corrected in the online version, v12.7. Unfortunately, the report had gone to print before it was caught, and the print version still contains the incorrect data download and report written dates.
Disclaimer:  The statements made in the Estin Report and on Aspen broker Tim Estin's blog represent the opinions of the author and should not be relied upon exclusively to make real estate decisions. A potential buyer and/or seller is advised to make an independent investigation of the market and of each property before deciding to purchase or to sell. To the extent the statements made herein report facts or conclusions taken from other sources, the information is believed by the author to be reliable, however, the author makes no guarantee concerning the accuracy of the facts and conclusions reported herein. Information concerning particular real estate opportunities can be requested from Tim Estin at 970.309.6163 or by email tim@estinaspen.com  
The Estin Report is copyrighted 2023 and all rights reserved. Use is permitted subject to the following
attribution, "Estin Report on the Aspen real estate market" with an active link to www.EstinAspen.com