Tim Estin's weekly blog is released Monday mornings and sometimes in-between. The Estin Reports are released quarterly, annually and also special reports such as this year end summary. Tim is an active Aspen real estate Broker Associate at Mason MorseReal Estatein downtown Aspen andhe welcomes your business, inquiries,and comments.

Follow @EstinAspen on twitter for regular market updates and news on Aspen Snowmass real estate.
Last week's Dec. 19 – 26, 2010: Aspen Snowmass Real Estate Weekly Sales & Statistics: (7) Closed and (7) Under Contract / Pending are posted in Aspen RE Archives/2010 Market Statistics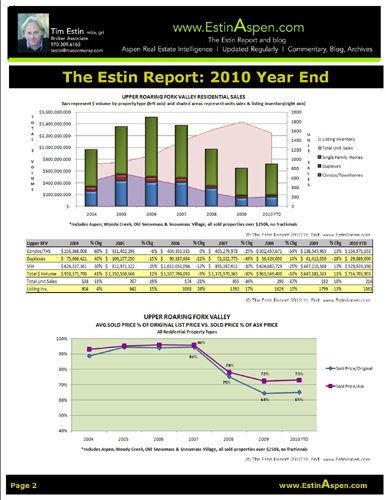 The report looks at Aspen and Snowmass real estate sales statistics from 2004 – 2010 YTD (Dec 18, 10)
(Click on image for complete report.)


The Estin Report:
Aspen Snowmass Real Estate 2010 Full Year

(Revised 01/08/11 to reflect full year sales through Dec. 31, 2010. Bold numbers in the pdf text have changed from Dec 18, 10 Year-to-Date version)
My original 2010 year-end summary report was produced with the intent of learning where the Aspen Snowmass real estate market stood as of Dec. 18, 2010 in order to address the abundance of conversation, chatter and perhaps inaccurate statements making the rounds during the Christmas to New Years holiday period. My goal, then, and now with this full year 2010 revision is to set the record straight as to the state of the Aspen market based on a review of real market data.

This revised report encompasses real estate activity in the upper Roaring Fork Valley made up of two distinct areas: 1) Aspen with Woody Creek and Old Snowmass; 2) Snowmass Village. Property types included are single family homes, condos, townhomes, duplexes and vacant land. Fractionals are not included. This report compares and contrasts annual data from 2004 through December 31, 2010.

TOTAL MARKET
The last seven years are truly representative a full market cycle. The good news is that Aspen Snowmass area appears to have seen its peak and its valley and the market is turning upwards. Residential sales throughout the Upper Roaring Fork Valley hit a record high in 2006 with a gross dollar volume of over $1.5 billion. That remarkable year, representing now what looks to have been a unique period in Aspen's real estate cycles, was followed by a 3 year period of declining sales volume and increasing listing inventory. The market appears to have bottomed in 2009, falling 57% from its 2006 high. In 2010, the overall market has risen 20% in gross dollar volume from 2009, and unit sales of all property types included in this report has risen a convincing 26%. Additionally, the overall listing inventory has declined by 11%. I believe, finally, it can be substantiated that there's light at the end of a long, painful most recent two years.

ASPEN
Aspen gross dollar sales volume began decreasing in 2007 but average/median prices for condos and single family homes continued to increase through 2008. This increase was followed a precipitous decline in per square foot prices – approximately 20% – in 2009. Average prices per square foot have decreased between 6 and 10% in 2010. Given the national prognosis for an slowly improving economy, it seems likely prices will remain relatively flat, or constant, in 2011, meaning no more decline but also no rise. It would seem reasonable to predict that 2011 dollar volume will approach 2004 levels.

SNOWMASS VILLAGE
The Snowmass Village sales data show a slightly different trend. Dollar volume in sales increased in 2007 by 10% and only decreased by 9% (vs 37% in Aspen) in 2008. This delay in recessionary activity can be attributed to the Base Village development and the completion and sale of Phase I inventory in 2008. Snowmass was hit hard in 2009 with a decline in sales volume of 70% but the market is recovering significantly from rock bottom with dollar volume and unit sales up over 50% in 2010. As we move forward, bear in mind that winter is the prime market season for Snowmass Village. Average price per square foot for single family homes increased in 2010 by 2%, the only property type to gain value in the Upper Valley. Condos, however, are still declining, down 35% in average price per square foot since the peak in 2008.

BUYER'S MARKET
It continues to be a buyer's market with seller's receiving on average 87% of their asking price and 79% of their original list price of one to two years ago. These figures are on par with last years calculations (Chart 2) which indicates that sellers are still hesitant to list properties at the prices commanded by buyers. Sales activity is increasing for appropriately priced properties reflecting the "new normal" and 2011 will likely reveal a narrowing of the bid-ask gap.

SELLING ACTIVITY
In fall 2010 sales activity picked up amidst an improving environment of buyers looking seriously for fairly priced properties and deals, and sellers becoming realistic as what the new normal really looks like. If priced realistically given today's market, a seller has an opportunity to sell, unlike a year or more ago when values were more difficult to ascertain given the dearth of actual sales comparables. Little was moving, sellers and buyers were at a stand-off and the market at a stand-still.

VACANT LAND
Vacant Land sales – Aspen – peaked in 2005, declined slightly from 2005 – 2007, and then plummeted 84% in 2008. This corresponds with the changed real estate picture in 2008 in which total residential dollar sales fell by 33% and unit sales were off 38% that year. Since 2008, Aspen vacant land sales have very slowly improved from such a low base … up 77% in 2009 and 57% in 2010, but the unit sales numbers reveal just how few land sales there have actually been. In Aspen, there were only 7 vacant land sales in 2008, 11 in 2008 and 13 in 2010. Listing inventory increased steadily from 2005 – 2009 but decreased 14% in 2010 across the upper valley. Most likely attributed to discouraged sellers withdrawing their property from the MLS.
_________________
Tim Estin welcomes your business, inquiries and comments. Email him or call 970.920.7387. Subscribe to The Estin Report and Tim Estin's Aspen Real Estate Blog on twitter @EstinAspen or click "Join the conversation" below:

Disclaimer: The statements made in The Estin Report and on Tim Estin's blog represent the opinions of the author and should not be relied upon exclusively to make real estate decisions. A potential buyer and/or seller is advised to make an independent investigation of the market and of each property before deciding to purchase or to sell. To the extent the statements made herein report facts or conclusions taken from other sources, the information is believed by the author to be reliable, however, the author makes no guarantee concerning the accuracy of the facts and conclusions reported herein. Information concerning particular real estate opportunities can be requested from Tim Estin at 970.920.7387 or by email.. The Estin Report is copyrighted 2010 and all rights reserved.. Use is permitted subject to the following attribution: "The Estin Report: State of the Aspen Market, By Tim Estin, mba, gri, www.EstinAspen.com"

______________________________________________________