Released Sep 6, 2015 v2. Note: The Estin Report: Aspen Snowmass Real Estate Monthly Snapshots document sales activity for the subject month in the upper Roaring Fork Valley – Aspen, Snowmass Village, Woody Creek and Old Snowmass. Included property types are single family homes, condos, townhomes, duplexes and residential vacant land at sold at prices over $250,000. Fractionals are not included. Aspen* includes WC and OSM.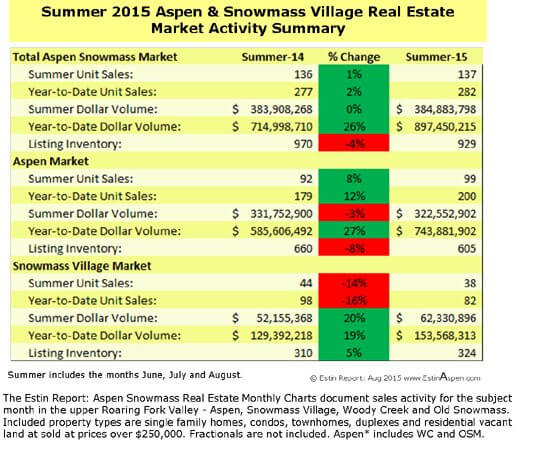 Click image above for Summer 2015 Market Snapshot (7 pg PDF)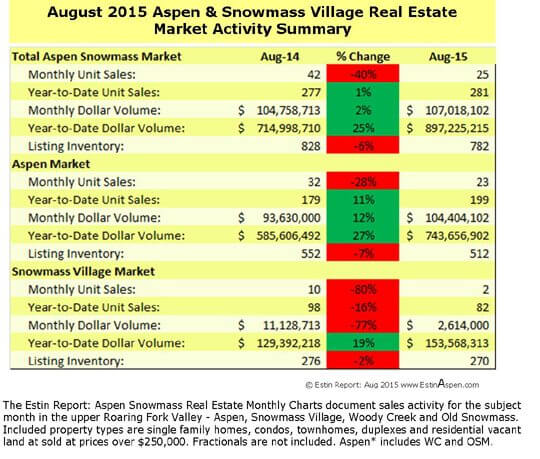 Click image above for August 2015 Market Snapshot (7 pg PDF)
August and Summer 2015
Aspen Snowmass Real Estate Market Activity
Executive Summary
June and July 2015 real estate sales activity for Aspen Snowmass combined surged this summer.

June was up 62% in dollar volume from $57 M in June 2014 to $ $92M in June 2015 and up 46% in unit sales from (28) in June 2014 to (41) in June 2015.
July sales were up considerably. Dollar sales were up 29% from $56M in Jul 2014 to $99M in Jul 2015; Unit sales increased 9% from (23) sales in Jul 2014 to (25) in Jul 2015.
August was off considerably.
August sales fell. While dollar sales were almost flat at +2%, from $105M in Aug 2014 to $107M in Aug 2015, unit sales suffered mightily falling -40%, from (42) units sold in Aug 2014 to (25) in Aug 2015. Dollar sales did not fall proportionately to unit sales because higher priced properties sold. The drag on the market may be do to a 19% fall off in summer listing inventory of Aspen condos for sale from (257) in summer 2014 to (209) in summer 2015. As Aspen condo inventory falls (off 30% from summer 2012), sellers are aggressively raising prices and buyers either may not be finding what they want and/or they're balking at these higher prices.
The net result for summer 2015 sales for the combined Aspen Snowmass market is that we are close to even with last summer 2014. Two big sales months of June and July and a much slower August.
For the year-to-date (YTD) through August, dollar sales are way ahead of last year, up 26%, from $715M in 2014 YTD to $897M in 2015 YTD; Unit sales are up 2% from (277) in 2014 YTD to (282) in 2015 YTD.
Key Stats Jan 1 – Aug 31, 2015 (YTD)
Aspen Single family homes (SFH)
Unit sales -8%, from (73) unit sales in 2014 YTD to (67) in 2015 YTD

Dollar Sales +22% from $364M in 2014 YTD to $443M in 2015 YTD

Inventory of active listings: -3%, from (305) in 2014 YTD to (297) in 2015 YTD. Single family home inventory of listings is off -14% from summer 2012.

Avg Sold $/Sq Ft (Summer 2015): $1,413
Aspen Condos/Townhomes/Duplexes
Unit sales +17%, from (92) unit sales in 2014 YTD to (108) in 2015 YTD

Dollar Sales +11% from $192M in 2014 YTD to $213M in 2015 YTD

Inventory of active listings (June 1 to Aug 30, 15): -19%, from (257) in 2014 YTD to (209) in 2015 YTD. Condo inventory is off -30% from summer 2012.

Avg Sold $/Sq Ft (Summer 2015): $1,198
Snowmass Village (SMV) SFH
Unit sales -14%, from (22) unit sales in 2014 YTD to (19) in 2015 YTD

Dollar Sales +70% from $51M in 2014 YTD to $87M in 2015 YTD

Inventory of active listings: 0%, from 84 in 2014 YTD to 84 in 2015 YTD. Single family inventory is unchanged at 0% from summer 2012.

Avg Sold $/Sq Ft (Summer 2015): $1,069
SMV Condos/Duplexes/Townhomes
Unit sales -11%, from (66) unit sales in 2014 YTD to (59) in 2015 YTD

Dollar Sales -3% from $63M in 2014 YTD to $62M in 2015 YTD

Inventory of active listings: +8%, from (210) in 2014 YTD to (217) in 2015 YTD. Condo inventory has increased +8% from summer 2012.

Avg Sold $/Sq Ft (Summer 2015): $627
Disclaimer: The statements made in The Estin Report and on Aspen broker Tim Estin's blog represent the opinions of the author and should not be relied upon exclusively to make real estate decisions. They do not represent the opinions or statements of Aspen Snowmass Sothebys International Real Estate. A potential buyer and/or seller is advised to make an independent investigation of the market and of each property before deciding to purchase or to sell. To the extent the statements made herein report facts or conclusions taken from other sources, the information is believed by the author to be reliable, however, the author makes no guarantee concerning the accuracy of the facts and conclusions reported herein. Information concerning particular real estate opportunities can be requested from Tim Estin at970.309.6163or byemail.The Estin Report is copyrighted 2015 and all rights reserved. Use is permitted subject to the following attribution with a live link to the source:"TheEstin Reporton Aspen Real Estate."
___________________