Posted Nov 5, 2014 v8 internet. The 3rd Quarter 2014 is Jul 1- Sep 30, 2014 and YTD 2014 is Jan 1 – Sep 30, 2014. The print edition is available in Aspen newstands and out front at Sothebys 415 E. Hyman Mall and 300 S. Spring St offices.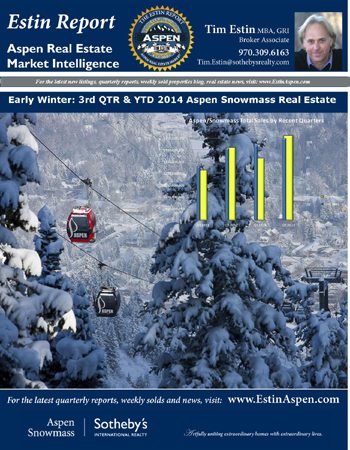 Click cover photo for full 3rd Quarter and YTD 2014 reportPDF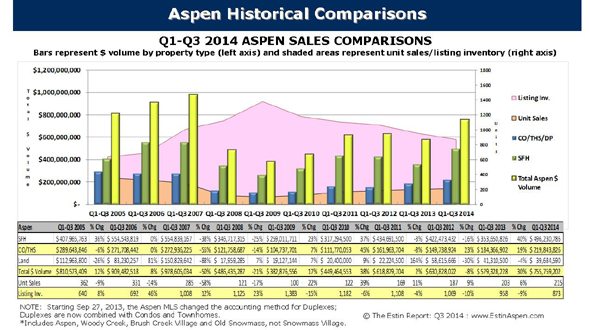 Click table to enlarge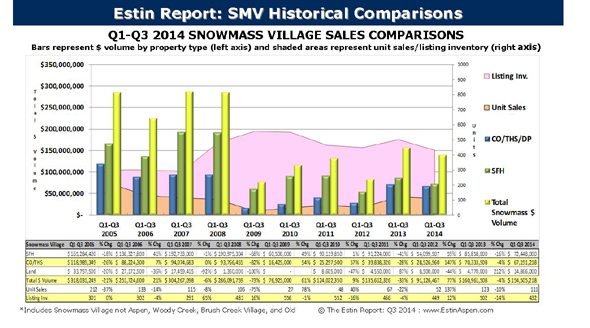 Click table to enlarge

CLIMBING STEADY: 3rd QUARTER and 2014 YTD ASPEN REAL ESTATE MARKET
November 11, 2014—Aspen sales momentum continues through 3rd Quarter 2014, making this the best performing year so far since 2007.
From January 1 to September 30, 2014, year-to-date (YTD), the number of units sold in the total Aspen/Snowmass combined market matches the same period last year at (326) unit sales. Dollar sales, however, increased 23% from $740M in 2013 to $910M in 2014 in the same period.
For the Aspen market alone, which accounts for 83% of total market dollars, unit sales climbed 6%, from (203) in 2013 YTD to (215) in 2014 YTD. Dollar sales saw a 40% increase from $579M to $756M during the same time period.
Much is similar in 3rd Quarter 2014 to earlier periods of the year. Inventory of listings for sale is down 37% since peaking in 2009, and is the lowest since 2007. This steadily falling inventory of Aspen properties for sale, combined with greater demand from more confident and eager buyers, is pressing prices incrementally upward, most particularly in specific market segments and neighborhoods.
For example, some properties in the historic West End have received multiple bids, and a handful of condominium owners have exercised their right of first refusal to assume purchase contracts of non-HOA buyers by matching dates and price. This hasn't happened since 2008.
The question most often asked is, "How's the market doing?" But the more relevant question is, "What part of the market do you mean?"
Our market comprises various segments and subgroups, including neighborhood, property type, new construction or remodel, locational amenities, design aesthetic, and more. Each has its own unique market forces at work:
• Aspen Single-Family Homes – The significant increase of unit sales of Aspen homes in the $5M-$15M range accounts for the 40% spike in YTD dollar sales for single-family homes. Unit sales of $5-7.499M homes increased 42%; $7.5-9.99M homes increased 233%; $10-14.99M homes are up 80%; and $20M+ sales jumped 200%. (See Pg. 13 of report for details.) The more expensive the home, the higher price-per-square foot. Aspen's average is $1,046/sq.ft., which is down 16% net from the 2008 market peak of $1,251/sq. ft. Average and median single-family home prices are up double digits due to larger, more expensive, and newer homes selling strongly.
• Aspen Condos – Average and median condo prices are up significantly as new and/or newly remodeled units continue to sell well, pushing average cost to $1,188/sq. ft., down 15% net since the 2008 market peak of $1,405/sq. ft. Clearly, these properties trade more expensively, which explains the spike in condo dollar sales while unit sales remain similar to last year. Meanwhile, inventory of condos for sale continues to decline. Well-sited units—those in close proximity to the Aspen Mountain Gondola, with Aspen Mountain views, or directly on the river—are selling especially well.
• The price gap between new/like-new properties and everything else is growing – There's an imbalance in the market. Newer and therefore more expensive homes and condo units are realizing price premiums that are driving the overall average and median prices and prices-per-square foot upward. The price disparity between new or like-new properties and the rest is widening. Still, in a market with falling inventory, the rising tide of newer and remodeled product sales should lift all property prices eventually.
The market is closer to what The Estin Report believes is "normal" than it has been in the past 10 years. Why? We are beyond boom and bust. Properties are trading well, sales data is reliable, and we have a far better sense of value now than during the dark days of the recession. Specifically:
• Buyers seem to recognize that the 'best deals' are gone. As such, expectations and negotiations are more realistic.
• Sellers exhibit greater confidence in comparable sales and, despite wishful thinking, should have a good sense of what their property is worth.
• New spec construction is moving forward more carefully than in the mid-2000s because Aspen's recovery has been slow and cautious. This restraint improves likelihood of a more sustained redevelopment cycle, barring unforeseen macro events.
Aspen real estate is relatively "cheap when compared to other high-flying asset classes," say some prospective buyers. It is in the early stage of an upcycle and, as a property class that has lagged as other real estate markets sizzle—especially urban coastal areas—therein buyers may find opportunity.
A new or like-new remodeled Aspen core condo at $2,000 to $2,500/sq. ft., or a Red Mountain home between $1,400/sq. ft. (a 1987 home with 2005 remodel on Willoughby Way) and $2,400/sq. ft. (brand-new 2014 contemporary) is a bargain when compared to Manhattan's soaring, $6,000-$6,500/sq. ft. luxury apartments or those in London at $3,700/sq. ft., according to stats from The Real Deal magazine.
Word on the street is that local tradespeople are busy—designers, architects, high-end contractors and subcontractors—and labor prices and material costs are rising. Most important, because so many skilled workers left the industry post-crisis in the past five years, an Aspen labor shortage is predicted.
The nitty-gritty from the trenches:
• City of Aspen building permit application process now requires 4-6 months versus 1-2 months in 2010 through 2013.
• Design trends are focused on contemporary style with clean lines and space for art collections (as influenced by the new Aspen Art Museum); timber homes are out.
• Buyers continue to hunt value and, when considering scrapers and remodels, seek ways to capture additional square footage to add value improving exit options.
• We're about 8-12 months into a new cycle—not a boom, but a protracted redevelopment cycle—and it's going to get busier.
One caveat to all this relative good news is that a fast market run-up with over-eager, unrealistic seller price hikes could quash buyer interest—killing the golden goose—before a sustained recovery really gets going.
Disclaimer: The statements made in The Estin Report and on Aspen broker Tim Estin's blog represent the opinions of the author and should not be relied upon exclusively to make real estate decisions. A potential buyer and/or seller is advised to make an independent investigation of the market and of each property before deciding to purchase or to sell. To the extent the statements made herein report facts or conclusions taken from other sources, the information is believed by the author to be reliable, however, the author makes no guarantee concerning the accuracy of the facts and conclusions reported herein. Information concerning particular real estate opportunities can be requested from Tim Estin at970.309.6163or email.The Estin Report is copyrighted 2014 and all rights reserved. Use is permitted subject to the following attribution with an active link to the source: "The Estin Reporton Aspen real estate."
________________________