Bottom Line 06.20.22. (Updated 7/01/22).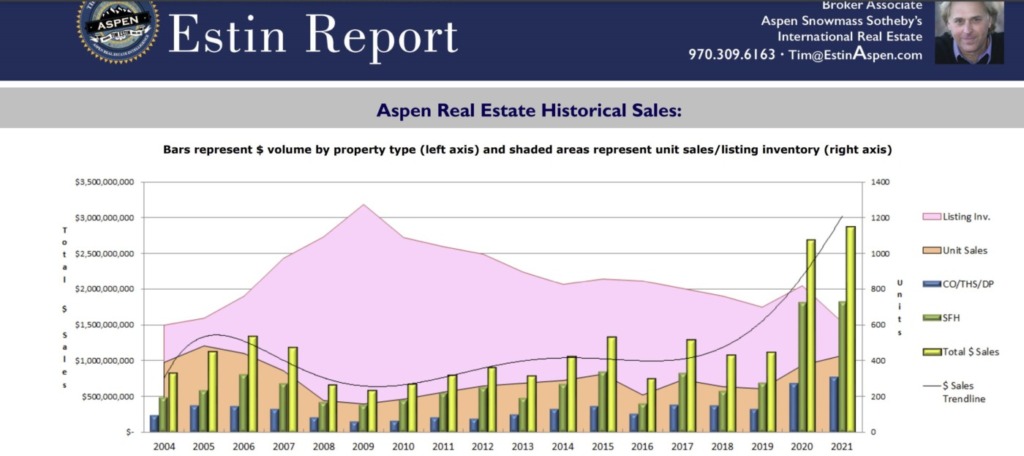 The Aspen real estate market remains super tight even though there are a number of new listings hitting the Aspen MLS for the start of the summer selling season.
Sellers continue to feel robust and confident in this record low inventory market. There are many buyers chasing after the few properties available.
Yet, the economic backdrop is one of increasing uncertainty. A deteriorating stock market –  DJIA off 15.9%, S&P off 21.1%, NASDAQ off  30.3% in the first half of 2022 –  is not good news for Aspen (07/01/22).
"It's the worst start of the year since 1932" according to the WSJ and "stocks historically don't bottom out until the Fed eases. If history is any guide, the stock market selloff might still be in its early stages."
In the past 1-2 weeks, more and more buyers are questioning how long these "crazy" prices can continue and asking if I've started to see prices come down. No, not yet…In fact, as an example of just the opposite, last week, a 1991 built 4,248 sq ft single family home on Ute Avenue came on the market at $34M/$8,000 sq ft!! Remarkable…Is this story one of  "Great Expectations" or "The Last Hurrah".
Some will say insanity. But is this a crypto/NFT world or not? Or was it?
The conversation seems to be focused mostly on whether we are at a peak rather than on what takes it higher.
In the high, high end, crazy is becoming normalized. But the eye-popping transactions of the past month are real and they trickle down to the mere mortal Aspen real estate deals, however one might be inclined to define those at present.
The well respected local real estate appraiser, Randy Gold of Aspen Appraisal Group, once said at a prior high point in our market in 2015, "There's nothing like a billionaire coming into a neighborhood and upsetting the comps – or a neighbor pining for an adjoining property and willing to pay practically any price to secure it." Although these are market anomalies, these events influence perception even though they may have little to do with establishing actual value … until they do.
The Ute Ave home cited above is evidence of the trickle down. Its marketing material reads, "The only 5-bedroom single family home currently available in Aspen's downtown core. This prime location is just a short, 2 1/2 block walk to the Aspen Mountain Gondola, is located on a dead end street, and neighboring homes have sold in the $60 million range." So…?
The "comps": That 'neighboring sale' on 05/26/22 was for a home 4x larger and 20 years newer at 1011 Ute Ave which sold for $60M/$3,587 sq ft furnished – a 2011 built, 6 bedroom/7 bath/3 half-bath, 16,726 sq ft single family home with 5+ car garage with a lazy Susan type, rotating floor. Near Ute Avenue, a slopeside ski in/ski out Aspen Mountain home on the Little Nell ski trail sold in March '22 at an unsolicited price of $50M/$6,999 SF, the highest price per sq ft record for an Aspen single family home.
In 2008-2009, post Lehman Brothers collapse,  Aspen real estate prices incredulously continued to rise almost to the end of 2009 even as unit sales were dropping precipitously. Sellers who had priced super aggressively in 2008 and held on, refusing to come off those prices throughout 2009, were left exposed to a terrible local real estate decline between 2010-2013 when prices fell 30-50+%. Finally, in early 2014 with stronger and, importantly, more consistent sales (see chart 2004-2021) , the market looked like it had legs and we were cautiously out of the woods.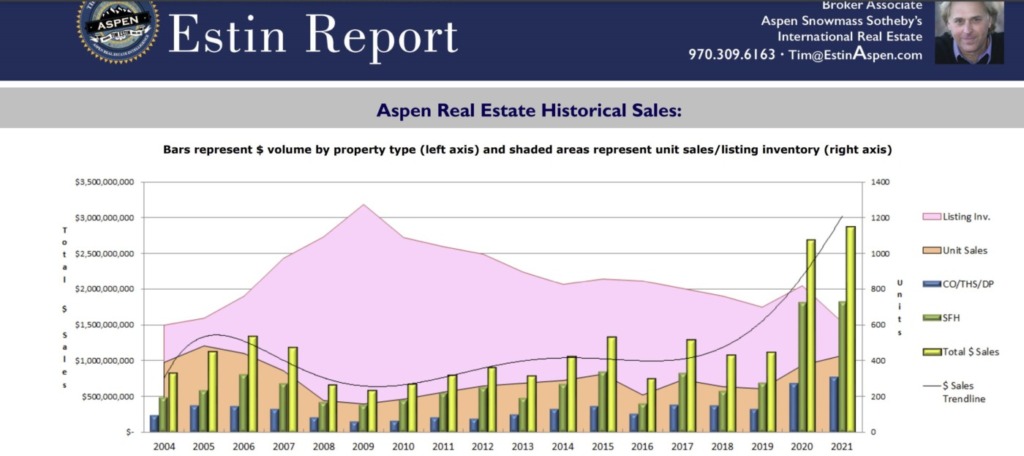 When the music stopped …seller's 'greed' (an industry term) was a very expensive and precious time wasting mistake. Developers were first in line to capitulate as business is business followed eventually by the rest who had many more personal and emotional reasons to hang in there.
In the present environment of increasingly severe uncertainty wrought by a host of concerns where any one of which would be deeply troubling alone – high inflation worries, spiking interest rates, record gas prices, Ukraine war, continued supply chain and labor disruptions, looming recession concerns – many ask if we may be at a similar tipping point again.
Tim Estin MBA GRI is an Aspen broker with Aspen Snowmass Sotheby's international Realty and the Estin Report author. He can be reached at 970-309-6163 or tim@estinaspen.com