Released 12/24/15,  updated 01/03/16 v5.0. For end of the year 2015 charts and tables which have been produced after 12/31/15, please review prior end of the year 2014 report and request the 2015 information directly from Tim Estin.
Brief Advance 2015 YTD Summary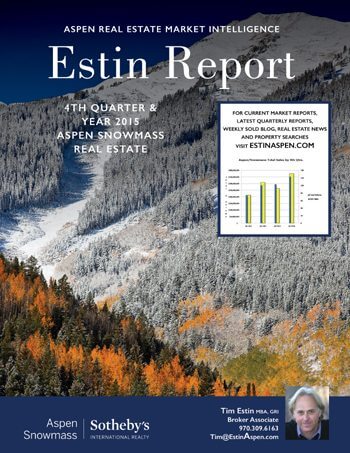 2015 State of the Aspen Real Estate Market Report
side.(The full report was released early Jan 2016 online and in print on racks around town. See Download on right.)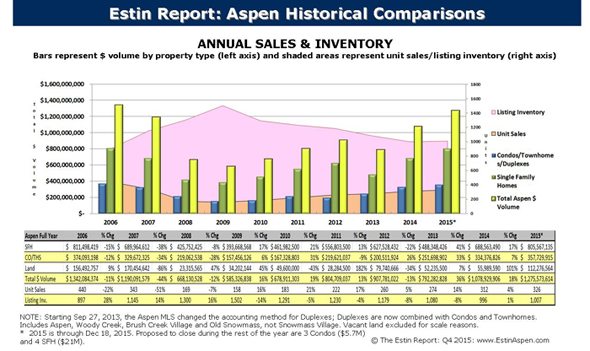 Click image to enlarge.
2015 versus 2014 Comparison
The Aspen Snowmass real estate market continued its march upwards in 2015, a continuation of favorable national economic trends lifting us convincingly away from the recession. The local market started its certifiable climb in Feb 2014, and since then it has been consistently strengthening.
For the Year-to-Date 2015 (YTD: Dec. 18, 2015), the number of units sold for the total combined Aspen and Snowmass Village market was down -1% from (451) units in 2014 to (446) units in 2015. Dollar sales increased 16% from $1.29B in 2014 to $1.49B in 2015. For pre-recession, peak market, comparison, in 2006, total unit and dollar sales were (615) and $1.7B respectively; in 2007, total unit and dollar sales were (488) and $1.56B.
Prices on average have yet to completely surpass the pre-recession peak. However, in some specific neighborhoods such as the Aspen Core, Red Mountain and the Historic West End, the hot zones, certain properties have exceeded peak prices by as much as 20-30%; in other areas, we are still playing big catch-up, most prominently in Snowmass Village where prices are -38% off peak and selling in general at half price to Aspen.
In 2015, the Aspen market alone – without Snowmass Village sales – represented 86% of the total combined Aspen and Snowmass Village sales dollars and 73% of all unit sales. Aspen unit sales were up 7% for the year, from (312) in 2014 to (326) in 2015, and dollar sales were up 18% from $1,079B in 2014 to $1,276B in 2015.
The 2015 average Aspen single family home price per sq ft increased 25% in the past year to $1,311 sq ft versus $1,294 sq ft in peak year 2007, up 1%; the average Aspen condo price per sq ft increased 2% in 2015 to $1, 201 sq ft but that is -14% less than the 2008 peak at $1,408 sq ft.
Luxury Sales Over $10M Soar
The most significant change in 2015 over 2014 was the 38% increase in total luxury sales for all property types over $10M – Aspen had (29) sales* over $10M in 2015 versus (21) in 2014. Seven of these (29) sales over $10M, or 24%, ocurred in downtown Aspen.
There was a 47% increase in Aspen single family home sales over $10M: Aspen had (25) home sales over $10M in 2015 versus (17) in 2014. Snowmass Village had just on sale over $10M in 2015 and one in 2014.
New Construction Sales – Much in Demand
The other notable change in 2015 has been the dominance of new-built home and new or like-new remodeled condo sales.
The absence of new construction during the 2009-2013 recession has created significant demand for new or like-new product that seems almost unquenchable. But… buyers are still discerning …the fact that something is "new" is not enough in and of itself. New product needs to be of sufficient high quality, in a 5-Star location, have unique characteristics to command the highest prices and to sell within the least amount of time. There are a number of newer projects that have yet to sell for reasons such as unrealistic pricing, lessor quality location, and site-specific perceived negatives. Or, as a seller will say…it just hasn't found the right buyer yet.
The Estin Report estimates there were approximately (25) 2013-or-newer built home sales in 2015 selling at an average $2,085 per sq ft in a range of $1,102 sq ft (31 Mountain Laurel in Mountain Valley built in 2013) to $2,939 sq ft (535 Hyman Ave PH in downtown Aspen built in 2015).
Trends Driving the Market
• Money is still cheap. Although roughly 60-70% of all Aspen real estate transactions are cash, interest rates are still at historic lows.
• For buyers, there may be an increasing sense of urgency to get in before rates and prices take off.
• New built product is the most expensive class of property, and as these properties are sold, price metrics across the board will and are being pushed up.
• Vacant land prices are on the rise. Vacant land dollar sales increased from $86M in 2014 to $117M in 2015, up 36% while unit sales fell 20% from (44) sales in 2014 to (35) in 2015. Land costs more this year than last – it's a lot more difficult to find good deals in 2015 compared to 2014. Developers are cleaning out the "deals".
• Buyers perceive our market as a solid long term safe harbor, if not investment, to own and enjoy property here…a place where they see themselves spending more and more time.
• Aspen's unique natural setting and beauty combined with world class amenities puts it in a league of its own for a US mountain town.
*Of the (29) Aspen luxury sales over $10M, there were (16) sales between $10M-$14.99M; (8) sales between $15M – $19.99M; and (5) sales above $20M. The highest priced Aspen home sold on Dec. 18, 15 at $29,500,000/$1,739 sq ft fully furnished for a 16,961 sq ft Red Mt panoramic view home with a separate 4,150 sq ft guest house on a 2.5 acre lot and an adjacent 3.39 acre developable vacant lot (valued at $8.5M-$10M).
– Snowmass Village 2015 had 1 sale over $10M, the same as in 2014. The highest priced SMV sale for the year was the July 8, 15 closing of 511 Edgewood Ln at $12M/$2,424 sq ft furnished – a 2010 built, 5 Bdrm/5.5 Ba, 4,950 sq ft ski in/out home.
Disclaimer: The statements made in The Estin Report and on Aspen broker Tim Estin's blog represent the opinions of the author and should not be relied upon exclusively to make real estate decisions. They do not represent the opinions or statements of Aspen Snowmass Sothebys International Real Estate. A potential buyer and/or seller is advised to make an independent investigation of the market and of each property before deciding to purchase or to sell. To the extent the statements made herein report facts or conclusions taken from other sources, the information is believed by the author to be reliable, however, the author makes no guarantee concerning the accuracy of the facts and conclusions reported herein. Information concerning particular real estate opportunities can be requested from Tim Estin at970.309.6163or byemail.The Estin Report is copyrighted 2015 and all rights reserved. Use is permitted subject to the following attribution with a live link to the source:"TheEstin Reporton Aspen Real Estate."
__________________________________