Two properties went under contract this week.

The first property highlights a very motivated situation and is priced extremely well; the second confirms the fact that a buyer(s) will step up for brand new product, especially this stunning new contemporary townhome in the center of Aspen, a five star location:
In both these circumstances, quality, superb location and actual comparative value are the key reasons the properties are under contract.
1) 521-A W Seventh (Aspen's Historic West End): MLS 99765, a 3bdrm/3ba, 2,625 sq ft duplex, listed at $2.95M (from original $4.5M, 545 days on the market). This is a highly motivated situation, has gotten a lot of activity in the past two weeks and was going to go. Suprising to me is that I do not believe it will actually close at as great a "motivational" discount as I would have thought. A whirlwind of interest may have actually produced competing bids, pushing the settlement price up closer to the ask.
2) 707 E. Hyman (Aspen Core/Downtown): MLS 108131, a drop-dead duplex townhome – a stunning contemporary showcase to be completed in March 2009 – listed at $7.9M, 6bdr,/5.5 bath, 5300 sq ft, in the middle of downtown Aspen. The living area on the top floor and roof deck looking out at Aspen Mountain and Red Mtn are "to die for", developed by one of Aspen's pre-eminent designer/developers, Bob Bowden. There are two portions of this townhome:a) 4400 sq ft Main House with 4bdrms/4.5 baths and b) 990 sq ft ADU (Accessory (Affordable) Housing Unit which must remain part of City of Aspen Housing stock although it can be owned by the buyer of Main home.
The fact that this property has gone under contract so quickly (approx. 35 days for sale publically) in a frozen marketplace with little to no activity, is further evidence of buyer's looking almost exclusively for either deals or for brand new or high-end remodeled product.
Bowden Rules
Below are Bob Bowden's other two homes currently for sale all incredibly beautiful examples of his peerless individual taste, style,quality and execution. A few photos of his active listings are below. And for MLS data and additional photos: View his properties and another that sold in 2006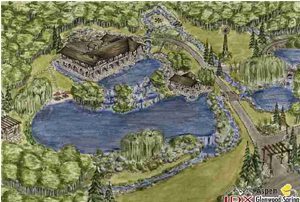 1) For Sale, under Construction: 460 Sunnyside Ln, McLain Flats, Aspen
.
Price $29.5M
: Incredible 13,000 sq ft Main House with covered Lanai, separate 2bdrm/2ba Guest House, ponds, streams, waterfalls, abundant water rights on 8+ acres and 180 degree panoramic mountain views within 10 minutes of downtown Aspen. With the abundant water features and views, there is nothing like this within such close proximity to Aspen.
2) For Sale: 531 Moore Dr, Five Trees, Aspen. $9.9M: 7,100 sq ft home, 5 bdrms/6.5 ba, .82 acres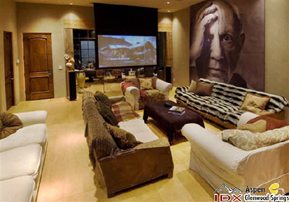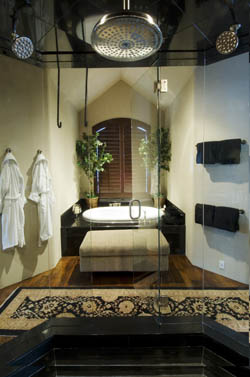 For Sale: 531 Moore Dr, Five Trees
For additional information, contact me.