By Tim Estin mba, gri / Broker Associate / Mason Morse Real Estate Aspen / 970.920.7387 office

(excerpted from original article in Mountain Business Journal, Jan. 2nd, 2006)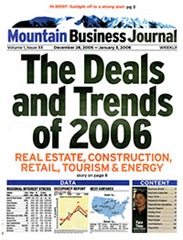 In last week's column (Dec 21-26th), I focused on major demographic and socio-economic trends strongly favoring continued growth in real estate demand in Aspen and the Roaring Fork Valley.
This week, I'd like to make a case – subjective, not entirely quantifiable – for Aspen as 'safe harbor', as a relatively safe and prudent arena from a wealth preservation perspective to buy and hold real estate
The Aspen market, like select others around the country, has been so red hot in the last two years, that buyers are naturally asking, "Why buy into this market peak? These are uncertain times. I'm uncomfortable buying at what may be the top. I think I'll wait."
Well…it might NOT be more prudent to wait…
Market timing – the waiting game for a better deal – may be more perilous in this marketplace, Aspen and the Roaring Fork Valley, than taking the plunge. The line between stupidity and boldness is a fine one, but, as mentioned last week, "in Aspen boldness has almost always been rewarded".
Based on personal experience, for the past 40 years and more, the fact is that at any single point in time, Aspen real estate prices have always been at a record level. If Aspen prices are not either sloping upwards or on a straight shot trajectory, they plateau, resting until the next ascent, the next record.
People who can afford to buy into Aspen have the holding power to wait out rough times where macro events may bring Aspen's always rising record prices to a temporary halt. Why? The fact is that 67% of real estate transactions in Pitkin County are cash. Few owners need to sell.
The truth is that yes, we all should have bought then, but even 'then' prices seemed stratospheric. The same old story, the "should'a, would'a, could'a syndrome".
My mother sold our Aspen home in 1989. The value of that home – the land specifically – has increased over 10X since then … through two recessions, the internet bubble, 9/11, the Wall St/Enron scandals and more uncertainty. In this one instance, appreciation was 17% annually versus stock market returns of an average 15% during the same period.
A couple I know bought a ski-in/ski-out Aspen Mtn. condo, 2B/2Ba top floor with vaulted ceilings and Aspen views, in early winter 2004 for $948,000. That same property is easily worth $1.4M-$1.6M in today's market if they were to list it, a 25% per anum return.
The owner of a historic downtown commercial building recently told me he'd paid $25,000 for the building in 1959. It's not for sale, but he's been offered $25-30M. That's an increase more than 1000X, or 16% plus annual return.
These stories repeat themselves over and over.
The biggest barrier to entry into the Aspen market, and increasingly throughout the Valley, is the initial sticker shock. Guaranteed: it'll pretty much blow your mind. But once one adjusts to this mind altering experience, steps up and makes the purchase, significant market appreciation has almost always made that initial fear factor look like wasted time and fruitless energy.
Those who have anted up – at no matter what point in time, what market trend of the day – have almost always been pleasantly rewarded in spite of the steep entry point.
There are examples of properties losing value, but these are anomalies. For example, buying into new development projects a distance from town can be risky…at least until a track record of sales has been established. Purchasing to be near a good friend or family can be an expensive exercise in overpaying. There are other examples, specific to the property, but in general sold histories in established Aspen neighborhoods reflect a steady (if not buoyant), consistent upward trend in property values overall.
Real estate in Pitkin County is unique for at least three reasons: 1) Over 85% of the land is publicly owned, another 6% is zoned resource or agricultural (rural and large tracts of land) and an additional 3% is deeded private land trusts or local government open space. Pitkin County has limited private land available for any kind of private development. As a brief comparison, Eagle County and Garfield Counties have 79% and 63% publicly owned lands respectively; 2) Restricted growth and development zoning and ordinances. Strict zoning in Pitkin County has kept development at bay and where new projects have been approved, design guidelines have maintained a high standard of quality; 3) A high quality of life. Aspen continues to offer a small town feeling with a healthy outdoor lifestyle and abundant of cultural and intellectual institutions.
As mentioned last week, the leading edge of the baby boom generation has started to inherit the assets (estimated at $30 Trillion by Forbes Magazine in the next 10-15 years) of their parents' generation. Many are looking for 'safe harbor 'investments as a means to protect that wealth.
Aspen's sustained appreciation in real estate values over the past 50 years, it's rich historic heritage, the continued improvement of its sport product and the phenomenally successful growth of its intellectual and cultural infrastructure make it one of the rare truly outstanding four season destination resorts in the world.
Success begets success. So … while history is no guarantee of future performance, the past record of price appreciation is compelling to say the least, and even more compelling from a wealth preservation and quality of life perspective.
Isn't this the best of both worlds: owning an historically appreciating asset that also represents a 'safe' investment while getting the use and pleasure of that asset?
{jumi [disclaimer.php]}