By Tim Estin mba, gri / Broker Associate / Mason Morse Real Estate Aspen / 970.920.7387 office
(Nov 2008 author's comment: lot values are down an estimated 10-20% since this article was written in '06. The current credit freeze has virtually shut down land sales and related financing. Where there have been isolated sales, prices are generally lower than those quoted in this article written during the record year in the Aspen real estate marketplace.)
original article in Mountain Business Journal, March 21st, 2006)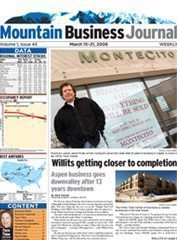 Land value drives real estate prices. And as vacant land in Aspen is almost impossible to find, much of the existing home stock built in the 1960's through the '80's becomes attractive to builders and developers for what lies beneath, not the structures themselves in spite of their apparent livability. This is not just an Aspen phenomenon. Most high end localities and resorts around the country are experiencing this 'tear down land rush' as well.
Here's a list of Aspen neighborhoods where this real estate broker sees relative value, opportunity and where extensive rebuilding activity may already be taking place.
Downtown Alternative
Smuggler Area: Semi-Core location, tremendous Ajax views, walking distance to everything in town and regular bus service: Located in the northeast corner of Aspen, the Smuggler area is poised to become, if not already, the relief valve for the overflow demand of the Aspen Core and West End property. Generally, the area has direct views of Aspen Mountain and is within walking distance to downtown shopping, services, hiking trails, and the Roaring Fork River. It is known for its mix of dwelling units – more "affordable" single family homes, duplexes, condos, town homes and apartment buildings – as well as brand new $5-9M homes. Smuggler offers a variety of properties that may represent great value and opportunity.
Two important development projects:
1) Obemeyer Place is a new retail and residential project to the northeast of the Pitkin County Courthouse. It was completed end of 2006, and it will provide a 'development bridge' both materially and psychologically from Aspen Core/Main Street to the Smuggler area;
2) Fox Crossing, a new development in the Smuggler area is just breaking ground, It will have approximately (18) new home and town home sites. Phase I is scheduled to be completed in late 2007 and offers proximity to town, new construction and incredible Aspen Mountain views at prices from $4M-6.2M.
Lot Sale activity:
Mid-October '06: 9,800 sq ft lot with tear down home sold at $3.2M

Mid-Jan.'07: 14,500 sq. ft. vacant lot, one of the only available, is listed at $4.5M.
East Aspen
Mountain Valley/Eastwood/Knollwood: Residential, close to town (1.5 miles), bus service, some Aspen Mtn view lots, less expensive alternative to Red Mountain lots. There are number of home sites in this area with Aspen Mountain and town views that are being scooped up by builders/developers transforming the Knollwood/Mountain Valley area with 4,000-6,000 sq ft new homes priced at $6.5M-$8.5M. The teardown lot price range is in the $2.7M -$3.8M range, if not more.
A tear-down home sold in Sept. 2004 for its $1.6M lot value; it was replaced with a new 5,500 square foot home that sold eleven months later at $6.35M.
A rare 18,000 sq.ft. single family lot with great views overlooking downtown Aspen & Aspen Mountain is listed at $3.5M and under contract. The lot allows for approximately 3315 sq. ft. plus a basement and garage.

A wooded 16,000 sq. ft. lot at $2.895M with a remodeled small home in and views towards the east flank of Aspen Mountain went under contract in Mid-January '07. It's being sold as an "add on, remodel or develop-ment" opportunity.
Prime view lots in Mountain Valley are a less expensive alternative, $3M-$4M, to higher priced Red Mountain parcels which command $6M-$8M+. Other lots without great views – those facing up towards Independence Pass for example – are likely to be less, but as high end new homes replace older stock, ALL lots, no matter their view and orientation, gain in value.
East Aspen/Independence Pass Area: Quiet, relative isolation but close to town, beautiful nature preserve, walk/bike path into town. This is the area east of Mountain Valley further east towards Independence Pass. It's characterized by a beautiful valley floor running along the Roaring Fork River and North Star Preserve, a 30 acre wildlife reserve bordering Highway 82. It is quieter and has a sense of being 'away from the hustle and bustle' while still within 3-5 miles of downtown. With the lack of activity, traffic and abundant open space, the area is drawing significant buyer interest and new single family home development. Lots in an area called Morningstar Preserve are selling for $5-6M, with a 1.4 acre lot recently closing at $5.3M. A newly constructed 8,900 square foot home on 2.2 acres bordering BLM lands recently sold for $12M.
Best value in Aspen: A 5.7 acre parcel with an older 70's style home directly across the street from North Star Preserve with wide open views and killer sunsets is listed at $4.75M (reduced from $5.75M). This is a prime development opportunity which includes a TDR in the asking price, with 8250 FAR. The property is also a receiver site for additional sq. ft. allotments and the 1041 approval (home site location) includes an accessory building allowance for a cabin or caretaker unit up to1000 sf.
East Aspen homeowners do not have to contend with west Aspen Highway 82 traffic hassles. More and more property buyers want to entirely avoid the western edge of town where Main Street's "S curves" and the Roundabout bring traffic to a crawl during an ever-increasing commuter window. The traffic situation in Aspen may actually be driving real estate opportunities, and there is increasing interest and demand for East Aspen properties.
West Aspen
Cemetery Lane/Snowbunny Area: Residential single family and duplex lots, good local bus service, proximity to golf course, river, cross country skiing, walk/bike trails. These lots are higher priced than the Mountain Valley area, at $3.2-$4.2M+, especially those properties bordering the Aspen Golf course and offering beautiful southern views looking directly up the Maroon Bells and Pyramid Peak. There's an abundance of 'older inventory' that's being torn down and rebuilt with plus $6M dollar homes. Not only does the golf course create significant neighborhood value but additionally, there are many duplex zoned lots making it fertile territory for builders/developers. In Jan. '07, there were no vacant lots for sale in this area, so recent home sales may be extrapolated for approximate lot values:
A 2006 half duplex, 3,500 sq. ft. 3B/4Ba sold in Sept.'06 at $3.225M

A 4B/4Ba, 5,723 sq.ft, 1968 built/1995 remodeled, 1/3 acre on the golf course, sold at $3.91M in October '06.

Two smaller homes 2006 remodeled, 3,000-3,400 sq ft homes sold in the fall '06 at $3.25M and $3.4M on Meadow View Dr. They were on the market less than 60 days.

A brand new 4,800 sq.ft. 6B/6Ba, ½ duplex sold in October '06 for $5.6M with tremendous Pyramid Peak and golf course views.
Red Butte Subdivision: Large lots (1/3 – 1 acre) in mature Aspen tree subdivision offering privacy, near or on river, bus service and prime walk/bike path approximately 2 miles into town. This area is rapidly being transformed with larger new homes. Lots on the river are valued at $6-7M; non-river front lots on the western side of Red Butte Ln. are dramatically less expensive at $2.5-$4M.
There is a 1/3 acre lot/teardown currently on the market at $2.55M.

A 2/3 acre parcel, not on the river, which is a possible scraper but more likely a starter local home, closed in November at $2.55M (original list $2.75M, 355 days on the market).

A new Jan. '07 listing, a 3B/3Ba, 2,600 sq. ft., 1973 built/1988 remodeled home on .63 acres not across the street from the river, is priced at $3.45M.

A riverfront 6,400 sq. ft. 1984 built/1995 remodeled 5B/6Ba home on .83 acres is listed at $10.5M. The listing broker has based this price on an approximate $6-7M lot value.
Meadowood Area: This is a residential area adjacent to the Aspen Schools that has many older homes with some properties offering ski-in, ski-out convenience. The area is a hotbed of new development activity. Reasons? The lots are oversized offering greater floor area ratio, (F.A.R.) which translates into more square footage and the development of larger homes. The value of Meadowood property has also been driven up by the fact that it is adjacent to two new ski-in/ski-out development areas, Five Trees with its $9M-$12M new homes and Aspen Highlands Village. These new neighborhoods have benefited Meadowood with notable public infrastructure improvements: walking/biking trails, better public transportation directly into downtown Aspen and the 2003 completion of the beautiful multi-million dollar Aspen Recreation Center.
A Heather Lane, 1975 built/2006 remodel, 4B/3Ba, and 2,700 sq. ft. home is currently listed at $3.95M. It is primarily regarded as a redevelopment opportunity.

A .93 acre wooded lot on Glen Dee Rd sold for $2.3M (original price was $2.95M) in Oct '06 after 330 days on the market

A brand new 5,159 sq. ft, 6B/6Ba, ½ acre home is listed at $9M.
Aspen Highlands Village: Highlands offers relative seclusion surrounded by National Forest and BLM lands. It is only a five minute drive – via the "traffic free" side of the Highway 82 roundabout – to downtown Aspen. The area also offers a kid-friendly environment with its excellent public transportation and walking/biking proximity to the Aspen Recreational Center (ARC). The base of Aspen Highlands was entirely rebuilt in the late 1990's. Since then it has struggled to find a commercial identity and a residential property niche even though it's become the local's favorite ski mountain. Real estate sales have been sluggish but some experts believe this is changing. Additionally, last winter season, the Highlands ski area opened the new Deep Temerity chairlift offering more expert terrain in addition to the legendary Highlands Bowl. There has been extraordinary national press focused on the ski area. Aspen Highlands is now achieving a critical mass of favorable attention that seems more than likely to spill over into boosting real estate values.
There are two Exhibition Ln/Thunderbowl 2/3 acre lots with ski access for sale at $4.75M. One of these properties is under contract. Both will allow for 9-10,000 sq. ft homes.
A 1 acre lot on a constrained building site with limited views is available at $3.1M and has been on the market for $456 days.
Starwood: Located on a high mountain plateau of irrigated fields and mature Aspen groves above McLain Flats Road, Starwood is 10-15 minutes to down-town Aspen and offers unsurpassed 180 degree views of all four of Aspen's Ski mountains and Mt Sopris down valley as well. Starwood is incomparably beautiful and when combined with a considerable 'discount' on a price per square foot basis, there's unrealized value in the homes here. Many believe it's on the upswing as more buyers sniff the value and revitalized potential here. Starwood is Aspen's first 'gated community' made famous by John Denver' song "Starwood in Aspen". Prince Bandar built Aspen's largest single family residence here at 52,000 square feet. It is now for sale at $135M, the highest priced home in the US. In general, Starwood homes were built in the 1980's thru mid '90's, are considered older stock. As new development areas (Maroon Creek, Five Trees, and Highlands Village) have come on line in the past 10-15 years, Starwood's home inventory is perceived as dated and the area's luster has diminished. Also significantly, buyer demand in recent years has focused on properties closer to town. In the past six months, sales activity has been generating momentum.
There are (3) active 2-3 acre available lots in Starwood priced $3.3M-$3.75M. A steep hillside lot with amazing views went under contract in April '06 and closed Dec '06 lot at $1.95M. An excellent value and representative of the increase in lot value in the latter 6 months of 2006. The lot would easily sell in the lower $3M range in the winter of 2007.
Once one adjusts to Aspen prices, there are vacant land opportunities available. Historically, if one had bought land at any point in time over the past 50 years, the appreciation factor would have more than calmed any initial purchase anxiety at what have always been high prices.
A successful broker's job is to find and/or create value for their clients with information, facts, service and opinions. The internet is a fantastic research tool and a discount broker may do well enough at show and tell, stop and shop chauffeuring and handholding. But those sources will not provide a context for price and value discussions, nor a professional's view of market niches, development ideas and possibilities. Information may be free, but not all information is created equal.
{jumi [disclaimer.php]}