By Tim Estin mba, gri  | Mason Morse Real Estate, Aspen |  970.920.7387 office
Oct 28, 2008

(Updated from the original article, Mountain Business Journal, January 2nd, 2007)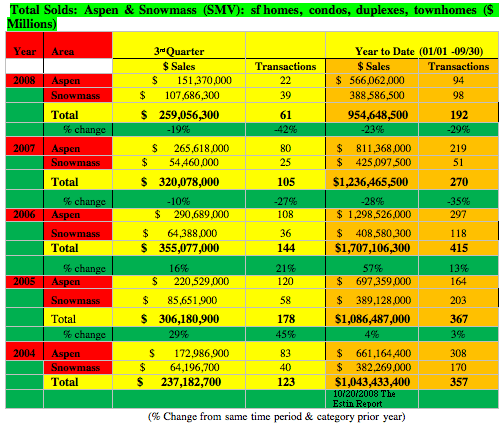 Immediate Market Highlights:
Our market may have slowed but it has not stopped … we are not immune but we are insulated. Here's what Aspen property is moving now. The overall theme is " instant gratification" sells
Superb, Aspen in-town locations and drop dead new remodels and new construction
Trophy purchases, $$ seemingly no object.
Realistic priced properties with motivated sellers who understand marketplace conditions and realities.
Great perceived 'value' buys. Buyers are absolutely more discriminating than ever.
West End single family homes: transactions are off -20% YTD, but off -50% from the peak YTD 2006. However, price/sq ft is higher; new product is selling; people want to be in-town, walk to everything.
Aspen downtown core sales have plummeted, down 70% YTD, -76% 3Q08 and -61% below the lowest YTD 2004
Snowmass Village (SMV) single family home activity is on the uptick as sellers mark down prices and inventory begins to move. New Snowmass Base Village sales YTD have been off the chart upwards.
Unknown: if developers and builders start to capitulate, how will it affect existing home prices and sales?
The Estin Report has three sections:
Market Summary 3Q08

Local/Regional and National Trends Affecting the Aspen/Snowmass Market

Late Fall/Early Winter 2008 Forecast
1.Market Summary 3Q08 (for reference see Charts 2 and 3)
This is a market summary for 3 rd Quarter 2008 for Aspen and Snowmass Village (SMV) single family homes, condos, duplexes, townhomes. It documents the actual Aspen (MLS Area 01) and Snowmass Village (MLS Area 02) real estate sales core market data taken from the Aspen/Glenwood MLS. This report is more selective than the monthly Land Title market analysis for Pitkin County which is for all types of property throughout Pitkin County. In addition, fractional activity is not included in this report.
In general, this core market is performing significantly better than Pitkin County overall. But we are experiencing an unprecedented national/international economic crisis that has obviously adversely affected the Aspen market. This is likely to continue into the foreseeable future.
The silver lining is that as of this moment, Aspen property values have held up particularly well when compared to almost all other leading financial indices. At present we have returned to a slower–paced, more normal, level of sustained value preservation, rather than appreciation, based on our one-of-a-kind location, sport amenities and cultural offerings.
The last four years of record price appreciation and torrid activity has slowed considerably.
Aspen & Snowmass (SMV) combined sales year to date (YTD) from Jan 1 – Sept. 30 th , are off -23% in dollar volume and -29% in transactions through the 3 rd quarter. In the 3 rd quarter itself, transaction activity fell off dramatically -42% from the same period last year.

Present Aspen & Snowmass total transaction activity is at a level close to 3 rd Quarter 2005 , although that was a period of rapidly increasing momentum. (See 1 st page chart)

For Aspen : YTD total transactions have fallen -57% and in dollar volume off -30%. But the rate of the fall-off in transactions increased dramatically in the 3 rd quarter to -73% and -43% in dollar volume. Condo transactions for 3Q08 fell off a cliff, -78%.

In Aspen, total average days on market (DOM) for all properties has increased 47%, from 239 in 2007 to 352 days through the 3 rd quarter '08.

For SMV : a brighter light shines:

SMV single family home transactions in 3Q08 increased 57% over same period in 2007 (11 versus 7 homes sold), and the average days on market YTD decreased 28% to 175 days from 244 compared to the same period in 2007. This suggests a reckoning by Snowmass sellers who are lowering prices and inventory is starting to move.

In the Snowmass Base Village project , the extremely successful sales program of the new condo projects, The Viceroy and Residences at Little Nell/Snowmass, accounted for much of the over 323% YTD increase over 2007 in condo/townhome transaction activity. However, if pre-construction new project sales are excluded, sold activity is off 50% to 60%. In most of the new construction sales (Snowmass Viceroy and Residences at Little Nell/Snowmass), only 10-15% cash is required until closings in 2009/2010.
Through the end of September 2008, sold prices for high quality properties – as defined by great location, high end remodels and brand new properties, well priced tear downs and renovation projects – are getting softer. Prices for properties unrealistically priced that have sat on the market a while are coming down. Depending on the property, sold prices appear to be settling at 5-15% off ask price. Last year, same time, sold prices were on average 3% to 5% off ask.
Unlike most other parts of the country, Aspen's intrinsic property values have yet to lose absolute value, except in extraordinary circumstances – few property owners have experienced actual "loss" from what they originally paid.
Market Statistics: The Estin Report, Chart 2 -Aspen and Chart 3 -Snowmass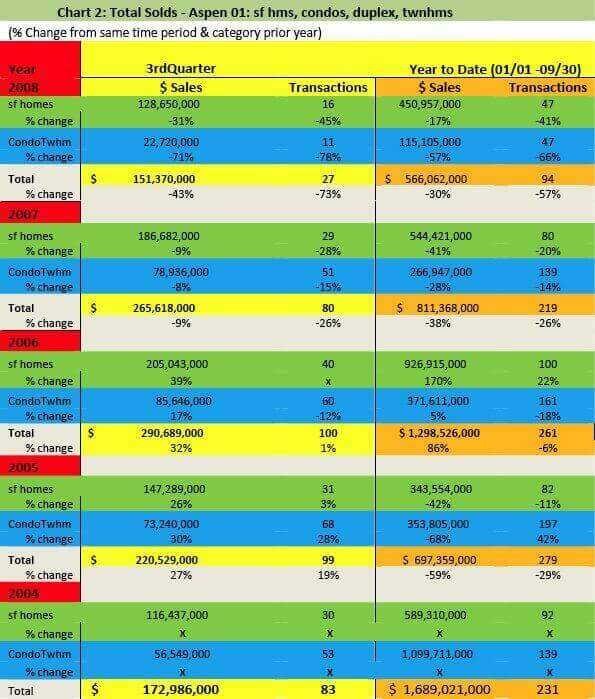 Price Pressure
Downward price pressure is increasing as properties remain on the market longer and buyers demand concessions. Listing brokers are advising clients that buyers are few and far between and that 'a bird in hand' should not be dismissed as lightly as it might have been six to twelve months ago.
Whereas earlier in the year, there was a big disconnect between buyers and sellers, now sellers are realistic to the sobering economic and market conditions and making adjustments if they are serious about selling.
In Aspen there has historically been a unique self-correcting market mechanism at work that has kept prices relatively stable: dissatisfied sellers will simply take their property off the market if it doesn't sell at the price they want. That lack of urgency to sell has kept supply in check and prices from falling dramatically…at least until now.
Developer and builder inventory, and days on market most specifically, is building. There are some new construction properties that have been sitting on the market 1-2 years, and there are signs that these developers are extremely anxious. In a recent REALTOR email appeal for highly motivated sellers to contact this broker for a large single family home up to $14M, there were fifteen responses representing more than twenty homes. If some of these developers are forced to capitulate, it would seem at least some existing home prices will have to follow triggering greater downward price pressure. Dominoes falling?
Aspen's Investment Strength: Euro deals and Safe Harbor
The local market is and has been perceived for many years as 'investment grade' where appreciation comes from the intrinsic value of "Aspen', and then the property itself, not from any annual cash flow and break-even expectations.
Historically in Aspen there has been sustained demand for limited supply which this report will elaborate more in later pages.
At a time when almost every conceivable stock, commodity and investment index has plummeted 35-50% this fall, a strong case can be made for Aspen as a 'safe harbor'. The reasons:
Aspen is a high end, primarily non-speculative market.

Supply here is artificially constrained: 94% public ownership and slow growth policies.

Demand is from a local, national, and global buyer pool.

Not mortgage dependent

Winners and Losers: every cycle has its new winners and losers. Winners seek out Aspen.
If history is a guide, even as market activity flattens, significant price decreases – and specifically 'deals' – will be unlikely except in unique circumstances. Over 70% of transactions have typically been cash. Property owners here can afford to wait out a slow or down market. At least until now.
While most of these Aspen property owners/buyers may not have been taking out mortgages on their property, this broker assumes that many have in fact borrowed from other sources – perhaps, in some cases, using their stock portfolios as collateral for personal loan guarantees to purchase property. As financial markets have plunged, it's likely some of these homeowners will have to meet margin calls, are forced to sell and may not be able to ride out a slower Aspen real estate market.The reality is that Aspen is likely to have few 'bargains' except for unique and individual circumstances.
However, with the dollar still trading at near historical lows (although it is very quickly gaining strength), there may still be a fast closing window of opportunity for foreigners with Euros to buy Aspen property at once-in-a-lifetime discounts.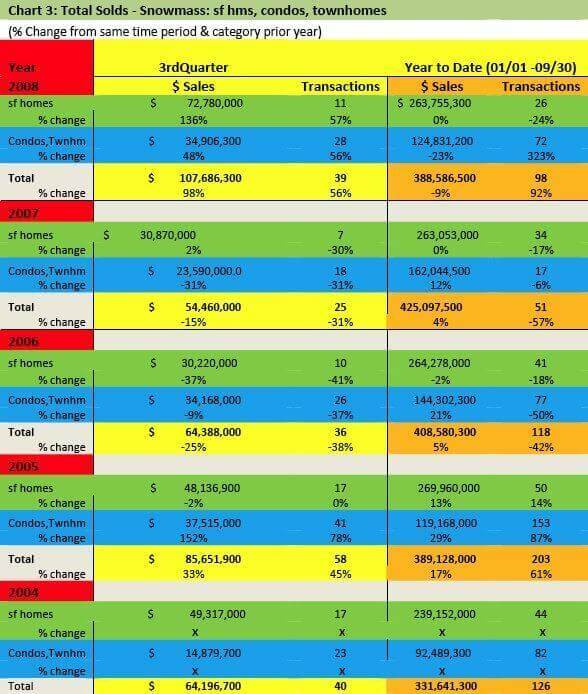 In the longer term, any slowdown here seems to represent a cyclical interval consistent with Aspen's history of rapid price appreciation followed by market lulls, not fall-offs. This steady step pattern upwards, rather than boom or bust volatility, is evidence of Aspen's long term investment strength.
2.Local/Regional and National Trends Affecting the Aspen Market
The Demographic Tsunami at our Door
Depending on how the current credit crisis plays out, this present market lull – whether its duration is 1 – 3 years (or more), may be the calm before a long sustained tsunami of significant demographic and economic trends bear down on us.
Regional/Local Trends
Fastest Growing Region : According to the Center for the Rocky Mountain West, the Rocky Mtn region (5 state: Idaho, Montana, Utah, Colorado, Wyoming) is the fastest growing area in the country amongst persons ages 40-60, the classic baby boomers. Also, the 'echo" generation, children of baby boomers are the next largest population segment flocking to this area, referred to as the "third coast" by demographers.

Boomers Retire and Head West : There is a huge new retiree population migration. These people are newly retired, aged 55-64, " young elderly, grabbing life with both hands" as one Center for the Rocky Mountain West 2006 study put it "They are couples in good health, with high education and income levels". While the immediate credit and stock market meltdowns will affect individual retirement plans and timetables, the boomer bubble still exists and this area is bulls-eye for retirement scopes.

Second Homes Become Primary Residences : According to a recent study by the Northwest Colorado Council of Governments, increasing numbers of second homeowners are making it their permanent home. Second homes are on the decline as more and more owners in Pitkin County, Eagle and Garfield Counties, are taking up residence here year round. "Baby Boomers are just coming into that age bracket -55 to 64 – most likely to purchase second homes. And as they hit their 60's and 70's, a huge influx of full-time residents is anticipated", said the consultant who wrote the study. As this happens, more and more full-timers will add to community life and a maturity of services.

Local Population Growth Forecasts : According to a recent October 2007 Healthy Mountain Communities: State of the Valley Symposium, the population of Eagle, Garfield and Pitkin Counties combined is expected to increase 20% from 116,500 in 2005 to 138,800 in 2010. By 2025 it will 'soar' to 220,000 or 88% more than the current level. Nationally, the growth rate has been 1% annually; the Pitkin County growth rate is 1.4%, Garfield County is 4.5% and Eagle County is 3.2%. The big driver of the Pitkin County economy will be surging demand for second homes for reasons cited above. In the next 20 years, Pitkin County's population is expected to increase 46%.

Parents Purchasing College and Resort Properties for their Children : More and more parents are purchasing housing for their children in college and resort towns as a way to defer expensive housing costs for the kids, to use the property as a 2nd home, possibly for retirement, and to take advantage of the potential appreciation.

Public Lands as Magnet : People are flooding to areas surrounded by public lands – US National Forests, National Parks, BLM – places where 'open space', green forests and wilderness appeal prevail. Dominated by recreation and tourism, these lands have become the equivalent of prime waterfront property.

Exurbia : A huge population migration to "exurbia", semi-rural areas where affluent Americans are moving in growing numbers, especially to smaller towns of less than 50,000.

Controlled Growth (Strict Zoning) Fuels Real Estate Wealth : The "environment" has become the key economic asset for these communities. There is a direct economic upside for property values in controlling growth, and this is a huge driver of local real estate values. One of the great ironies of our area is that the unprecedented clamping off of new development fuels higher and higher prices as supply is artificially constrained.
      In Pitkin County, over 85% of the land is publicly owned, another 6% is zoned resource or agricultural (rural and large tracts of land) and an additional 3% is deeded private land trusts or local government open space. That's 94% restricted lands. Pitkin County has limited private land available for any kind of private development resulting in extremely limited inventory.
      The other counties of the Roaring Fork Valley – Eagle and Garfield Counties – have 79% and 63% publicly owned lands respectively. 

Lack of Speculative Activity: The high price of real estate, strict zoning, lengthy and uncertain approval process and limited available land has made any kind of development in Aspen hugely expensive and risky. The price and time required for entry is just too high so there's limited development activity. When projects do get approved, they have been so vetted and scrutinized that they are of high quality and preserve much of the character and value of small town living.

Aspen as "Safe Harbor" : With financial markets in the tank, many investors are looking to reallocate some of their resources. Where is a 'safe ' place to put – to park – one's money? Favorable demographic trends cited here suggest long term high demand for Aspen's unmatched quality of life even as the market slows in the near term. There is very little supply for the anticipated growing demand. As financial markets 'feel the pain', it would seem there will be new motivation for investors to seek high quality hard assets like Aspen real estate. Over time, no matter what the entry price paid, Aspen has been one of the best all-time investments bar none. 

Affordable Housing Shortage: There are some market place negatives that deserve mention and these are not to be taken lightly. The lack of affordable housing is driving Aspen's employees further and further down valley to Glenwood Springs, Rifle and beyond. This detracts from a local community base and ultimately diminishes a thriving and dynamic 'small-town' character of Aspen.

Increasing Traffic: There has not been a City/County consensus to solve the "Entrance to Aspen" problem for thirty years. Meanwhile, traffic in town and on the west side during commuting hours gets worse every year. The only through road into Aspen for employees, trucks, slow moving construction vehicles, tourists and second homeowners, Highway 82, is pushed to capacity eroding the overall quality of life. But it's not even close to big city traffic …yet.
National Trends

Baby Boomer Wealth : According to Forbes Magazine, an estimated $30 Billion is expected to transfer from the WW II generation to baby boomers. Combined with retirement incomes, this generation has, at least until Sept/Oct 2008, been financially secure enough towards making their vacation/second homes their primary homes. Until recently, they were ready to spend. Even if 401K funds have lost substantial value, there will still be significant wealth accumulation by boomers that eventually will be directed towards magnet retirement areas.
Interest Rates and Credit: The fed has cut 7 times since September 2007, from 5.25% to 1.50% currently. Lower rates should mean lower housing costs, but their effect so far on mortgage rates has been counter intuitive. The Street sees these cuts as inflationary so investors buy bonds, upping interest rates. And lending standards are dramatically on the rise. Even buyers with good credit are finding it difficult to impossible to obtain financing.
Fall of the Dollar to record lows : Miami, Manhattan, Aspen … Just as Manhattan and Miami "On Sale", the same can be said for Aspen. While the dollar is fast strengthening, for Euro buyers, there is still precious opportunity to buy blue chip Aspen real estate at relative bargain prices. In Aspen, the sun hasn't stopped shining, the blue sky is just as intensely beautiful and the snow is falling at record levels but the whole thing now costs 20-35% less.
Global Wealth : There has been a huge ratcheting up of global and US wealth accumulation. China, India and Russia are obvious international examples. Until recently, the hedge fund industry in the US had been remaking the world of wealth.
Big Money Skews Property Values in Already Rich Enclaves : According to a recent New York Times article, super luxury home sales increased even as the total number of homes sold fell over 15%. In the Hamptons, an August '08 Vanity Fair article reported that ""the market for properties below $10M is grim". Above $10M it has been even more active than usual. Locally, witness the recent May 2008 purchase of a $36.35M Snowmass home by a Russian Billionaire. Many perceive Aspen real estate as the ultimate trophy.
Winners and Losers : Historically, Aspen has been a place for winners, and there are winners and losers in every business cycle.
Technology and the Footloose Economy : Advances in information technology, communication infrastructure, the emergence of the service economy and the aging demographics have created a " footloose economy". The economy is no longer bound by "space" and geography. Ten to fifteen years ago, people followed jobs. Now, they move wherever they want and jobs follow to these desirable areas.
High End Real Estate Resilience : Traditionally, upper end real estate markets tend to hold their own even as the rest of the housing market slows. Wealthy buyers seem to be buffered by market volatility. A June '08 NY Times article stated, "The very very high end of the communities such as the Bay Area, LA, NYC, Miami and to a lesser degree Chicago, Seattle and Washington that have global appeal have held up much better than rest of the housing market…much of their buying isdone with cash and not affected by the global financial turmoil and its impact on the availability of mortgages." But with the DJIA off 35-40% in the past year, since Oct 2007, it remains to be seen how well insulated the top real estate markets truly are. It is likely the decline in property prices in the broad real estate market and other financial indices will adversely affect the mind-set at the top of the real estate market.
3. Fall 2008 Forecast
For the past 50 years, Aspen has not only been an important place to be seen, but also it's been an incredibly good and solid investment. Although owning Aspen real estate is primarily a quality of life decision, more and more buyers also see Aspen real estate as part of a solid portfolio diversification plan.
Compared to the rest of the country, we are literally and perceptually an island: literally, we are at the end of the road, Highway 82, surrounded by majestic beauty that is 94% publically owned or land banked, only 6% privately owned and with extreme controlled-growth governmental policy designed to protect and preserve it all; perceptually, we are a unique sports and nature, cultural, and intellectual Mecca sought after by an increasingly wealthy constituency, both national and international, in spite of the present very dismal macroeconomic picture.
While the present national credit crisis is causing even Aspen to pause, there will be a dramatic increase in demand for the quality of life Aspen and Roaring Fork Valley offers based on the significant demographic, socio-economic and local trends cited earlier.
Whether Aspen is the land the national housing slump forgot, or sunning itself before a long dark winter, is anyone's guess. The consequences of the credit implosion, the market meltdown, a strengthening dollar, a terrorist strike, even higher energy prices, a long recession or even worse a depression and other unforeseen shocks to the US and Global economies certainly will inflict shocks to the Aspen real estate market.
If one is concerned about market timing, especially whether it is prudent to buy into a flattening, maybe falling, market, please remember this Aspen truism: at any point in time in Aspen, prices have always been setting new records…today's price may have been last year's record but in a flat stagnate market that price is still today's record … and historically, it will be tomorrow's discount. If one is waiting to buy at the "bottom", the truth is that one only recognizes the real bottom when prices have already turned upwards. It'll be too late for that 'perfect' timing.
In both the early and late ' 70's, two extreme periods of exorbitant interest rates in the high teens, this market suffered. Other than that, this market has experienced lulls, 'pauses' for 1 – 3 years. For example, in post 9/11 the market stagnated for about 30 months but generally, experienced no overall loss of dollar value.
The current credit and financial situation appear to be more systemic with longer term adverse consequences than a short term 'aberrational shock' like 9/11. I have no crystal ball, but the historical pattern has been that when Aspen prices stabilize – no matter what the duration of the slower cycle – that flattening period becomes the new base for the next market climb.
The situation we are experiencing in the fall 2008 feels different, more severe. In general, households have lost 30-45% of their net worth. I don't see how that cannot affect Aspen real estate values.
In the bigger picture, those who have sat on the sidelines waiting for a 'great deal' or a market correction have basically spent their lifetime regretting that indecision and procrastination. At any time in the past 50 years, this market has consistently presented 'sticker shock' to new buyers. And though history is no indicator of future results, once one gets over the psychological pricing hurdle and plans on at least a 3-5 year horizon, boldness in the Aspen market has almost always been consistently rewarded.
As John Templeton, the noted investor, often remarked, "maximum pessimism equals maximum opportunity". For Aspen real estate, now is the time if you are a buyer.
{jumi [disclaimer.php]}