Coldwell Banker Mason Morse Aspen real estate broker Tim Estin, who publishes a quarterly analysis of upper valley real estate sales, reported in his 2011 year-end Estin Report that the Aspen and Snowmass real estate market was up 15 percent in dollars and 25 percent in unit sales over 2010. (Estin's analyses also include Woody Creek and Old Snowmass, but exclude fractional sales and all transactions under $250,000.)"…"The prevailing attitude is that 2012 is a significant turnaround year and if you don't get in now you have missed out on some sort of bottom," he added. "Even with continued price pressure buyers will have missed out on some really quality properties."
By Catherine Lutz, Feb. 6, 2012, ABJ
Full article posted below: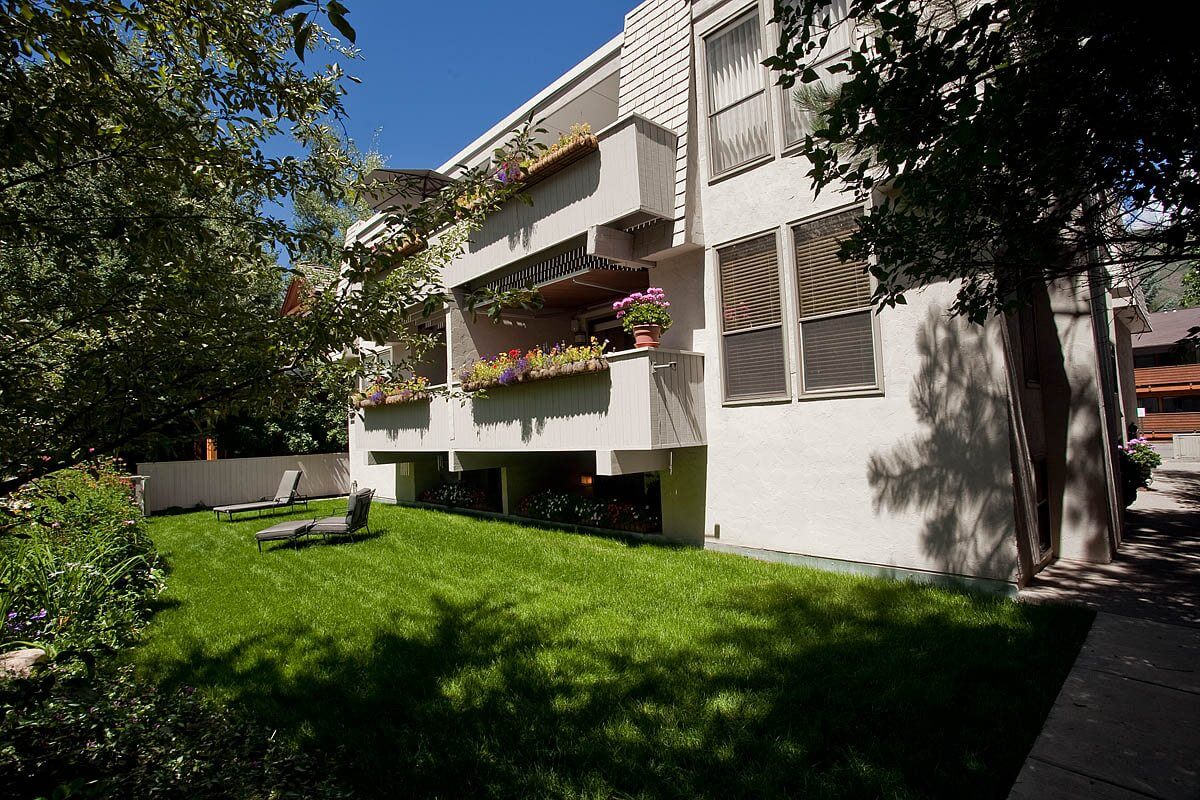 Aspen and Snowmass condo sales saw a big jump in sales in 2011; dollar volume was up 40 percent and unit sales up 39 percent. This 4 bedroom, two level, 2,176 sq ft condo on East Hyman–only two blocks from Aspen commercial core–sold in the spring of 2011 for $2.143MM. (Photo courtesy of Mason Morse Coldwell Banker.)
ASPEN CO REAL ESTATE – PITKIN COUNTY, Colo. – Looking at the 2011 year-end report from Land Title Guarantee company, one sees little growth in the Pitkin County real estate market. But separate analyses by at least two local brokers, who parse the numbers further, show much improvement—as well as some areas of lingering concern.
Pitkin County real estate sales in 2011 totaled $1.27 billion in 2011, just one-half percent higher than the 2010 total, according to Land Title. The 756 transactions in 2011 was a nearly 10 percent increase from the previous year's 689 sales. A sharp drop in sales dollars in December compared to the same month the previous year—38 percent—was the main cause of 2011 ending flat, although previously it had only been up a few percentage points.
But honing in on upper valley free-market sales provides a different picture, one that speaks more to the largely second-home-driven, investment market that fuels the area economy, local real estate experts generally argue. Land Title's report, which includes all transactions in Pitkin County, includes sales in the Carbondale and Redstone parts of Pitkin County, plus employee housing and fractional sales that, when taken out, reveal some more telling trends.
Coldwell Banker Mason Morse broker Tim Estin, who publishes a quarterly analysis of upper valley real estate sales, reported in his 2011 year-end report [ The Estin Report ] that the Aspen and Snowmass real estate market was up 15 percent in dollars and 25 percent in unit sales over 2010. (Estin's analyses also include Woody Creek and Old Snowmass, but exclude fractional sales and all transactions under $250,000.)
Andrew Ernemann, a broker at BJ Adams & Company, found that overall sales were up 13 percent in dollar volume and 30 percent in unit sales in 2011. Ernemann includes Aspen, Snowmass, and Basalt transactions of single-family homes, condos/townhomes, and vacant land, and excludes fractionals and employee housing, in his analysis, The Big Red Book.
Overall, most of the gains were in the first half of the year, said Estin, with macroeconomic events such as the debt ceiling debate and the euro crisis putting a major damper on activity beginning in summer 2011.
"The first half of the year was very, very strong with all indicators trending up," he said, "and then, boom, at the end of the second quarter everything started to drop off, activity fell off sharply. If it hadn't been for the first six months of the year, 2011 would have been worse than 2010."
And although the news on a macroeconomic scale has been positive since the end of 2011, "the lack of snow in late December and early January is just one more element of uncertainty in the real estate mix to be considered," Estin wrote in his report.
Aspen performed better than other parts of the upper valley, both brokers reported. Aspen sales are up 40 percent in dollar volume and 46 percent in unit sales since the 2009 low, Estin reported.
And Ernemann wrote, "2011 was a solid year for Aspen real estate. All of the major trends were up or close to even compared to 2010. Particularly, there were nearly 15 percent gains in the number of sales and sales dollar volume."
Both realtors pointed out the strength of the lowest and highest ends of the market. A chart in Ernemann's Big Red Book shows that Aspen single-family home sales of less than $2.5 million were up 91 percent in 2011, compared to the average from 2006 to 2010. During the same time period, sales of homes over $10 million were up 50 percent.
Estin's analysis was similar: he found 25 sales under $2 million in Aspen in 2011, compared to 13 in 2010 (a 92 percent change), and 16 sales over $10 million in 2011 versus 10 in 2010 (a 60 percent difference). Estin noted that the over $10 million sales accounted for nearly half of the total single-family home dollars spent in 2011, compared to one-third in Aspen in 2010.
But the biggest jump in 2011 was in Aspen and Snowmass condo sales, where dollar volume was up 40 percent and unit sales up 39 percent, Estin wrote. (Comparatively, single-family home sales were up 14 percent in dollar volume and 15 percent in unit sales, according to Estin.)
Snowmass Village had a particularly large jump, but condo sales there were coming off a very low point, he noted.
Ernemann also reported a "healthy rebound" in condo sales from the 2009 lows, in Aspen, Snowmass Village, and Basalt. He noted that Aspen now has a two-year supply of condos, down from more than three years during the low, and that Aspen condo and townhome prices "have started to show some strength," meaning that the average sales price was up in 2011 (to $1.85 million, compared to $1.69 million in 2010). Ernemann also reported that average price per square foot was up modestly for Aspen condos, from $1,025 in 2010 to $1,043 in 2011.
But overall, price per square foot, and average and median sales prices, are still falling, according to at least two of the reports.
Land Title reported that the average single-family home price in Pitkin County in 2011 was $4.11 million, down 5 percent from 2010, and that the median home price of $2.79 million is down 12 percent from 2010 levels. Estin, who uses median prices as a more reliable indicator of reality, found that median sales prices were down 13 percent in 2011 compared to 2010 in the upper valley.
Aspen and Basalt actually saw a slight increase in average single-family home prices, Ernemann reported (from $6.1 million to $6.3 million in Aspen and $783,000 to $818,000 in Basalt), although he did note that the range of sales prices can be so extreme that average price can be misleading.
Commensurate with the general drop in sales price, price per square foot was also down, except for Aspen condos. Ernemann reported that it dropped 3 to 4 percent between 2010 and 2011 for all single-family home sales in Aspen and Basalt, while Snowmass Village dropped 8 percent. Estin reported that price per square foot for single-family homes in Aspen was off 27 percent from the market peak—$919 compared to $1,263 in 2008. Price per square foot for Aspen condos was off 28 percent, Estin reported, $1,027 versus $1,425 in 2008.
But Ernemann feels that the relatively small drop in price per square foot means that "further price drops will be modest (if any)" in Aspen and Basalt. "The bottom has not yet been established in Snowmass Village," he writes, "although we feel it is very close."
Due to strengthening in certain areas of the Aspen and Snowmass markets, Ernemann writes that "prices will likely start to rise in the coming 12 to 18 months."
Estin is more conservative in his estimates: "In my opinion we will see continued pressure on prices for the next 16 to 18 months, with the exception of exceptionally located premium properties."
Estin bases his opinion on the fact that there's still a lot of inventory for sale, a large "shadow inventory" (owners waiting for improved conditions to put property on the market), and deal-savvy buyers expecting substantial discounts. Inventory levels decreased about 19 percent in 2011, he said, "and that's a healthier market, there's more selling, but there's still a lot more properties for sale than there have been for the last seven or eight years."
There were 1,030 properties for sale in 2011 compared to 597 in 2004, Estin reported.
In dollar volume, however, activity in 2011 was most similar to that in 2004, Estin found—$774 million in Aspen in 2011 compared to $746 million in 2004. But that was on 366 sales in 2004 and 211 in 2011, a 42 percent decrease in number of units.
In fact, said Estin, a lot of information can be derived by looking at the bell curve of real estate sales between 2004 and 2011. During the boom years—roughly 2005 to 2008—things got so inflated so quickly that in hindsight it looks almost like an anomaly.
"If you were to lop off 2005 to 2008, that outsized part of the bell curve, that would give you a realistic level of sales volume and appreciation," said Estin.
Part of the reason for the bubble, said Estin, "was that money was so freely available, and we're unlikely to return to anything like that." And looking at 30 to 40 years worth of cycles in Aspen, the Great Recession was the first time he has seen an actual downturn and correction in the market, as opposed to just a flattening and eventual step up.
All indicators started falling in 2008, and the bottom of the local market, as many brokers now agree, was in 2009. Since then all the metrics except prices are trending positively, he said—sales are increasing steadily 10 to 20 percent per year, and inventory is falling.
Although he has yet to do any analysis for 2012, Estin said it feels like there has been a lot of activity in January, and sees signs of a continuing recovery in 2012—barring any major macroeconomic issues.
And anything that's new or extensively remodeled will command premium pricing, because the spec market completely shut down after the economic downturn, so there has been very little new construction.
That might mean a turnaround for the vacant lot market, which saw its poorest performance in 2011—nine vacant lot sales, the lowest since 2004, Estin reported. But with vacant lots priced incredibly low (a McLain Flats low that was priced in the $4-5 million range recently sold for less than $1million), savvy buyers are starting to look at land as a better option, even with the average two-year construction timeframe.
"The price of new is in some cases lower than the price of existing," said Estin, pointing at the lots available in Sinclair Meadows in Snowmass as an example. Someone could buy a lot and build a home there for under $2 million, while buying a mid-1980s-era single-family home in Snowmass and doing a small remodel averages $2.4 million.
Overall, said Estin, "I'm optimistic about what's ahead. There's only one Aspen, and wealthy people want to be part of Aspen, they want to have homes and live here."
"The prevailing attitude is that 2012 is a significant turnaround year and if you don't get in now you have missed out on some sort of bottom," he added. "Even with continued price pressure buyers will have missed out on some really quality properties."
December & 2011 transactions at a glance
(Source: Land Title Guarantee Company)
PITKIN COUNTY
December dollar volume: $77,740,576
December number of transactions: 56
Decrease from December 2010 (dollar volume): -38%
Decrease from December 2010 (transaction volume) -16%
2011 dollar volume: $1,269,446,586 (.52% increase)
2011 transactions: 756 (9.7% increase)
Bank sales: 4
2011 bank sales: 51, $33.7 million (6.8% of sales, 2.7% of dollar volume)
Average single-family home price: $4.11 million (down 5% from 2010)
Median single-family home price: $2.79 million (down 12%)
December fractional sales: 10 (29% decrease from December 2010)
December fractional dollar volume: $3 million (36% increase over December 2010)
2011 fractional sales: 209 (19% increase over 2010)
2011 fractional dollar volume: $89 million (9% increase over 2010)
GARFIELD COUNTY
December dollar volume: $21.7 million
December number of transactions: 89
Decrease from December 2010 (dollar volume): -42%
Increase over December 2010 (transaction volume) 10%
2011 dollar volume: $259,072,600 (12% increase over 2010)
2011 transactions: 921 (32% increase)
December bank sales: 41 sales, $7 million (46% of sales and 32% of dollar volume)
2011 bank sales: 336, $60.1 million (35% of transactions, 22% of dollar volume)
Average single-family home price: $311,271 (down 20% from 2010)
Median single-family home price: $225,000 (down 24% from 2010)