By Tim Estin, Broker Associate / Mason Morse Real Estate Aspen / 970.920.7387 office
June 1, 2007

(updated from original article in Mountain Business Journal, February 28th, 2006)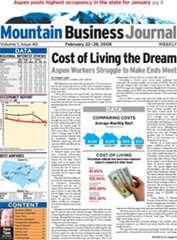 The Aspen/Snowmass condo market is as hot as ever. If you are a visitor or an Aspen local thinking about a condominium purchase, here's some background and current market information.
Summary – summer 2007: The focus of this article is on "middle market" condos which cost approximately $750,000 to $3,500,000 million.
In general, inventory is low and demand is surging. At present, we are in a fast-paced, strongly appreciating market unlike adverse trends affecting the rest of the country.
Since Feb. 2004 when the market began its present climb, Core downtown Aspen condos have experienced a significant leap in value. In the past two years alone, appreciation levels have been, on average, 15-30% annually.
Pricing Trends Since April 1, 2007:
High demand and high prices for high quality properties: High quality, newly remodeled properties with close proximity to the mountain are easily commanding $1,750-$1,900 sq. ft. with some examples leaping to $2,300 sq.ft. An extraordinary 3B/3Ba ski in/ski out condo is presently listed at $2,997 sq. ft or $4.95M.
ACTIVES (late-June '07)
Aspen Core Active 2 Bedroiom/2 Bath listings (15):
Avg asking price: $ 2,148,000.

Avg. price per sq. ft.: $1,718

Avg: Days on market: 134
Aspen Core Active 3 Bedroom/3 Bath listings (8):
Avg asking price: $1,981,000.

Avg. price per sq. ft.: $1,708

Avg: Days on market: 51
SOLDS since April 1, 2007
Aspen Core 2 Bedrooms/2 Bath Solds (13)
Avg. sold price: $1,650,000

Avg. price per sq. ft.: $1,568

Avg: Days on market: 154
Aspen Core 3 Bedroom/3 Bath (7)
Avg. sold price: $2,064,000

Avg. price per sq. ft.: $1,389

Avg: Days on market: 189
SNOWMASS ACTIVES
Snowmass Actives 2B/2Ba (27):
Avg. asking price: $1,210,000

Avg. price per sq. ft.: $1,047

Avg: Days on market: 107
Snowmass Actives 3 Bedroom/3 Bath (8)
Avg. asking price: $1,591,000.

Avg. price per sq. ft.: $1,070

Avg: Days on market: 158
SOLDS
Snowmass Solds 2B/2Ba (14):
Avg. sold price: $1,028,000

Avg. price per sq. ft.: $930 sq ft

Avg: Days on market: 89
Snowmass Solds 3 Bedroom/3 Bath (9)
Avg. sold price: $1,591,000.

Avg. price per sq. ft.: $1,070

Avg: Days on market: 158
Property specific examples:
Top floor gant at 1.775M 10 days on market.

A dead center Aspen Condo project, The Monarch, to be completed in 18-24 months is pre-selling two (1,910 sq.ft.) to four bedroom (5,510 sq. ft.) units for $1,800- $3,000 per sq. ft.

A singularly spectacular Penthouse condo dead center of Aspen currently available: 3Bdrms/3.5Ba, 2,916 sq. ft plus a 320 sq. ft. garage priced at $7.9M or $2,709 per sq.ft.
Moderate grade properties in smaller condo developments may still be available at lower prices in the $1,100 – $1,350 per sq. ft. price range, although these prices are rising fast as well. Typically, these units are in older, non-upgraded condo complexes of approximately 4 to 20 units. There is a great deal of disparity in quality between units in the same complex. Some command prices as high as $1,460 sq. ft. and others are in the low $1,050 sq. ft. (which are extremely difficult to find.).
Snowmass product is generally about 25 – 35% less expensive although the new construction of the Base Village (scheduled for completion in 2010-2011) has reduced the historic spread between Aspen and Snowmass for well-situated condos near the new development. Snowmass is experiencing, and will continue to for the next 5 years, massive development and redevelopment. The big question is: will all this intense building activity stall the market … or fuel the market as buyers seek to take advantage of an 'early investor' approach.
Regardless of the type of property, prices in Aspen/Snowmass have always been at record levels at whatever point in time one wants to look in the past 40 to 50 years. Historically, if prices are not rising, they are in a flat mode lasting on average 1-3 years. While history is no guarantee of future positive results, rather than attempt to 'time the market', serious buyers are well advised to brave the big time Aspen prices and let Aspen appreciation take care of the rest. With a minimum 3-5 year holding period, buyers in the past have consistently walked away realizing significant appreciation while enjoying Aspen ownership.
The focus of this article is on "middle market" condos which cost approximately $750,000 to $3,500,000 million. As of mid-June 2007, there are only (5) active listings on the market in prime downtown Aspen and (30) in Snowmass in this price range – the average price per sq.ft of the current Aspen listings is $1,647 sq.ft.
General Aspen/Snowmass Condominium Description
More than 90% of Aspen's condominium developments, estimated at 75 to 100 different projects were built from 1965 through the late 1970s. This includes Snow-mass units built on or near the mountain with ski-in/ski-out access. While the prod-uct is generally older, the exteriors get updated about every 15 years requiring special assessments but reinvigorating the complexes with an updated, present-day appearance. On change of ownership, new buyers frequently remodel their units creating considerable luxury and, sometimes, great disparity from one unit to another.
Most units average 850 to 1,150 square feet, and are one to two-and-a-half bed-rooms and baths respectively. On the extremes there are smaller studios 200-350 square feet and three bedrooms at 1,300 plus square feet. Three bedroom units are hard to find and four bedroom units are scarce. Location, location, location and then amenities and condition of the unit are the differentiating factors determining price. Here are examples of specific properties:
• Prime Location Condos – There are a number of condo projects at the base of Aspen Mountain between Shadow Mtn./Lift 1A and the Gondola, a to-die-for prime location noted for direct ski access and proximity to downtown Aspen. These are the 5th Avenue, Durant Condos, Fasching House, Alpenblick Condos. Current prices are: 1 bdrm/627 sq. ft, top floor corner unit, 2004 remodeled Fasching Haus; a two-bedroom/2.5 bath, 1,492 sq. ft priced at $2,100,000 ($1,407 per sq. ft.).; a four bdrm/four bath, 1,668 sq.ft. AlpenBlick at $2,750,000 ($1,646 sq. ft.).
In terms of sold history, a similar Alpenblick four bedroom, four bath with 1,642 sq. ft. sold for $1.95 million in May 2006 ($1,187 sq.ft.) and a Durant Condo four bedroom/three bath, 1,672 sq. ft. beautiful 2006 remodel went for $2.5M ($1,492 sq. ft.) The 2bdrm/2.5ba, 1,492 sq.ft. Fifth Ave. Condo cited above that is currently on the market at $2.1M closed at $1.335M in late March ($894 per sq. ft.). This is +67% in eight months.
Other dead-center Aspen Core location projects are the Aspen Square, where a Five Star placed 2nd floor two bedroom, two bath, 836 sq.ft. closed in Dec '06 for $1.75M million setting a new prime location benchmark of $2,093 sq. ft. This single sale is a watershed event crossing the $2,000 sq.ft threshold – for older product, not new construction – from which many new or recent downtown condo listing prices are being based.
A Lift One three bedroom, three bath, 1,313 sq.ft. newly remodeled ground floor unit is priced at $1.95M million ($1,485 sq. ft.), but a similar three bedroom, three bath, 1,225 sq.ft. 2005 remodel unit sold in early September for $1.65M. It was on the market for 97 days and looks like a bargain compared to Winter '07 prices.
The Chateau Roaring Fork and Chateau Eau Claire are six plus blocks away from the Gondola and perched on the banks of the Roaring Fork River. A rare, top floor river view beautifully renovated four-bedroom, three bath, 1,594 sq. ft. unit, sold in Nov-ember 2006 at a relative bargain price of $2M ($1,255 sq. ft.). My estimate is that the same unit would easily see today at $1,575 to $1,650 sq.ft. Buyers are paying for rare riverfront and reasonable proximity – approximately six blocks – to the Downtown Core. A beautiful three bedroom, two bath, 1,440 sq. ft. Larkspur unit – located between the Gondola and river and a walk to everything – was asking $1.575M and closed in August at $1.5M ($1,041 sq. ft., now considered a steal).
• Amenity Condos – These complexes offer a full range of amenities with pool, tennis, full front desk services and onsite management, and there are only a handful of them: The Gant, The Aspen Alps, Mountain Queen Condos and Hunter Creek.
The Gant, two to three blocks east of the Gondola, is incredibly popular and known for its intensely loyal owner base. It offers the closest thing to country club living without a golf course at the base of Aspen Mountain. These units have terrific rental income histories and approximately 120 of the total 140 units provide some sort of rental income to owners. The net-net after expenses, before taxes and debt service, averages about 1.5-2% depending on purchase price.
The Gant sales activity in the past two years has been astonishing. A 2 bdrm/2ba, 940 sq.ft. Gant unit that sold in the $950,000 range 12 – 14 months ago, increased in value to $1.2 – $1.25M in the Spring and early Summer '06. By August, three to four similar units sold between $1.4M – $1.5M with only 2-4 weeks on the market.
In Jan. '07, there are currently two 2 bedroom/2 bath ground floor units, standard rated on the market at $1.45M. Three bedroom units, rarely on the market, are priced easily at $2M to $2.2M. One closed in August '06 at $1.9M. A broker expert in Gant sales recently indicated that a top-floor, 3+ bedroom unit would be priced at $2.8-3.0M range commenting that if the market doesn't immediately accept that pricing, it will rise to that price point soon enough to justify itself. He's most likely correct.
The Aspen Alps sits literally on Aspen Mountain with many units offering ski-in/ski-out convenience. A large ground floor two-bedroom, two-bath, 1,215 sq. ft. unit facing a small park/open space area, is listed at $2.3M ($1,893 sq.ft.); And, a top rated 2 bdrm/3ba third floor,1,495 sq. ft,, high ceilings with on-mountain and town views is listed at $3.75M. A spectacular 700 Building, 3Bdrm/3Bath, 2,198 sq. ft. Gondola facing unit listed at $4.2M sold 126 days later in mid-November at $4M, ($1,819 sq. ft.).
The Mountain Queen sits at base of 1A lift offering ski in/ski-out access and beautiful views of the mountain and town. The most recent sale at $2.195M was Nov. 2005 for a 3 bdrm/2bath, 1,615 sq. ft. unit built in 1974, ($1,360 sq. ft.). In terms of a new listing with similar proximity, literally on the ski mountain itself, there is a completely remodeled beautiful Shadow Mountain Village four bedroom/four bath, 2,171 sq. ft., priced at $3.5M ($1,612 sq. ft).
Hunter Creek condos are on the northeast side of Aspen at the base of Smuggler Mountain and offer affordability – a further but acceptable walking distance into town and skiing, but with frequent door-to-door public shuttle service – with tennis, pool and front desk management. A three bedroom, two bath 1023 sq. ft., Hunter Creek unit sold in August for $810,000 ($918 sq.ft.) from an original ask price of $895,000. At present, there are (4) one-Bedroom, 500-600 sq.ft, units available priced between $550-650,000.
No pets are allowed at Hunter Creek, whereas most condo developments permit one pet per owner.
Snowmass Condos – There's greater value here but less rental income possibility due to Snowmass' more limited summer business. On the value side, the Seasons Four, Woodbridge and Crestwood condos sell for approximately 25-35% less than a similar unit in Aspen: in September, a Seasons Four remodeled one-bedroom, 689 sq. ft. closed at $585,000, a two-bedroom, 950 sq. ft unit closed at $600,000; a Wood-bridge two bedroom, two bath units, approximately 900 sq. ft., with limited rental income are priced from $575-$650,000 up from $425-$450,000 in the Spring 2006. One closed for $575,000 in October; a fixer-upper Crestwood three bedroom, four bath, 2,114 sq. ft. closed in October at $1.275M ($603 sq. ft.), $25K over ask price; a two bedroom, two bath, 1,008 sq. ft., Crestwood is presently listed at
$698,000. On the higher end, a 2002 remodeled 2 Bdrm/2 Ba listings at Top of the Village with 1,080 sq. ft. closed at $925,000 ($856 sq.ft.), and currently, there are (3) three bedroom/3 bathroom units in this complex priced at $1,85M-$1,95M ($1,276-$1,345 sq.ft.)
Snowmass: New Base Village Effect – In Snowmass, the new Base Village was approved in spring '05, and, after much delay, ground was broken this spring. Even though one can find relative value in Snowmass compared with Aspen, in the past year, speculative fever hit Snowmass as buyers swallowed up any condos within concentric circles of the new Base. Record prices are being paid the closer the units are to the Base Village, and demand is fueled by expectations of future value even though completion is expected in 2010-2011. This buying frenzy has since calmed but it greatly diminished the Snowmass condo inventory and reduced the traditional price spread between Snowmass and Aspen condos.
Aspen Condo Trends and Economics
In the past two years, there's been considerable turnover of condos belonging to the original owners aged 65 and over. But as these older owners sell their units, newer owners in the same development are exercising their right of 1st refusal to trade-up to larger, more desirable units. There's also the 'grandchild effect' where a growing number of larger, multi-generational families are looking for more space. This trend and the propensity of current owners to trade up spurred on by what they see as fast moving, escalating prices – unlike more quiet market per-iods – constrict Aspen condo inventory even more.
Additionally, the older condo inventory is not being replaced with new similar development. Because of strict zoning – effectively down zoning – the value of land has surged, and it doesn't make economic sense to build larger projects on smaller land parcels. Where new development is occurring, hotels, fractionals and town homes are being built. Developers are creating more units on less land – hotels and fractionals – than condo projects require.
Even though fractional development costs are higher because of greater administration, service and maintenance requirements, they are offset by plus-200 percent fee simple ownership profit over condo development. Conversely, developers are also building fewer units at higher prices – in specifically town homes – and finding they can consistently make their margins.
In general, few condo properties, if any nowadays, will cash flow a mortgage, much less break even after tax. Condo ownership in Aspen is about use and enjoyment with eventual sales appreciation, not cash flow. Even though the more expensive the unit, the greater the rental income, that income still gets swallowed by 35-45 percent management fees. Additionally, buyers also need to consider the health of association reserves and special assessments to determine the bottom line.
With an Aspen/Snowmass condo purchase, one is purchasing a lifestyle. It's a worthy choice offering fee simple ownership – not the hotel-like environment of fractionals – and reasonable affordability, a first entry point into the Aspen/Snowmass market with historically excellent appreciation prospects. It's also a well-considered choice from a convenience factor: it's the car where the brand isn't nearly as important as the fact that it'll get one to the game … which is everything Aspen has to offer.
For sales assistance, please give me a call.