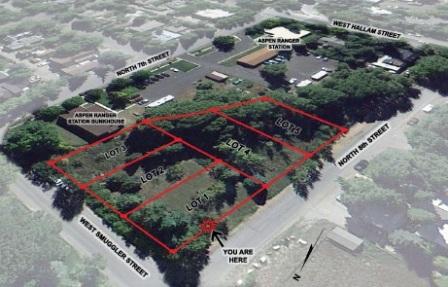 The USFS sale lots are located near the Aspen "S" Turn, public transportation stops and between N. 7th and N. 8th off West Smuggler, just a few blocks from the Aspen Institute campus.The presumed development of these lots in the next 1-3 years should create a "critical mass" of new West End home development on a single block adding new energy – from a practical, marketing and sales perspective – to this specific area.
Five Aspen West End lots were auctioned this morning. The lots are sized 6,600 – 11,600 sq ft allowing for house sizes between 3,200 – 3,600 sq ft per City of Aspen zoning requirements. The final auction results were:
o Lots 1 & 2 combination winning bid: $2.85M [Lot 1 sq ft: 6,613 sf; Lot 2 sq ft: 6,621 sf]
o Lot 3: $1.15M [Lot 3 sq ft: 6,619 sf]
o Lots 4 & 5 combination winning bid: $2.865M; raised to $3M after auction closed in closed door session with USFS officials. [Lot 4 sq ft: 11,615 sf – a utility easement cuts through the center of the lot; Lot 5 sq ft: 7,490 sf]
o Total Gross Proceeds: $7.01M see article Aug 28, 2013 "Forest Service Auction Results", ADN; article Aug 27, 2013 "USFS Vacant Lots Require Additional City Fees and Expenses for Development", AT; and article Aug 16, 2013 "Buyer's Circling for US Forest Service Lots", ADN
10% deposit by winning bidders is required within 5 days of auction end and to close within 30 days.
Link to more USFS Aspen auction information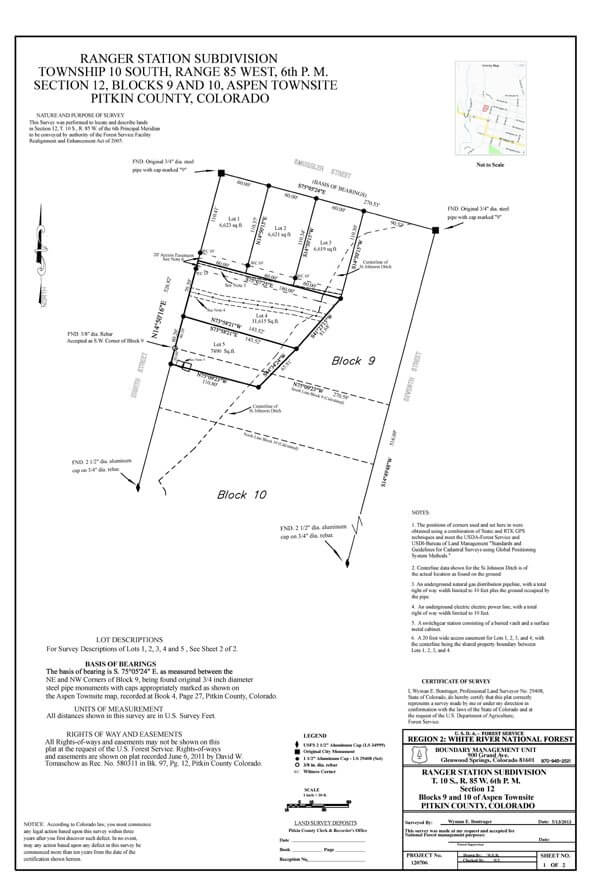 Click to enlarge.
________________________________________________