Tim Estin is an active Aspen real estate broker with Mason Morse located in the center of Aspen. This blog, www.AspenRealEstateBlog.com or Tim Estin's blog, is released Monday mornings and sometimes in-between. The Estin Reports are released quarterly, annually and also special reports. For blog archives, scroll to bottom of this page and search by date or topic. Or search this site in SearchEstinAspen.com on the menu bar. If it's about Aspen real estate, chances are there's something about it here. Follow @EstinAspen on twitter for Aspen Snowmass real estate news, market updates, statistics, commentary and reports or subscribe to RSS feeds with the button on the left.
Link to The Estin Report: 1st Half 2011 State of the Aspen Market (released 07/14/11)

See"Mega-mansion Deals Spur Rebound in Aspen Market" , 07/17/11 Sunday Business, Grand Junction Sentinel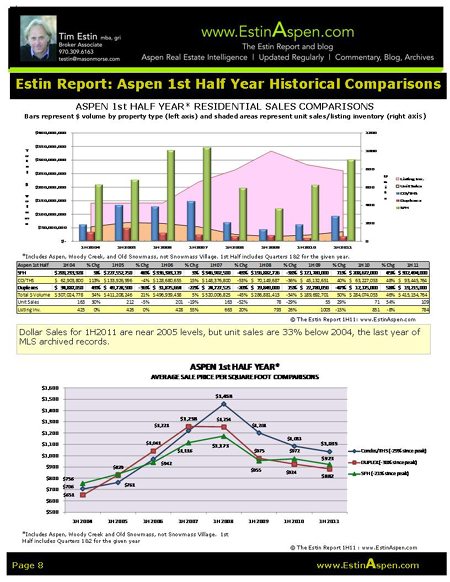 Last Week's Market Highlights – Aspen Snowmass Real Estate Sales and Under Contract Activity: Last week's real estate sold and under contract activity appears below for the upper Roaring Fork Valley for all property types over $250,000 in Aspen, Snowmass Village, Woody Creek and Old Snowmass excluding fractionals. Because the MLS links below expire after 30 days, photos and written descriptions of the closed properties are posted here to preserve an archive of sold market activity. For past sales, scroll to page bottom and search by time period.
As is typical now at the end of summer and early fall, the number of properties under contract surged last week. Sellers are more motivated to sell before the onset of winter, and buyers are now making their moves to secure properties to be ready for the Holidays and winter season.

Closed (3): MLS #119396, 121867, 119262. This link is valid for 30 days until 10/4/2011. This link is valid for 30 days until 10/4/2011.
Under Contract / Pending (16): MLS'# 121159, 115227, 120763, 122036, 119339, 118988, 116298, 120280, 119167, 119262, 121870, 122079, 102804, 107808, 121923, 119130 This link is valid for 30 days until 10/4/2011. Of these under contracts, there are (3) in-town river frontage properties: (Photos of these 3 to be posted by end of Thurs. 9/8/11.) MLS # 107808, 120763, 115227 This link is valid for 30 days until 10/6/2011.

Tim Estin welcomes your business, inquiries and comments. Email him or call 970.920.7387. Subscribe to The Estin Report and Tim Estin's Aspen Real Estate Blog.com on twitter @EstinAspen by clicking "Join the conversation" button below or click subscribe button in the menu bar on left:
new TWTR.Widget({ version: 2, type: 'profile', rpp: 4, interval: 6000, width: 250, height: 300, theme: { shell: { background: '#333333', color: '#ffffff' }, tweets: { background: '#000000', color: '#ffffff', links: '#4aed05' } }, features: { scrollbar: false, loop: false, live: false, hashtags: true, timestamp: true, avatars: false, behavior: 'all' } }).render().setUser('EstinAspen').start();
Disclaimer: The statements made in The Estin Report and on Tim Estin's blog represent the opinions of the author and should not be relied upon exclusively to make real estate decisions. A potential buyer and/or seller is advised to make an independent investigation of the market and of each property before deciding to purchase or to sell. To the extent the statements made herein report facts or conclusions taken from other sources, the information is believed by the author to be reliable, however, the author makes no guarantee concerning the accuracy of the facts and conclusions reported herein. Information concerning particular real estate opportunities can be requested from Tim Estin at 970.920.7387 or by email. The Estin Report is copyrighted 2011 and all rights reserved. Use is permitted subject to the following attribution: "The Estin Report: State of the Aspen Real Estate Market, By Tim Estin, mba, gri."

________________________________________________________________________