Follow@EstinAspen on twitter for blog posts and news on Aspen real estate. Click the twitter button directly below or the "conversation" button at the end of this post. I am working on creating other feed and subscription options.
Last Week's Aspen and Snowmass Market Activity: Last week's real estate sales activity appears below for the upper Roaring Fork Valley for all property types over $250,000 excluding fractionals in Aspen, Snowmass Village, Woody Creek and Old Snowmass (although Residences at Little Nell and Dancing Bear are included due to their higher fractional price points). Because the MLS link(s) to photos and property details expire after 30 days, photos and descriptions of the closed properties are posted to preserve an archive of sold market activity.
For a spreadsheet summary of the past week's activity, see The Estin Report: Aspen Snowmass Weekly Real Estate Sales Statistics Aug. 29 – Sept. 5, 2010 (revised 09/06/10 at 5:00P t reflect the closings of two Owl Creek vacant lots for $3.6M ea.)
Sold (7): MLS#'s 111079, 110623, 109687,114395, 113297, 115625,115601 Link is valid for 30 days until 10/04/10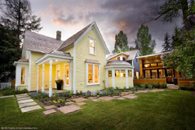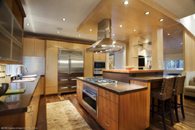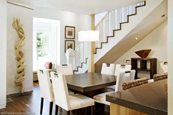 MLS #111079 – 320 W Hallam Street, Aspen, CO: Sold Price: $6,125,000/$1,206 sq ft; Ask Price: $6,995,000/$1,378 sq ft Days on the market 474. Historic Victorian redone West End home. Broker remarks, "Sublime perfection" describes this very special five bedroom, six and a half bath historic sanctuary in the West End that has been magnificently transformed. The historic quintessential beauty of the Victorian mining era has been maintained on the outside, while the expansive, warm, chic contemporary interiors establish this home as one of the most special offerings. Wonderful southern exposure with dramatic Aspen Mtn views, spacious outdoor entertaining and garden areas plus a shiny brand new private guest house with its own full kitchen and laundry." (Photos and description courtesy of Whitman Fine Properties).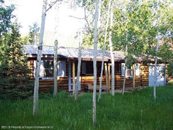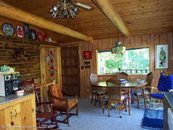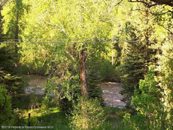 MLS# 110623 – Single family river lot 113 S Little Texas Lane, Woody Creek, CO: Sold Price:$1,350,000; Ask Price:$1,550,000 (Original Price: $1,795,000 and 525 days on the market). .52 acre river lot with an arguably teardown small home.Broker remarks, "An original cabin in Little Texas with a 1041 in place. Able to build 5750 sq ft with lower level exposure to the river. Great community in Aspen School District. On 7 miles to Aspen. Big trees, wonderful sun, on the Roaring Fork River in a transitional neighborhood. Bring the rod, the dog and the kids." 2007 Taxes: $2,649 yr.(Photos and description courtesy of Morris &Frywald/Sotheby's International RE )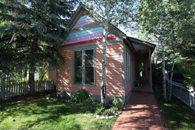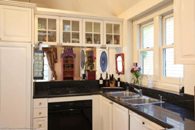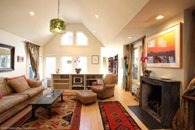 MLS#109687 – 134 1/2 W Hopkins, Aspen, CO: Sold Price: $2,100,000/ $1,059 sq ft; Ask Price:$2,850,000/$1,437 sq ft. 561 days on the market. This is a small 1,983 sq. ft home near the Aspen Ice Rink with 3 bdrms/3 baths and 1 car garage on a 3,000 sq ft lot. Built 1888/remodled in 1996. List broker comments, "This gem of a Victorian is a gift to the streets. It is just under 2000 sf with a one car garage. 3 blocks off the downtown core, walk to everything. Splendid condition, best location. An echo of Aspen's past." 2009 Taxes: $7,796 yr. (Photos and description courtesy of Mason Morse Real Estate).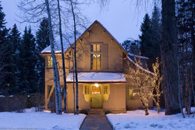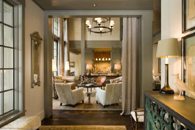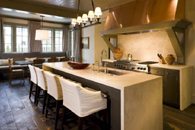 MLS#114395 – 315 W. Smuggler, Aspen, CO: Sold Price:$8,200,000/$1,463 sq ft; Ask and Original Price: $8,650,000/$1,563 sq ft. (230 days on the market). This is a 6 bdrm/7.5 bath, 5,605 sq ft 2009 built new home on a 6,000 sq ft lot in one of the West End's best locations near Triangle Park and Lake Ave. Broker remarks, "Cozy and New in West End. Graceful Cottage style that easily accommodates a large family with 6 bedrms & 7 1/2 baths. Soaring ceilings, very detailed finishes for the buyer who has exceptional high end taste and who will appreciate the timeless design of internationally recognized McAlpine Tankersley Architecture www.mcalpinetankersley.com. 3 level home is very spacious with volume. 6 bedrooms en-suites, office, media family room w/bar that opens into the game/pool table area. Butler pantry, 2 laundry rms, hot tub, ski/mud rm, custom built-ins, & designer furnishings are included. Surrounded by traditional Victorian homes and just 1/2 block to Triangle Park. Don't miss out on this Aspen Jewel." 2009 Taxes: $12,664 yr.(Photos and description courtesy of Bob Bowden Properties).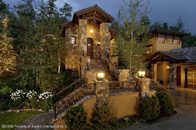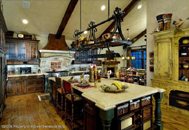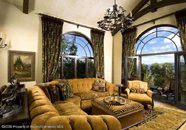 MLS# 113297 – 1277 Faraway Road, Snowmass Village, CO: Sold Price:$5,000,000/$1,084 sq ft; Ask Price: $5,950,000/$1,290 sq ft. (Original List Price: $6,950,000/$1,507 sq ft and 335 days on the market). This is a 2000 built 4 bdrm/ 4.5 bath, 4,612 sq ft Snowmass Village home bordered by public land. The list broker comments are, "Mountain Masterpiece with Old World Charm -Walking into the home is like stepping into a page of an interior designer magazine.This 4 bedroom 4 bath home was meticulously planned with designer finishing touches and furnishing throughout. The open floor plan makes for comfortable day to day living or over the top for entertaining.Enjoy the ultimate mountain views from either of its two decks with impressive views of Mt Daly or the Continental Divide. Gourmet Kitchen is one of the best! Includes central vacuum system and has central air conditioning.". 2008 Taxes: $11,309 yr.(Photos and description courtesy of Chaffin Light Real Estate Snowmass Village ).

Owl Creek vacant lots closed MLS # 115625 = 10 acres at 1370 Owl Creek Road Lot E Aspen, CO ; MLS # 115601 = 10 acres at 1370 Owl Creek Road Aspen, CO. (Link is valid for 30 days until 10/06/10) These two Owl Creek vacant lot sales were recorded as sold at $3.6M each in Pitkin County Recorded Transactions Aug 24-30,10, However, at present, they show up as Under contract/Pending in the MLS data. Because there have been so few Aspen Snowmass vacant lot sales in general this summer, these are noteworthy. There was one other 'lot sale", arguably a tear down, last week at 113 Little Texas Ln in Woody Creek for $1,350,000. The spreadsheet summary above was revised as of 9/6/10 to reflect these sales.
Under Contract/Pending (13): MLS#'s 115625, 112655, 115766, 106891, 114414, 117089, 116280, 117677, 109924, 115601, 113257, 114617, 114230, 114778, 114805 Photos and details of under contract listings are not posted unless special circumstances dictate.

Tim Estin is an active Aspen Snowmass real estate broker and he welcomes your business, comments and inquiries. Email him or call 970.920.7387. Find tweets and/or subscribe to RSS feeds for The Estin Report and blog on twitter @EstinAspen or click "Join the conversation" below:
new TWTR.Widget({ version: 2, type: 'profile', rpp: 4, interval: 6000, width: 250, height: 300, theme: { shell: { background: '#333333', color: '#ffffff' }, tweets: { background: '#000000', color: '#ffffff', links: '#4aed05' } }, features: { scrollbar: false, loop: false, live: false, hashtags: true, timestamp: true, avatars: false, behavior: 'all' } }).render().setUser('EstinAspen').start();
Disclaimer: The statements made in The Estin Report and on Tim Estin's blog represent the opinions of the author and should not be relied upon exclusively to make real estate decisions. A potential buyer and/or seller is advised to make an independent investigation of the market and of each property before deciding to purchase or to sell. To the extent the statements made herein report facts or conclusions taken from other sources, the information is believed by the author to be reliable, however, the author makes no guarantee concerning the accuracy of the facts and conclusions reported herein. Information concerning particular real estate opportunities can be requested from Tim Estin at 970.920.7387 or by email.. The Estin Report is copyrighted 2010 and all rights reserved.. Use is permitted subject to the following attribution: "The Estin Report: State of the Aspen Market, By Tim Estin, mba, gri, www.EstinAspen.com"
____________________________________________________