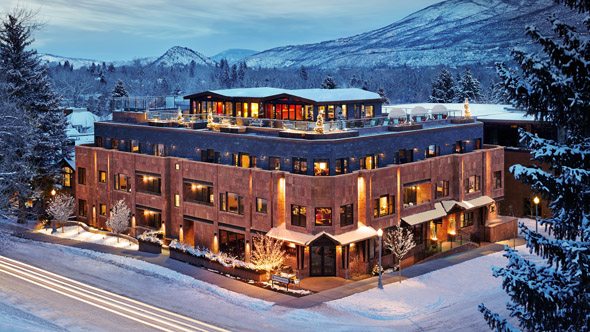 Photo courtesy of Aspen's Dancing Bear Residences Club
Yesterday 12/05/16: Dancing Bear Penthouse Condominium Closing – 1 unit with 8 fractional 6-week time periods, unit is 3,009 sf, closed at $16M/$5,318 sq ft (8x $2M each) for unfinished white-box wrap around penthouse.
Killer views in all directions – looking straight up Aspen Mtn, views everywhere else too, the uniqueness of this, private access, concierge level amenities. Daily maid service, etc.
To be re-listed shortly at $29.95/@$10,000 per Sq ft for all 8 shares…one floor, one unit, one of a kind.
Annual fees about $75,000 and add extras for additional a la carte amenities/services for approximate $85,000 Yr.
Guess what? It's not crazy…the justification goes.
"One of a kind" , "irreplaceable", are over-used terms but not when it's true. For a singular, truly one of a few or one of a kind Aspen property, a buyer has to step up. If you want one-of-a kind, this is what you have to do.
This is certifiable 'bragging rights'. A King of the Hill property, etc.
It'll take 4-5 mos to get a finish-out permit. It's a white box today.
For more details, seeDec 4 – 11, 2016 Estin Report blog.
Disclaimer: The statements made in The Estin Report and on Aspen broker Tim Estin's blog represent the opinions of the author and should not be relied upon exclusively to make real estate decisions. A potential buyer and/or seller is advised to make an independent investigation of the market and of each property before deciding to purchase or to sell. To the extent the statements made herein report facts or conclusions taken from other sources, the information is believed by the author to be reliable, however, the author makes no guarantee concerning the accuracy of the facts and conclusions reported herein. Information concerning particular real estate opportunities can be requested from Tim Estin at970.309.6163or byemail.The Estin Report is copyrighted 2016 and all rights reserved. Use is permitted subject to the following attribution with a live link to the source:"The Estin Reporton Aspen Real Estate."
____________________________________________________