Tim Estin's weekly blog, www.AspenRealEstateBlog.com, is released Monday mornings and sometimes in-between. The Estin Reports are released annually, quarterlyand also special reports. For blog archives, scroll to bottom of this page and search by date or topic; for Aspen Real Estate News Archives, go to that Section on the left menu bar.There's also a "Search" Sectionforsearches by name, topic, etc.- as long as it's Aspen Snowmass real estate related. Tim is an active Aspen real estate Broker Associate at Mason MorseReal Estatein downtown Aspen andhe welcomes your business, inquiries,and comments.

Follow @EstinAspen on twitter for regular market updates and news on Aspen Snowmass real estate.
Last Week's Market Highlights – Aspen and Snowmass Real Estate Sales and Under Contract Activity:This week is another example of some remarkable Aspen real estate 'deals' – all the details are below with links but here's the brief:
o "Deal" Closings – 1) Bank sale at $1.75M of a 2.3 acre Starwood 180 degree high mountain view lot – in April 2008 this was listed at an incredulous $6.5M; 2) Beautiful spacious half duplex built 2001 originally priced at $5.15M and sold at $2.83M/$684 sq ft; 3) 2 bedroom Snowmass Village ski in/out condo sold at $770,000. I don't make this stuff up and I don't make the market …buyers and sellers do, I just take note of it.
o Under Contracts/Pending: two stand-outs already priced in "Deal Territory": 1) A 1998 built Maroon Creek home with an ask price of $4.475M/$668 sq ft; 2) Bank owned single family teardown home/lot sale off Red Butte Dr. (Sage Court) with an ask price of $1.395M. These are the days I know I will look back on and say, "If only I had the cash to buy now." These deals, coupled with the early Nov. closing of two Historic West End lots at $2M each (see excerpt directly below) highlight the opportunities in the vacant land category.

Last week's real estate sales activity appears below for the upper Roaring Fork Valley for all property types over $250,000 excluding fractionals in Aspen, Snowmass Village, Woody Creek and Old Snowmass (although Residences at Little Nell and Dancing Bear are included due to their higher fractional price points). Because the MLS links below expire after 30 days, photos and written descriptions of the closed properties are posted to keep an archive of sold market activity.
…Vacant Land Excerpt from The Estin Report blog Oct 31 – Nov. 7, 10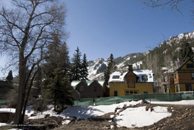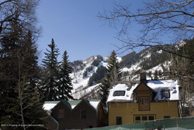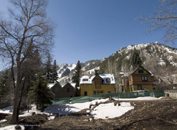 MLS 107945 & MLS 107946 – (2) vacant lots, 323 & 327 W. Bleeker, Historic West End , Aspen, CO: Sold Price: $2,000,000 ea.; Ask Price: $2,395,000.each (Original Price $3,750,000 ea. and 738 days on the market since 10/21/2008).Sold to separate buyers.These are two side by side 6,000 sq ft West End lots one block north of Main St towards the Aspen Music Festival.The listing broker comments are, "Rare opportunity to own two 6,000 square foot lots next to each other in the West End. Both lots are ready for excavation. This lot sits next to another 6,000 square foot lot which is also listed for the same price. Both lots are vacant and have had all old improvements removed. Preliminary architectural plans have been completed and are available for review." City of Aspen RETT transfer tax of approximately 1.5% applies to buyer. (Photos and details courtesy of Aspen Associates Realty Group).
For a Spreadsheet Summary of the past week's sales and under contract activity,
see The Estin Report: Aspen Snowmass Weekly Sales Statistics, Dec. 5 – 12, 2010
Closed (4): MLS# 114617, 108947, 118706, 119067 Link is valid for 30 days until 1/11/2011.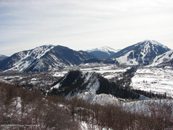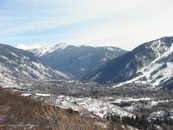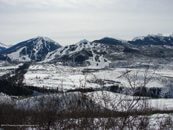 MLS# 114617 – Starwood vacant lot, Tbd Epply Drive, Aspen CO: Sold Price: $1,750,000 (Bank Sale); Ask Price: $2,500,000. (Original Price: $2,900,000 since 01/28/2010, 316 days on the market. However, this vacant lot was originally put on the market 4/7/2008 at $6.5M and expired 01/01/2009.It was re-listed in Jan. 2010.) This is a Starwood big view 2.35 acre lot.The listi broker writes, "A surplus of premier Aspen views from this exceptional Starwood homesite. With over 10,000 FAR approval on more than a two-acre parcel, build your dream estate to mirror the unsurpassed scenery that lends itself to all that is Aspen. …FAR beyond approved 10,150 sf and up to 15,000 sf would require purchase of TDR's." Under contract date: 8/30/10; Close date: 12/10/10.(Photos and description courtesy of Aspen Real Estate Co.)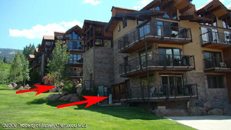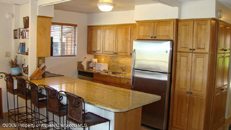 MLS# 108947 – ski-in / ski-out Crestwood condominium, 400 Wood Road #2117, Snowmass Village, CO: Sold Price: $770,000/$764 sq ft; Ask Price: $849,000/$842 sq ft. (Original Price: $990,000 and 697 days on the market since 01/10/2009.) This is 2 bedroom/ 2 bath, 1008 sq ft, ski-in/out Snowmass Condo. The listing broker comments are: "Arguably the best located ski-in/ski-out condo in all of Snowmass. This corner unit is located on the edge of the property where the ski slope meets the Crestwood and has a private wrap around deck that empties directly onto the ski slope … You and the kids will enjoy having year around access to the flat yard area right next to the unit. And, located right out of your front door is one of the Crestwoods new grotto-style hot tubs. Beautiful views, lots of light, a freshly remodeled interior, wonderfully located just a very short stroll to the new Base Village commercial area, and priced to sell. This is the property that your buyers are asking for." 2009 Taxes: $$2,913 Yr; HOA Dues: $15,523 Yr. There is a 1% Transfer Tax in SMV payable by buyer. (Photos and description courtesy of BJ Adams & Co).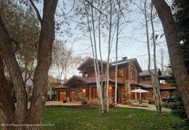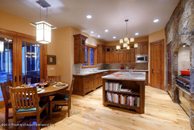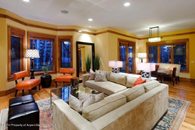 MLS# 118706 – half duplex residential Cemetery Ln area, 1395 Sierra Vista Drive Aspen, CO: Sold Price: $2,830,000/$645 sq ft; Ask Price: $2,995,000/$682 sq ft. (Original Price: $5,150,000 since 06/17/2008 and 900 days on the market.) Oh, this is painful to write about…a very sad example of following the market down. This is a 4 bedroom/ 4.5 bath, 4390 sq ft half duplex built in 2001 on .37 acres in an incredibly convenient and well-located residential area off Cemetery Ln, near shuttle buses and golf course and bike trails. The broker comments are, " This half duplex …lives like a single family home and has been completely upgraded. The home features a professional chef's kitchen with stone countertops and custom cabinets throughout, antique hardwood floors, and a custom fireplace between the living and dining room. The lower level has high ceilings, and the attached apartment has a separate entrance and no rental restrictions. The professionally landscaped property sits on a private corner lot and has a stream and a small pond in the back. The free local bus runs right nearby for easy access to downtown or any of the four local ski mountains. This home has been priced to sell quickly and may be the best buy in all of Aspen for the buyer looking for value and quality." 2009 Taxes: $8,920 Yr. City of Aspen RETT 1.5% transfer tax applies to buyer. Under contract date: 11/13/10; Closed date: 12/07/10. (Photos and description courtesy of Morris & Fyrwald, Sotheby's Intl Realty).
NO PHOTO AVAILABLE
MLS #119067 – This is a teardown/lot sale, 960 Sinclair Snowmass Village, CO: Sold Price: $1,200,000; Ask and Original Price: $1,200,000. and 55 days on the market.Thhis is a .37 acre lot with a 1976 home on it in Snowmass' primary residential area. No description provided by listing broker. 2009 Taxes: $3,046 Yr. Under contract date: 7/22/10; Closed date: 9/15/10.
Under Contract / Pending (5): MLS # 117712, 118556, 118557, 114013, 115609 Link is valid for 30 days until 1/11/2011. Photos and descriptions of pending properties are not posted unless special circumstances warrant.

Tim Estin welcomes your business, inquiries and comments. Email him or call 970.920.7387. Subscribe to The Estin Report and Tim Estin's Aspen Real Estate Blog on twitter @EstinAspen or click "Join the conversation" below:


new TWTR.Widget({ version: 2, type: 'profile', rpp: 4, interval: 6000, width: 250, height: 300, theme: { shell: { background: '#333333', color: '#ffffff' }, tweets: { background: '#000000', color: '#ffffff', links: '#4aed05' } }, features: { scrollbar: false, loop: false, live: false, hashtags: true, timestamp: true, avatars: false, behavior: 'all' } }).render().setUser('EstinAspen').start();
Disclaimer: The statements made in The Estin Report and on Tim Estin's blog represent the opinions of the author and should not be relied upon exclusively to make real estate decisions. A potential buyer and/or seller is advised to make an independent investigation of the market and of each property before deciding to purchase or to sell. To the extent the statements made herein report facts or conclusions taken from other sources, the information is believed by the author to be reliable, however, the author makes no guarantee concerning the accuracy of the facts and conclusions reported herein. Information concerning particular real estate opportunities can be requested from Tim Estin at 970.920.7387 or by email.. The Estin Report is copyrighted 2010 and all rights reserved.. Use is permitted subject to the following attribution: "The Estin Report: State of the Aspen Market, By Tim Estin, mba, gri, www.EstinAspen.com"

________________________________________________________________________