The Estin Report: The 4th Quarter and Year 2014 State of the Aspen Real Estate Market was released online Feb 7th in Current Reports. The print edition will be available in racks around town week of Feb 16th.
The Estin Report: Jan 2015 Aspen Snowmass Market Snapshot was released Feb 3, 2015 in Current Reports …Aspen sales in Jan '15 are significantly up.
See recent Before/After redevelopment 'flip job' examples in prior 02/01/15 post. These are properties that have been recently or are currently being redeveloped for re-sale.
Last week's Aspen and Snowmass sales activity appears below. Scroll down the page for photos and details of weekly sales and under contract / pending Aspen properties in the past 4 weeks. For earlier dates, use the down arrow to search the blog archives by year and date to 2008. Or use SearchEstinAspen in the menu bar to search by topic, address, subdivision, complex, date, etc. If it's about Aspen, the information should be here.
Market Activity Week 7, Feb 8 – 15, 2015
Aspen Snowmass real estate weekly sales and under contract activity appears below for all Aspen, Snowmass Village, Woody Creek and Old Snowmass properties over $250,000 excluding fractionals in the upper Roaring Fork Valley. As the MLS links below expire after 30 days, photos and written descriptions of select closed properties (those with excellent photography) are posted here to preserve an archive of sold market activity.
Closed (9): MLS #"s:137282,137184,127105,128333,132239,134413,134704,135925,137076.This link is valid until 03/16/2015.
Under Contract/Pending (9): MLS#'s:128548,132032,133861,133929,136116,136425,136435,137413,137479. This link is valid until 03/16/2015.
Aspen Snowmass Solds Last Week:
MLS #135925 – Aspen Core, 220 W Cooper Avenue, Aspen, CO: Sold Price: $15,100,000/$2,087 sq ft; furnished. More details below photos.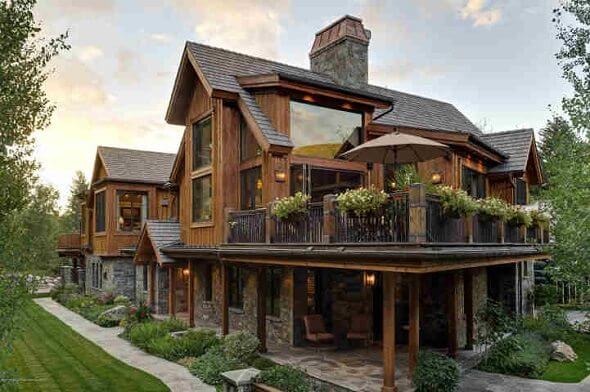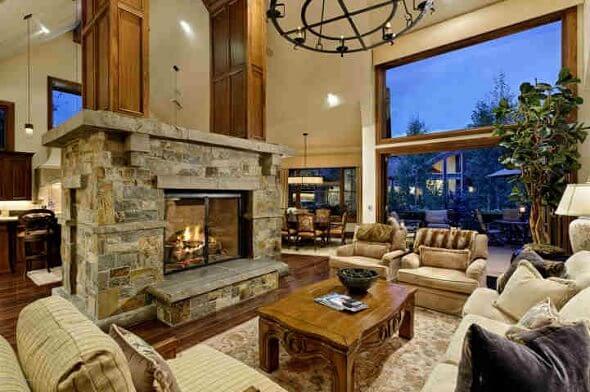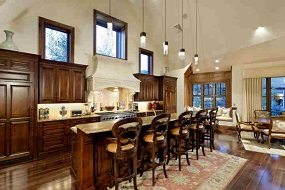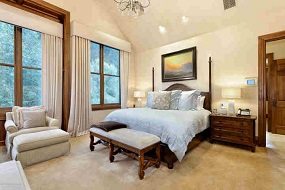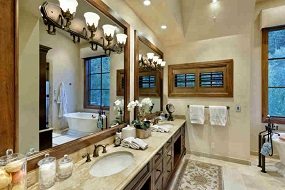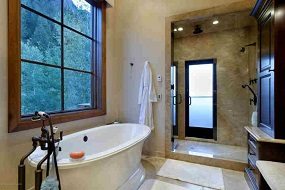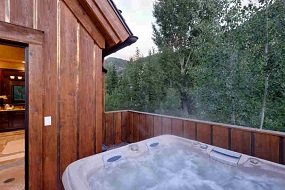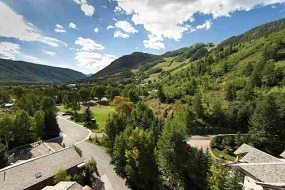 MLS #135925 – Aspen Core, 220 W Cooper Avenue, Aspen, CO: Sold Price: $15,100,000/$2,087 sq ft; furnished;Asking Price: $15,950,000. (Original Price: $15,950,000 and 165 days on the market since 08/25/2014. The sellers paid $9,435,000 for the house and $1,015,000.for the furnishings/personal property on 09/16/2010.) This is a 2008 built/2010 remodel, 6 bedroom/6 bath/3 bath-half, 7,233 sq ft single family home with 2 car garage on 9,392 sq ft lot. Broker comments are, "This spectacular home is located just a few blocks from Aspen's commercial core, yet situated with end of the road privacy and peaceful outdoor space. This combination of size, luxury and location are rarely seen in this market. Six bedrooms, all en suite, plus an office, gym and sensational media room. Soak up the sun and views from the expansive deck, relax in one of two outdoor hot tubs or stroll to the shops, restaurants and skiing that make Aspen renowned the world over. A truly unique offering." 2013 Taxes: $19,931. City of Aspen RETT Transfer Tax of approx. 1.5% payable by buyer. Under Contract Date: 01/19/2015; Sold Date: 02/06/2015. (Photos and broker comments courtesy of Aspen Snowmass Sotheby's Hyman Mall)
MLS #137184 – Central Aspen, 620 E Hyman Avenue, Unit 1, Aspen, CO: Sold Price: $9,047,000/$2,541 sq ft; furnished;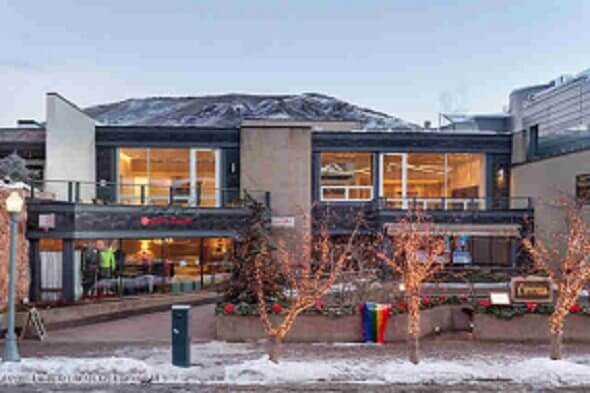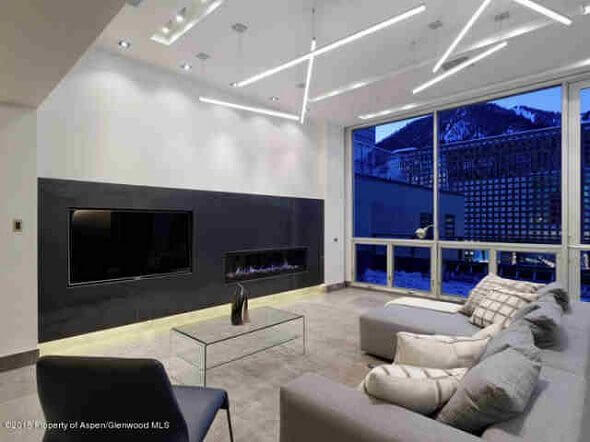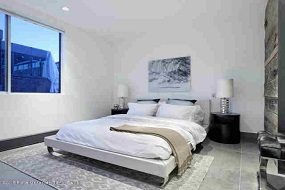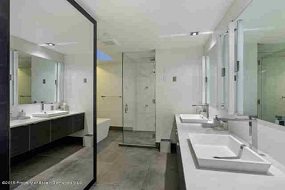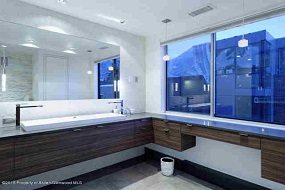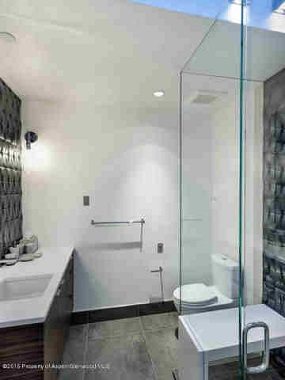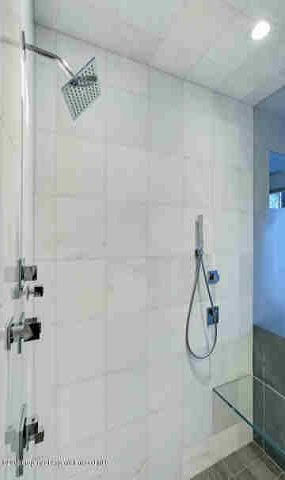 MLS #137184 – Central Aspen, 620 E Hyman Avenue, Unit 1, Aspen, CO: Sold Price: $9,047,000/$2,541 sq ft; furnished; Asking Price: $10,500,000. (Original Price: $10,500,000 and 37 days on the market since 01/05/2015.) This is a 1976 built and 2014 remodeled, 4 bedroom/4 bath/1 bath-half, 3,560 sq ft condo. Broker comments are, "Downtown Aspen living at its finest! Located directly across from the new art museum and above L'Hostaria restaurant, this completely renovated 3,560 square foot penthouse is all on one level with a contemporary design and beautiful finishes & furnishings. Features include 4 bedrooms, 4.5 baths, spacious great room, gourmet kitchen, dining room, laundry room, mud room, multiple skylights, and inviting deck with direct views of Aspen Mountain. Restaurants, shopping, and skiing are right outside the door." 2014 Taxes: $11,181; HOA Dues: TBD. City of Aspen RETT Transfer Tax of approx. 1.5% payable by buyer. Under Contract Date: 01/05/2015; Sold Date: 02/11/2015. (Photos and broker comments courtesy of Aspen Snowmass Sotheby's Hyman Mall)
MLS #134704 – Bell Mountain, Central Aspen, 708 E Cooper Avenue Unit 5, Aspen, CO: Sold Price: $7,700,000/$1,777 sq ft; furnished;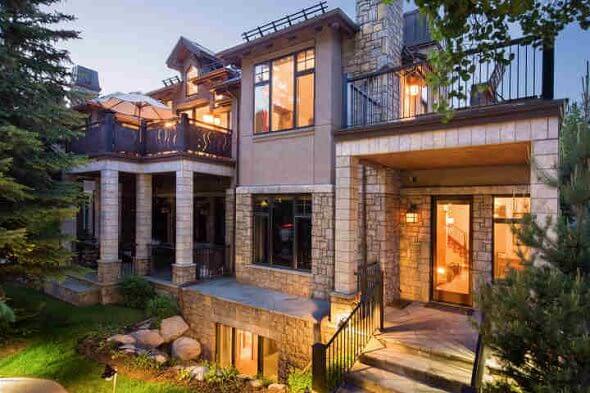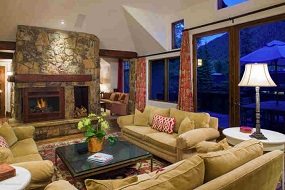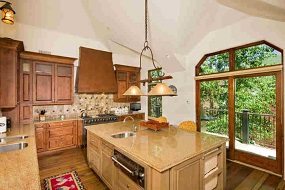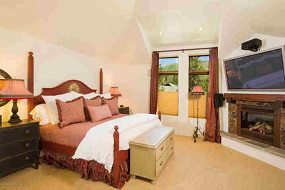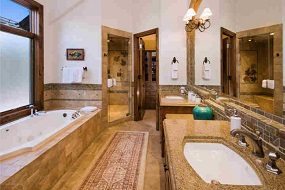 MLS #134704 – Bell Mountain, Central Aspen, 708 E Cooper Avenue Unit 5, Aspen, CO: Sold Price: $7,700,000/$1,777 sq ft; furnished; Asking Price: $8,450,000. (Original Price: $8,995,000 and 246 days on the market since 06/09/2014.) This is a 2000 built, 5 bedroom/5 bath/1 bath-half, 4,331 sq ft condo. Broker comments are, "Conveniently located in the core of Aspen with the gondola just two blocks away, this Bell Mountain Residence has the warmth of mountain-style with hand-hewn wood floors, stone detailing and alpine vistas. The upper level includes an open living and dining area, large kitchen, master suite, two additional guest suites and a cozy media room. Two outdoor terraces – one with a hot tub and the main terrace perfect for entertaining. The lower level offers two guest suites, laundry room, wine room and three car parking in the garage. Major views of Aspen Mountain from the living room, master bedroom and the den. There's nothing like the lifestyle of "in town" living and this townhome offers a relaxed elegance in the hub of activity." 2013 Taxes: $16,105; HOA Dues: $8,563. City of Aspen RETT Transfer Tax of approx. 1.5% payable by buyer. Under Contract Date: 12/29/2014; Sold Date: 02/10/2015. (Photos and broker comments courtesy of Coldwell Banker Mason Morse)
MLS #137282 – River Park, Central Aspen, 132 N Spring Street, Aspen, CO: Sold Price: $6,800,000/$1,261 sq ft; unfurnished;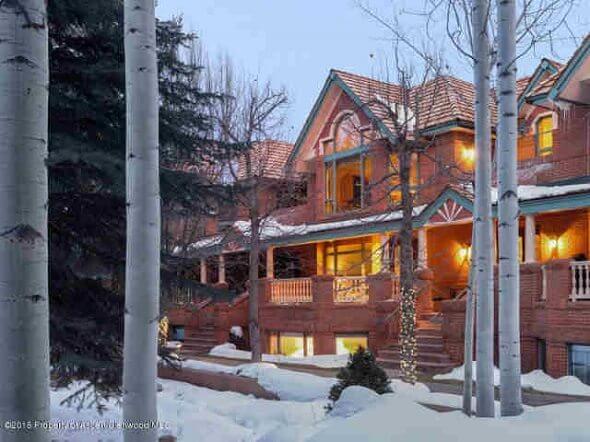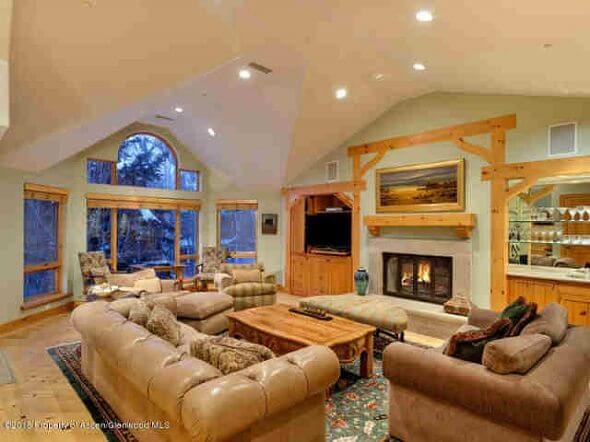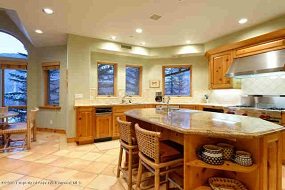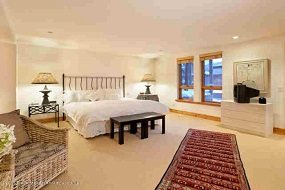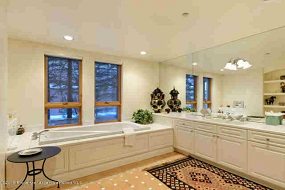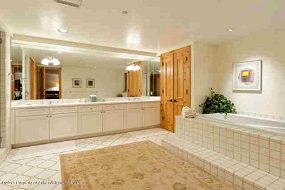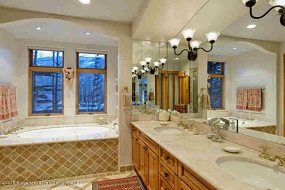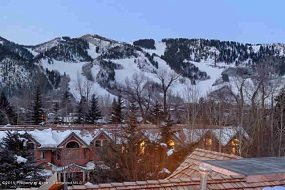 MLS #137282 – River Park, Central Aspen, 132 N Spring Street, Aspen, CO: Sold Price: $6,800,000/$1,261 sq ft; unfurnished; Asking Price: $6,800,000. (Original Price: $6,800,000 and 24 days on the market since 01/16/2015.) This is a 1992 built, 4 bedroom/4 bath/2 bath-half, 5,389 sq ft condo with 2 car garage. Broker comments are, "Enjoy downtown Aspen living from this wonderfully quiet & private 5,389 square foot River Park townhome! Located on the east end of Main Street, access to Independence Pass is easy and everything else is literally at your fingertips. The open living spaces & rooftop deck offer large & comfortable areas for entertaining, while the main floor master suite, 3 additional en suite bedrooms (including caretaker quarters with kitchen & separate entrance), large kitchen, formal dining room, and convenient elevator offer perfect accommodations. A private outdoor pool & hot tub, common underground parking garage, two car garage, mature landscaping, and a location within walking distance to skiing, shopping & restaurants make for the quintessential Aspen living experience." 2014 Taxes: $14,174; HOA Dues: $7,794. City of Aspen RETT Transfer Tax of approx. 1.5% payable by buyer. Under Contract Date: 01/20/2015; Sold Date: 02/09/2015. (Photos and broker comments courtesy of Aspen Snowmass Sotheby's Hyman Mall)
MLS #128333 – Single Family Vacant Lot, Central Aspen, 333 S Second Street, Aspen, CO: Sold Price: $4,400,000;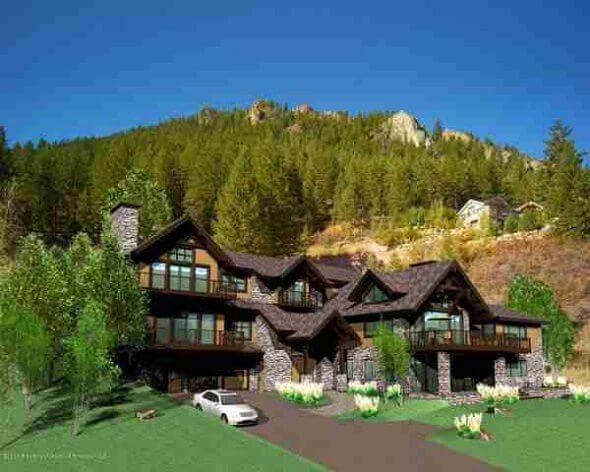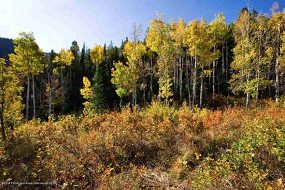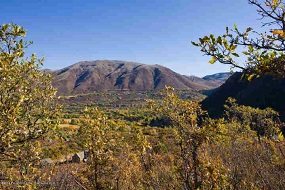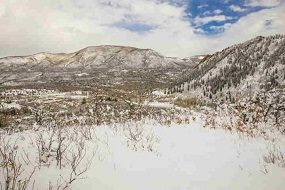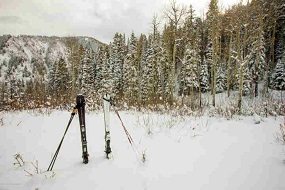 MLS #128333 – Single Family Vacant Lot, Central Aspen, 333 S Second Street, Aspen, CO: Sold Price: $4,400,000; Asking Price: $4,950,000. (Original Price: $4,400,000 and 755 days on the market since 01/10/2013.) This is a 52,855 sq ft single family lot in Central Aspen. Broker comments are, "This property has two options for development: #1 Construct two single family residences. Parcel A: Total FAR=13,207sf (FAR is Floor Area Ratio, the allowable sq footage allowed on the vacant lot derived from a formula of lot size and zoning allowance for that location per City of Aspen community Development Dept); Parcel B: Total FAR=6,093sf; #2. Construct one single family residence of total FAR 14,550sf. *Will require the purchase of TDRs.". 2012 Taxes:$32,860. Under Contract Date: 11/20/2014; Sold Date: 02/04/2015.(Photos and broker comments courtesy of Aspen Snowmass Sotheby's Spring Street)
MLS #137076 – Single Family Vacant Lot, West Aspen, 993 Moore Drive, Aspen, CO: Sold Price: $3,900,000;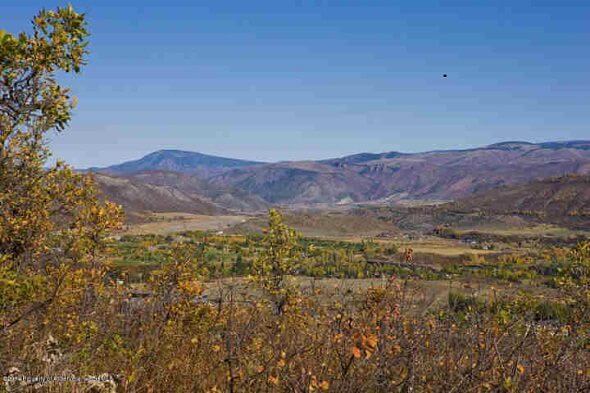 MLS #137076 – Single Family Vacant Lot, West Aspen, 993 Moore Drive, Aspen, CO: Sold Price: $3,900,000; Asking Price: $3,995,000. (Original Price: $3,995,000 and 73 days on the market since 12/01/2014.) This is a 253,519 sq ft single family lot in West Aspen. Broker comments are, "5.82 acre lot at the top of Five Trees with awe inspiring views – to the east is Aspen Mountain, to the south looking across a sunny open meadow is Red Mountain, to the west is Tiehack /Buttermilk and Woody Creek, and to the south a private grouping of spruce and aspen trees creating a sheltered environment. Ski-in, ski-out access to Aspen Highlands along with cross-country and hiking trail systems create an alpine playground. Seller has plans designed by Cottle, Carr, Yaw for a 10,000 square foot home along with a 5,750 square foot home. See Listing Broker to review the different architectural plans."2013 Taxes:$40,616; HOA Dues: $240. Under Contract Date: 01/02/2015; Sold Date: 02/12/2015.(Photos and broker comments courtesy of Coldwell Banker Mason Morse)
MLS #132239 – Twnste, Central Aspen, 300 S Spring Street Unit 201, Aspen, CO: Sold Price: $512,000/$914 sq ft;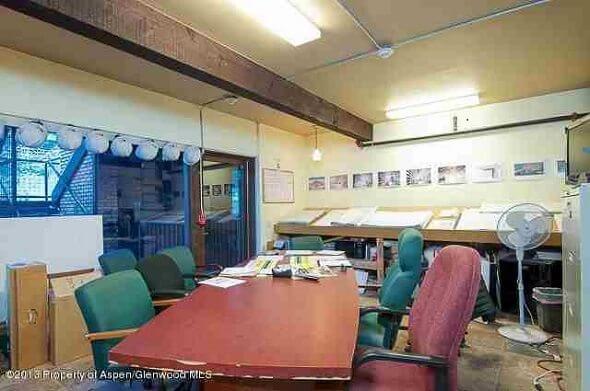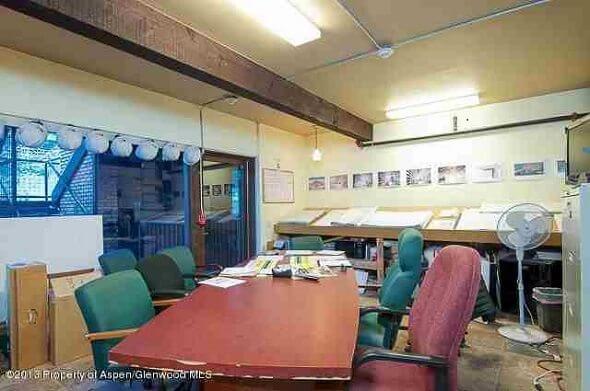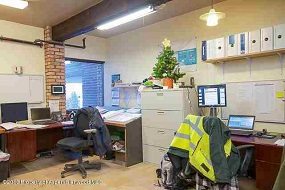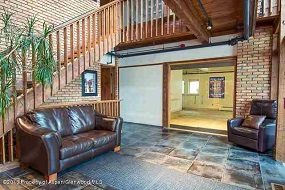 MLS #132239 – Twnste, Central Aspen, 300 S Spring Street Unit 201, Aspen, CO: Sold Price: $512,000/$914 sq ft; Asking Price: $555,000. (Original Price: $595,000 and 442 days on the market since 11/25/2013.) This is a 1969 built,560 sq ft commercial on a 6,054 sq ft lot. Brroker comments are, "This 560 square feet 2nd floor office space offers convenience and visibility on one of the most desirable prime corners in Aspen. Located three blocks from the gondola across the street from the new Aspen Art Museum in a well-kept high traffic building. Garage parking for $110,000 and storage is available for purchase." 2012 Taxes: $2,862; HOA Dues: $499. Under Contract Date: 01/10/2015; Sold Date: 02/10/2015. (Photos and broker comments courtesy of Aspen Snowmass Sotheby's Hyman Mall)
MLS #127105 – Snowmass, 1521 Lower River Road Snowmass, Snowmass, CO; Sold Price: $4,600,000/$652 sq ft furnished;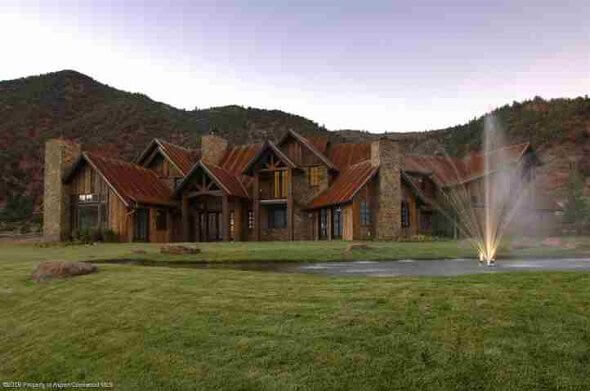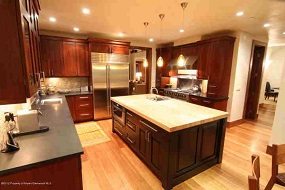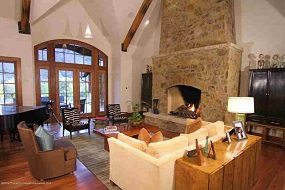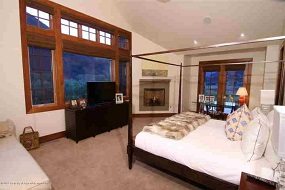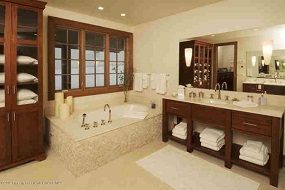 MLS #127105 – Snowmass, 1521 Lower River Road Snowmass, Snowmass, CO; Sold Price: $4,600,000/$652 sq ft furnished; Asking Price: $5,495,000. (Original Price: $5,995,000 and 893 days on the market since 09/01/2012, but on/off the market since 05/15/08 from an original ask price of $8,750,000.) This is a 2005 built, 5 bedroom/5 bath/1 bath-half, 7,053 sq ft single family home with 3 car garage on a 706,979 sq ft lot. Broker comments are, "This 16 acre horse ranch borders thousands of acres of public land for horseback riding, hunting and recreational enjoyment. The main house boasts 5 bedrooms and 5.5 baths, six fireplaces and a wine cellar. The four stall barn includes a tack room, office and a one bedroom caretaker apartment. There are 5 irrigated acres of pasture with extensive water rights and an outdoor riding arena. Nature lovers will enjoy dramatic views of the Roaring Fork Valley from every room of the house, which is located close to both winter ski areas and summer hiking and riding trails." 2013 Taxes: $30,774. Under Contract Date: 09/26/2014; Sold Date: 02/11/2015. (Photos and broker comments courtesy of Aspen Associates Realty Group LLC)
MLS #134413 – Country Club Homes, 52 Harleston Drive 38 Snowmass Village, CO; Sold Price: $1,625,000/$660 sq ft; furnished;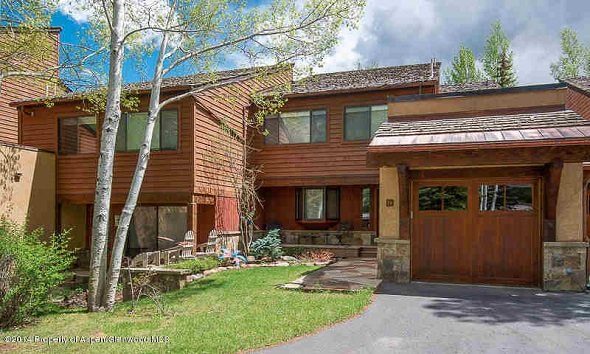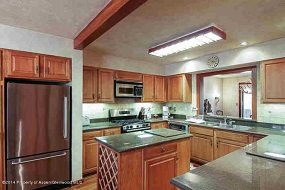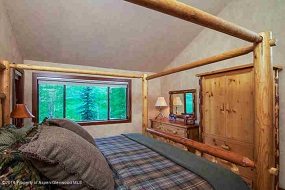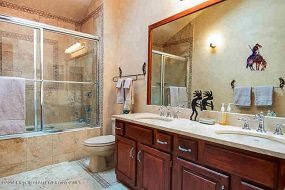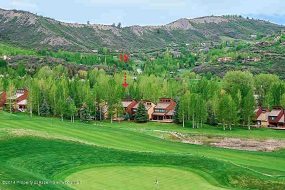 MLS #134413 – Country Club Homes, 52 Harleston Drive 38 Snowmass Village, CO; Sold Price: $1,625,000/$660 sq ft; furnished; Asking Price: $1,695,000. (Original Price: $1,779,000 and 258 days on the market since 05/28/2014.) This is a 1982 built and 2009 remodeled, 3 bedroom/3 bath/1 bath-half, 2,462 sq ft condo with 1 car garage. Broker comments are, "Kick-back on the largest deck in the Country Club Townhomes and take in the southern view over the 11th hole of the Snowmass Club golf course from your hot tub. This beautiful 3 bedroom, 3 and a 1/2 bathroom townhome, with an additional den and large loft lives like a single family home and is walking distance to the Snowmass Club. An extra large gourmet kitchen is perfect for the chef in you. Upgraded bathrooms, wood floors, and a ski room are just a few of the extras you will find in this maintenance free, mountain-golf-ski getaway." 2013 Taxes: $4,000; HOA Dues: $4,814. Town of Snowmass Village Transfer Tax of approx. 1.0% payable by buyer. Under Contract Date: 01/10/2015; Sold Date: 02/10/2015. (Photos and broker comments courtesy of Aspen Snowmass Sotheby's Snowmass Village)
Tim Estin welcomes your business, inquiries and comments. Call him at 970.309.6163 or email him from the Contact Page. Subscribe to The Estin Report and blog on twitter @EstinAspen by clicking "Join the conversation" button below or click one of the different subscription options in banner at the top of page:
Recent Estin Report tweets on Aspen Real Estate
{loadposition articlepos}
Disclaimer: The statements made in The Estin Report and on Aspen broker Tim Estin's blog represent the opinions of the author and should not be relied upon exclusively to make real estate decisions. A potential buyer and/or seller is advised to make an independent investigation of the market and of each property before deciding to purchase or to sell. To the extent the statements made herein report facts or conclusions taken from other sources, the information is believed by the author to be reliable, however, the author makes no guarantee concerning the accuracy of the facts and conclusions reported herein. Information concerning particular real estate opportunities can be requested from Tim Estin at 970.309.6163 or by email. The Estin Report is copyrighted 2015 and all rights reserved. Use is permitted subject to the following attribution with a live link to the source: "The Estin Report on Aspen Real Estate."
_______________________________________