BEFORE
MLS 138809 – Historic West End Single Family Home on 9,000 Sq Ft Corner Lot, 530 W Hallam, Aspen, CO: Sold Price $6,150,000/$1,361 sq ft pre-MLS on 04/30/2015.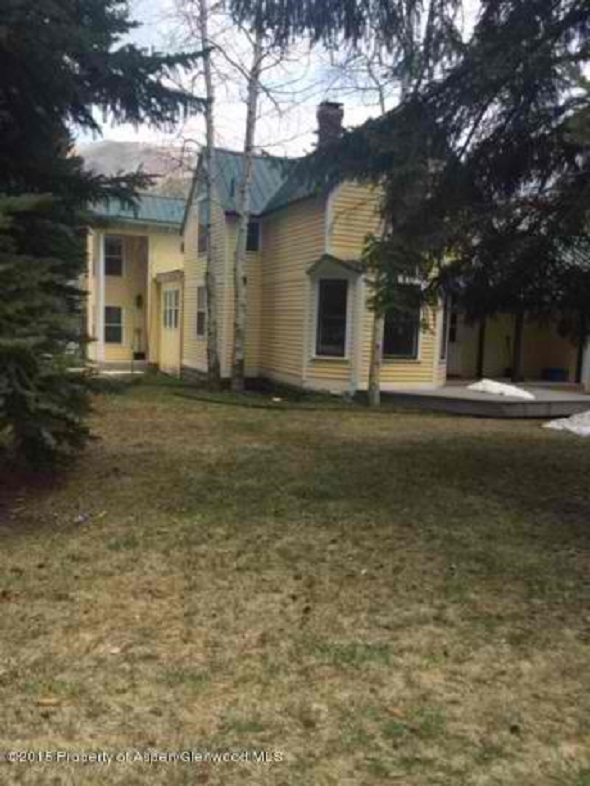 BEFORE: Sold pre-MLS (not listed) $6.15M/$1,316 sq ft. After sale was consummated, it appeared in the MLS as #138809. This is a1900 built/1977 effective built, 4,518 sf, 7 bdrms/3.5 ba home. Lot size: 9,000 sq ft corner lot…allowing 2 detached structures. The property is historic and redevelopment falls under Aspen Historic Preservation Commission (HPC) rules. 2014 Taxes: $10,718. City of Aspen RETT Transfer Tax of approx. 1.5% payable by buyer. Under Contract Date: 07/14/2014; Sold Date: 04/30/2015.(Photos and broker comments courtesy of Aspen Snowmass Sotheby's International Realty.)
AFTER
MLS #138825: 530 W Hallam, Historic West End, Aspen, CO. The property was immediately re-listed on the day it sold, 04/30/15, at $8.25M as a redevelopment prospect. On 05/09/16, one of the two lots, at 4,800 sq ft lot size, was listed separately at $8,500,000.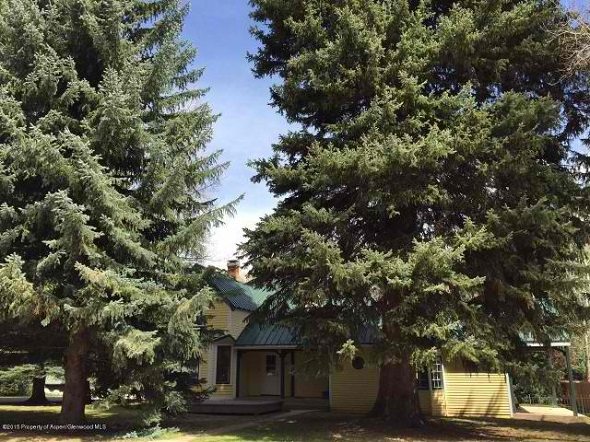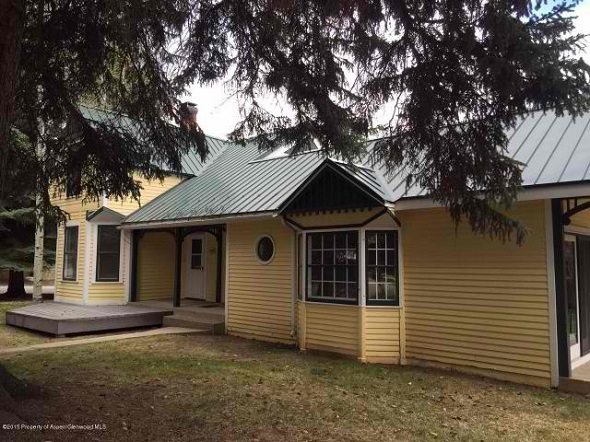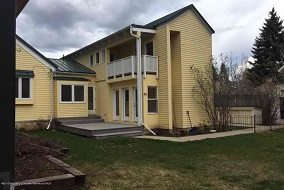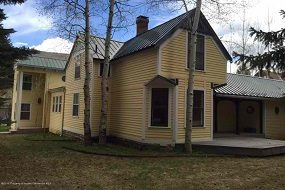 AFTER MLS #138825: 530 W Hallam, Historic West End, Aspen, CO. The property was immediately re-listed on the day it sold, 04/30/15, at $8.25M as a redevelopment prospect.The broker's comments are, "Rarely does a corner lot on Hallam Street become available. Even better is an oversized parcel (9,000 sq ft) that has City of Aspen and Historic Preservation Commission (HPC) approvals for a lot split and approved plans for two single family homes. Great opportunity to build a family compound or sell one lot and build on the other (or go back to the drawing board and create your own West End gem). Part of the existing house is "historic" and is approved to be incorporated into a remodel/addition on a 4,200 sq ft corner lot; the current approvals also include a 4,800 sq ft interior lot with plans for a new house. Existing house is 4,500+ square feet and very livable. Plenty of options and a prime location make this a property too good to pass up." (Photo and comments courtesy of Aspen Snowmass Sothebys.)
Since April 2015, the lot split has ocurred creating (2) lots. As of June 2016, they are listed separately for sale but both lots can be purchased together. The broker's comments are as follows:
MLS 138919. Ask Price: $8,750,000, Lot #1: "The West End embodies all that makes Aspen great, and this home is the perfect roost in the heart of Aspen's premier neighborhood. A classic Victorian home has been thoughtfully incorporated into this modern remodel and expansion, and it doesn't get better than owning a corner that resonates with Aspen's history and serves up all the comforts and conveniences of today. Four bedrooms, 4.5 baths, 3,874 heated square feet, two car garage, and great indoor and outdoor spaces make for a launch pad to walk or bike to downtown, the Music Tent, the Aspen Institute and so much more! Construction is anticipated to be complete in July 2017. The adjacent home also to be constructed can be purchased to create a unique family compound. See MLS #138825″
MLS 138825. Ask Price: $8,500,000. Lot #2: "Rarely does a corner lot on Hallam Street become available. Even better is an oversized parcel (9,000 sq ft) that has City of Aspen and Historic Preservation Commission approvals for a lot split and approved plans for two single family homes. Great opportunity to build a family compound or sell one lot and build on the other (or go back to the drawing board and create your own West End gem). Part of the existing house is "historic" and is approved to be incorporated into a remodel/addition on a 4,200 sq ft corner lot; the current approvals also include a 4,800 sq ft interior lot with plans for a new house. Existing house is 4,500+ square feet and very livable. Plenty of options and a prime location make this a property too good to pass up."
To read more about Aspen Historic Preservation Commission (HPC) resources and requirements, see:
Aspen Historic Preservation Website
Historic Inventory Properties List City of Aspen (as of Nov 2014)
· Historic Preservation Officer, Amy Simon at (970) 429-2758
· Senior Planner Sara Adams at (970) 429-2778
Aspen Modern Website
AspenMod Map of Properties
Property and Listing History
530 W Hallam Street
, Aspen, CO 81611
| – | MLS # | Status | Price | % Change | Date | DOM | Address |
| --- | --- | --- | --- | --- | --- | --- | --- |
| – | 149225 | Active | $10,995,000 | 22.8% | 05/31/2017 | 18 | 530 W Hallam Street |
| | + | New | $10,995,000 | | 05/31/2017 | 18 | |
| – | 138919 | Cancelled | $8,950,000 | 8.5% | 05/31/2017 | 754 | 530 W Hallam Street |
| | + | Cancelled | $8,950,000 | | 05/31/2017 | | |
| | + | Pending | $8,950,000 | | 01/27/2017 | 123 | |
| | + | Price Change | $8,950,000 | 2.3% | 01/20/2017 | 130 | |
| | + | Price Change | $8,750,000 | 6.1% | 10/14/2016 | 228 | |
| | + | Price Change | $8,250,000 | 3.8% | 04/26/2016 | 399 | |
| | + | Price Change | $7,950,000 | 7.5% | 04/07/2016 | 418 | |
| | + | Price Change | $7,395,000 | 1.3% | 02/15/2016 | 470 | |
| | + | New | $7,300,000 | | 05/08/2015 | 753 | |
| – | 138825 | Cancelled | $8,250,000 | 34.1% | 06/16/2016 | 413 | 530 W Hallam Street |
| | + | Cancelled | $8,250,000 | | 06/16/2016 | 0 | |
| | + | New | $8,250,000 | | 05/01/2015 | 412 | |
| – | 138809 | Closed | $6,150,000 | | 04/30/2015 | 290 | 530 W Hallam Street |
| | + | Closed | $6,150,000 | | 04/30/2015 | 0 | |
| | + | Pending | $6,150,000 | | 04/30/2015 | 0 | |
| | + | New | $6,150,000 | | 04/30/2015 | 0 | |
_______________________________________________________________