The Sept 8, 2014 blog will be posted late today or tomorrow. My apology for the delay.
It was heartbreaking to read that on Sunday, Aug. 31, 2014, Oliver Frascona, one of Colorado's most revered and talented real estate attorneys and Realtor instructor par excellence, his girlfirend Tori Rains-Wedan, 41, a former real estate broker who had launched The Real Estate School based in Boulder and her three sons and a dog, were all killed in a small plane crash near Boulder, CO on their way home from Labor Day weekend. Her children were Mason Wedan, 15, and 11-year-old twins, Austin and Hunter.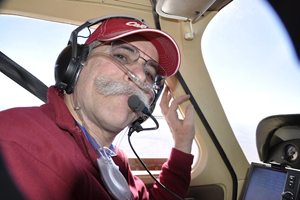 My memory of him:
Oliver, Some of my best real estate student experiences and memories took place in your classes held in Aspen, CO. Sometimes, or maybe all the time, I believe you flew/piloted to Aspen from Boulder, and you would easily convey to us how much you loved that. Man, your eyes just sparkled crazy when you talked about flying and planes – you were a little boy in his room twirling the prop of his balsa wood projectile with a grin and a touch of malice on his beaming face …Your humor, anecdotes and wicked wit will be sorely missed and your smile and good will shall be forever remembered. With your great insights and razor sharp intelligence, I always felt you ennobled Realtors and made us feel proud of our profession and that the better trained and more prepared we were, the more worthwhile our professional purpose and worthy of respect we become. You touched many. There is a line from the musical Carousel by Oscar Hammerstein that goes something like this, " As long as there is one person on earth who remembers you, it isn't over." May we all sing life's tune as well as you, Oliver. You shall long be in our hearts. God speed.
(Read a poignant statement by his good friend and Realtor, Chris Mygatt)