Tim Estin is an active Aspen real estate broker with Mason Morse located in the center of Aspen. This blog, www.AspenRealEstateBlog.com or Tim Estin's blog, is released Monday mornings and sometimes in-between. The Estin Reports are released quarterly, annually and also special reports. For blog archives, scroll to bottom of this page and search by date or topic. Or search this site in SearchEstinAspen.com on the menu bar. If it's about Aspen real estate, chances are there's something about it here. Follow @EstinAspen on twitter for Aspen Snowmass real estate news, market updates, statistics, commentary and reports or subscribe to RSS feeds with the button on the left.
Link to The Estin Report: 1st Half 2011 State of the Aspen Market (released 07/14/11)

See"Mega-mansion Deals Spur Rebound in Aspen Market" , 07/17/11 Sunday Business, Grand Junction Sentinel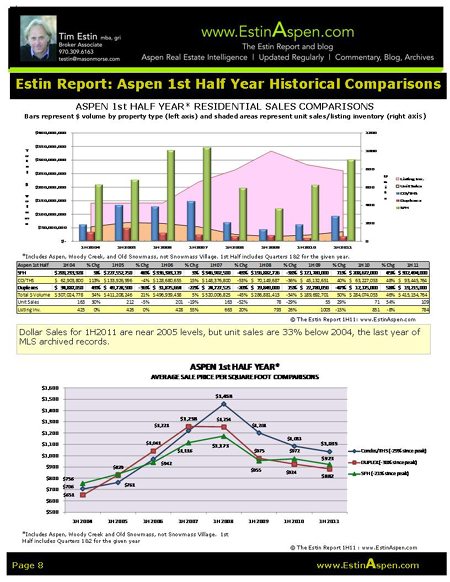 Last Week's Market Highlights – Aspen Snowmass Real Estate Sales and Under Contract Activity: Last week's real estate sold and under contract activity appears below for the upper Roaring Fork Valley for all property types over $250,000 in Aspen, Snowmass Village, Woody Creek and Old Snowmass excluding fractionals. Because the MLS links below expire after 30 days, photos and written descriptions of the closed properties are posted here to preserve an archive of sold market activity. For past sales, scroll to page bottom and search by time period.
Under Contract / Pending (12): MLS#'s 119173, 118982, 122030, 116713, 121660, 121839, 118765, 121183, 120946, 122171, 118855, 117543, This link is valid for 30 days until 9/6/11. Photos and descriptions of under contracts /pending are not posted unless special circumstances dictate.

Closed (10): MLS#'s 121737, 104789, 113092, 119706, 119095, 113495, 121653, 119238, 122301, 119629 This link is valid for 30 days until 9/6/11.
Featured Sold Aspen Properties

CLOSED: MLS # 112732 and #119620, Lacocina Building, 308 E. Hopkins Penthouse Unit 2 and Unit 3, (Link valid for 30 days until 9/7/11) Downtown Aspen, CO: Sold Price for both unfinished units $6,275,000/$1,132 sq ft. Ask Price: Unit 2: $3,995,000/$2,010 sq ft; Unit 3: $7,995,000/$2,257 sq ft. Upon going under contract, the ask price of the units was reduced to $2.75M and $5.75M each unit or $8.5M sold together. The buyer was represented by Tim Estin.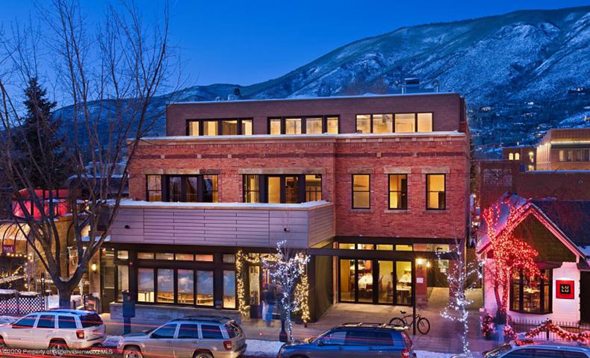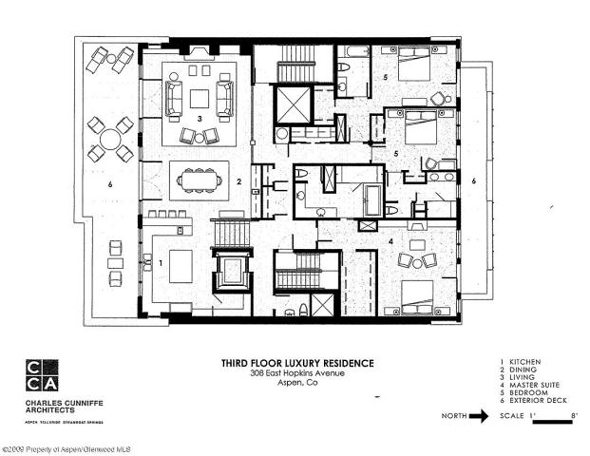 308 E. Hopkins Penthouse Unit 3 floorplan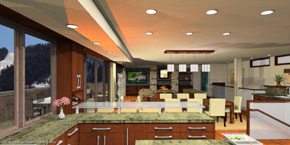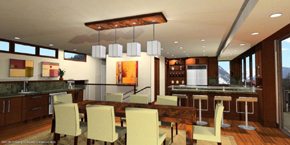 308 E. Hopkins Penthouse Unit 3 model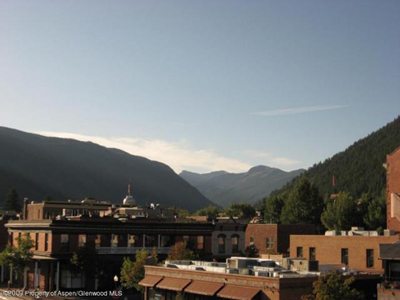 View east toward Independence Pass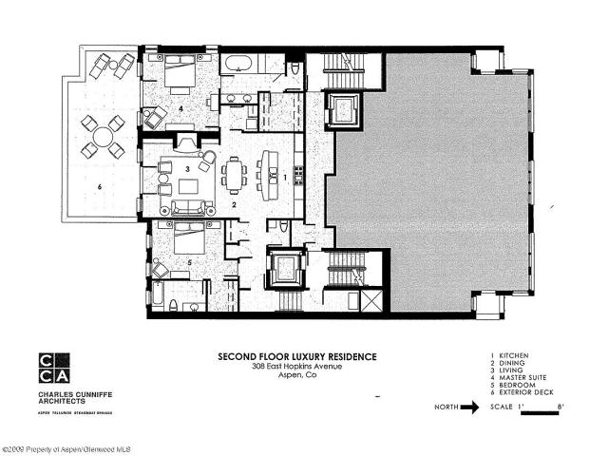 308 E. Hopkins Penthouse Unit 2 floorplan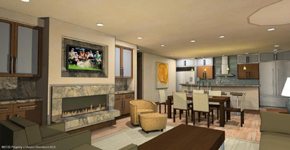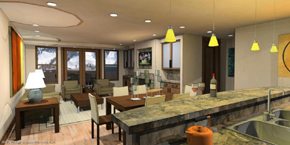 308 E. Hopkins Penthouse Unit 2 model

SOLD: MLS # 112732 and #119620, Lacocina Building, 308 E. Hopkins Penthouse Units 2 and Unit 3, Downtown Aspen, CO: Sold Price for both unfinished units $6,275,000/$1,132 sq ft ; Ask Price: Unit 2: $3,995,000/$2,010 sq ft; Unit 3: $7,995,000/$2,257 sq ft. (Original Prices: Unit 2: $5,500,000, and Unit 3: $9,950,000, $15.45MM and on the market for 669 days since 08/19/09.) These are two brand new rare Penthouse units in the center of downtown Aspen. The price is for the finished units: Unit 2 is a 2 bedroom/2.5 bath, 1,998 sq ft condo with 1-car garage parking; the top floor Unit 3 is a 3 bedroom/3.5 bath, 3,542 sq ft absolutely killer unit with 824 sq ft of patio space and 1-car garage parking. Both are accessed with private off-street entry and elevator. The broker's description is, "One of a kind opportunity to own a brand new top floor penthouse in the central core of Aspen with direct views of Aspen Mountain and Independence Pass! Design features include a flexible & functional floor plan, elevator, gas fireplace, air conditioning, and spacious snow melt patios to enjoy the outdoor setting year round. Walk to everything including dining, shopping, entertainment, and local parks. Opportunity to select final finishes and trim. This location is unmatchable…Main Street to Monarch Street, left on East Hopkins Avenue. Property is on the left between Elevation & Lu Lu Wilson restaurants." Approximate 2010 Taxes Unit 2: $2,877 Yr and Unit 3: $5,125 YR; HOA Dues: $500 mos Unit 2 and $829 mos Unit 3. Under Contract Date: 06/16/11; Sold Date: 08/08/11. City of Aspen RETT Transfer Tax of 1.5% payable by buyer.(Photos and description courtesy of Morris & Fyrwald, Sotheby's Intl Realty.)

MLS#119238 – Chateau Roaring Fork Condominium, Aspen core, 1039 E Cooper Avenue 4a Aspen, CO: Sold Price: $1,000,000/$885 sold furnished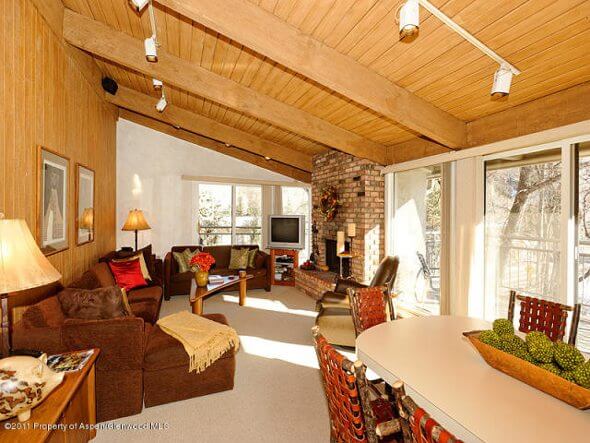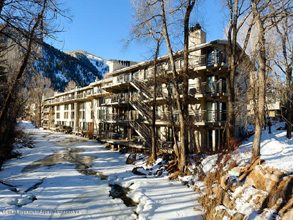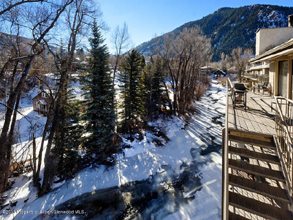 MLS#119238 – Chateau Roaring Fork Condominium, Aspen core, 1039 E Cooper Avenue 4a Aspen, CO: Sold Price: $1,000,000/$885 sold furnished; Ask Price: $1,195,000/$1,057 sq ft. (Original Price: $1,495,000 and 472 days on the market since 2/8/10.) This is 3 bedroom/2 bath, 1,130 sq ft, 1969 built complex. The broker says, "Desirable top floor, corner condominium overlooking the Roaring Fork River with Aspen Mountain views from the bedrooms. Vaulted ceilings, skylights, wood-burning fireplace, open floor plans, abundant windows, wrap around deck, and in-unit washer/dryer. Enjoy as is or remodel to suit your needs. Walking distance to downtown Aspen. No rental restrictions, great complex amenities including swimming pool, hot tub, and conference facility." 2009 Taxes: $4,142; HOA Dues: $2,722 Qtr. Under Contract Date: 7/8/11; Sold Date:8/3/11. City of Aspen RETT Transfer Tax of 1.5% payable by buyer. (Photos and description courtesy of Morris & Fyrwald, Sotheby's Intl Realty.)

MLS #104789 – 62 acre vacant land, Tbd Woody Creek Road Woody Creek, CO: Sold Price: $3,000,000/$48,387 per acre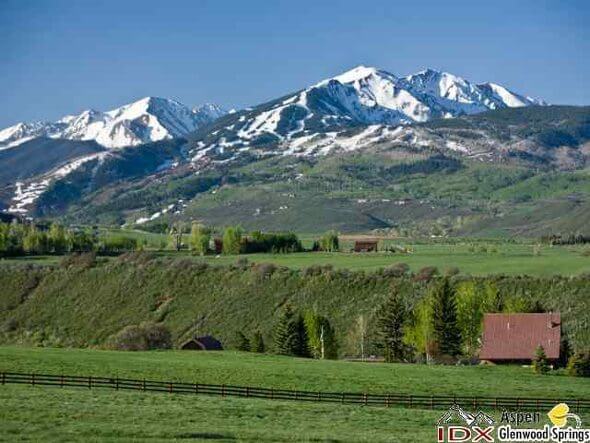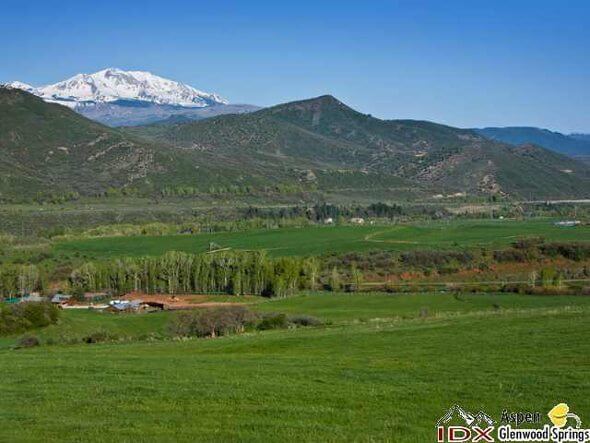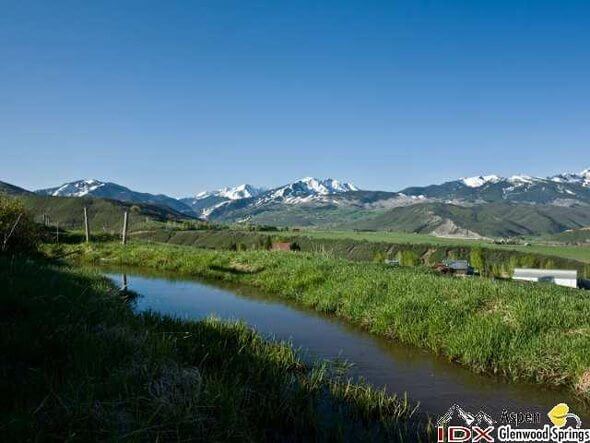 MLS #104789 – 62 acre vacant land, Tbd Woody Creek Road Woody Creek, CO: Sold Price: $3,000,000/$48,387 per acre; Ask Price: $3,300,000. (Original Price $4,700,000 and on the market 1,184 days since 5/1/08.) The broker's comments, "Newly-created lots vested until April 9, 2013. 5750 FAR, or 7500 FAR with one TDR (TDR not included). Huge views, water rights, irrigated meadows, simple protective covenants, dogs allowed, exclusions. Very rare property located above Compass School. Purchase both Parcels 1 (MLS #104791) and 2 at the same time for a reduced package price, $6,900,000.Directions: 1st right past Woody Creek Tavern onto road to Lenado, left at Compass sign, go uphill" No other information available. A 12.6 acre nearby parcel – small compound – with front and center better views similar to photos above with 1970's built/2000 remodeled Main House, 2 guest and caretaker cabins, pool, mature beautiful gardens and irrigated fields closed in early April 2011 at $3.9M. (Photos courtesy of Morris & Fyrwald, Sotheby's Intl Realty.)
MLS# 113092 – Maroon Creek Townhome, 204 Oregon Trail Aspen, CO: Sold Price: $3,550,000/$766 sq ft unfurnished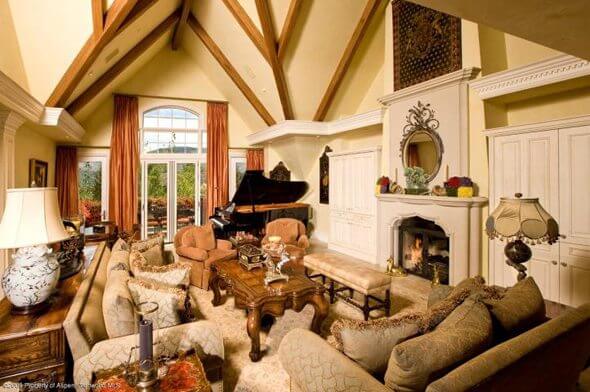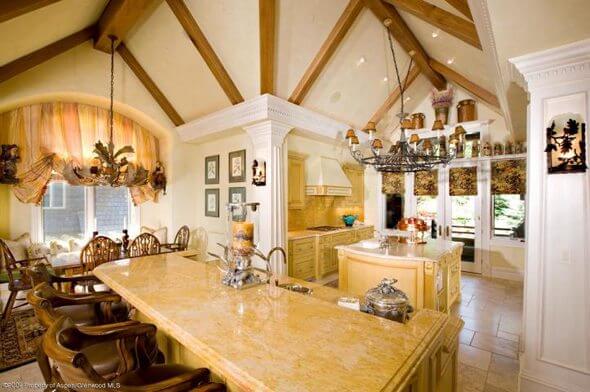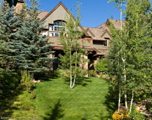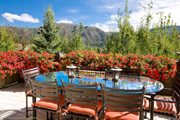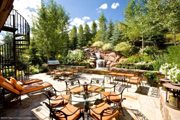 MLS# 113092 – Maroon Creek Townhome, 204 Oregon Trail Aspen, CO: Sold Price: $3,550,000/$766 sq ft unfurnished; Ask Price: $4,300,000/$928 sq ft. (Original Price $5,600,000 and 681 days on the market since 09/14/09.) This is a 1998 built/2003 remodeled, 4 bedroom/4.5 bath, 4,622 sq ft townhome with 2-car garage in the prestigious and newer Maroon Creek subdivision. The broker's comments are, "Beautiful and well appointed Maroon Creek Townhome located on the slopes of Tiehack. A large and open floorplan perfect for entertaining with a separate prep kitchen. Magnificent outdoor spaces with a new water feature providing soothing sounds when sitting in your private patio. Elevator access to all levels and separate garage for guests and owners. Madison Avenue meets Maroon Creek, a must see."2008 Taxes: $13,019 Yr; $5,357 Qtr. Under Contract Date: 07/11/11; Sold Date: 07/27/11. City of Aspen RETT Transfer Tax of approx. 1.5% payable by buyer.(Photos and description courtesy of Joshua & Co of Aspen.)
MLS # 119706 – Racquet Club in-town 2010 remodeled condo, 1050 Matchless Drive Unit 3 Aspen, CO: Sold Price: $2,750,000/$1,115 sq ft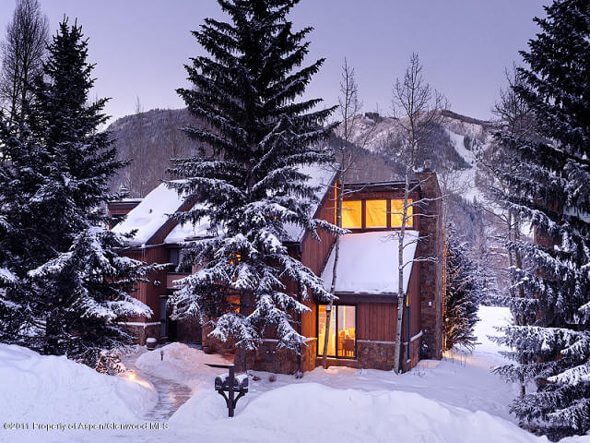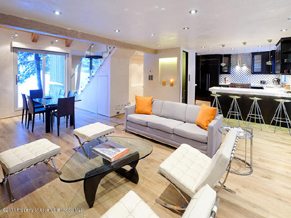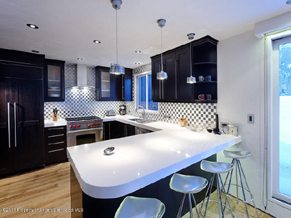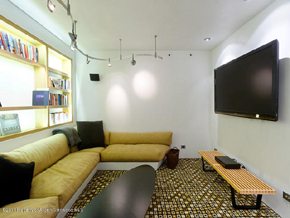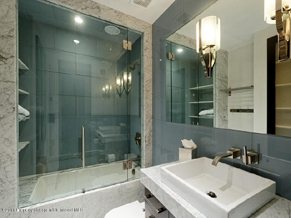 MLS # 119706 – Racquet Club in-town 2010 remodeled condo, 1050 Matchless Drive Unit 3 Aspen, CO: Sold Price: $2,750,000/$1,115 sq ft unfurnished; Ask Price: $2,995,000/$1,214 sq ft. (Original Price: $ and days on the market since .) This is a beautifully 1977 built/2010 remodeled remodeled 4 bedroom/4.5 bath 2,466 sq ft condo/townhome within walking distance to center of town. The broker's comments are, "Sleek contemporary finishes & design are incorporated throughout the interior of this completely remodeled townhome, while an incredible use of space makes the floor plan flow beautifully & the living areas feel much larger than its square footage. Features include 4 bedrooms, 4.5 baths, 2,466 square feet, top of the line stainless appliances, custom cabinetry, integrated plaster walls, hardwood floors, top floor master suite with office, family room, wine storage, two laundry areas, radiant heat, patio, and incredible views of Aspen Mountain. The exterior of the four unit complex was remodeled in 2009, and pets are allowed. Located near Smuggler Mountain and within walking distance to downtown Aspen." 2010 Taxes: $2,497 Yr; HOA Dues: $600 month. Under Contract Date:6/29/11; Sold Date: 8/01/11. City of Aspen RETT Transfer Tax of 1.5% is payable by buyer. (Photos and description courtesy of Morris & Fyrwald, Sotheby's Intl Realty.)
MLS# 119629 – Historic West End single family home, 602 W Hallam Street Aspen, CO: Sold Price: $5,075,000/$1,131 sq ft unfurnished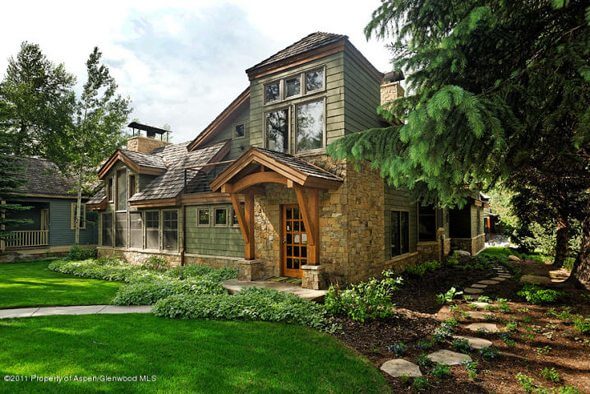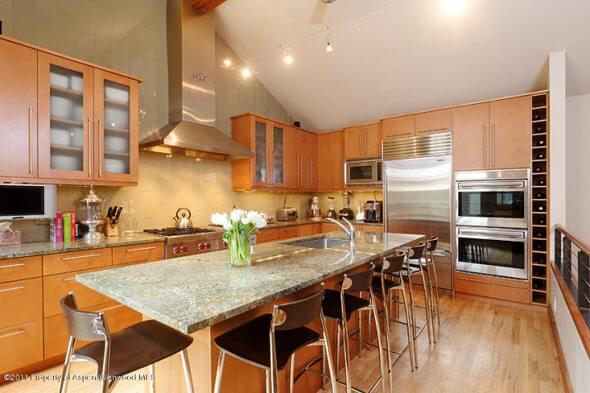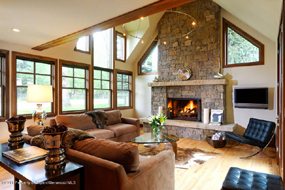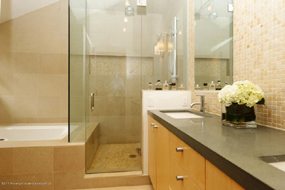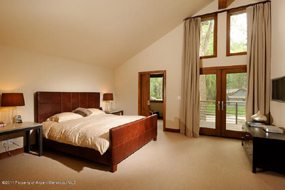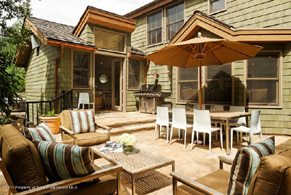 MLS# 119629 – Historic West End single family home, 602 W Hallam Street Aspen, CO: Sold Price: $5,075,000/$1,131 sq ft unfurnished; Ask Price: $5,550,000/$1,263 sq ft. (Original Price: $5,950,000 and 654 days on the market since 6/15/11.)This is a 1980 built/2006 remodeled, 7 bedroom/4.5 bath, 4,488 sq ft home with 1-car garage on a 6,000 sf lot in Aspen's west end.The broker's comments are, "This distinctive and refined mountain contemporary home in Aspen's historic West End is a must see! Completely renovated in 2006 by award winning architect Charles Cunniffe, the home features 7 bedrooms, 4 full baths, and one half bath. Three levels provide plenty of room and privacy. Other features include handcrafted stainless hand rails, top of the line stainless appliances, radiant heat, high end finishes, three fireplaces, and limestone tiled baths. Perfect for entertaining, the spacious dining area has seating for 18. The corner lot has plenty of light with great Southern exposure and lovely mature trees. Aspen Mountain views and spacious outdoor entertaining areas complete the package…Furnishings are negotiable, but are not included in the asking price. All artwork is excluded. 400 square foot Flagstone patio added in 2008." 2010 Taxes: $11,940 Yr; HOA Dues: none. Under Contract Date: 7/8/11; Sold Date: 8/5/11. City of Aspen RETT Transfer Tax of 1.5% payable by buyer. (Photos and description courtesy of Amy Doherty Properties.)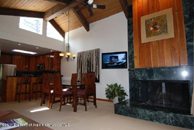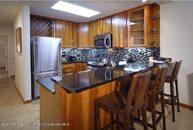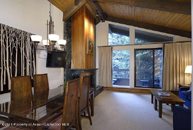 MLS #121737 – Aspen downtown Gant Condominium, 610 S West End Street B-202 Aspen, CO: Sold Price: $1,050,000/$1,078 sq ft furnished; Ask and Original Price: 1,250,000/$1,282 sq ft and 35 days on the market since 06/28/11. This is a 2 bedroom/2 bath, 975 sq ft condo in one of Aspen's only full service, on-site front desk management with full amenities. The broker says, "Convenient to all the Gant amenities, this top-floor 2-bedroom enjoys views of Aspen Mountain gondola and pool with vaulted ceilings, and an excellent rental history. Finishes include granite counters and stainless appliances. Full service and amenities at the Gant include tennis, two swimming pools, multiple spas, fitness room, conference center, saunas, bellmen, shuttle service, front desk, and more." 2010 Taxes: $4,735 Yr; HOA Fees: $21,342 Yr. Under Contract Date: 07/13/11; Sold Date: 08/02/11. City of Aspen RETT Transfer Tax of 1.5% payable by buyer. (Photos and description courtesy of SDS Real Estate, Inc.)
Tim Estin welcomes your business, inquiries and comments. Email him or call 970.920.7387. Subscribe to The Estin Report and Tim Estin's Aspen Real Estate Blog.com on twitter @EstinAspen by clicking "Join the conversation" button below or click subscribe button in the menu bar on left:


new TWTR.Widget({ version: 2, type: 'profile', rpp: 4, interval: 6000, width: 250, height: 300, theme: { shell: { background: '#333333', color: '#ffffff' }, tweets: { background: '#000000', color: '#ffffff', links: '#4aed05' } }, features: { scrollbar: false, loop: false, live: false, hashtags: true, timestamp: true, avatars: false, behavior: 'all' } }).render().setUser('EstinAspen').start();
Disclaimer: The statements made in The Estin Report and on Tim Estin's blog represent the opinions of the author and should not be relied upon exclusively to make real estate decisions. A potential buyer and/or seller is advised to make an independent investigation of the market and of each property before deciding to purchase or to sell. To the extent the statements made herein report facts or conclusions taken from other sources, the information is believed by the author to be reliable, however, the author makes no guarantee concerning the accuracy of the facts and conclusions reported herein. Information concerning particular real estate opportunities can be requested from Tim Estin at 970.920.7387 or by email. The Estin Report is copyrighted 2011 and all rights reserved. Use is permitted subject to the following attribution: "The Estin Report: State of the Aspen Market, By Aspen broker Tim Estin, mba, gri, www.EstinAspen.com"

________________________________________________________________________