Tim Estin is an active Aspen real estate broker with Mason Morse located in the center of Aspen. This blog, www.AspenRealEstateBlog.com or Tim Estin's blog, is released Monday mornings and sometimes in-between. The Estin Reports are released quarterly, annually and also special reports. For blog archives, scroll to bottom of this page and search by date or topic. Or search this site in SearchEstinAspen.com on the menu bar. If it's about Aspen real estate, chances are there's something about it here. Follow @EstinAspen on twitter for Aspen Snowmass real estate news, market updates, statistics, commentary and reports or subscribe to RSS feeds with the button on the left.
Link to The Estin Report: Aspen Snowmass 2010 Year End Summary
Last Week's Market Highlights – Aspen Snowmass Real Estate Sales and Under Contract Activity: Last week's real estate sold and under contract activity appears below for the upper Roaring Fork Valley for all property types over $250,000 in Aspen, Snowmass Village, Woody Creek and Old Snowmass excluding fractionals. Because the MLS links below expire after 30 days, photos and written descriptions of the closed properties are posted here to preserve an archive of sold market activity. For past sales, scroll to page bottom and search by time period.
Under Contract / Pending (9): 121271, 121535, 119220, 119620, 112732, 120019, 113495, 120207, 110097. Link is valid for 30 days until 7/18/2011. Photos and descriptions of pending properties are not posted unless special circumstances dictate. The pending property featured below is noteworthy because it is the largest ski-in/out single family home available in Snowmass Village.

Closed (4): MLS # 120989, 120447, 111859, 118883. Link is valid for 30 days until 7/18/2011.

Featured Sold Aspen Property Last Week
CLOSED: MLS 118883 – Riverpark Townhome #10, Downtown Aspen, 130 N. Spring St Aspen, CO: Sold Price: $6,500,000/$1,207 sq ft;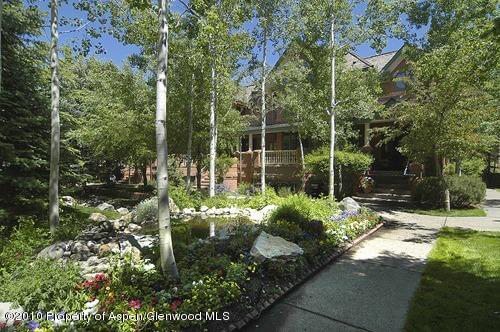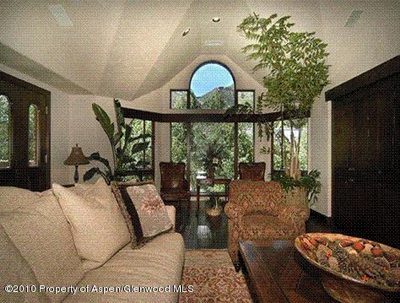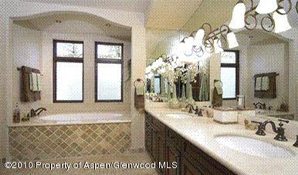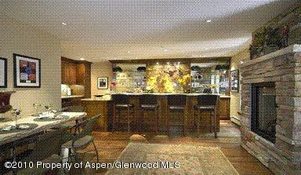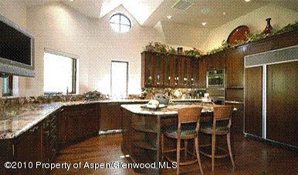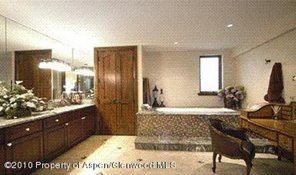 MLS 118883 – Riverpark Townhome #10, Downtown Aspen, 130 N. Spring St Aspen, CO: Sold Price: $6,500,000/$1,207 sq ft; Ask Price: $7,850,000/$1,458 sq ft (Original Price: $9,950,000. and 1,452 days on the market since 6/22/2007.) This is a beautiful 1992 built/2008 complete remodel, 5 bedroom/5 bath/2 half bath downtown Aspen townhome with 4-car garage parking. The broker's description is, "River Park is a unique downtown Aspen private complex with lush gardens and a stream out your front door. This corner townhome is the size and width of a house 5,383 sq ft per assessor, with the convenience of a townhome including a full-time on-site caretaker to help with all of your needs. This home is light and bright with windows on three sides, and amazingly for downtown Aspen living, there are no below grade rooms. This unit has been completely renovated with luxurious finish details, including walnut flooring, marble and granite. All Four/Five bedrooms have a fireplace, for a total of seven fireplaces. There are two spacious master suites, two guest bedrooms. There is a family room with a full bar, full mini kitchen and private entrance. Included are Five full baths, two half baths and an elevator." 2009 Taxes: $18,160 Yr. HOA Dues: TBD. Under Contract Date: 04/26/11; Sold Date: 6/8/11. Buyer represented by Tim Estin. (Photos and description courtesy of Weaver & Briscoe Real Estate.)
Featured Under Contract Snowmass Property Last Week
Under Contract: MLS # 120207 – Ski-in/ski-out single family homes, 916 Pine Crest Drive Snowmass Village, CO: Ask Price: $ 19,750,000/$2,241 sq ft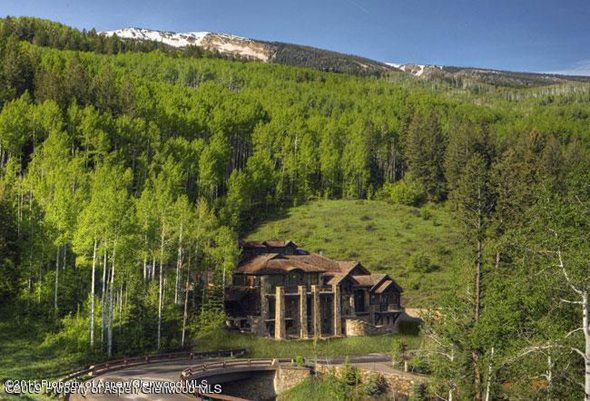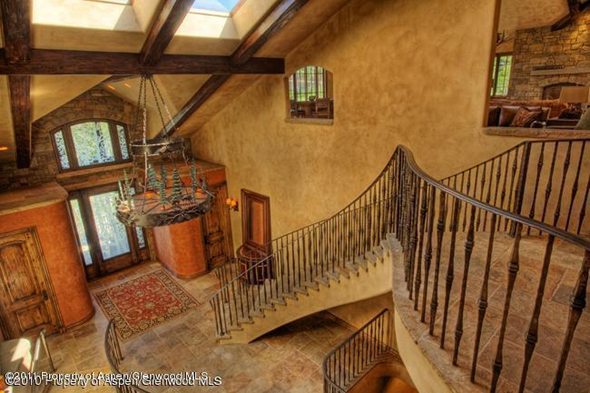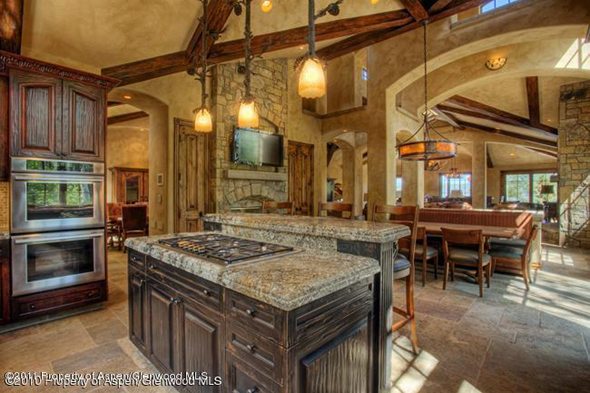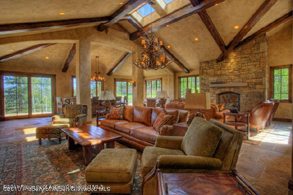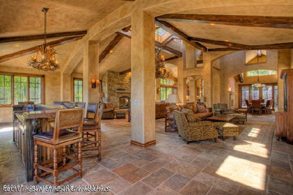 MLS # 120207 – Ski-in/ski-out single family homes, 916 Pine Crest Drive Snowmass Village, CO: Ask Price: $ 19,750,000/$2,241 sq ft. (Original Price: $24,500,000 and 1,600 days on the market since 02/11/07. Placed on market pre-construction.). This is a 2009 built 7 bedroom/7 bath/ 3 half bath, 8,812 sq ft home with 3-car garage on 5.67 acres. The broker's description is, "The ultimate family ski in/out retreat, the largest home available in all of Snowmass with 7 bedrooms and the ability to add more. Situated on nearly 6 acres abutting national forest. Impressive water features, pool, Jacuzzi, and home theater. A maze of summer hiking/biking trails right out your back door." 2010 Taxes: $43,070 Yr; HOA Dues: $5,4040 Yr. Under contract date:06/09/11. Town of Snowmass Village Transfer Tax of 1% payable by buyer. (Photos and description courtesy of Morris & Fyrwald, Sotheby's Intl Realty.)

Tim Estin welcomes your business, inquiries and comments. Email him or call 970.920.7387. Subscribe to The Estin Report and Tim Estin's Aspen Real Estate Blog.com on twitter @EstinAspen by clicking "Join the conversation" button below or click subscribe button in the menu bar on left:


new TWTR.Widget({ version: 2, type: 'profile', rpp: 4, interval: 6000, width: 250, height: 300, theme: { shell: { background: '#333333', color: '#ffffff' }, tweets: { background: '#000000', color: '#ffffff', links: '#4aed05' } }, features: { scrollbar: false, loop: false, live: false, hashtags: true, timestamp: true, avatars: false, behavior: 'all' } }).render().setUser('EstinAspen').start();
Disclaimer: The statements made in The Estin Report and on Tim Estin's blog represent the opinions of the author and should not be relied upon exclusively to make real estate decisions. A potential buyer and/or seller is advised to make an independent investigation of the market and of each property before deciding to purchase or to sell. To the extent the statements made herein report facts or conclusions taken from other sources, the information is believed by the author to be reliable, however, the author makes no guarantee concerning the accuracy of the facts and conclusions reported herein. Information concerning particular real estate opportunities can be requested from Tim Estin at 970.920.7387 or by email. The Estin Report is copyrighted 2011 and all rights reserved. Use is permitted subject to the following attribution: "The Estin Report: State of the Aspen Market, By Tim Estin, mba, gri, www.EstinAspen.com"

________________________________________________________________________