1. Released today: The Estin Report: Vacant Land Report 2004 – 2010 YTD (June 18, 2010)
(Revised 6/22/10 at 4:30PM. Added a new page 7 with charts comparing 2004 – 2010 YTD Sales Across Asset Classes: single family homes, condos and vacant land .)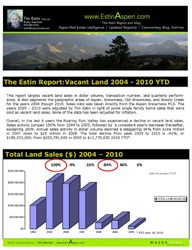 Click image to read the complete report.

Excerpt:
"At present, vacant land sales are generally moribund for a variety of reasons previously noted. Most importantly, it is because: 1) buyers perceive they can buy new finished product – single family homes – at less than replacement value; 2) credit doesn't exist and builders/developers have been cut out of the market.
Because there continues to be sufficient inventory of great homes available for purchase, although rapidly thinning, and not to mention the hassles of the permitting and building process with a particularly onerous Pitkin County Land Use Code, buyers, in general, do not want to buy land and build at present. In addition, credit markets continue to be locked up making many land purchases all but impossible.
Buyers sense that the "hidden" land costs are being discounted within the overall sales price of finished product whereas only recently are actual vacant lots getting realistically discounted on the retail end. A buyer of a new single family home is effectively paying wholesale for land and benefiting greatly from the bad economic environment of builder/developers stuck with product.
When the cost of land combined with construction costs (now off 20-30%) is markedly cheaper than buying a new home, at say $900 – $1,100 sq ft, vacant land sales should theoretically start to pick up. This, and the freeing up of bank funds for new construction, should be the inflection point when vacant land sales turn.
In summer 2010 in Aspen's Historic West End, we are now seeing vacant lots listed at $2.5 -$3M. The last vacant lot sold in April 2009 at $3.3M for a 7500 sf lot to an end user, a buyer who intends to build their own home. Pre-meltdown days, these lots would have been in the $4-$5M territory.
In the Mountain Valley area in east Aspen, there is a very motivated lot available at $2.2M and two others at $2.5M and $2.8M. There are others priced under $2M…these were lots priced in the $2.5- $3.5M range in the heyday.
On McLain Flats, a 13 acre parcel with abundant water rights, amazing mountain views and 10-15,000 sq ft home and barn approvals sold in the spring for $4.5M to another end user who will build their dream home. There are currently 2vacant lots on Trentaz Dr that if purchased together represent 24 acres with vested rights to build up to 19,000sf FAR priced at $5.95M (reduced from ($7.95M) or, individually 11 and 13 acres, priced at $2.975M each. (reduced from $4M ea.)
Double Bar X/Stage Rd a new Aspen subdivision of 1-3 acre lots near the Maroon Creek Club sold during their early 2007 launch between $4.5M- $6.8M. In summer and fall 2009, there were 3 sales of these lots at $3M-$3.2M with a 'bonus' lot thrown in as a second purchase to one buyer at $2M. According to Randy Gold, a well-respected local appraiser, "it's tough to know how much values in this project, and in the market at large, have really declined but 25-50% seems reasonable"
"The moment vacant land starts to sell,we'll know the market has turned" says a well known local real veteran.
There are some fantastic lot deals now, and those in the know are waking up to this.
2. Last Week's Market Activity
Last week's real estate sales activity appears below for the upper Roaring Fork Valley for all property types over $250,000 excluding fractionals (except for Residences at Little Nell and Dancing Bear both which are included because of their higher fractional price points) in Aspen, Snowmass Village, Woody Creek and Old Snowmass. As the MLS link(s) to photos and property details expire after 30 days photos and descriptions of the closed properties are posted to preserve a history of sold market activity.
For a spreadsheet summary of the past week's activity, see The Estin Report: Aspen Snowmass Weekly Sales Statistics June 13 – 20, 2010
Closed (5): MLS 111715, 115305, 113524, 114948, 103524. Link is valid for 30 days until 7/20/10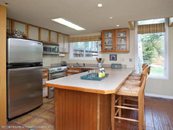 MLS 111715 – "Blue Roofs" Townhomes, 4000 Brush Creek Road, Unit 16, Snowmass Village, CO: Sold Price: $650,000/$650 sq ft; Ask Price: $875,000/$815 sq ft. (Original price:$899,000 and 361 days on the market) Listing broker writes, "Bright spacious townhome that sits alongside the Snowmass Village golf course with snow capped views of the Continental Divide. Wood-burning stove, hardwood floors and steps to the swimming pool and hiking/bike paths make this a true mountain retreats." . (Photos and description courtesy of Morris & Fyrwald Sotheby's RE)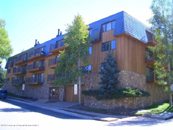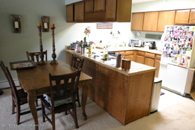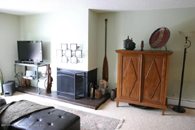 MLS 115305 205 E Durant #3H, Southpoint Condo, Aspen, CO: Sold Price: $947,000/$1,047 sq ft The listing broker says, " Location, location, location. Top floor at South Point Building! Unobstructed views of Red Mtn, Smuggler Mtn and the sunset. 900sf one bedroom with 3 large walk-in closets, skylights and wood burning fireplace. Lobby entrance, garage parking, ski locker, storage room. Recent exterior renovation including new sliding glass doors, windows, decks, railings, siding, copper mansard roof,snowmelt sidewalk/gutters, garage door, lobby area security system, security cameras and landscaping." (Photos and description courtesy of Setterfield and Bright RE)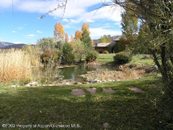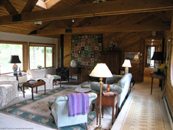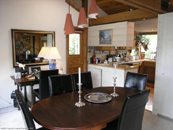 MLS 113524 – 160 Little Elk Creek Avenue Snowmass, CO: Sold Price: $650,000/$205 sq ft; Ask and Original Price: $995,000/$315 sq ft (Listed on 9/26/2009 and 261 days on the market). This is a 5 bdrm/3ba, 3,160 sq ft, 1977 built home in Old Snowmass. The listing broker says, "Peaceful setting adjacent to large ranch. One of the nicer lots in Little Elk Creek features wonderful landscaping with lily pond and many trees. This property has tremendous potential for local family or second homeowner looking for a home with a caretaker apartment. This home offers wonderful space. Each bedroom has it's own living room space with the actual bedroom in a loft area. A great value in today's market.".(Photos and description courtesy of Chafin Light RE)
.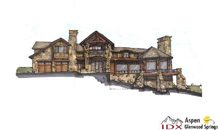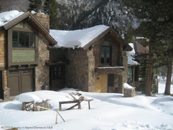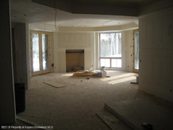 MLS 114948 – 170 Popcorn Lane, next to Morningstar at Northstar Subdivision, Aspen, CO: Sold Price: $8,000,000/$1,071 sq ft; Ask Price: $9,995,000/$1275 sq ft and 118 days on the market. This is a brand new, 2010 6 bdrm/6 bath with 2 half baths, 7,450 sq ft home approximately 3 miles east of Aspen near the Difficult Campground. "Adjacent to the Northstar Preserve & National Forest land & on the banks of the Roaring Fork River, the exclusive Morningstar subdivision allows for a total of only 7 homes. Meadowood is a 1.4 acre homesite with spectacular views of Indy Pass & with private river access. The partially constructed stunning estate has 5 bedrooms, 5 full baths, 2 half-baths, 7450 heated sq ft, geo thermal heating & cooling, reclaimed & recycled materials, accents of timber & stone, large foyer with central stairway, fabulous kitchen, formal dining room, hearth room with gas fireplace & spacious deck, master suite with gas fireplace, steam shower, & oversized jetted tub, lower level media room & game room w/bar, office, spa, & completed detached 384 sq ft guest cottage w/1 bedroom, 1 bath, & kitchenette." (Photos and description courtesy of Morris & Fyrwald Sotheby's RE)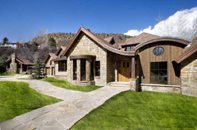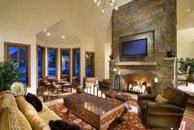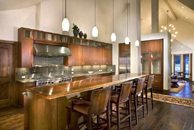 MLS#103524 – 1377 Sage Ct. 1375 Sage Ct, Aspen, CO: Distressed sale. Sold Price: $5,700,000/$624 sq ft; Ask Price: $6,999,000/$762 sq ft (Original price $12,000,000/ and on market since March 6,2008 and 831 days on the market). This is a new 2007 spec home with developer caught bulls eye in the downturn with at least two projects suffering similar fall out. Built 7bdrm/6 bath, 2 half bath, 9131 sq ft home off the Red Butte Subdivision. Listing broker comments, "This fabulous new home plus guest house sits on a 1-acre corner lot on a quiet street in Aspen. All the key living space is on the main/ground floor. Views of Aspen Mtn. and easy access to the Roaring Fork River and rio Grand Trail." (Photos and description courtesy of Morris & Fyrwald Sotheby's)
Under Contract/Pending: (2) MLS 110122, 116798. Link is valid for 30 days until 7/20/10
Disclaimer: The statements made in The Estin Report and on Tim Estin's blog represent the opinions of the author and should not be relied upon exclusively to make real estate decisions. A potential buyer is advised to make an independent investigation of the market and of each property before deciding to purchase. To the extent the statements made herein report facts or conclusions taken from other sources,the information is believed by the author to be reliable. However, the author makes no guarantee concerning the accuracy of the facts and conclusions reported herein. Information concerning particular real estate opportunities can be requested from Tim Estin at 970.920.7387 or email. The Estin Report is copyrighted 2010 and all rights reserved. Use is permitted subject to the following attribution: "The Estin Report: State of the Aspen Market, By Tim Estin, mba, gri,www.EstinAspen.com
_________________________________________