By Dennis Webb, Sun.July 17, 2011, Business Section, Grand Junction Sentinel (the newspaper is subscription based so article is posted here in its entirety)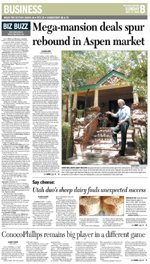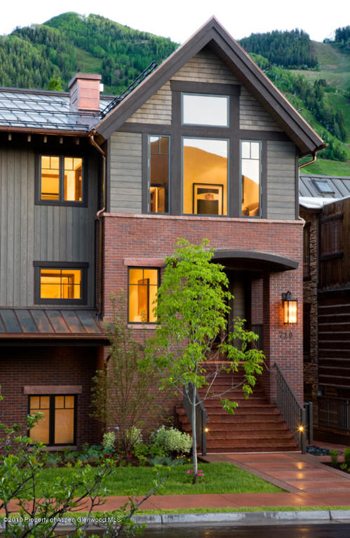 Click article image above for pdf : At $6.5 million, the property on the left was the most expensive townhome sale in Aspen for the first half of the year, said Aspen broker Tim Estin photographed here regarding the sale he closed three weeks ago but the owner originally had asked $9.95…The townhome pictured on the right, completed in 2008, closed in June at $6.425M and had been on the market almost 3 yrs originally at approx. $11.5M.
ASPEN REAL ESTATE – Got $10 million or $20 million in loose change jingling in your pocket?
It's a great time to get a good deal on a mansion in Aspen.
High-end real estate sales are helping lead a recovery in this resort for the uber-rich.
Or as Tim Estin, broker associate at Mason Morse in Aspen, put it in his [AspenRealEstateBlog.com], earlier this year, "It is well-known that the wealthy come back into the market first, and they usually get the good deals."
Said Mason Morse owner Bob Starodoj, "I think what we normally see in a recovery is the high-end sales activity first because those people feel secure economically before anybody else does. They are able to move into the market."
In a new [Estin Report: 1st Half 2011 State of the Aspen Market], released this week, Estin reported there were 11 sales of properties for $10 million or more in the Aspen area for the first half of the year, versus four during the same period last year. Andrew Ernemann, a broker associate at BJ Adams and Co., reported in his July 1 market update that one of every four single-family home sales in Aspen the first half of the year was for $10 million or more, more than double the average over the past five years.
"This fact alone is a clear indicator that Aspen continues to appeal to the world's wealthy, and that buyers at the top end of the real estate food chain are investing in the local real estate market in greater proportions than even the best years of the last market run," Ernemann wrote.
Indeed, international buyers also are participating in the high-end buying spree. And while $10 million or more doesn't sound like much of a deal, even for an Aspen trophy home, many of these buyers have been taking advantage of deep discounts from originally listed prices.
"I do think the pricing on these homes is better than it has been in a number of years," said Maureen Stapleton, a broker at Morris & Fyrwald Sotheby's International Realty.
Tommy Mottola, former head of Sony Music Entertainment, sold his property in Wildcat Ranch, a development involving actor Michael Douglas outside Aspen, for $17.75 million in January. That was for about $10 million less than he asked when he put it on the market the previous July.
Some other transactions this year included price drops (from original asking price to sale price) of $32 million to $16 million, $29.95 million to $20 million, and $21 million to $16 million, according to Estin. In all three of those cases, the properties were on the market more than 600 days.
Further enhancing the pricing for some buyers has been the low value of the dollar compared to other currencies. That has expanded the price discount for buyers from places such as Australia, Russia/Eastern Europe, Brazil and New Zealand, Estin said.
"The international factor is probably overstated, but they are players in the market," he said in an interview.
Estin said he'd guess foreigners probably make up 20 to 25 percent of high-end buyers. Stapleton said she's not currently aware of any foreigners who are shopping for Aspen properties.
"Europe goes on vacation in August, so I think September will be a good time to ask me that question," she said.
Estin said southern hemisphere buyers such as Australians are particularly attracted to the Aspen market because they can take a long winter ski trip during what is their summer.
"It's perfect with kids out of school, and they can be here for a block of time," he said.
Foreign or domestic, high-end home buyers in the Aspen area are picking up properties that real estate agents say are priced at levels reflecting their one-of-a-kind qualities.
Said Stapleton, "It's usually very unique locations or large acreages or very large square-footage, newer construction. Some of the best architects and designers are involved in the construction of these homes."
Views, privacy and access to town often are considerations, she said. Frequently, such special properties are passed down to future generations, making them all the harder to come by, Stapleton said.
Estin said the homes tend to be as big as 15,000 square feet, and they may have hard-to-get zoning and amenities such as great water rights. That was the case for billionaire and hedge fund manager John Paulson, who last year bought a new, $24.5 million Aspen home that included 180-degree views, abundant water rights and high-alpine lakes, Estin said.
"One of the calculations in that purchase is: What are the water rights worth and what are the lakes worth?" he said.
While the mega-mansion sales attract the attention, real estate experts say the market is recovering at less pricey (for Aspen, anyway) levels as well, again because of buyer interest in taking advantage of deals not available in years past.
For the first half of the year, Estin reports, Aspen home sales overall are up 45 percent. Almost half were sold for less than $4 million, compared with 32 percent for the first half of last year, reflecting the lower prices and buyer willingness to capitalize on it, he says. The average price per square foot for single-family Aspen homes is down 21 percent from the 2007–08 market peak.
Said Stapleton, "I think every segment of the market seems pretty good right now. … People want to be here in Aspen/Snowmass (Village), and I think they sense that this might be a good time to consider buying because of the pricing."
"Aspen is unquestionably leading a local real estate recovery," Ernemann said in his market update.
But how soon other areas will follow remains a question mark. Heading down the Roaring Fork Valley to places such as Basalt, Carbondale and Glenwood Springs, factors such as foreclosures and high unemployment continue to weigh down the market.
Said Estin, "There's some amazing bargains, and there's quite a bit of hardship midvalley, so buyers are stepping up, but the prices are an unbelievable discount from what we're used to."