A recent auction at the Fox Crossing subdivision was one of the bright spots in first quarter sales in Pitkin County. The Auction drew 17 bidders, according to Concierge Auctions, the firm that oversaw the sale of one luxury spec home and one building lot. See: The Estin Report article on Fox Crossing Aspen Auction results posted 3/19/12
ASPEN REAL ESTATE – After two years of strong gains in the first quarter, real estate sales volume in the upper Roaring Fork Valley (Aspen, Snowmass Village, Woody Creek, and Old Snowmass) was down 28 percent in the first quarter of 2012, according to Tim Estin of Coldwell Banker Mason Morse [in The Estin Report on the State of the Aspen Market] . The number of sales, which has also jumped by double digits in 2010 and 2011, was down 27 percent. "In particular, Q1 2012 has not had the big ticket sales, Aspen and Snowmass home sales over $5 million and $10 million plus that we experienced the same time last year," Estin wrote. He found only one sale over $10 million in the upper valley in the first three months of 2012, compared to six during the same time frame in 2011. He found seven sales over $5 million in early 2012 compared to 12 in early 2011.
By Catherine Lutz, April 11, 2012 ABJ
Link to article
MLS #124303 – Aspen, Smuggler, Fox Crossing single family lot, Aspen, CO: Asking Price:$2,000,000; Sold at auction for $820,000 plus 10% buyers premium ($902,000).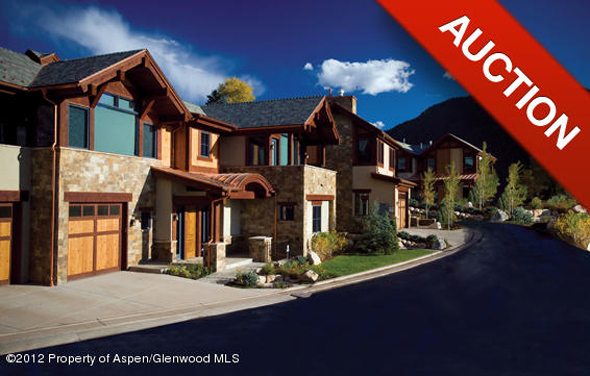 "Monthly Aspen Real Estate Report: Feb Anchors Drop in 1Q 2012 Sales", ABJ – The complete article is posted below.
ASPEN REAL ESTATE – Real estate sales fell in Pitkin County in February, for what is shaping up to be a much slower first quarter compared to the same three months in 2012.
More than $45 million worth of real estate changed hands in 46 transactions in February, representing a 61 percent drop in dollar volume and 8 percent decrease in number of sales compared to February 2011, according to the Land Title Guarantee Company monthly report for Pitkin County.
That's somewhat of a reversal from January 2012, which saw a 15 percent increase in dollar volume over January 2011 in Pitkin County, according to Land Title. But the number of sales that month—55—was a 29 percent decrease from the year before and the second-lowest number of sales in six years.
And things apparently didn't pick up much in March. Although Land Title doesn't release its countywide figures until early next month, two local real estate brokers who regularly analyze data have released information showing that first-quarter sales are down from 2011.
After two years of strong gains in the first quarter, real estate sales volume in the upper Roaring Fork Valley (Aspen, Snowmass Village, Woody Creek, and Old Snowmass) was down 28 percent in the first quarter of 2012, according to Tim Estin of Coldwell Banker Mason Morse. The number of sales, which has also jumped by double digits in 2010 and 2011, was down 27 percent.
"In particular, Q1 2012 has not had the big ticket sales, Aspen and Snowmass home sales over $5 million and $10 million plus that we experienced the same time last year," Estin wrote.
Estin found only one sale over $10 million in the upper valley in the first three months of 2012, compared to six during the same time frame in 2011. He found seven sales over $5 million in early 2012 compared to 12 in early 2011.
In his first quarter update to "The Big Red Book," BJ Adams and Company broker Andrew Ernemann wrote that the "$10 million plus market in Aspen/Snowmass has not matched the blistering pace set in 2011 thus far, so some of the dropoff in sales dollar volume can be attributed to those higher-priced sales."
Ernemann, who includes Aspen, Basalt, and Snowmass Village in his analyses, pointed to "modest drops" in the number of sales in Aspen and Snowmass (six and five fewer sales, respectively) compared to the first quarter of 2011, and an increase in sales (eight more than last year) in Basalt, which "continues to post activity gains as low-priced foreclosure and short-sale inventory clears off the market."
"Although there is a mixed bag of results for Q1 2012 our overall sentiment is that the market is 'sorting itself out' and will continue to further stabilize," Ernemann wrote.
Aspen real estate prices have stabilized, said Ernemann, who found that condo and townhome prices were the same compared to the same period last year, at $1,057 per square foot. Single-family homes in Aspen saw a modest drop, from $1,007 per square foot to $974 per square foot. Meanwhile, Snowmass Village saw a rise in prices, but the first quarter of 2011 was "abnormally weak," Ernemann wrote, so the gains might be inflated. Basalt had the reverse phenomenon: a strong first quarter 2011 that may have influenced the 30 percent drop in average price per square foot in 2012.
Land Title reported that the average single-family home price throughout Pitkin County dropped 21 percent in February, to $3.2 million. The $3.1 million median single-family home price, however, is an increase of 12 percent.
Ernemann's data also revealed that the average sales price discount in Aspen, Snowmass, and Basalt peaked in 2009 and has been steadily dropping since then. The average difference between a property's list price and sale price is 11 percent in Aspen, 8 percent in Snowmass Village, and 6 percent in Basalt, Ernemann wrote. There is less discounting in Snowmass and Basalt, Ernemann found, than in Aspen, where about 15 percent of the sales are being done at more than a 20 percent discount.
Overall, Ernemann found that it's important to keep 2011 in mind when analyzing 2012. Last year the market started out hot with a very strong first quarter, then slowed considerably the rest of the year.
"We are behind last year's pace but we expect the coming months to demonstrate 2012 will be a year of more consistency than 2011," Ernemann wrote. "Confidence is everything … While those issues have not gone away we appear to be in a more stable position today than one year ago with regard to buyer confidence."
Estin, who also looks at macro influences on the local market, offers a less optimistic take on the first quarter numbers.
Low snow and the warm winter, not just in Aspen but across the country, probably contributed to the slowdown in sales, Estin believes.
Declining inventory (which Ernemann also acknowledged) might also be a factor, said Estin. Listings declined 30 percent between March 2009 and March 2012, according to Estin, and not completely because of sales (which generally means an increase in demand, sales, and sales prices).
Some of the decline "suggest(s) sellers would rather pull their properties off the market than sell in a still difficult market and further capitulate at lower prices … they'd rather wait for the 'recovery,' which had appeared to be strengthening throughout the first quarter," wrote Estin, noting that most of the newer spec homes have been sold. "Whether it's the weather or the lack of quality 'value' inventory, buyers have taken a step back."
Estin also spoke about the yo-yo of economic news, the "sputtering" of the economy that's seemed to follow rebounds, and how that has factored into a sense of uncertainty among potential buyers.
"The experts lack the fortitude, the strength of their convictions, to make the call that we are out of the woods," he wrote. "And right now, buyers may be slipping back into uncertainty, unwilling to purchase expensive Aspen properties unless there's certifiable value."
February 2012 transactions at a glance
(Source: Land Title Guarantee Company)
PITKIN COUNTY
February dollar volume: $45,363,729
February number of transactions: 46
Decrease from February 2011 (dollar volume): -61%
Decrease from February 2011 (transaction volume) -8%
Year-to-date dollar volume: $142,017,044 (-29% decrease)
Year-to-date transactions: 101 (-21% decrease)
Bank sales: 4, $1.24 million
Average single-family home price: $3,247,683 million (down 21% from 2011)
Median single-family home price: $3,112,500 million (up 12%)
February fractional sales: 12 (8% decrease from February 2011)
February fractional dollar volume: $4,645,400 million (5% increase over February 2011)
GARFIELD COUNTY
February dollar volume: $20,486,100
February number of transactions: 61
Increase over February 2011 (dollar volume): 25%
Increase over February 2011 (transaction volume): 42%
Year-to-date dollar volume: $42,553,000 (26% increase)
Year-to-date transactions: 132 (33% increase)
February bank sales: 22 sales, $6.2 million (36% of sales and 30% of dollar volume)
Year-to-date bank sales: 46, $10.85 million (35% of sales and 26% of dollar volume)
Average single-family home price: $322,375 (up 4% over 2011)
Median single-family home price: $242,300 (up 8% over 2011)