Follow@EstinAspen on twitter for blog posts and news on Aspen real estate. Click the twitter button directly below or the "conversation" button at the end of this post. At twitter, you'll have the option of signing up for a twitter account and/or to receive as RSS feed of this blog with no twitter sign-up. I am working on creating other feed and subscription options.

The Estin Report: 3rd Quarter 2010 Aspen Snowmass Residential Real Estate should be released on Mon. Nov 8th, 2010.

Market in Brief: Downtown Aspen Commercial Properties in Play – Ducks Lining Up

Downtown commercial Aspen has seen a concentrated number of properties sell in past 3 months. As in Monopoly, developers are lining up their chips at 40-50% reduced prices from over 2 years ago. The activity is motivated not only by deeply discounted Aspen Core property values from the market peak but also in anticipation of the new downtown Aspen Arts Museum project to be built at the present Weinerstube Restaurant site. This project provides a new downtown focus and is resulting in an assemblage of critical redevelopment mass on the east side of downtown Aspen that is likely to reshape Aspen's core commercial landscape far into the future. Not to mention Aspen's City Market is finally undergoing a major facelift and upgrade to be completed by June 2011 – coincidental or not? As one who's walked these city streets for more than 40 years, I find it exciting and thrilling to feel this energy and the new possibilities that will convert long 'wasted' downtown parking lot spaces and out-dated buildings with, I hope, more vital and purposeful uses. The historic buildings amongst them will be redesigned in similar fashion to the Conners Cabin and Mother Lode redevelopment projects. Amidst general economic malaise and a dispiriting election season, this is a bright light.
Here's a list and photos of recent activity and Aspen Times and Aspen Daily News articles on downtown Aspen commercial real estate market activity archived in the Aspen Real Estate Archives section of this site since early August 2010.

Local News Articles on Downtown Aspen commercial real estate market activity (Since May 2010)
Recent Downtown Aspen Commercial Sales Activity (Since May 2010): MLS #'s 118336,103689,117103,118283 Link valid for 30 days until 11/30/10

MLS 118336 / 205 S. Spring St – read details below

MLS 103689 / 632 E. Hopkins Ave – read details below

MLS 117103 / 630 E Hyman Ave / Patio Building Penthouse- under contract
Not in MLS 623 E Hopkins Ave / Suzy's Store – under contract

MLS 118283/ 517 & 521 E. Hyman Ave & Sw Corner Of Hunter & Hyman Aspen – read details below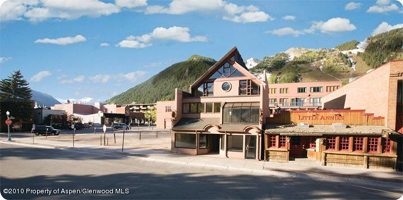 MLS 118283/ 517 & 521 E. Hyman Avenue & Sw Corner Of Hunter & Hyman Aspen: An important prominent downtown oversized lot has gone under contract described as "Prime Corner in Aspen's Central Core Little Annie's to Hunter Street, 3 Parcels in 1 Extraordinary Offering! With 150′ of frontage on Hyman Ave and 100′ of frontage on Hunter Street this 15,000 SF prime corner lot is situated 1&1/2 blocks from the Little Nell and Gondola Plaza and less than 100 yards from Boogie's and the Paradise Bakery in the heart of Aspen's Commercial Core. The Property is alley served across its entire breadth affording investors and developers the opportunity to maximize the use of the Hyman Ave and Hunter Street frontages. The parcels being offered include the real property improvements at both the former Huntsman Gallery Building and the Little Annie's Building."

MLS 118336 – 205 S Spring Aspen, CO: Sold Price: $2,830,000/$2,425 sq ft. This is a downtown commercial lot/redevelopment sale. The existing structure is a 1,167 sq ft, 2bdrm/1.5 bath 1881 built/1965 remodeled home in downtown Aspen located one block north of the existing Weinerstube Bldg where the proposed Aspen Art Museum is planned. It would appear that the redevelopment plan for this parcel would be similar to Conners Cabin behind City Hall. 2009 Taxes: $5,778 sq ft. City of Aspen RETT 1.5% Transfer tax to buyer applies. A commercial building directly across the street from this listing sold the week of May 16th. See Estin Report May 16th blog post: MLS #103689 – 632 E Hopkins 119 South Spring Street, Downtown Commercial Bldg., Aspen, CO: Sold Price: $ 3,100,000/ $ 579 sq ft; Ask Price: $ 3,900,000. (Original Price: $ 6,500,000 and 796 days on the market – typo corrected 5/25/10). This commercial property, 5,348 sq ft, was built in 1976. The listing broker says "Great downtown commercial building. Corner location in the C-1 Zone. Stand alone building with 2 current tenants in place. Double street front in both Spring and Hopkins with dedicated parking for tenants.Total square footage includes 760 basement storage. Total Leasable square footage is 4,588." (Description courtesy of Mason and Morse, Aspen)
————————————————————
Market Highlights this Week Last Week's Aspen and Snowmass Sales and Under Contract Activity
Last week's real estate sales activity appears below for the upper Roaring Fork Valley for all property types over $250,000 excluding fractionals in Aspen, Snowmass Village, Woody Creek and Old Snowmass (although Residences at Little Nell and Dancing Bear are included due to their higher fractional price points). Because the MLS link(s) to photos and property details expire after 30 days, photos and descriptions of the closed properties are posted to preserve an archive of sold market activity.
Last Week's Activity Summary Spreadsheet
For the past week's sales and under contract activity, see The Estin Report: Aspen Snowmass Weekly Real Estate Sales Statistics Oct 24 – 31, 2010
Closed (2): MLS #113257, 108928 Link is valid for 30 days until 11/30/2010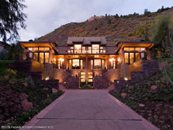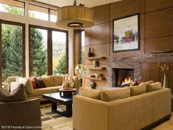 MLS #113257 – Half duplex, 1592 Silver King Drive West Unit Aspen, CO: Sold Price: $5,150,000 / $990 sq ft; Ask Price: $5,300,000./$1,018 sq ft (Original price: $6,750,000 and 387 days on market since 9/20/09). This is a developer/builder project built in 2009, a half duplex overlooking the Aspen Public Golf Course and towards a magnificent Maroon Bells view. It is 4 bdrms/ 4 bath plus 2 half baths, 5,202 sq ft woith a 600 sq ft garage on .36 acres. The listing broker comments are, "Enjoy captivating views of Aspen Mountain, Highlands, Buttermilk, Pyramid Peak, & the golf course from this brand new sophisticated mountain contemporary townhome. Custom designed w/high level finishes, the open & flowing floor plan features indoor and outdoor living & entertaining areas, large gourmet kitchen w/Sub-Zero & Viking appliances and wine cooler, private master suite on its own level w/sun terrace & serene garden, master bath w/onyx & mahogany, guest baths w/elegant contemporary tile & stone, media/game room w/projection TV, billiards, & wet bar, gas fireplaces, floor-to-ceiling windows & doors, office/5th bedroom, elevator, A/C & humidification. Landscaped property with a snowmelted courtyard driveway & hot tub. Near bike path, hiking trails, & free shuttle to downtown." 2009 Taxes: not published; HOA: unknown. (Photos and details courtesy of Morris & Fyrwald, Sotheby's Intl Realty)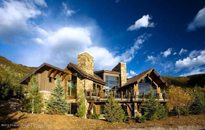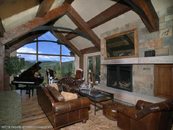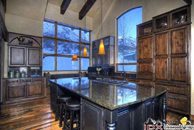 MLS #108928 – single family home, 990 Horse Ranch Drive Snowmass Village, CO: Sold Price: $3,100,000/$887 sq ft; Ask Price: $3,395,000/$971 sq ft. (Original Price: $5,800,000 and 884 days on the market since 7/2/08). This is a beautiful 2006 built home, 4 bedroom/3.5 bath, 3,495 sq ft with a 700 sq ft garage on 1.34 acres. The list broker says, "Classic Colorado Mountain home with a touch of contemporary features include warm, open floor design w/ floor-to-ceiling windows, custom stone fireplaces, radiant antique reclaimed oak floors, gourmet kitchen w/ custom built-ins & breakfast nook. Beautiful Master Bedroom is located on main living area. Spectacular spiral staircase leads below to family/media room, guest suite & guest bedrooms including a kids' bunk room. Above, spiral leads to a private office w/ views. Outdoor heated living space overlooks views of Mt. Elbert, Ajax and Two Creeks." 2007 Taxes: $9,912; HOA Dues: $175 Yr. (Photos and description courtesy of Morris & Fyrwald, Sotheby's Intl Realty)

Under Contract / Pending (5): 118283, 117826, 110329, 111504, 116219 Link is valid for 30 days until 11/30/2010 Photos and descriptions of pending properties are not posted unless special circumstances dictate such as the large Aspen Legacy property that went under contract last week. See above, "Downtown commercial activity".

Tim Estin is an active Aspen Snowmass real estate broker and he welcomes your comments, inquiries and business. Email him or call 970.920.7387. Subscribe to The Estin Report and blog on twitter @EstinAspen or click "Join the conversation" below:


new TWTR.Widget({ version: 2, type: 'profile', rpp: 4, interval: 6000, width: 250, height: 300, theme: { shell: { background: '#333333', color: '#ffffff' }, tweets: { background: '#000000', color: '#ffffff', links: '#4aed05' } }, features: { scrollbar: false, loop: false, live: false, hashtags: true, timestamp: true, avatars: false, behavior: 'all' } }).render().setUser('EstinAspen').start();
Disclaimer: The statements made in The Estin Report and on Tim Estin's blog represent the opinions of the author and should not be relied upon exclusively to make real estate decisions. A potential buyer and/or seller is advised to make an independent investigation of the market and of each property before deciding to purchase or to sell. To the extent the statements made herein report facts or conclusions taken from other sources, the information is believed by the author to be reliable, however, the author makes no guarantee concerning the accuracy of the facts and conclusions reported herein. Information concerning particular real estate opportunities can be requested from Tim Estin at 970.920.7387 or by email.. The Estin Report is copyrighted 2010 and all rights reserved.. Use is permitted subject to the following attribution: "The Estin Report: State of the Aspen Market, By Tim Estin, mba, gri, www.EstinAspen.com"

__________________________________________________