(Read and print full article PDF) Colorado Sun, By Jason Blevins, May 11, 2021 
Excerpt from Tim Estin interview:
Wealthy urban refugees spending big: The wealthy from big cities such as Chicago, New York, Miami and Dallas are driving some of the biggest shifts. In Eagle County in 2020, there were 83 deals for more than $5 million each, up from 40 in 2019. In Pitkin County, 51% of buyers were from out of state, marking the highest percentage of non-Colorado buyers in recent memory. The majority of out-of-state buyers in the Roaring Fork Valley came from Texas, followed by Florida, California and New York. 
And those out-of-towners were dropping big dollars. In 2020, Pitkin County logged 106 deals for more than $10 million each, up from 27 in 2019. 
And so far this year, homebuying in Pitkin County's Aspen and Snowmass "has been off the charts," said longtime Aspen Snowmass Sothebys real estate broker Tim Estin. 
From July to December, real estate records were set nearly every month in Aspen and Snowmass.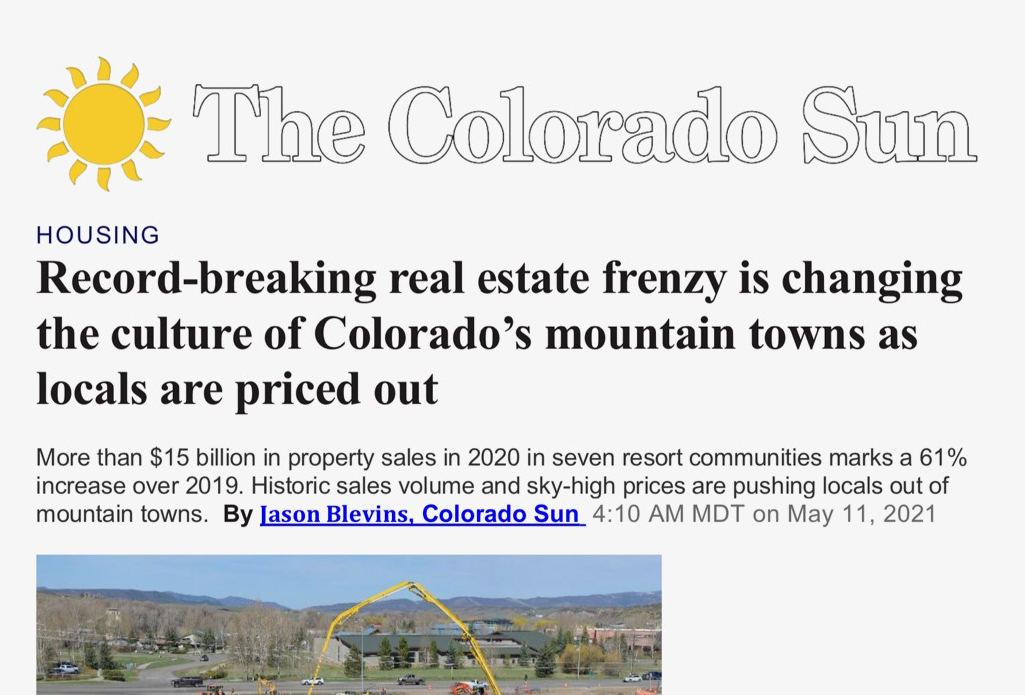 "A constant refrain last summer and fall was this can't possibly sustain itself," Estin said. "But, at present, it is and even more."
Estin keeps close tabs on soaring prices. The average selling price for the 30 three-bedroom condos that sold in downtown Aspen in April was $2,425 per square foot. "A staggering number," he said. 
As the average price for a single-family home in downtown Aspen reached $12.6 million last month, sales have exploded in Snowmass, where the average selling price for a home was $4.9 million in April.  
Estin remembers the crash of late 2008 and 2009 in the valley, one of the few moments when Aspen real estate stuttered. 
He remembers watching real estate markets collapse in other locations but joined just about everyone in the Roaring Fork Valley in thinking that the bursting bubble would not reach Aspen and Snowmass, where real estate values have never endured a sustained decline.
"It didn't look like anything could affect us. The best experts missed it," he said. 
This time, he's looking hard for signs of another collapse. Maybe it could be inflation. Historically low interest rates could climb and chill the market. Any time every financial metric is pinned at record levels, it's safe to expect some sort of correction or downturn, he said. 
"At some point, things have to change and they will change," said Estin, who suspects that the loosening of pandemic restrictions will sustain a strong economy for the coming months, maybe even a year or two. "I look back at last summer, and everyone who was buying, they were sort of fear-motivated. They wanted to get out of urban areas and come here to open spaces and beautiful country. Now, the motive is not fear. It's relief. It's almost like a celebration."
(Read full article)