The full report with narrative and charts, tables, photos was released July 20, 2016 v6.6 The Executive Summary is below. Click the report coverto the full 28 page report PDF version. The print edition is available at kiosks around town, at Sothebys/415 Hyman Mall, at Sothebys/300 S Spring St opposite the new Aspen Art Museum and at the airport.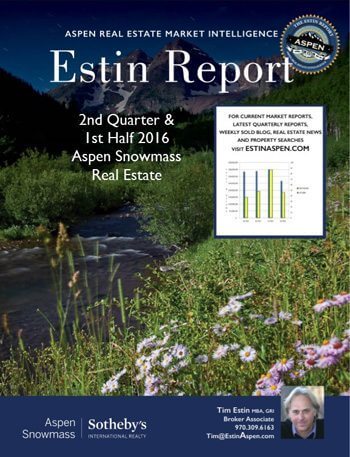 Click cover above for full 28 page report PDF

(To read, Adobe pdf reader is required. Adobe download here)
Executive Summary
This report breaks down both the 2ndQuarter and 1stHalf 2016 Aspen Snowmass real estate market into various categories and neighborhoods. The goal is to provide an overview and analysis of the overall market and various sectors in as much detail as possible.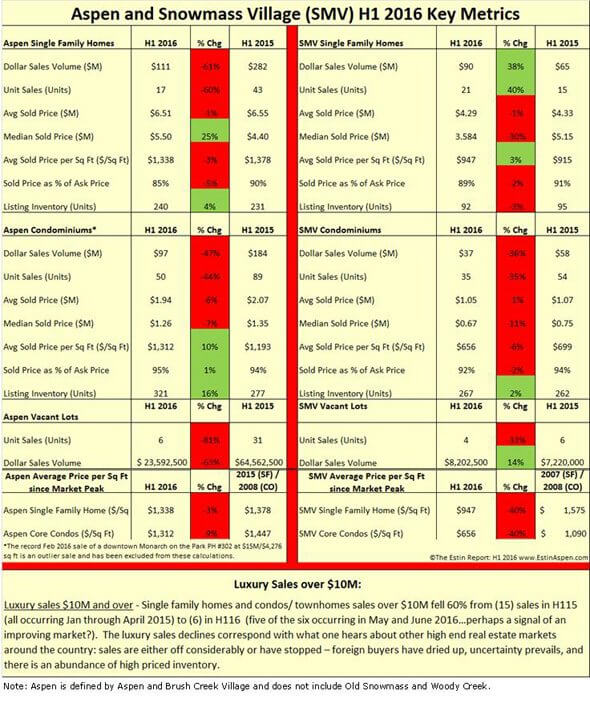 Click tableto enlarge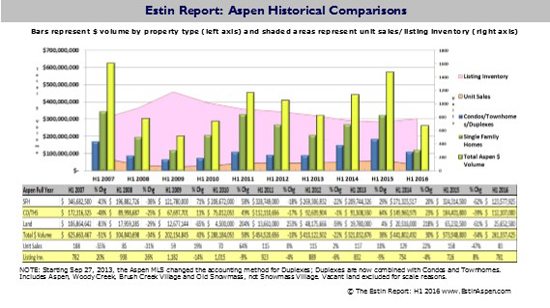 Click table to enlarge
In the 1st Half of 2016, the combined Aspen Snowmass real estate market turned down suddenly and sharply. The total dollar volume of sales fell 43% from $700M in H1 2015 to $396M in H1 2016. Units sales, the more reliable indicator of market activity, dropped 38% from (230) sales in H1 2015 to (143) sales in H1 2016.
The Aspen real estate market alone, typically accounting for 70-80% of the total combined Aspen Snowmass marketplace but 66% in H1 2016, experienced its worst first half year since H1 2010 in unit sales and its worst in dollars sales since H1 2009 – periods in the grip of the economic crisis and indeed the bleakest of the bleak. Aspen dollar sales dropped 56% from $530M in H115 to $231M in H116: units sales fell 51% from (148) sales in H115 to (72) sales in H116; inventory of listings for sale increased 10% from (579) properties for sale to (635) during the same period. This was the first inventory increase in seven years since 2009.
The 1st Half 2016 market performance is a stunning reversal from the sizzling market of 2015 when sales in a number of categories and neighborhoods were the best of the past ten years. The past 6 month slowdown combined with the increase of active listings for sale is a recipe for prices to fall.
At present, the market has shifted to the favor of buyers.
Through Dec 31st, 2015 most in the Aspen real estate community felt the strong market would continue into 2016. This was in spite of the fact that 2015 marked the 7th year of a generally rising local market and that historically, the Aspen real estate pattern has demonstrated 6-7 year step-like cycles. Caution and pricing moderation at year's end 2015 were party spoilers and difficult concepts to grasp.
Instead, the belief was that the "Big Mo" would continue as the economy further improved, interest rates remained historically low and the stock market reached for records … Thumbs up, all systems go Aspen.
But the momentum abruptly ended in early Jan to mid-Feb 2016. Financial markets fell sharply amidst the realities of a China slowdown, plummeting oil prices and pervasive flat or negative global economic growth.
In mid-Feb. the US stock market began to recover significantly as oil prices ticked up and the China situation appeared less onerous. The DJIA was fast approaching historic highs and one would have thought that Aspen real estate would have resumed its upward march after the early year rough patch. Not so.
Here are some key metrics for the individual Aspen and Snowmass Village markets.'Bottom line – What's ahead' comments are at the end of this summary:
ASPEN
SINGLE FAMILY HOMES
Aspen single family home sales have suffered the most of any property type in the past six months. Home sales are down 62% in dollar sales volume from $324M in H115 to $124M in H116 and off -51% in unit sales from (51) to (25) unit sales in the same periods.
No neighborhood has been spared and certain price points have suffered more so than others (see below). There has been (1) sale in Aspen's most desirable West End in H116 versus (10) last year H115, a minus 90% decline in neighborhood activity; there have been (4) sales in the equally popular Red Mountain area versus (7) last year, a minus 43% decline. Listing inventory increased 3% from (331) last year to (340) this year.
The average price per sq ft of Aspen sold homes has fallen 22% from $1,338 sq ft last year to $1,095 sq ft this year.
The median Aspen home sold price was off 34% from $4.17M in H115 to $2.75M in H116.
Aspen homes are selling at 88% of ask price in H116 versus 89% in H115 and they are selling at 86% of original ask price in H116 versus 85% in H115.
Aspen home sales by price points
Luxury sales$10M and over – single family homes and condos/ townhomes – fell 60% from (15) sales in to (6) in H116.The luxury sales decline corresponds with what one hears anecdotally about other high end real estate markets: sales are off considerably – foreign buyers have dried up, uncertainty prevails, and there is an abundance of high priced inventory.
In May 2016, Aspen Snowmass Sotheby's International Realty management and brokers joined their domestic and international partners in Las Vegas for a 3-day event sharing global trends. The take -away: "The market for properties $3M and up has slowed down from New York to Cairo. Predictions are for a flat slow year 2016 with people seeing how the Market reacts, what happens to oil prices and who wins the election. 2017 will begin a new phase for high end real estate and should pick up a little. Everyone selling high end appears to be in agreement and is singing from the same hymn book."
Record Price per Sq Ft Sale– In spite of the overall market meltdown, a record price per sq ft was set with the Feb 2016 sale of a downtown Monarch on the Park Penthouse #302 which closed at an astounding $15M/$4,275 sq ft.
Aspen's mid-market– Home sales priced $3M-$7.5M are off the most of any price-points, down 75% from (28) sales in H115 to (7) sales in H116.
Absorption Rate/Time it Takes to Sell a Home Has Doubled and More – In most Aspen neighborhoods, the time it is taking to sell a single family home, the absorption rate, has almost doubled or tripled depending on the area in H1 2016 over H1 2015. (See Page 17: Sales by Aspen Neighborhoods)
ASPEN
CONDOS/TOWNHOMES
Aspen condos/townhomes suffered less than home sales but still significantly: condo dollar sales were down 39% from $184M in H115 to $112M in H116, and unit sales dropped 43% from (90) sales in H1 15 to (51) in H116. Listing inventory increased 15% from (282) then to (325) now.
Avgerage price per sq ft of sold condos/townhomes and duplexes has risen 16% from $1,185 sq ft last year to $1,360 sq ft this year. Why? Sales of highly desirable new built and newly remodeled condo product at premium prices is driving the average price per sq ft metric upwards.
Median Aspen condo price was up 7% from $1.2M in H115 to $1.285M in H116.
Aspen condos were selling at 95% of ask price in H116 versus 95% in H115 and at 90% of original list price this year versus 94% in the same periods.
SNOWMASS VILLAGE
SINGLE FAMILY HOMES
(SMV) single family home market has been the markets relative 'shining light' in the past 6 months as buyers recognize they can buy at 40-50% discount to Aspen prices. Historically, the differential has been closer to minus 25-30%. SMV home sales are up 38% in dollar sales volume from $65M in H115 to $90M in H116; unit sales are up 40% from (15) in H115 to (21) unit sales in H116.
Average price per sq ft of SMV sold homes has risen 3% from $915 sq ft last year to $947 sq ft this year. (Two prime ski-in/out homes sold at $10.95M/$1,851 sq ft and $8.1M/$1,772 sq ft which skewed the averages disproportionately higher. Without these two sales, the avg. price per sq ft would have been $847. There were no such disproportionate home sales in H115.)
The median SMV home price fell 30% from $5.15M in H115 to $3.84M in H116.
SMV homes were selling at 89% of ask price in H116 versus 91% in H115 and at 84% of original list price same time this year versus 90% last year.
SNOWMASS VILLAGE
CONDOS/TOWNHOMES
SMV condo/townhome sales were off 36% from $58M in H115 to $37M in H116; unit sales were down 35% from (54) units sold last year to (35) units this year.
Average price per sq ft of sold SMV condos/townhomes and duplexes has fallen 6% from $699 sq ft last year to $656 sq ft this year.
Median SMV condo sales price was down 11% from $750.000 in H115 to $670,000 in H1 2016.
SMV condos were selling at 95% of ask price in H116 versus 95% in H115 and at 90% of original list price this year versus 94% in the same periods.
BOTTOM LINE — WHAT'S AHEAD
While many sellers express optimism and relative buoyancy heading into the 2016 summer selling months – as prime-time Aspen summer activity masks so well the reality of what has really happened in H1 2016 and as the 2nd half of the year is historically stronger – there are sobering macro uncertainties at play – Brexit, China slowdown, lack of economic growth in US and world markets, commodity price declines, strength of the dollar discouraging foreign investment, US Presidential election, amongst others.
It has, however, been mostly true that as the stock market goes, so goes Aspen. So, there is reason to hope, but …there are bogeyman out there and the lingering memory of the Great Recession /Crisis adds to the pervasive mix of uncertainty and unease.
According to Bloomberg in early July, the level of pessimism in the financial markets today is at its highest point since 1987 even though the stock market is at it's all-time high.
Smart sellers would do well to get ahead of this downward trend and price accordingly – which means realistically. As sales are occurring at 10-15% off ask price, there is room for prices to come down. The market is telling us so.
At present, there are (83) Aspen and Snowmass Village properties listed at $10M and above, and (2) are under contract/pending; there are (100) listings priced between $5-10M, with just (8) under contract. (For actual sales by neighborhood, see Pgs 17 and 24.)…Say it ain't so, but it is.
There are vivid memories from the recession of stubborn sellers following the market down with their overpriced properties into what became a death spiral. Many never seemed to get ahead of the market by offering buyers a compelling reason, price, …to buy. Admittedly, a difficult action for sellers to take but there is very definitely a price-to-risk ratio that buyers consider and prioritize in their purchase decision.
Pre-emptive, or defensive, pricing can result in a positive outcome in a downward market. A competitive price in today's high priced market will stand out and command buyer's attention.
As one broker said, "Ask your client, are you a seller or a waiter? A waiter is a high priced seller who says "Let them make an offer", which of course the buyers won't. They don't…Price signals seriousness of intent. Have you, the broker, appropriately communicated – "Do you want to be the next Seller in your property's market segment? If so, your price needs to be $X.""
In an environment where sales have fallen sharply and the inventory of properties for sale is rising, a seller has to price lead to get results – a broker is not going to show all listings and will make a subjective judgment as to what is priced well and appropriately… especially when there is so little sense of buyer urgency.
Buyers would do well to seek more motivated sellers and situations and find opportunities. Interest rates are expected to remain low for the foreseeable future and money is super cheap. Above all, do not be afraid to make an offer. If anything, it is a starting point for a negotiation to begin.
With historic low yields everywhere, Aspen remains a safe harbor with the advantage of proven historical appreciation not to mention the ability to enjoy the use of one's asset now. There is only one Aspen and the town has done a remarkable job preserving its heritage, its environment, maintaining its high quality of life and offering world-class amenities.
Whether this H1 2016 downturn is a 'temporary' 6 month aberration or a longer term trend, the time of maximum uncertainty is the time to step up and make offers as the recession so demonstrated, whereas a 'wait and see' mind-set may lose out on the better deals.
Disclaimer: The statements made in The Estin Report and on Aspen broker Tim Estin's blog represent the opinions of the author and should not be relied upon exclusively to make real estate decisions. A potential buyer and/or seller is advised to make an independent investigation of the market and of each property before deciding to purchase or to sell. To the extent the statements made herein report facts or conclusions taken from other sources, the information is believed by the author to be reliable, however, the author makes no guarantee concerning the accuracy of the facts and conclusions reported herein. Information concerning particular real estate opportunities can be requested from Tim Estin at970.309.6163or byemail.The Estin Report is copyrighted 2016 and all rights reserved. Use is permitted subject to the following attribution with a live link to the source:"The Estin Reporton Aspen Real Estate."

_____________________________