The Estin Report Aspen Snowmass Report market reports posts a 10-page snapshot* on or near the 1st Monday of each month.
Bottom Line Feb 2023 While inventory remains at record historic lows, in Feb we saw a 68% increase of Aspen properties for sale and in Snowmass Village a 78% increase. More properties are continuing to come onto the market – a positive sign that perhaps market dynamics are slowly shifting in the buyer's direction. Referring to the top charts on Pgs 6 & 8, last year Feb 2022 appears to have been the inventory trough, the lowest point ever.  We are  coming out of that bottom now although inventory of available properties for sale continues to be at historic record lows. A limited number of properties for sale keeps prices in general high. And we're still there. At the end of Feb 2023, there were  (207) active listings in Aspen Snowmass compared to (527) pre-pandemic at the end of Feb 2020, -61% less now than in more "normal" times. Anecdotally from what I've discussed or heard from other brokers around the country, the story is similar in many other luxury real estate markets: low inventory, high prices, economic uncertainty and a major transaction slow-down. There's talk that New England and Southern Florida markets are "taking off'" as of early spring 2023.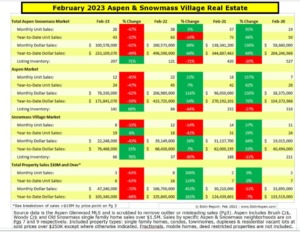 Click images to enlarge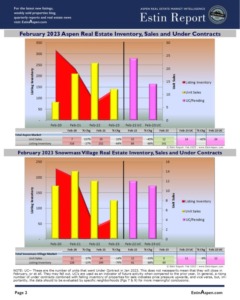 Links to Feb 2023 Aspen and Snowmass Village Sold Property Photos and Details
Aspen Feb 2023 Closed Properties.   This link is valid until 4/1/2023
Snowmass Village Feb 2023 Closed Properties. This link is valid until 4/1/2023
For sales assistance & inquiries, please call/txt Tim Estin, Aspen Snowmass Sotheby's broker, at 970.309.6163 or email.
Released Mar 6, 23
_____________
The Estin Report posts a 10-page monthly Aspen real estate market report "Snapshot" on or near the 1st Monday of each month.  The Snapshot presents a "bottom line" summary and raw data of the subject month and YTD performance for residential real estate sales in Aspen and Snowmass today. It includes on and off-market sales and scrubbed data to remove "outliers"  to present the most accurate and relevant data available. There are (3) sections: 1) Total combined Aspen Snowmass Village Market; 2) The Aspen Market; 3) The Snowmass Village Market.  It features charts, tables and 30-day live links to photos and details of sold properties and compares the subject month to the same time in prior years. The Monthly Snapshot is the only Aspen and Snowmass property sales information widely published in a timely and consistent manner early each month. This information is deemed reliable but cannot be guaranteed.
The Estin Report© is copyrighted 2023 and all rights reserved.
Use is permitted subject to the following attribution with an active link to the source: The "Estin Report on the Aspen real estate market."