The Estin Report Aspen Snowmass Report market reports posts a 10-page snapshot* on or near the 1st Monday of each month.
Bottom Line May 2023
Inventory continues to climb with a surge of new listings in early June for the summer selling season yet it remains at historic lows; There's little relief in prices but perhaps slightly more negotiating room. This has been the theme all year. It's a seller's market but with greater realism – the pandemic sales craziness is over and some degree of normalcy has returned. But what's not 'normal' is that more people than ever want to experience and live the Aspen lifestyle, remote work/play has made this possible and demand exceeds supply in a way we've never experienced before.
Aspen Single Family Home Sales: In May 2023, buyers paid a median price of $20.5M/$4,190 per sq ft for a single family home in the Aspen market; a year ago, they paid $32.43M/ $4,125 sq ft, -37% YOY in price. In May 2023, there were (8) Aspen single family homes that sold – (3) of these were under $20M, (5) were over $20M with (2) of these over $40M. These are staggering numbers.
Aspen Condo Sales: In May 2023, the median price of an Aspen condo is $3.85M/$3,714 sq ft vs $6.0M/$4,043 sq ft last year, -36% YOY in price.
Snowmass Village unit sales in May 2023 are up 69% YTD – Here's why: A huge tranche of new built condominiums – that went under contract pre-construction two years ago – closed in Apr and May 2023: There were (47) newly completed Electric Pass Condos that closed in March and (6) more closed in May upon issuance of their certificate of occupancy.  These units went pending pre-construction Mar-Sep 2021. They are 2-3 bdrms, 932-1547 sq ft selling between $1.35M – $3.2M. The avg sold price/sold price per sq ft was $2,010,000/$1,597 sq ft. In this report, all SMV condo sales, including Electric Pass sales, are totaled together.
Click images below to enlarge. (Some of these jpgs and enlarged pdf images below are very fuzzy and we are working figure out why. For best results, open the report pdf itself. Link is to the right.)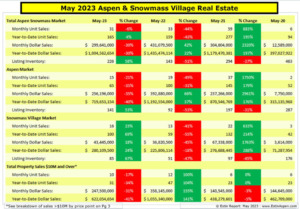 May 2023 Summary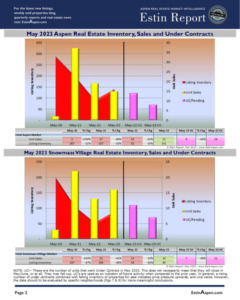 May 2023 Inventory, Sales, Under contracts/Pendings

                                Click images to enlarge.
Links to May 23 Aspen and Snowmass Village Sold Property Photos and Details:
Aspen May 23 Closed Properties.   
Snowmass Village May 23 Closed Properties. 
Released June 9, 2023.