Tim Estin is an active Aspen real estate broker with Mason Morse located in the center of Aspen. This blog, www.AspenRealEstateBlog.com or Tim Estin's blog, is released Monday mornings and sometimes in-between. The Estin Reports are released quarterly or semi-annually, annually and also special reports. For blog archives, scroll to bottom of this page and search by date or topic. Or search this site in SearchEstinAspen.com on the menu bar. If it's about Aspen real estate, chances are there's something about it here. Follow @EstinAspen on twitter for Aspen Snowmass real estate news, market updates, statistics, commentary and reports or subscribe to RSS feeds with the button on the left.

Last Week's Market Highlights – Aspen Snowmass Real Estate Sales Statistics and Under Contract Activity appears below for the upper Roaring Fork Valley for all property types over $250,000 in Aspen, Snowmass Village, Woody Creek and Old Snowmass excluding fractionals. Because the MLS links below expire after 30 days, photos and written descriptions of closed properties with excellent photography are posted here to preserve an archive of sold market activity. For past sales, scroll to page bottom and search by time period.
Under Contract / Pending (9): MLS #118577, 117735, 121457, 115057, 122056, 119280, 113700, 122477, 122265 Photos and descriptions of under contracts are not posted unless special circumstances or significance dictate. This link is valid for 30 days until 10/18/11.

Closed (6): MLS #108084, 118988, 121183, 120907, 121870, 120904. This link is valid for 30 days until 10/18/11.
Select Sold Aspen Properties Last Week
MLS #108084 – single family home, 36 Glen Garry Dr: Sold Price: $8,812,500/$664 furnished; Ask Price: $11,900,000. (Original price $14,995,000 and 1,147 days on the market since 11/04/08.)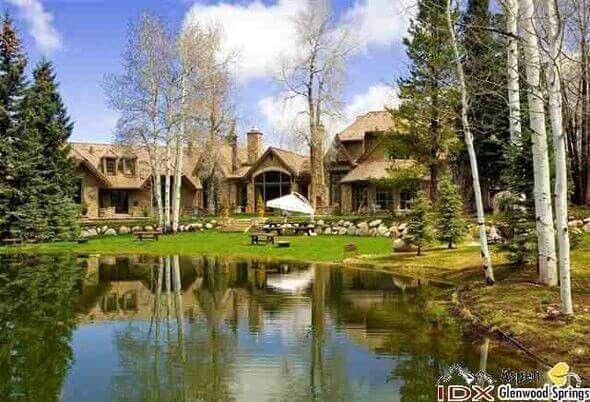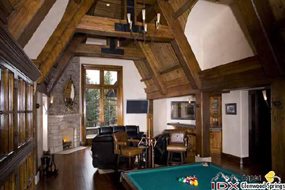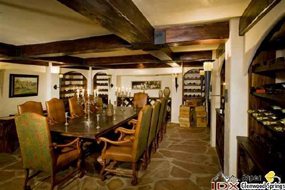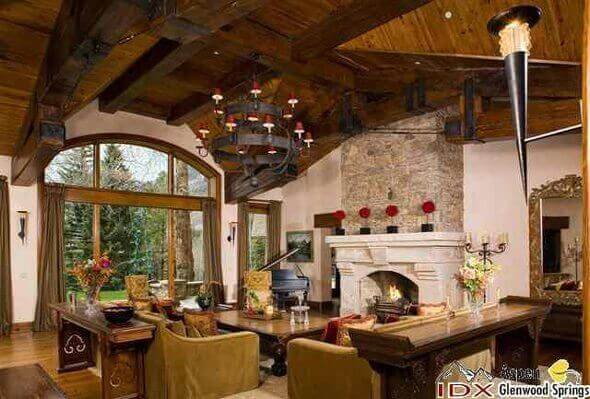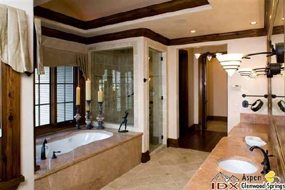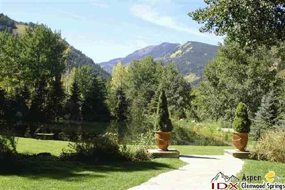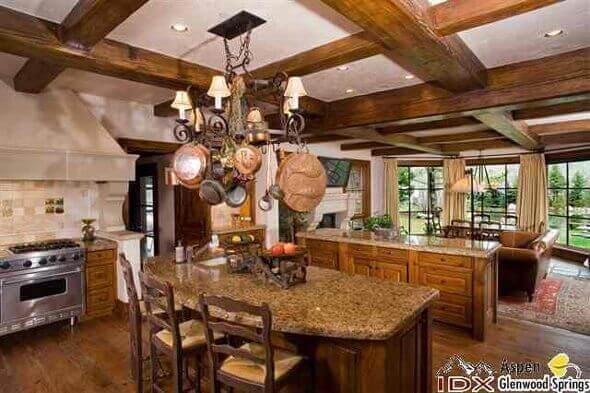 MLS #108084 – single family home, 36 Glen Garry Dr: Sold Price: $8,812,500/$664 sq ft furnished; Ask Price: $11,900,000. (Original price $14,995,000 and 1,147 days on the market since 11/04/08.) This is a 2002 built, 13,264 sq ft home on 2.15 acres with 3-car garage. The brokers comments are, "Magnificent 7 bedroom, 9 bath Aspen Highlands estate with ski-in access. Situated on 2.15 landscaped acres with mature trees and large fishing pond. Cathedral ceilings with massive timber beams, antique hardwood floors, doors and trim with high quality finishes throughout. Wood paneled library/office, great room with 25′ ceilings, dining room, bar/game room , gourmet kitchen, old world wine cellar and tasting room and caretaker apt with separate entrance. A.C. Ideal as a family home or corporate retreat.Directions: Maroon Creek Rd towards Aspen Highlands. 2nd left after ARC onto Glen Garry. 2nd driveway on right." (Photos and description courtesy of Joshua & Co.)
MLS # 120907 – Maroon Creek Townhome, 714 Oregon Trail, Aspen, CO: Bank sale – Sold Price: $3,800,000/$820 sq ft furnished: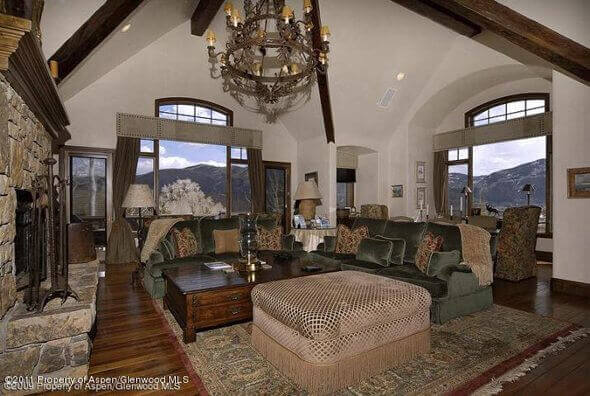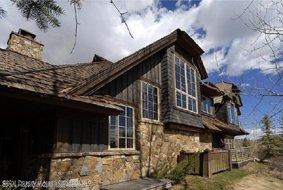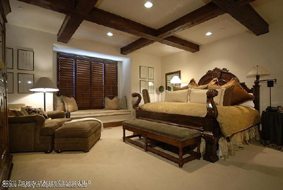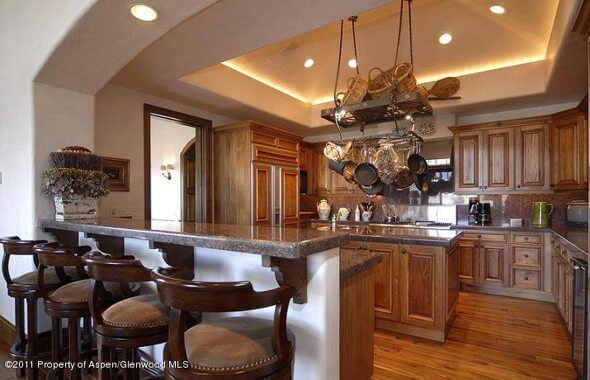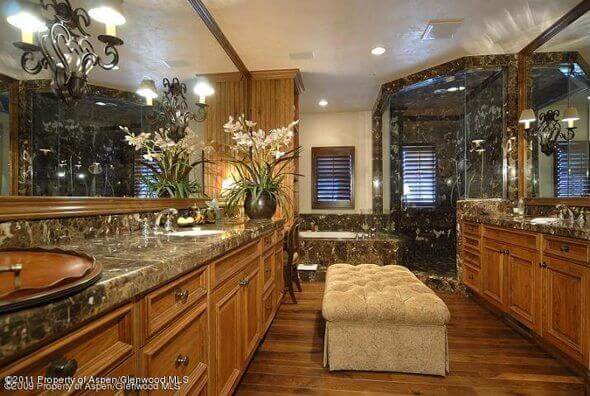 MLS # 120907 – Maroon Creek Townhome, 714 Oregon Trail, Aspen, CO: Sold Price: $3,800,000/$820 sq ft. Ask Price: $4,450,000. (Original Price: $5,495,000 and on the market 1,992 days since 06/01/06.) This is a bank sale of a 1998 built, 4 bedroom/4 bath, 4,633 sq ft townhome on the edge of the 18 hole Maroon Creek Club Golf Course. The broker's comments are, " Fantastic turn-key townhome with unobstructed views located on a quiet cul-de-sac just steps away from the Tiehack chairlift and a minute from the Maroon Creek Golf Course and Club. This beautifully furnished home features a great layout and design perfect for entertaining or just relaxing with family. Special features of this four bedroom, four bath home include an elevator, air conditioning, fireplaces throughout and a 2-car garage. The fourth bedroom has been converted to an attractive media office/study. A perfect home for any season." (Photos and description courtesy of Whitman Fine Properties.)
MLS #121183 – Older Red Mountain single family home, 240 Draw Drive Aspen, CO: Sold Price: $3,700,000/$925 sq ft unfurnished: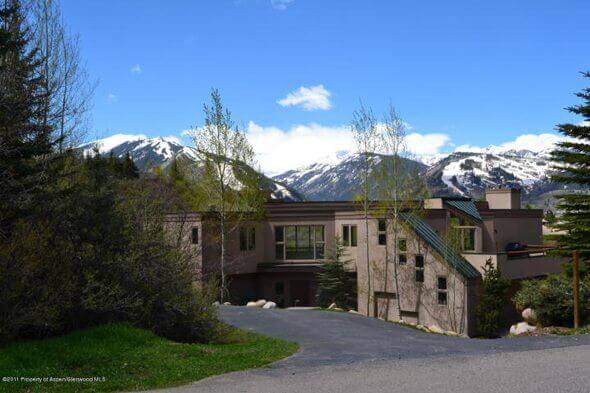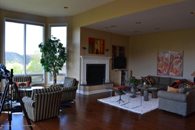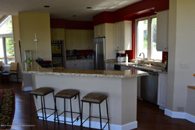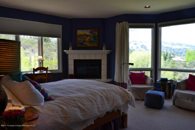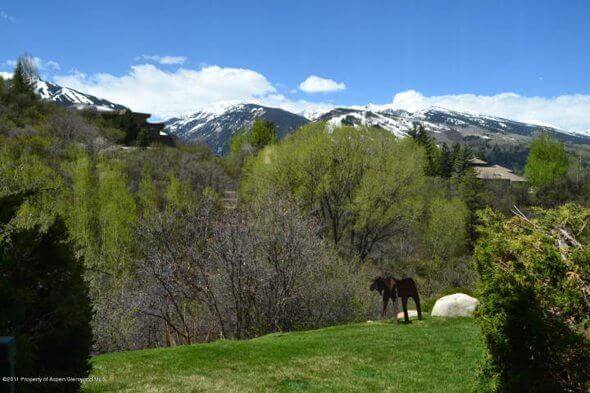 MLS #121183 – older Red Mountain single family home, 240 Draw Drive Aspen, CO: Sold Price: $3,700,000/$925 sq ft; Ask Price: $3,950,000. (Original Price: $5,95,000 and on the market 478 days since 09/14/2007. This is a 1992 built/2002 remodeled, 5 bedroom/5.5 bath, 4,001 sq ft home with 2-car garage on .71 acres. The broker's comments are,"Recently refurbished, this wonderful family home in Red Mountain's hottest new area — Draw Drive. Dramatic views from open and generous Living, Dining, and Kitchen areas. Master Suite and Guest Bedrooms provide wonderful vistas over the Roaring Fork Valley and surrounding mountains. Private yard and additional workshop/bay make a 3 car garage. Exterior repainting and landscaping to be completed in the next few weeks." 2010 Taxes: $8,064 Yr; HOA Dues: TBD. (Photos and description courtesy of Mason Morse Real Estate.)

Links to recent market articles and report:

"Sales of Colorado Mountain Resort Homes in July Lowest in Years", 09/09/11 Business Section, Denver Post
"Mega-mansion Deals Spur Rebound in Aspen Market", 07/17/11 Sunday Business, Grand Junction Sentinel
The Estin Report: 1st Half 2011 State of the Aspen Market (released 07/14/11)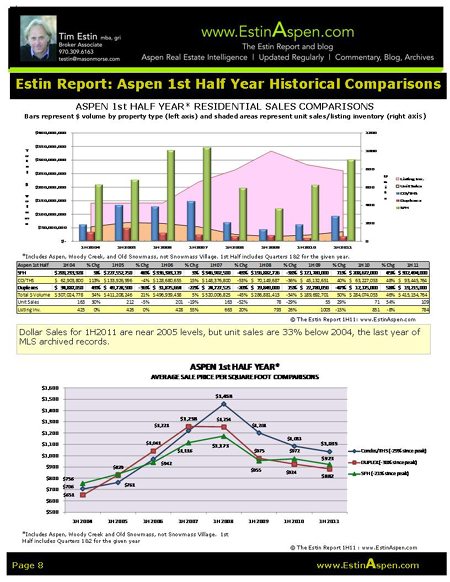 Tim Estin welcomes your business, inquiries and comments. Email him or call 970.920.7387. Subscribe to The Estin Report and Tim Estin's AspenRealEstateBlog.com on twitter @EstinAspen by clicking "Join the conversation" button below or click subscribe button in the menu bar on left:
new TWTR.Widget({ version: 2, type: 'profile', rpp: 4, interval: 6000, width: 250, height: 300, theme: { shell: { background: '#333333', color: '#ffffff' }, tweets: { background: '#000000', color: '#ffffff', links: '#4aed05' } }, features: { scrollbar: false, loop: false, live: false, hashtags: true, timestamp: true, avatars: false, behavior: 'all' } }).render().setUser('EstinAspen').start();
Disclaimer: The statements made in The Estin Report and on Tim Estin's blog represent the opinions of the author and should not be relied upon exclusively to make real estate decisions. A potential buyer and/or seller is advised to make an independent investigation of the market and of each property before deciding to purchase or to sell. To the extent the statements made herein report facts or conclusions taken from other sources, the information is believed by the author to be reliable, however, the author makes no guarantee concerning the accuracy of the facts and conclusions reported herein. Information concerning particular real estate opportunities can be requested from Tim Estin at 970.920.7387 or by email. The Estin Report is copyrighted 2011 and all rights reserved. Use is permitted subject to the following attribution: "The Estin Report: State of the Aspen Real Estate Market, By Tim Estin, mba, gri."

________________________________________________________________________