ASPEN REAL ESTATE – Tim Estin, a real estate agent with Coldwell Banker Mason Morse who releases regular market updates, reported a surge of single-family home sales in Aspen in October. With 15 in October 2012 and six the same month the prior year, this October had the highest number of single-family home sales in four years.And although November was off in terms of dollar volume, according to Estin, December is poised to be a big month with 25 pending listings expected to close by year's end, with a total worth of $103 million. Three of the properties are the kind of high-dollar sales that dominated 2011—ranging from $14.75 million to $23.5 million. Closings in December 2011 accounted for $51 million, according to Estin, allowing that year to end with a whimper and almost even with 2010. Estin anticipates that 2012 dollar volume from upper valley sales will be close to 2011, about $50 million to $100 million less.
By Catherine Lutz, Dec. 10, 2012 ABJ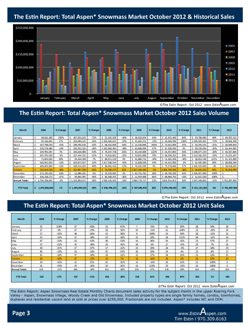 The Estin Report: November 2012 Aspen Market Snapshot
Full article link or read below
Strong October real estate sales boost end-of-year prospects
Catherine Lutz, Dec. 10, 2012 ABJ
ASPEN REAL ESTATE – Two strong months in a row of real estate sales in Pitkin County and a flurry of expected year-end closings in the upper valley are expected to bring the local real estate market close to even with last year's dollar volume.
With 77 sales, October was the strongest month of the year in terms of number of transactions in Pitkin County, according to the latest report by Land Title Guarantee Company. September had been up until then the strongest month of 2012 in both dollar volume and number of sales.
Sales and other market indicators for the upper valley have general been on the uptick in the latter half of the year, according to several industry sources, and while Snowmass Village has had a rather lackluster 2012 so far, the outlook there has picked up noticeably of late.
Throughout Pitkin County, over $141 million worth of real estate transactions were recorded in October, an increase of 56 percent over October 2011, according to Land Title. Year-to-date dollar volume is up 8 percent over last year, at $1.51 billion; this metric swung into positive territory in September.
Although 31 percent more sales were recorded this October than in October 2011, the number of sales year to date is still down compared to last year, by nearly 8 percent.
Both average and median single-family home prices are up for the first time this year across Pitkin County, though by just 1 percent or less. The average single-family home price is $4.15 million while the median is $2.8 million.
Aspen leads the charge
Aspen has been leading the way in the upper-valley surge, though by how much depends on who you ask. BJ Adams & Company broker Andrew Ernemann calculated that through November, Aspen real estate sales were up 15 percent in number of sales and even in dollar volume. Tim Estin, a real estate agent with Coldwell Banker Mason Morse, reported that the number of sales was up 8 percent and dollar volume was down 7 percent for the same time period. The difference likely lies in their geographical definition of Aspen.
Both Ernemann and Estin, however, have presented some bullish statistics on Aspen real estate trends lately. For his Aspen analysis, Ernemann points to rising demand—including a high of 47 properties under contract in August, compared to an average of 20 to 30 in 2010—and lessening supply: a three-year low of 404 listings was reached at the end of November. The number of sales exceeded those in 2011 in November, Ernemann recently wrote in the December update to his Big Red Book publication.
Estin, who releases regular market updates, reported a surge of single-family home sales in Aspen in October. With 15 in October 2012 and six the same month the prior year, this October had the highest number of single-family home sales in four years.
At the same time, single-family home inventory has dropped 24 percent in four years, from 323 to 266. Estin believes the spike in Aspen single-family home sales continues the theme begun in the third quarter of 2012, when those sales accounted for 56 percent of the dollar volume throughout the entire Aspen and Snowmass area market (which includes Woody Creek and Old Snowmass) and rose 46 percent in dollar volume and 22 percent in number of sales over the third quarter of 2011.
And although November was off in terms of dollar volume, according to Estin, December is poised to be a big month with 25 pending listings expected to close by year's end, with a total worth of $103 million. Three of the properties are the kind of high-dollar sales that dominated 2011—ranging from $14.75 million to $23.5 million. Closings in December 2011 accounted for $51 million, according to Estin, allowing that year to end with a whimper and almost even with 2010.
Estin anticipates that 2012 dollar volume from upper valley sales will be close to 2011, about $50 million to $100 million less.
Snowmass catching up
Although actual sales haven't reflected an upswing in momentum, Snowmass Village set a three-year high for properties under contract in October, according to Ernemann's calculations.
And because of that, "I expect the trends to begin following Aspen's lead in 2013," Ernemann wrote.
In fact, both dollar volume and number of sales were up considerably in November in Snowmass, Estin found: seven sales compared to two in November 2011 and $5 million changing hands versus $3 million the prior November. And while both metrics were still down by double digits through the end of November, Estin found listing inventory to be down by 4 percent.
Several factors are contributing to what insiders say is a brighter 2013 for Snowmass. Those include the re-purchase of Base Village by former owner Related at the end of September and the opening of the Westin/Wildwood complex in November.
"Clearly we've been busier," said Greg Rulon, a broker with Joshua & Company's Snowmass office. "The phones are ringing more often and I'm setting up more listings. I'm getting activity where I haven't seen it before. Things have definitely turned a corner."
Things have been looking up since the late summer, said Rulon, with November's strong closings reflecting showings in August and September. And the uptick in showings and listings now will likely bear out in the first couple months of 2013.
Several units in the Viceroy condo hotel are now on the market, which with "aggressive pricing" will "appeal to a certain segment."
Confidence in the local market reflects positive trends nationally, including a rising consumer confidence index, said Rulon, who downplayed the fiscal cliff threat. "Most people think it will be solved in some way or another," he said.
"All those things we've been talking about until now are a reality," noted Rulon, who listed the opening of the Westin, the Base Village transfer, new businesses, strong group sales, and the recent snowstorm as reasons to be confident in Snowmass.
October transactions: PITKIN COUNTY
• October dollar volume: $141,281,894
• October number of transactions: 77
• Increase over October 2011 (dollar volume): 56%
• Increase over October 2011 (transaction volume): 31%
• Year-to-date dollar volume: $1,151,539,134 (8% increase over same time last year)
• Year-to-date transactions: 594 (7.6% decrease)
• October bank sales: 7, $3.6 million
• Average single-family home price: $4,147,668 (up 1% over 2011)
• Median single-family home price: $2,800,000 (up less than 1% over 2011)
• October fractional sales: 17 (seven at Hyatt, five at Roaring Fork Club, two at St. Regis, two at Shadow Mountain Lodge, one at Residences at Snowmass Club)
• October fractional dollar volume: $4,371,750 (35% decrease from October 2011)